LEGO Dimensions Review
A toys-to-life collision of nostalgic greats that doesn't neglect its toypad
LEGO is a craze that is as ubiquitous as it is rampant. A near-animate entity that peers from the deepest cavities of arguably every living room sofa ever to exist, these versatile capsules have overseen a greater yield of joy than Prozac. LEGO Nation is still upon us, and Traveller's Tales' latest toys-to-life build feels closer than ever to the culture these Danish-born bricks have become.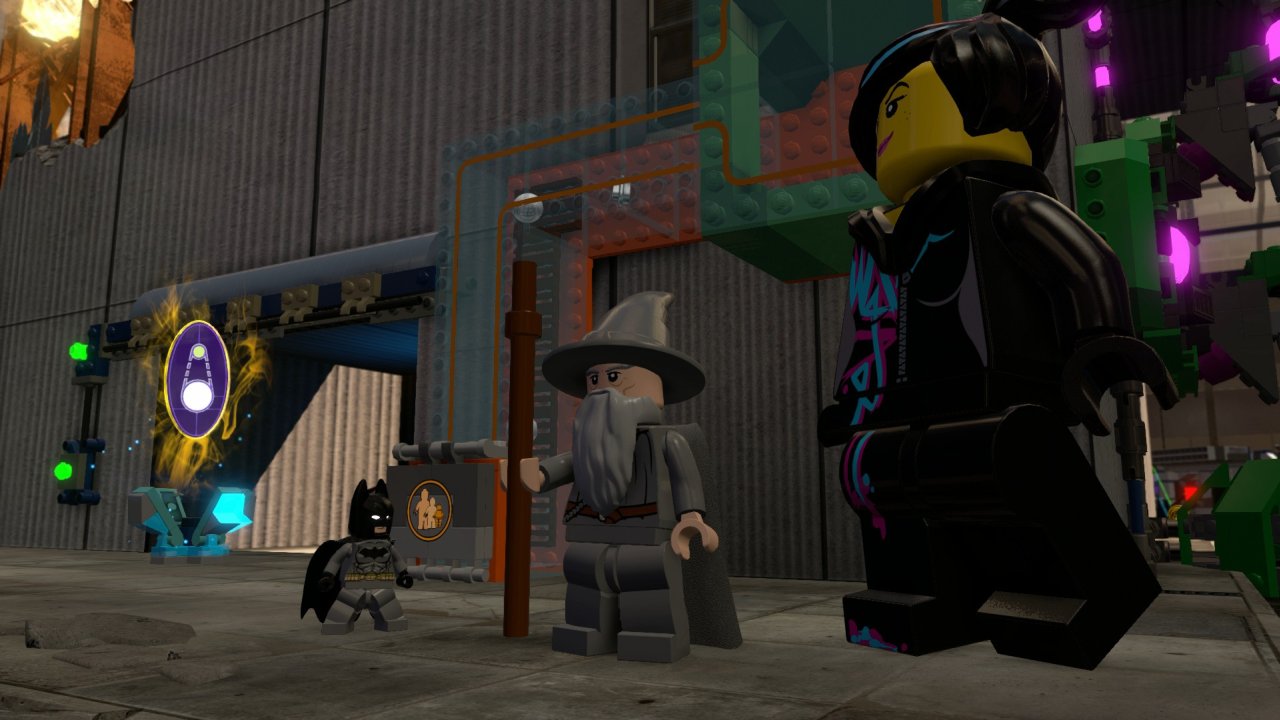 Despite the 'toys-to-life' genre having reached widespread recognition, LEGO Dimensions blends the physical and on-screen worlds in a way that is creative and unique. It's a game that realizes the inherent nostalgia of the abundant LEGO brick, shrugs, and decides to throw in a maelstrom of other childhood allegiances while it's at it. The adventure happens upon the nefarious Lord Vortech, whose plan to unite the scattered foundations of the various LEGO realms will merge every existing universe into one, under his blockish thumb.
The lovably daft humor that surged through TT's previous creations makes its renaissance in LEGO Dimensions, cheekily interrupting some of the figurehead moments of beloved media franchises, proffering comical alternate timelines that feel wryly at home with fan culture. With crossover capers aplenty, Lego Dimensions jerks you between universes - with little time to feel giddy in between - and when you're taking on a florid Joker mech amidst the burning ruins of Springfield's Power Plant, or chasing a rogue Cyberman helmet through Whovian hallways etched with Bad Wolf graffiti and cracks in time, there's a nostalgic thrill to be had that runs deeper than the toys-to-life aesthetic.
LEGO Dimensions is the largest game under TT's belt yet, but despite having more on their plate, the smart details that lace the various realms of the game are fine proof that TT haven't bitten off more than they can chew. From the constant influx of on-point witticisms, to the decidedly stop-motion-y animations reserved for LEGO Movie characters, there's a distinctly thoughtful undertone to the game's visual showmanship, and save for a few framerate blips and occasional jumblings of character dialogue, it's truly heartening to see.
But Dimensions' most notable visual aspect is actually found off-screen. The starter pack offers Batman, Gandalf and Wyldstyle minifigures whose quality match those of original LEGO playsets, along with a constructible portal that attaches niftily to the toypad. I spent close to two hours meticulously slotting all manner of knick-knacks together, and when the meat of the game finally began, I felt oddly rewarded. Despite its ingenuity, however, LEGO Dimensions isn't without its banalities. As amusing (and undeniably adorable) as these blockish renditions are, character dialogue isn't all that varied in-game. Catchphrases can feel shoehorned in, alternating between a paltry selection of notable remarks. As much as I love Gandalf, one can only hear "You shall not pass" so many times, before the novelty inevitably begins to pale.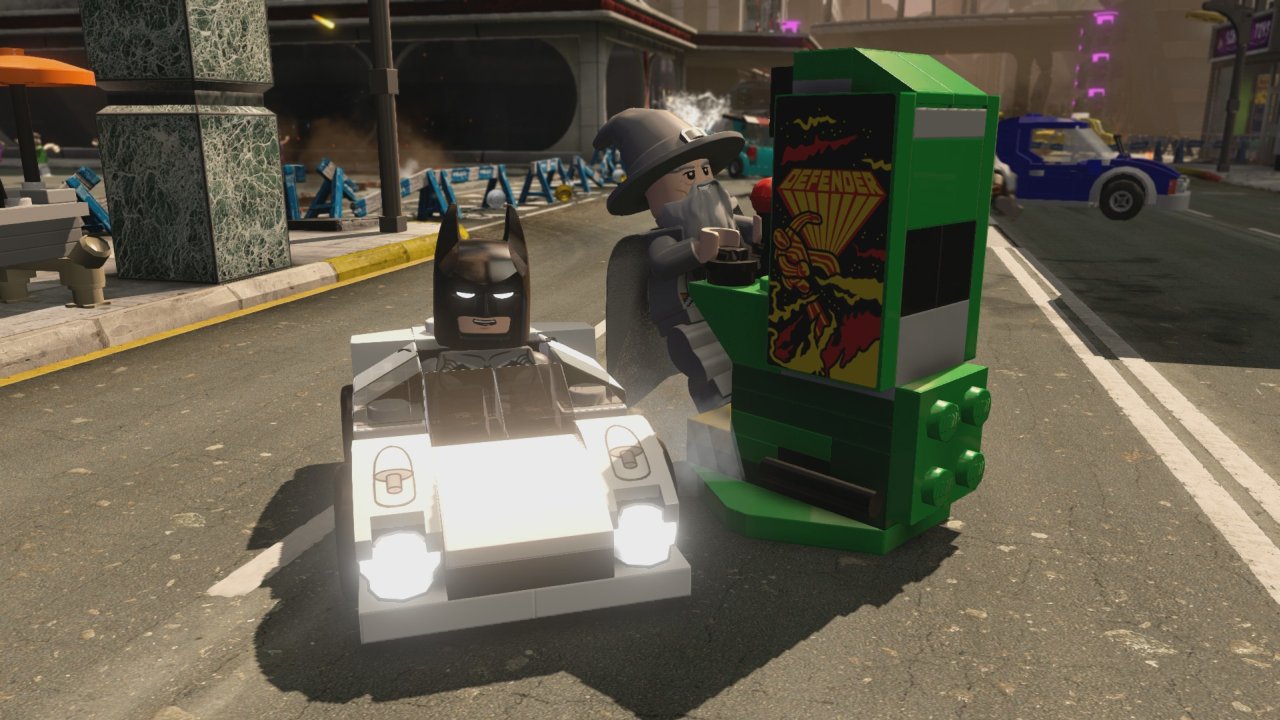 The LEGO games have always been easy to pick up - that's partially the joy of them - and Dimensions is no different, sporting simple controls and no real fail-state. The fluid control scheme doesn't always sit well with vehicles in the game, as you're occasionally required to turn sharply into narrow spaces, but amidst the bombardment of character references and clever design elsewhere, the frustration is thankfully fleeting.
With the addition of toys-to-life properties, TT adds a whole new layer to the hallmark elements they've come to be known for. In addition to spawing characters by plonking the corresponding figure down on the toypad, players must shift them between sections to avoid capture by certain enemies. Triggering Batman's stealth maneuvers or Wyldstyle's master-building can all be done via the toypad, reflecting a give-and-take between physical and on-screen worlds that is rarely as balanced in other toys-to-life titles.
But where the pad really shines is in the game's puzzle-solving elements. Conundrums feel more inventive in LEGO Dimensions than in previous brickish incarnations, requiring players to consider their physical environments as much as the game world. As a result, puzzles can be a lot more intricate. By moving figures around on the pad, you'll be able to warp to unclimbable areas, locate hidden items or summon electric fields, with more options becoming available as the main story progresses. Whilst puzzles aren't mind-bending by any means, they certainly require a lot more from you than previous LEGO titles, and only validate the toypad more. They make it an accomplice to the play, rather than a mere, ornate conduit.
'Toys-to-Life' is a classification that is quickly becoming synonymous with expense. Skylanders harboured a collection of levels that were 'out of bounds' if you didn't have a specific figure type, and the genre took a lot of flack for extortion. This is where LEGO Dimensions offers an alternative. For an in-game sum, you can 'hire a hero' to aid your endeavours, without having to rush to the nearest toy outlet to barrage an unsuspecting youth with contentions about how you absolutely must acquire Scooby Doo. And with TT's assurance that the toypad will be compatible with all future content, Lego Dimensions' steeper entry price may prove favourable over Skylanders' more transitory portal.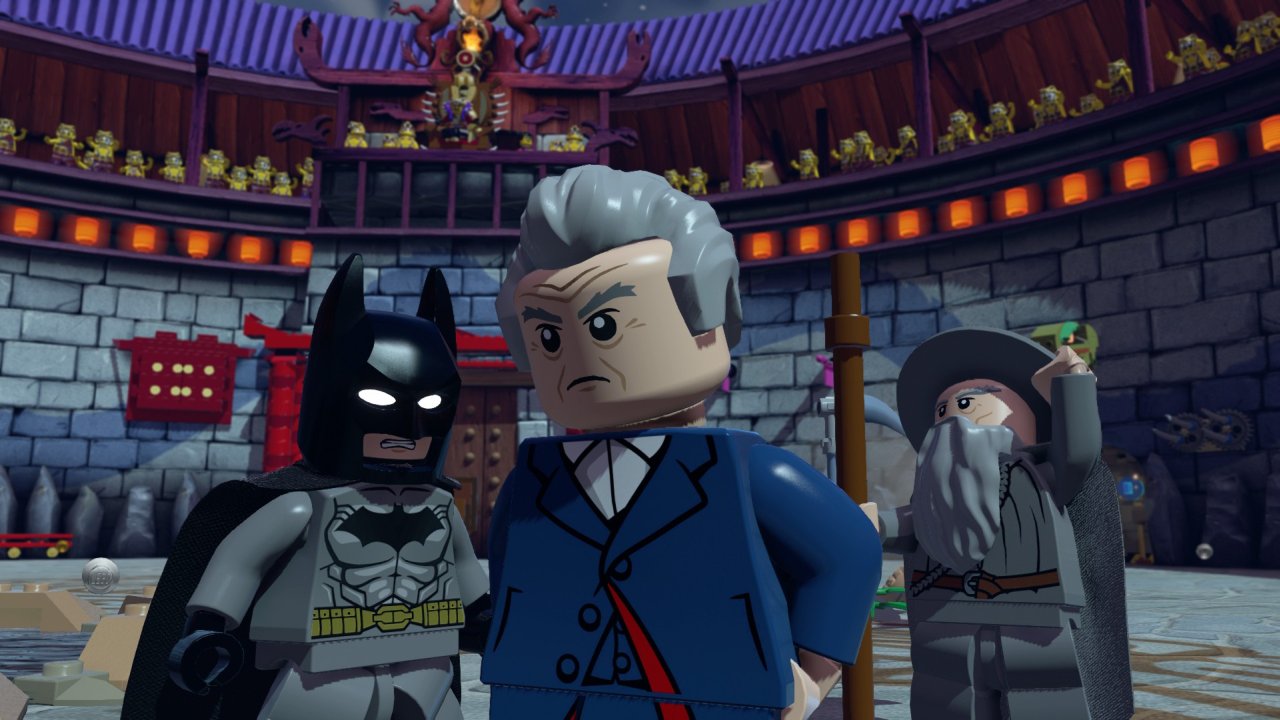 This being said, the main campaign spans around 11 hours, which, posing such a hefty price tag, may leave much to be desired. Stages aren't especially extensive, and collectibles can be swiped on the first run using the 'Hire a Hero' feature, so if you're not looking to explore additional worlds or characters once the main adventure's over, LEGO Dimensions might not offer much bang for your buck.
There are also many add-ons to its main questline that allow access to the multiverse beyond the main story. Each figure, for example, will unlock the Back to the Future world, as well as a smattering of open-world quests, challenges and collectibles. At $15-29.99 a piece, however, Dimensions can feel like a steep investment atop the entry price. This being said, the quality of each figure and vehicle undoubtedly matches that of the reminiscent LEGO playsets, which have admittedly never been cheap. The amount of content forelaying the game's Level, Team and Fun Packs is still acceptable and still sparkling with ingenious design, but they're not at all essential to enjoy the game if you're the thrifty type. The starter pack still exudes that quaint, LEGO charm.
Dimensions doesn't just look like a LEGO game, however, it sounds like one. Reprising some of the most iconic pieces from Lord of the Rings, Doctor Who and Back to the Future - to name a few - LEGO Dimensions' soundtrack is a true hark-back to the beloved adventures we've seen before, only this time adorned with endearingly blockish humour. It boasts an impressive voice cast too. Gary Oldman is deliciously evil as Vortech, and hearing the likes of Christopher Lloyd and Michael J. Fox translated into jocular brick form instantly brings one closer to the story, and somehow makes the sharp-witted writing even tastier.
And if you've friends that enjoy a good Dalek, DeLorean or Dark Knight on occasion, playing the game co-op can make the experience magical. Dimensions only supports local co-op, but there's something precious about saving Metropolis from Sauron when in the physical presence of another who's as in love with Lord of the Rings or DC as you are. As such, Dimensions' co-op can be a cracking bonding session for parents and children, or between friends who share similar allegiances for Gandalf's luxurious beard. The multiplayer really excels in the adventure worlds, however, as tackling main bosses together can occasionally feel chaotic. When contained with hordes of enemies to defeat, it's easy for characters to fall over one another; running wild throughout Springfield's cheery toon environments felt more suited to the split-screen multiplayer.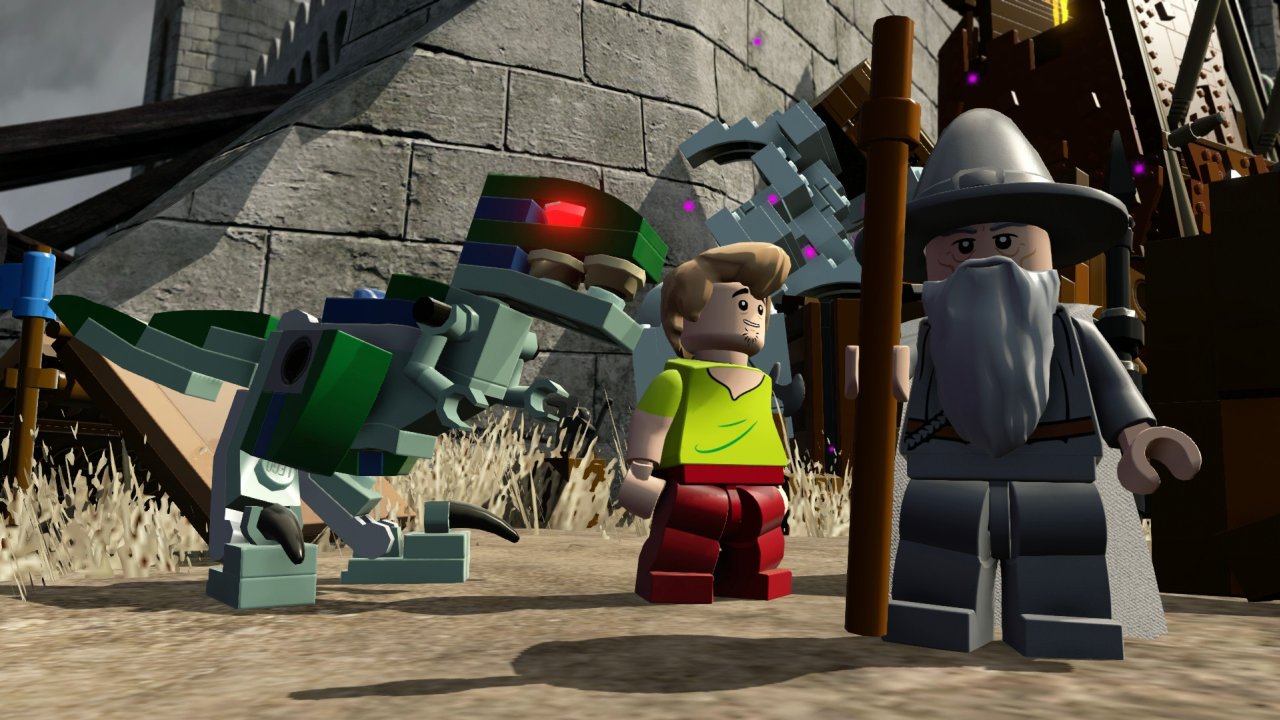 Traveller's Tales may have drawn upon the source material of some of their most successful titles, but ultimately produces a concept with charming ingenuity and a contagion of childlike creativity. LEGO Dimensions takes full advantage of its toys-to-life status, integrating the toypad into puzzle and combat mechanics with stylish, imaginative flair. It's a game that allows you to build (or not build) as you see fit, making it a stellar experience to share with siblings, offspring, or your predigiously chatty young niece, whilst still managing to showcase the liveliness, acuity and downright silliness that makes TT's championed series so darned great.
As for me, I'm still wheeling my modded Batmobile across the weathered plains of my desk. It's remarkably therapeutic.
Our ratings for
Lego Dimensions
on PlayStation 4 out of 100 (
Ratings FAQ
)
Comments