Blood Bowl 2 Review
The concept itself remains fun, but the execution is lacking in this sequel
I play my fair share of sports games each year. Whether it's Madden, MLB The Show, or NBA2K, it's felt like the majority of sports franchises are in a bit of a rut. The days of the arcade-y Blitzes and Bigs of the sports world have largely been discarded in favor of simulation-heavy sports games which focus heavily on competent GM and Player modes along with gameplay that is mechanically iterative.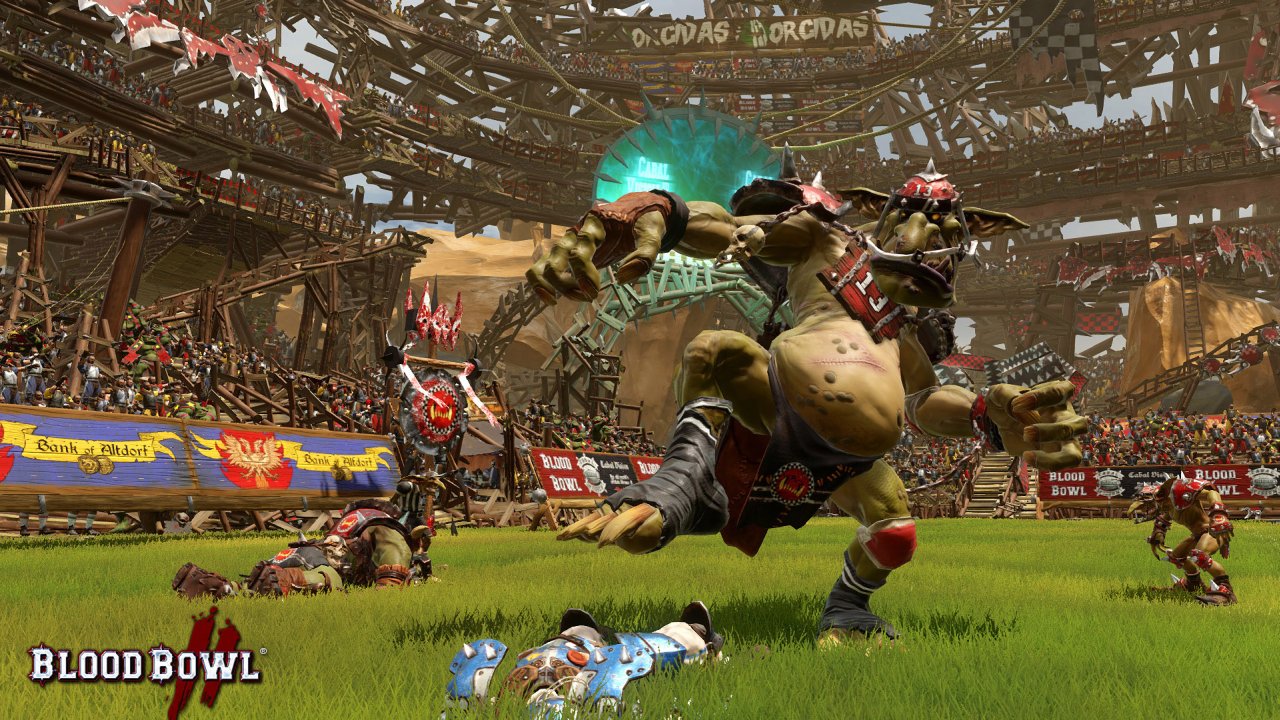 Sports games killed creativity. May it rest in peace.
That's why Blood Bowl felt like a revelation when I found it. The board-game-turned-video-game may fall into the strategy realm of gaming more than sports, but that is what makes it so refreshing. The very nature of the game is unlike anything else you'll find these days. It's brutal and tactical, challenging and rewarding. Ironically, all this said, I found myself wishing Blood Bowl 2 was more like the sports video games I knew, taking a solid foundation and improving the core ideas. Instead, the game reinvents itself with a multiplayer focus that sells the promise of involved online gameplay, but doesn't have the community to support it.
There's a good chance you don't know what the sport of Blood Bowl is, so allow me to enlighten you. Developer of the game, Cyanide Studio, states that Blood Bowl is like American football set in the Warhammer Universe. Two teams of eleven take the field, one kicks the ball to the other who attempts to pass and run the ball past the defense's goal line to score a touchdown. Sound familiar? The ripples to the rules are that any time a player is tackled they will fumble the ball, meaning that there are no downs, to-gos, or dead balls. Defense and offense take turns positioning their players and rolling dice whenever there is contact between the two teams (blocking, tackles, ect). If one of your players goes down or the ball is fumbled, your turn ends and the opponent gets to move their players. Each player gets sixteen turns before the game ends.
The game of Blood Bowl is the most fun I've had playing a sports game in years. While the concepts of the game are difficult to pick up immediately, a little practice goes a long way. Blood Bowl 2 also features a campaign mode which acts as an elongated tutorial, teaching you the specifics. Even after you've learned the general strategies of Blood Bowl, you'll still have to learn how each of the eight races differ from each other. Blood Bowl seems to be the international sport of the Warhammer Fantasy and the eight races in Blood Bowl each have their own personality. Elves feature a high flying passing game as their frail bodies don't do well blocking or hitting, dwarves are a brutal run-first team, humans are a jack of all trades team. The variety in races is fun and makes the matchups feel unique.
It's hard to credit Cyanide Studio with the brilliance of Blood Bowl, as they didn't invent the game. But it's fair to say they allow the board game to shine as a digital product. The visuals are much improved over the original outing, particularly the stadiums and crowds look significantly better. The UI is also better, when attempting runs or dodges which require dice-rolls, the game will let you know your percentage of success, making it easier to make well-informed decisions. You'll still grumble when your player eats it on a 83% dodge chance, but at least you know it was the luck of the dice and not an inept coaching call.
Unfortunately, the presentation of Blood Bowl 2 is still lacking. The commentary from the vampire/ogre team of Jim Johnson and Bob Bifford is occasionally funny, but quickly becomes repetitive. There's also very little animation variety during the opening, closing, and halftime presentations. There's nothing that makes these teams visually stand out from each other despite the different races.
While Blood Bowl is fun, Blood Bowl 2 struggles as an overall product. The single player options (which weren't robust, but were decent in Blood Bowl: Chaos Edition) have been slashed to the most rudimentary of elements. As opposed to the previous iteration of the game, you can no longer play a campaign mode which allows you to play multiple tournaments, jockeying to improve your rankings as part of an overarching season-to-season effort to qualify for better tournaments and win more cash. Now you can only play in one-off leagues. The cups and championships with cool names and personality are gone; now you play in competitions named after their tournament format. You can also play the campaign, which is basically a long tutorial and has frustrating spikes in difficulty.
There's no sense of a living world to Blood Bowl 2's solo options. It never feels like the game is doing any sort of escalation of difficulty. It's just allowing you to upgrade and reshuffling the draw so you don't play the same team twice. It wouldn't be so frustrating except that everything in Blood Bowl 2 is such a step up from the first game, it's almost baffling how the single player experience could be so thoroughly ignored that it feels like a step backwards.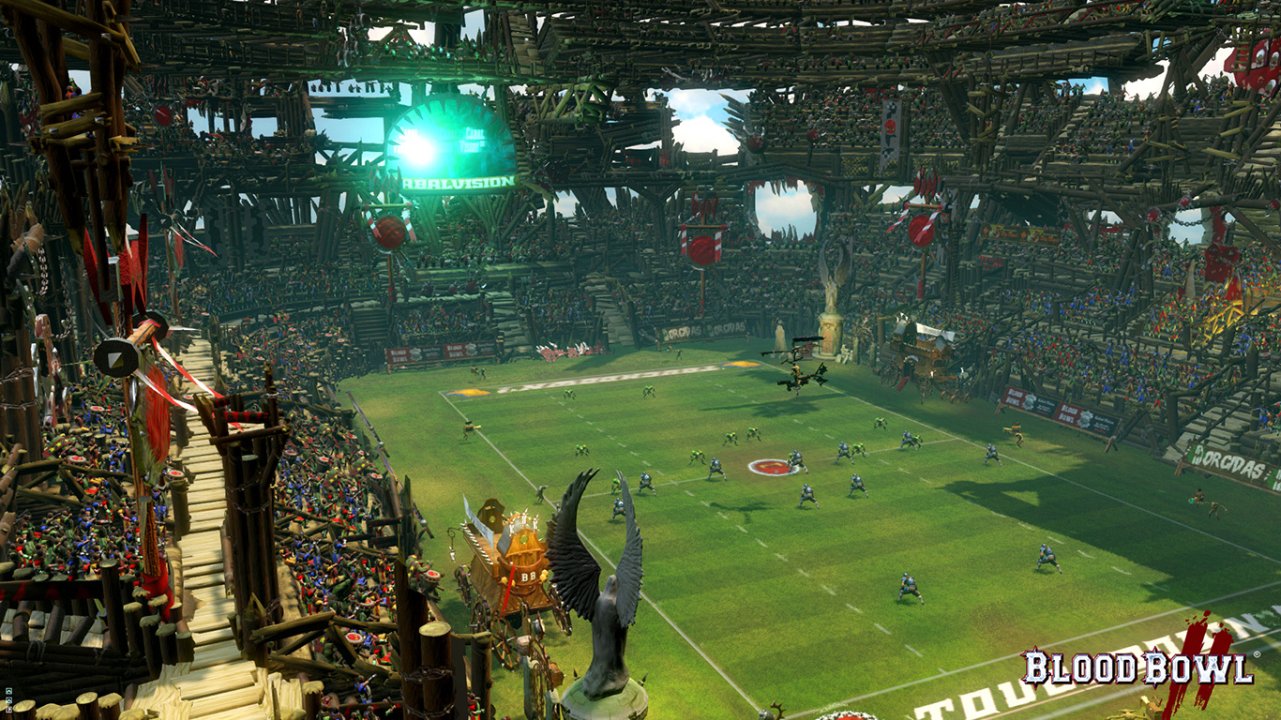 This would be more forgivable if Blood Bowl 2 had a more competent way to play online. Blood Bowl 2's focus relies on online leagues where many players - each with their own team - come together to compete. The options for online leagues are robust and there's a lot of cool customization, but matching yourself up with seven or more players so you have enough teams take advantage of these leagues is relatively impossible unless you know a large amount of people who already own the game. You can play friendly matches online or with someone at home, but it's clear that Cyanide Studio imagined a robust multiplayer world where dozen of players with their own teams would be involved leagues would all be running together like a Blood Bowl FIFA. The tools exist for players to do this, but as of right now the leagues are being ran like the wild west, difficult to navigate and - for the most part - poorly organized. Sorting through the leagues is unintuitive and it's hard to know if any of them are worth your time or fit your schedule.
There are seriously involved Blood Bowl leagues alive and well on the internet, they feature dozens of teams and impressive organization, but it's not something you can join on a whim or use to learn the game. It's for people who are already deeply submerged in the Blood Bowl universe and have been for a while. This is who Blood Bowl 2 seems to be catering to, groups of players who are already involved in leagues and looking for an easier way to track stats, transfer players, and interact with each other.
I love Blood Bowl as a concept, I think it's a creative game that takes elements of real-world sports and remixes them so they feel new and unfamiliar. You're back to that same mentality you had as a child as you attempted to wrap your brain around sports for the first time, learning the strategies, the players, and discovering the heart of the game. But it's pretty clear that Blood Bowl 2 wasn't made for people to discover why the sport is great or to be accessible to those who aren't interested in sinking a serious commitment into the online leagues. The game feels exclusionary to those who aren't interested in Cyanide's ambitious multiplayer-focused world. For those who are and have the community necessary to fill a league, Blood Bowl 2 can be a lot of fun.
Our ratings for
Blood Bowl 2
on PlayStation 4 out of 100 (
Ratings FAQ
)
Comments
blog comments powered by Disqus