Costume Quest 2 Review
Trick or Treat?
Costume Quest 2 is a time travelling, candy collecting RPG from those lovable rogues over at Double Fine – the company that brought us Psychonauts, Stacking and the Kickstarted Broken Age. It's a rare thing, too: a holiday themed game, and what's more, a sequel to 2010's cult classic original. But can a follow up about the same siblings, Wren and Reynold, saving Halloween once again be as charming and funny as the first, without feeling like a retread of old territory? Let's have a look.
First off, let's get some context. This is an important release for Double Fine, for although the company is loved by many gamers – especially considering their very likable and 'human' presence courtesy of their extensive making of documentaries made by the superb Two Player Productions – fan loyalty has still been shaken in recent months.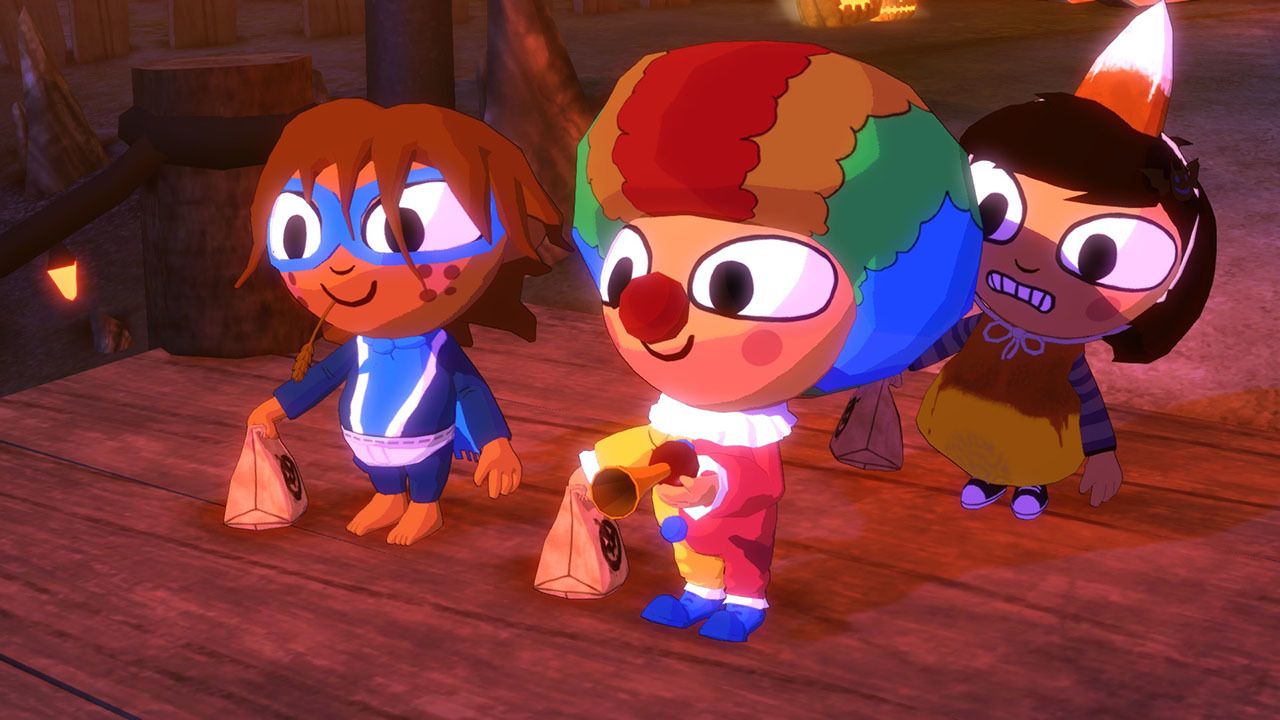 There was the delay and subsequent split release of Broken Age, then Steam Early Access versions of Spacebase DF-9 and Hack 'n' Slash, which fans were wary of, the former of which jumped to version 1.0 (i.e. finished product) without many of its promised features. Not to mention the fact that they raised a second Kickstarter project for Massive Chalice before fully delivering on their first. So you can see the precarious position Costume Quest 2 finds itself in, especially being the company's first ever sequel.
This time siblings Wren and Reynold are faced with thwarting the nefarious Orel White, a maniacal dentist who wants to rid the world of candy forever. It's very silly, but it works well with the gentle and charming humour of the game, and although there is the time travel element, it never gets confusing, with just one past and future time zone either side of the present, the later a brilliant dystopian vision of Orel White's dream come true: a gleamingly oppressive world without a single piece of candy in sight.
The game starts directly after the first's DLC add on, Grubbins on Ice, and does very little to fill you in regarding the reasons for the time-travelling, portal opening scenarios, but that's not so much of a problem, because this time the game gets things going right away. You choose to play as either brother Reynold or sister Wren and within minutes are battling baddies and kickin' butt.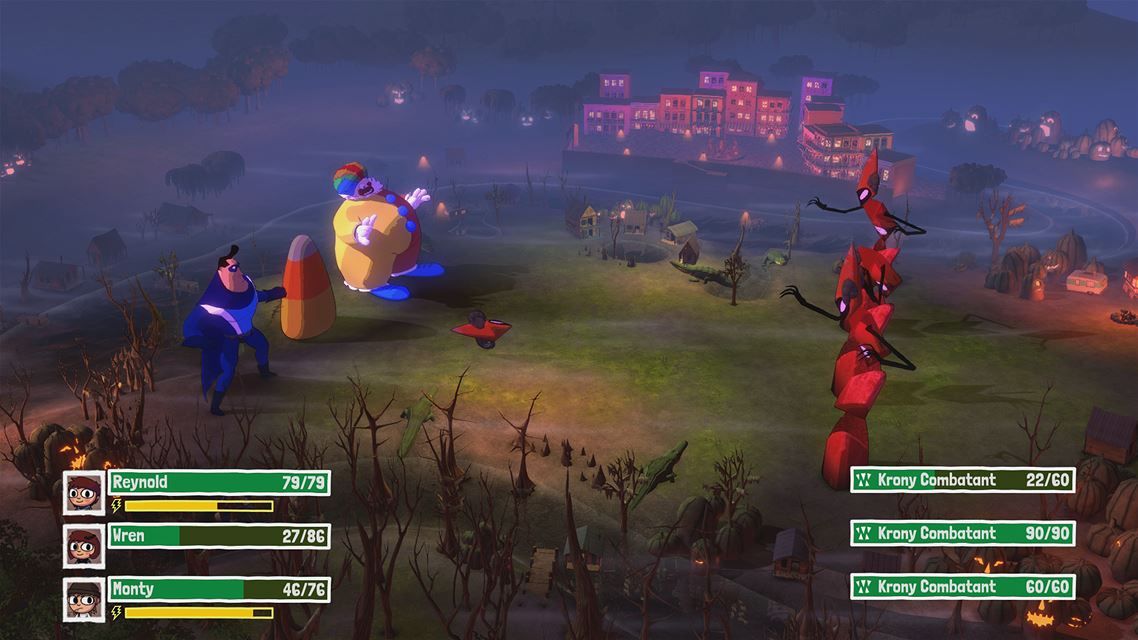 Where the first game spent maybe a little too long with its trick or treat mechanic – whereby either a smiley-faced neighbour would give you candy, or a grinning grubbin would attack you from behind the door – Costume Quest 2 doesn't waste any time messing about. You start off with a full party of three, and collect new costumes rather rapidly thereafter.
It's no surprise then, that the costumes of Costume Quest are a main attraction and the source of many of the game's elaborate gags. Each costume works twofold in the structure of the game; when patrolling the streets of Auburn Pines your costume looks like a traditional Halloween get up made my Mom or Pop, but has a unique ability such as the pterodactyl blowing things out of the way or the Gandalf-like wizard costume being able to light up the dark. But in battles, they transform the kids into huge mighty warriors, the costumes becoming true versions of what they represent, whether it's a ferocious, missile wielding robot or a quill-throwing Thomas Jefferson. All are hilarious, and the animations, particularly, kept me smiling throughout the 5-6 hour adventure.
That's not to say the battles, just like in the first game, don't get a bit repetitive, but relying on focused, split-second button presses – as seen in the Mario and Luigi series – keeps the fights engaging enough, especially considering the game's slight length.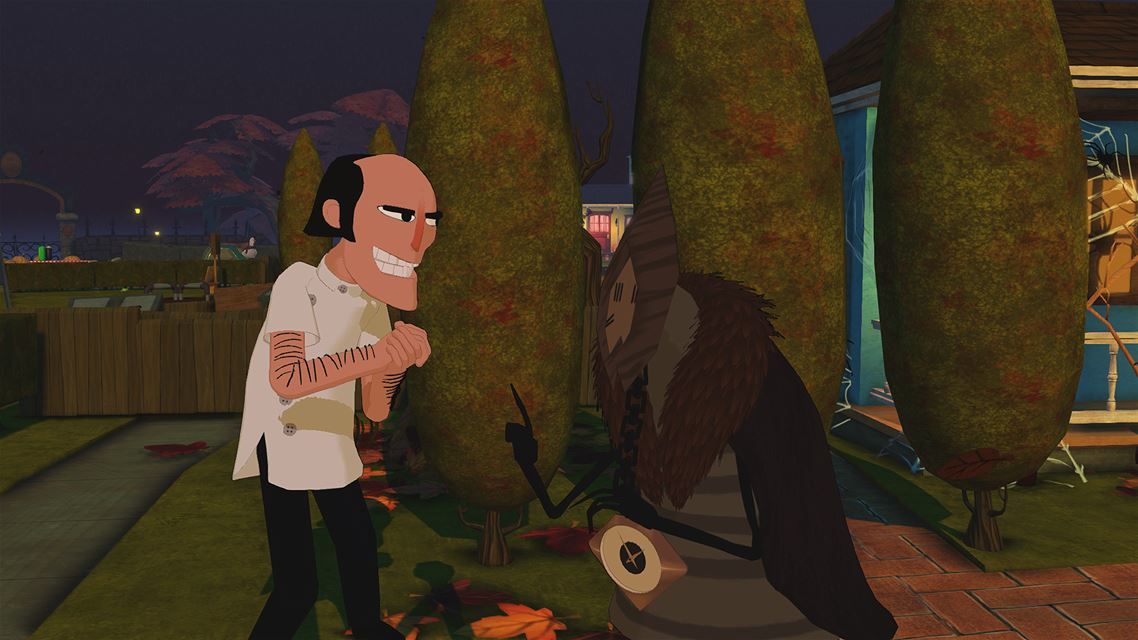 However, that's not a detriment. In fact it's the opposite as Costume Quest 2 is paced perfectly, never outstaying it's welcome and knowing its holiday-themed nature makes its appeal short lived, although incredibly replayable. In fact I see myself playing this each Halloween in the years to come just as I did the first game before it.
Costume Quest 2 is a success then, a sequel that retains the charm of the original whilst building a better plot and slightly more engaging fights on top. That's not to say more couldn't have been done to win over naysayers of the original, but for what it is – a fun, bite-sized holiday nostalgia trip – Costume Quest 2 is worth every penny and well worth a spin on a dark and rainy weekend. Wrap up and get the sweets in. What could go wrong?
Our ratings for
Costume Quest 2
on Wii U out of 100 (
Ratings FAQ
)
Comments