Disney Infinity: Marvel Super Heroes Review
Troublesome controls and reduced value keep the franchise running in place
The original Disney Infinity, released just a year ago, was a solid attempt to enter the unique genre of video games that combine with physical toys. Dominated for a few years now by Activision's Skylanders, Infinity managed to take advantage of its robust catalog of Disney heroes and easily recognizable franchises to carve out a piece of the market. Though often fairly shallow, the gameplay was accessible and enjoyable, while the Toy Box provided a set of tools to create your own adventures from scratch. Disney Infinity 2.0 looks to improve on its predecessor with the focus on Marvel superheroes and improved gameplay options.
Just as it was a year ago, fans can pick up the Disney Infinity: Marvel Super Heroes Starter Kit to enter the world of Infinity. The starter pack this time around contains three heroes - Iron Man, Thor, and Black Widow - and one play set adventure. The included figures and base do look just as detailed and sturdy as their predecessors, so collectors will be pleased. There are also two toy box games, which are essentially mini-games built by the developers using the Toy Box.
Right away fans will note that Infinity 2.0 only offers about a third of the structured campaign content, since the first game had three play sets in the kit (for the same price). The only included Avengers play set is an open-world action game that sees the Marvel heroes fight Loki and the Frost Giants in New York City. The setting and plot is somewhat reminiscent of The Incredibles play set. In this open world players will run, drive, and fly around as they complete missions that vary from rescues to defending against waves of enemies. Mission structure is fairly simple in design and clearly skews to a younger demographic, so any fans that were looking for a fresh challenge won't find it here. New York itself is a large place, but it feels lifeless as generic cars and pedestrians go about their business, rarely acknowledging the mayhem that may be unfolding around the corner. The emptiness, combined with the large game world, means you'll spend a lot of time travelling between objective markers, which can be tedious.
Fans will be happy to know that unlike the first game, where characters were strictly bound to their corresponding campaigns and the Toy Box, Infinity 2.0 allows some characters to jump between play sets. By collecting Cross-over tokens you unlock the ability to let heroes enter play sets from another thematic universe, hence why Thor is able to enter the world of Avengers play set.Some levels or challenges in the play sets are also specific to certain characters from other franchises, thus giving you a reason to return once you've purchased a new figurine.
And speaking of the heroes, they finally offer some distinguishable differences to make the gameplay a bit more diverse. While most share a set of abilities, they are often presented differently. So for example Iron Man can fly around and blast lasers, but Black Widow has to take elevators and remain on foot while using her ranged attacks with human weapons. As such, playing with a different character actually does feel unique, something that was lacking in the original set of Infinity heroes. Some depth is also added to the gameplay via a new skill tree for each hero. You can use skill points, earned for completing missions and defeating foes, to level up to customize your character up to level 20. The included skill tree unlocks a wide variety of abilities and passive perks, and there aren't enough skillpoints to unlock everything, so each character can feel even a little more personal based on how you've customized their attributes.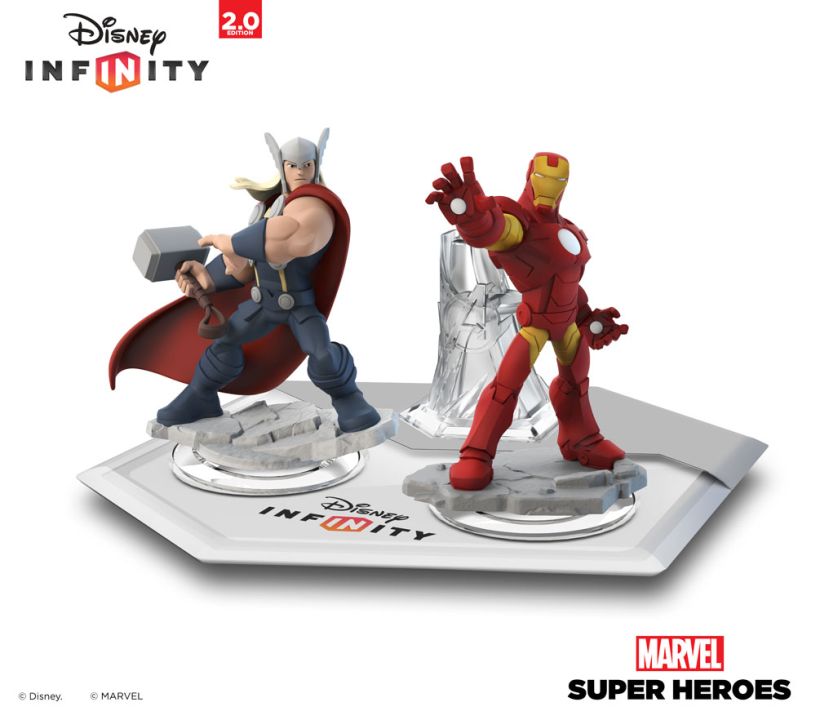 However, how the heroes play is still not ideal. The original game's characters controlled imprecisely, oftentimes feeling awkward through action and platforming. While it was serviceable as a first go at the new gameplay engine, things haven't improved much for the sequel, and that disappoints. Lock-on for enemies is still flakey at best, and vehicles behave with all the precision of a motion controlled racing game. The game controls best when you're flying around the city, engaging foes from above and generally staying off the ground. But on foot,during combat or while platforming, responsiveness of the heroes can feel awkward.It doesn't help that your jump button is also tied to a special ability, so you'll frequently fumble around with the controller trying to get the characters to do what you actually wanted.
The Marvel Super Heroes Starter Pack on the whole lacks content even compared to its predecessor, but there are of course already many more Toy Box Games, play sets, and characters to purchase separately. There's a large amount of variety, from Hulk to Spider-man to Maleficent, but it all boils down to expensive, physical DLC that is already overwhelming the store shelves and making the Starter Pack look lean in comparison.
But while on this subject, fans – don't leave your existing collection behind. You can actually use all your heroes from the original game in this sequel, and they will even gain skill trees just as the 2.0 figure sets. Your power discs and toy box content is also fully importable, though the play set adventures are not. This helps offset some of the initial lack of content in 2.0, if you bring in and start levelling up your older characters or try to fix up your toy box creations with new building tools.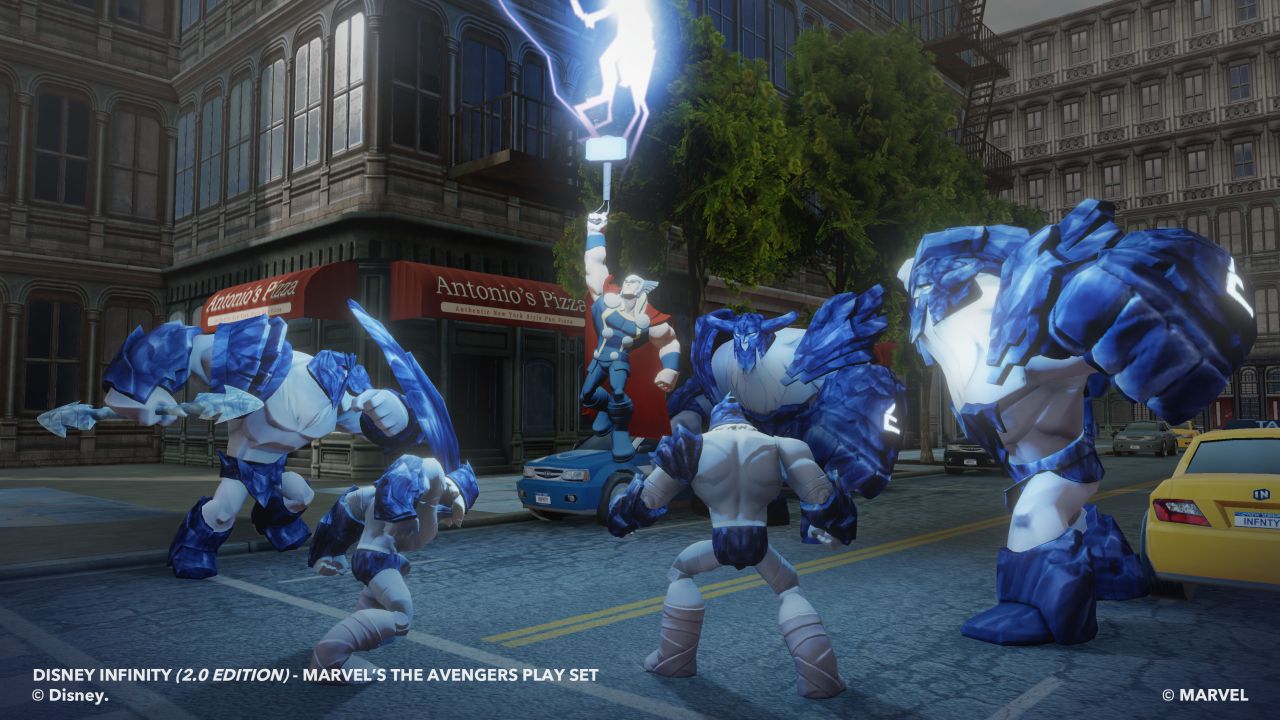 After completing the Avengers play set, you may move on to the two included Toy Box Games. These give you an RPG-like dungeon crawler and a tower defense mini-game to play. While the tower defense game feels awkward due to the controls and camera issues, the dungeon crawler game can actually be fairly engaging. If anything, they are a good taste of what's possible in the new Toy Box.
The Toy Box is the other major feature of the Infinity franchise, where players can create worlds and minigames from scratch, using items that they've unlocked. Rather than depending on luck when unlocking new items in the Toy Box, players can now choose what they want directly, though you still have to get through a linear progression tree. Chances are you will need to go back to the play sets and grind for more orbs that will allow you to unlock that one expensive item you really want, but it's a respectable mechanic.
When you're ready to create, Toy Box 2.0 offers a more fleshed out experience. While you could spend a ton of time creating elaborate levels in the past, from platforming to survival challenges to races, and then share it with others, the game offered little in way of assistance. With the new Toy Box, the game can create part or even the whole level for you based on selected assistance option, thus taking out the busywork that most fans (especially of younger age) don't have the patience for. The levels are larger, and can have big indoor environments too, plus there are now tools that help define the purpose of a level, with a Win condition and so forth. It's an open ended experience that's perfect for fans of Minecraft and similar games, made better thanks to added purpose and assistance tools. There are still technical and physics hiccups on occasion, but nothing particularly game breaking.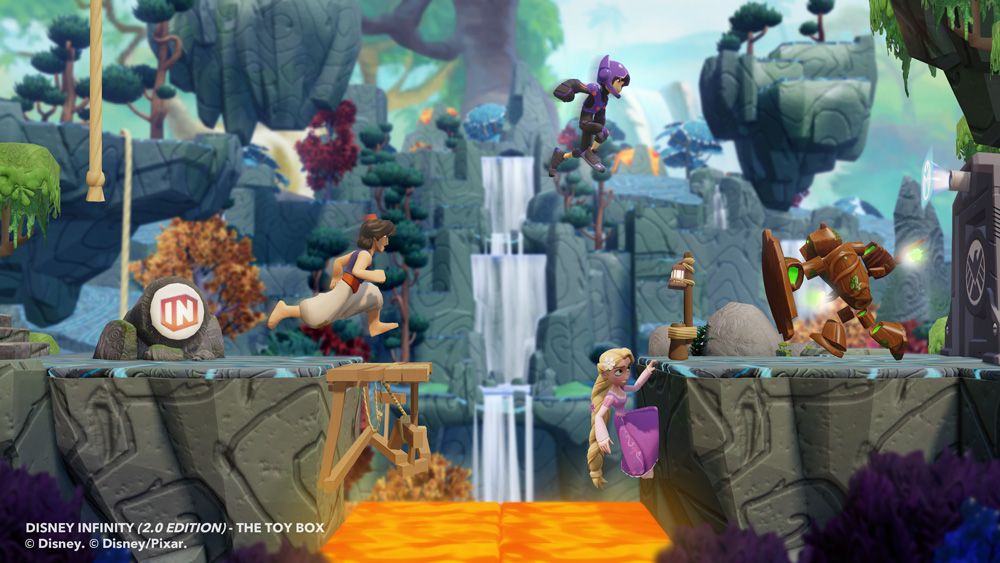 Like its predecessor, Infinity 2.0 employs stylized visuals that make the game world and characters look rather cartoony. While the figures are definitely inspired by the latest Hollywood interpretations of the Marvel characters, they are very kid-friendly and have their own personalities. You won't find dramatic dialog or risqué jokes here. Voice acting and musical score are on par with the good quality of the visuals. Outside of occasional framerate issues and Toy Box bugs, the game performs well.
Disney Infinity: Marvel Super Heroes is a solid continuation of the toy/game crossover franchise, but it's hardly a leap forward. Players will find a rather short structured experience in the Avengers play set, and the two included minigames hardly break any new ground. While some depth is added via hero skill trees and unique abilities, controls remain a question mark, seeing little improvement for the sequel. But at least the Toy Box offers better tools and assistance for players to create their own worlds, with a better unlock system. If you or the young members of the household enjoyed Disney Infinity, the 2.0 edition brings more of the same, though be prepared to spend more money to round out the experience.
Our ratings for
Disney Infinity: Marvel Super Heroes
on Xbox One out of 100 (
Ratings FAQ
)
Comments