Battlefield 4 Review
A gregarious online experience that demolishes itself and the competition
DICE have made many small changes to multiplayer based on feedback from the previous games. Small examples include: five-man squads, C4 returning to Recons, different grenade types and a much better user interface for spawning and weapon loadouts. There is a testing map that allows players to pilot vehicles without needing to join an empty server. Maps feature more buildings with BC2-style destruction to create a happy medium between structure and demolition. VOIP returns for PC players, so you can now chat with random squad mates. The four player classes - Assault, Recon, Support and Engineer - have not changed significantly but can be tailored to individual needs. Each class can be more proficient killers because they have access to the deadly Carbines. There are many other sensible changes that make it feel like a more complete version of BF3.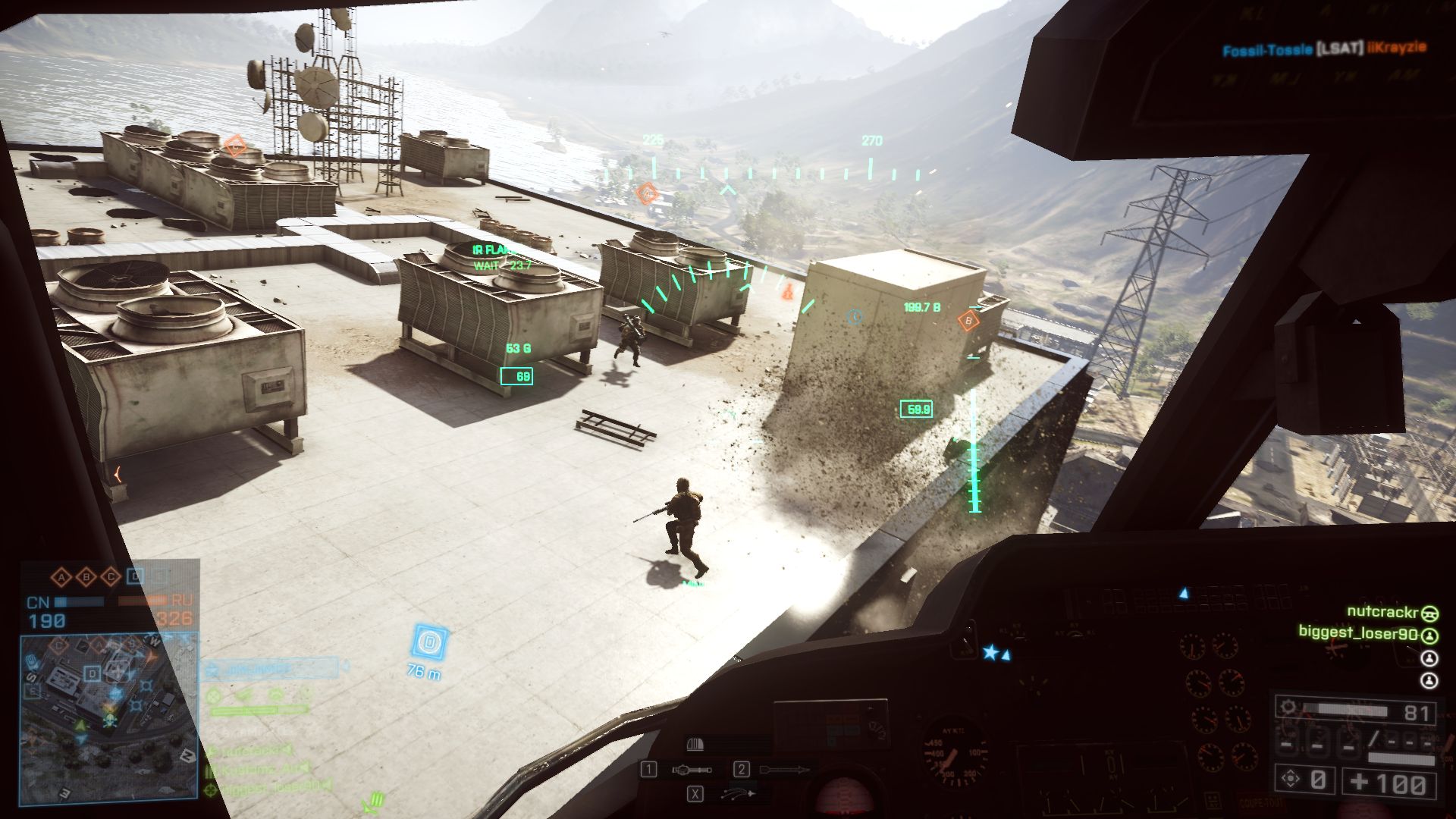 Rooftop snipers are perfect fodder for the scout chopper
Not every change in Battlefield 4 is an improvement however, as there are questionable alterations. The disable mechanic is no longer a reliable component of vehicle combat like it was in BF3. This means that the chaotic moments around burning tanks have disappeared. Ground vehicle movement and collisions are worse than ever, with the Russian armoured truck struggling to accelerate up a 5 degree incline. The kill feed is delayed which can make the action less fluent initially. Throwing the new ammo and medic packs is inconsistent at the best of times. Even the dog tag system is a step backwards for the franchise with no record of who you stabbed.
Online presentation is superb with both obvious and subtle differences to its predecessor. The audio engine produces even better sounds in different environments. Some of these, like rain falling on your uniform, are best heard when there is a lull in the action. Water is now fully dynamic, translating across the network, although this is only prominent on one map. Player animations are further improved, excluding when friendlies twist their neck demonically as you come up behind them. Color grading has practically vanished, but there is less consistency. The Rogue Transmission map, set around a large radio satellite, feels artificially colored with some weaker ground textures and mediocre foliage. Zavod 311, a map featuring an abandoned Tank factory, makes target acquisition difficult because of low-contrast lighting. Target acquisition is generally more difficult than in BF3, although that may be due to the different player models. While it occasionally looks better than any game on the market, only a few maps provide consistent excellence.
Map structure is very friendly to vehicles and most function well with 64 players in Conquest mode. Operation Locker is the only infantry focused map and it panders to those who enjoyed Operation Metro from BF3. It provides several chokepoints that you will either come to hate or love. Most maps feature busy infantry areas, but there are fewer zones where vehicles fear to tread in 64 player scenarios. One of the most detailed maps is Flood Zone, with plenty of flimsy cover on rooftops and vehicles fighting in the streets. Paracel Storm showcases the water tech better than any other and it is also the only map to demonstrate the wonderful dynamic weather. As the storm intensifies, waves produce troughs that conceal your approach and create new Battlefield moments. Water combat is possible in half of the ten maps and patrol boats act as floating tanks. Maps are solid, although few seem to be memorable additions to the series.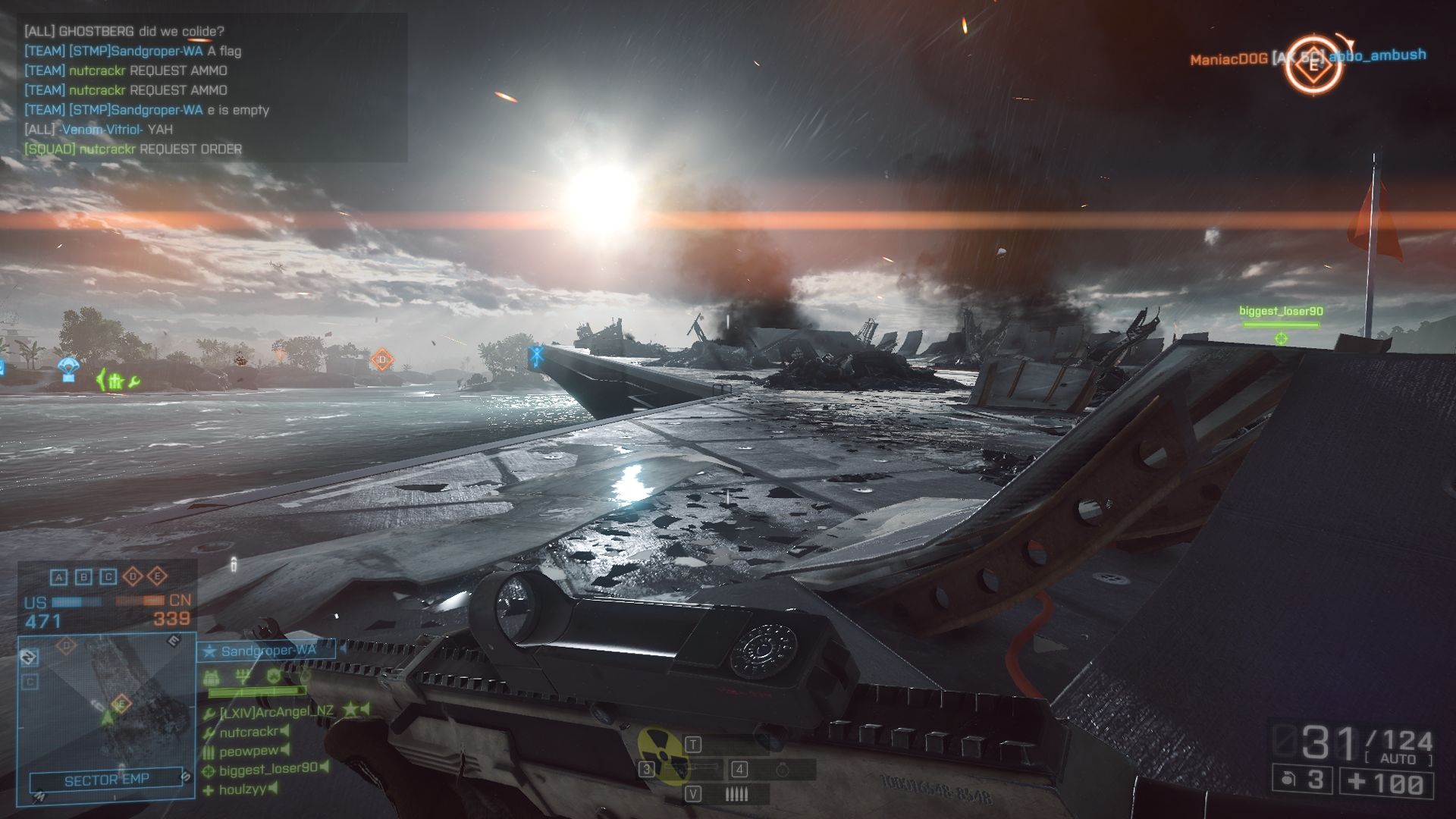 Paracel Storm is quite special when the weather changes
The Rush game mode returns, although it still has the same problems that were present in Battlefield 3. On Hainan Resort, attackers begin from a naval vessel and attempt to breach the shore with choppers and flimsy boats. Attackers are usually dead in the water before they can even destroy the first set of MCOM stations. It is like Kharg Island Rush from BF3 only with a larger distance to shore and no mobile spawn point. Other maps completely reverse the status quo, like when the attackers on Golmud Railway have multiple tanks in the first stage. Most maps seem to be designed for Conquest first and then tweaked to work in Rush mode. Rush is inconsistent, again, and some stages are frustrating.
Obliteration is one of the best new game modes that DICE have introduced to the series. This mode spawns a single bomb that teams fight over and attempt to plant at three enemy bomb sites. The action is always intense around the bomb and trying to get past defenders is a tricky proposition. You can slowly move it forward with infantry support or take a helicopter and fly over defenders to plant the bomb with little resistance. To ensure you are never far away from the action, a paradrop spawn point system improves the flow exponentially. The only negative of the mode is that it can feel like an endless tug-of-war and your teammates might not understand the usefulness of vehicles. It still represents a worthwhile, and highly replayable, addition to the franchise.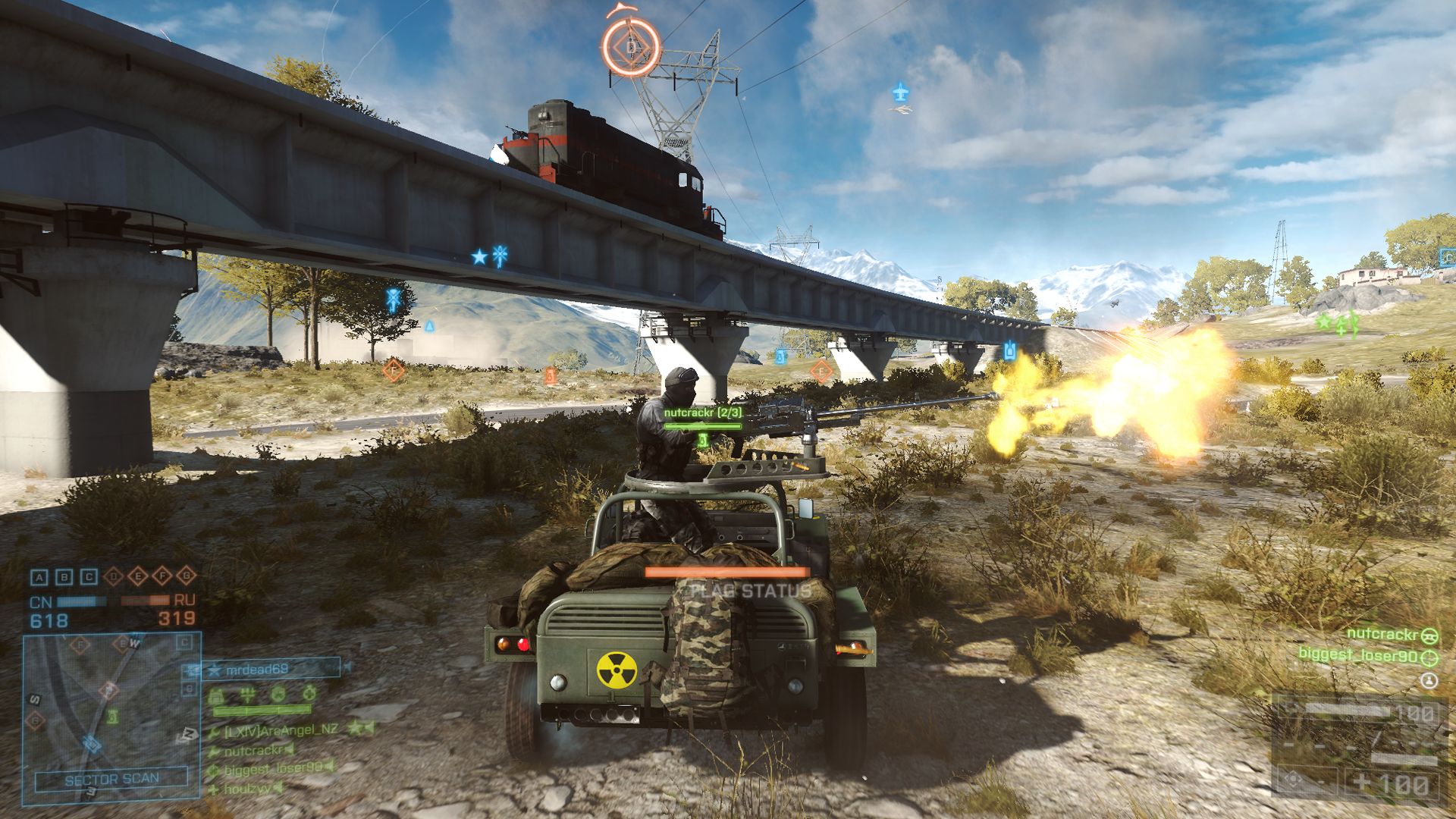 Golmud Railway is packed with vehicles and has a flag on a slow-moving train
Players more interested in infantry battles will need to turn to the Domination and Team Deathmatch modes. These modes are confined to small sections of maps and have no vehicles. Domination is a faster form of conquest and it usually creates circular action with several defensible areas. Team Deathmatch tends to have teams spawning at opposite ends of the map. Both modes showcase excellent weapon handling and have some intricate level layouts. You'll get joy from the shotguns, sniper rifles and the personal defence weapons. These modes compress the action and provide a refreshing change from the larger conquest matches. With more weapons, attachments and gadgets than before, there is lots of value for infantry-only gameplay.
Comments
blog comments powered by Disqus