Call of Duty: Ghosts Review
The shooter franchise makes its debut on the next generation platforms
Call of Duty: Ghosts is the latest entry in the popular franchise published by Activision that continues to break sales records seemingly every year. Just so you're not in for a shock later, you should know that Ghosts is a first person military shooter. Good, now that we're on the same page. As has become a staple of the franchise, this entry brings an explosion-filled but messily written single player campaign, tons of multiplayer combat, and new cooperative modes called Squads and Extinction. Call of Duty: Ghosts is a highly complete and polished package that takes few risks to ensure the legacy of the franchise will carry on to next generation platforms.
It would be forgivable to understand why developers Infinity Ward do not want to fix what isn't broken when it comes to multiplayer in Ghosts, but to present yet another thin, action-focused campaign just doesn't warrant the same excuse. In the single player, a super weapon called the Orbital Defense Initiative (ODIN) is seized in space by the Federation, an apparent coalition of South American nations. This group then proceeds to destroy most of the southern United States with their own weapon, throwing the global economy into disarray and crippling the nation. Players take on the role of Logan Walker just as the first attack hits, and you manage to escape with your brother and father.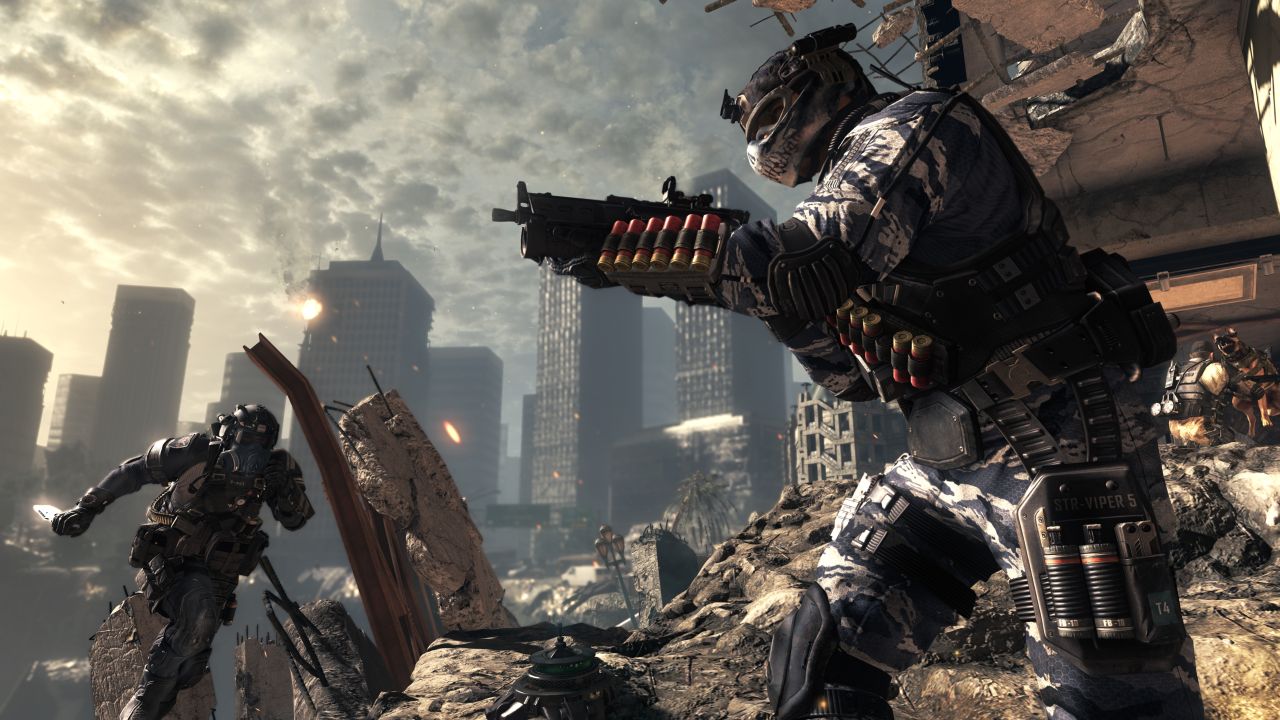 Jumping forward ten years, the United States continues to be in a state of disarray, with cells of resistant forces preventing the invading Federation from taking over the US from the south. You and your brother, David, are now operatives of one such resistance movement, led by your father. Through the course of the game, you will perform various military operations against the enemy, eventually meeting up with the elite Ghosts squad and being recruited into it. The Ghosts themselves are an elite group that's both a tactical force and a symbol to fear for the enemy. The campaign is exciting with a few memorable set pieces, like rappelling down a skyscraper or having shootouts in space, over the course of a 5 to 6 hour story.
But if you think about the plot too much, many questions are raised about how exactly all of this is possible. The story remains predictable and thin, with more questions than answers and an ending that guarantees a sequel. At first, the post-apocalyptic setting works quite well, creating feelings of desperation and isolation. But it's not long before you realize the Ghosts and US Army still have a navy, helicopters, jets, and tons of manpower. You get behind enemy lines with ease, get rescued at just the right moment, and still have the capability to launch into space, which curbs the mood the game tries to set early on. It's not as messy as Modern Warfare's globe-trotting, multiple-perspective campaigns, but it also doesn't quite reach the highs of the original Black Ops. As such, Ghosts disappointingly retains the spectacle over substance approach, not taking the opportunity of a brand new sub-franchise to present a compelling narrative.
For many of the missions, you'll be joined by a loyal K-9 named Riley. This pup is your trusted ally in battle and will accompany you during several missions, though as things get more intense he stops appearing. You'll sometimes take direct control of Riley through his equipment and camera gear, to perform stealth assignments. It's something new, but there are only a couple of these sections and they are fairly short. The rest of the time, Riley growls and runs around, seldom helping in combat. You can direct him to attack enemies manually, but by the time he reaches the target he takes too much damage from foes and simply runs back to you.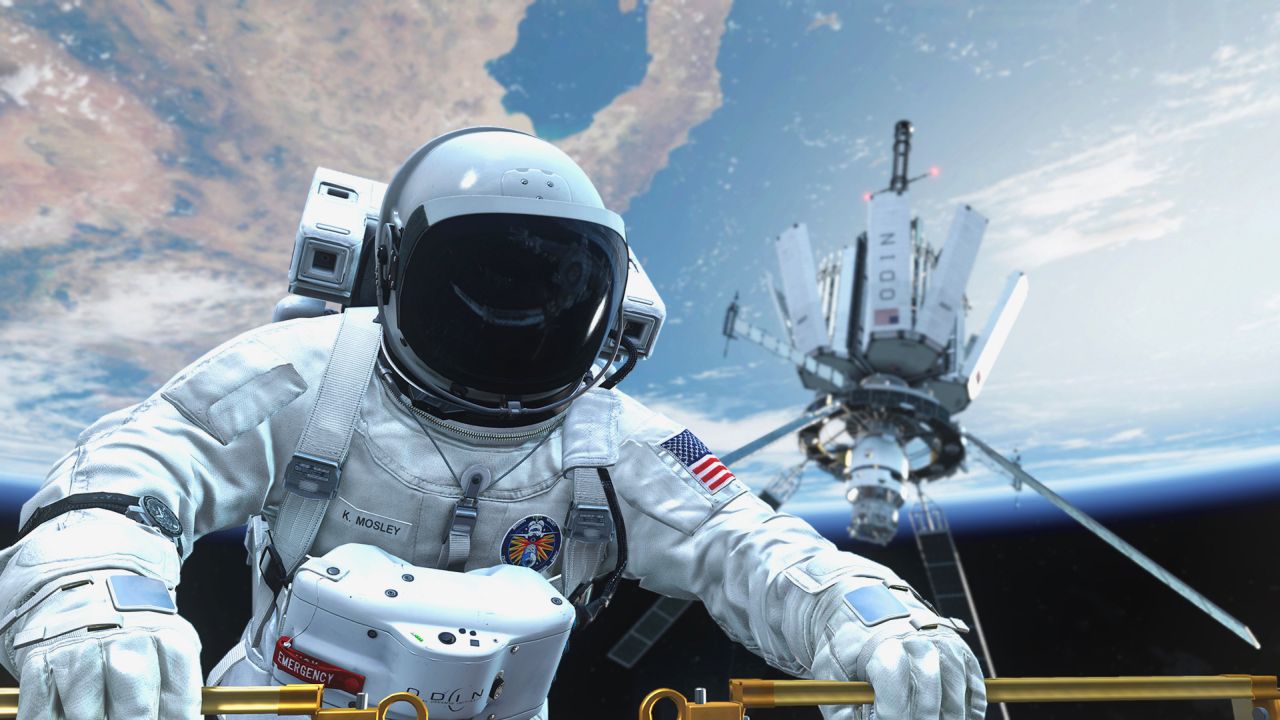 There's no point changing what works from the previous games, and Infinity Ward has made little alteration to the gunplay. Your weapons feel fairly powerful, though some lack the desired punch, especially the handguns. Instead, changes have been made to the movement system. Contextual lean lets players peak around objects and naturally gain a new perspective, without using any additional buttons. Simply approaching an edge of a surface allows for peeks as to what's ahead. A new knee slide mechanic lets you slide into a crouched or prone position from sprint, and get an edge on the unsuspecting enemy as you dive around a corner. This mechanic works well but has a little potential for abuse in the hands of skilled players. Lastly, new mantling animations are supposed to allow for fluent movement when jumping or vaulting over objects. However, through many hours of play, we never quite felt its presence or seen it in action very often.
Call of Duty: Ghosts features many new weapons across multiple classes. 8 Assault rifles, 6 SMGs, 4 LMGs, 4 shotguns, and 4 sniper rifles are at your disposal, alongside the new Marksman class. That new class falls between the assault and sniper classes, providing a mid-range scoped solution with enough rate of fire to stand a chance against encircling foes. The four Marksman rifles provide a good alternative for mid to long range encounters and have the potential to alter the balance in a match. As expected, you're able to tweak multiple aspects of nearly all weapons, including various attachments, custom camo and reticule. Your item and attachment allotments are fixed (unless you select a perk to get an extra). The visual customization items are unlocked by completing various in-game objectives or by using the guns and attachments long enough.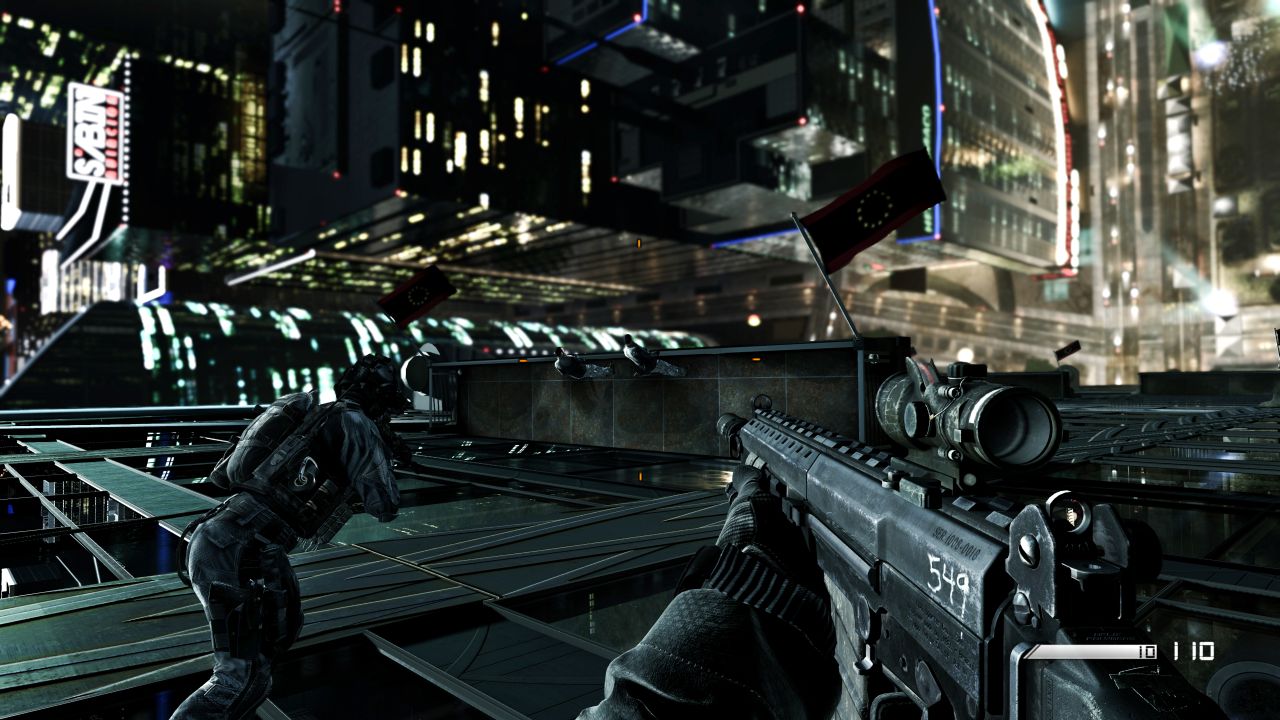 A new perk system has been introduced that bears some similarity to the pick-10 system in Black Ops 2, but is more straightforward. It is based on allotment points, with each costing a certain amount, between 1 and 5 points. So for example, players may choose to equip 8 perks worth 1 point each, or two perks worth 3 points and 1 perk work 2 points, etc. The seven categories of perks are speed, handling, stealth, awareness, resistance, equipment, and elite; these are fairly self-explanatory, with abilities falling into whatever category they help players with. Speed helps draw weapons and sprint faster, resistance protects against common threats like explosive damage, equipment grants extra attachments and equipment, and so forth. This design is very flexible and most of the perks seem balanced well enough for their cost and usefulness. Unlocking new perks requires a certain XP level as usual, as well as squad points which we'll touch on later.
Call of Duty: Ghosts marks the return of strike packages, which are divided into three categories. Assault works based on unlocking abilities after killstreaks, each costing anywhere from 3 to 15 kills in a row. Players can pick and choose any three they like, but can only use one ability at the same number of kills. So players could choose to get the new SatCom at 3 kills, followed by Riley at 5 and maybe a Maniac at 10. Or, confident players could stack their streaks to unlock abilities at 10, 11, and 15 kills for example. Once again, flexibility is the name of the game with Ghosts. The concept of kill streaks remains unchanged, however, and ensures that already skilled players will continue to dominate the game.
Comments
blog comments powered by Disqus