Grand Theft Auto V Review
An open world crime blockbuster that delivers the goods
There are also problems with texture pop-ins, which can be an actual hindrance to your gameplay. It wasn't so bad on our main Xbox 360 S, whereas the occasional tree would load in too slowly. Flying low was always a hazard as you could easily run into a light post that decided to take its sweet time loading, but overall it's not too terrible. It is quite bad, however, on another Xbox 360 where we tested the game. This was an older model, and the pop-in was so severe that just driving in back alleys, we'd frequently crash head on into dumpsters because they did not load fast enough. This is something to be aware of for users with older hardware versions.
Audio design is strong thanks to attention to detail and variety. Voice actors carry their roles wonderfully, as mentioned earlier. There is a great variety of radio stations, general pedestrian chatter, and sound effects that help set the mood depending on where you are. From small details like car engines cooling off to the empowering sound of gunfire and explosions, the audio holds up to the standards of the rest of the game.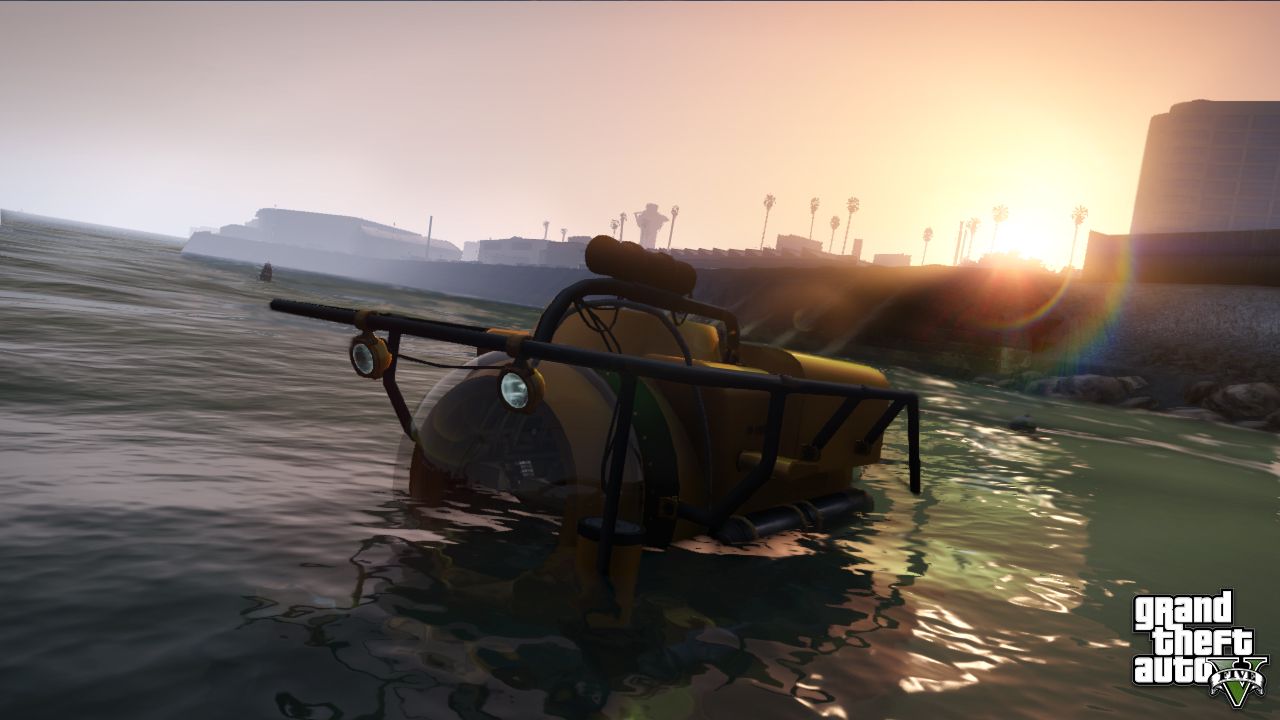 The same ambition that went into creating the single player world and campaign carries over into Grand Theft Auto Online, the multiplayer component of GTA V. Unlike before, there is a bigger sense of progression and persistence with the online experience. You begin by creating a character, customizing their looks with unique but awkward parent and grandparent selection. After entering the open world, you're on the same map as the main game, though up to 16 other players are freeroaming with you. The game world's huge size means that you aren't likely to run into another player by pure accident, outside of hotspots (such as airports or places where players want to cause general mayhem). It's not a big deal, mind you, because you'd be killed on sight anyway.
Abovementioned character progression system adds an MMO-like feel to GTA Online. You have the similar set of skills from the single player experience, dictating your athletic, driving, shooting and other abilities. Performing actions earns you experience points, which in turn unlocks more weapons and items for purchase. You've got to start making money by completing jobs, which can be launched from the actual start location or via menus. Event variety leaves something to be desired, with most modes being the usual races, deathmatches, wave survival modes, etc. It's something that's been done before in other games and even GTA itself. Missions are very simple and repetitive, with the most promising content – heists – coming as a free update at some point in the future. Races are demolition derbies that are difficult to enjoy given the game's signature floaty physics. The idea of any kind of narrative doesn't really pan out.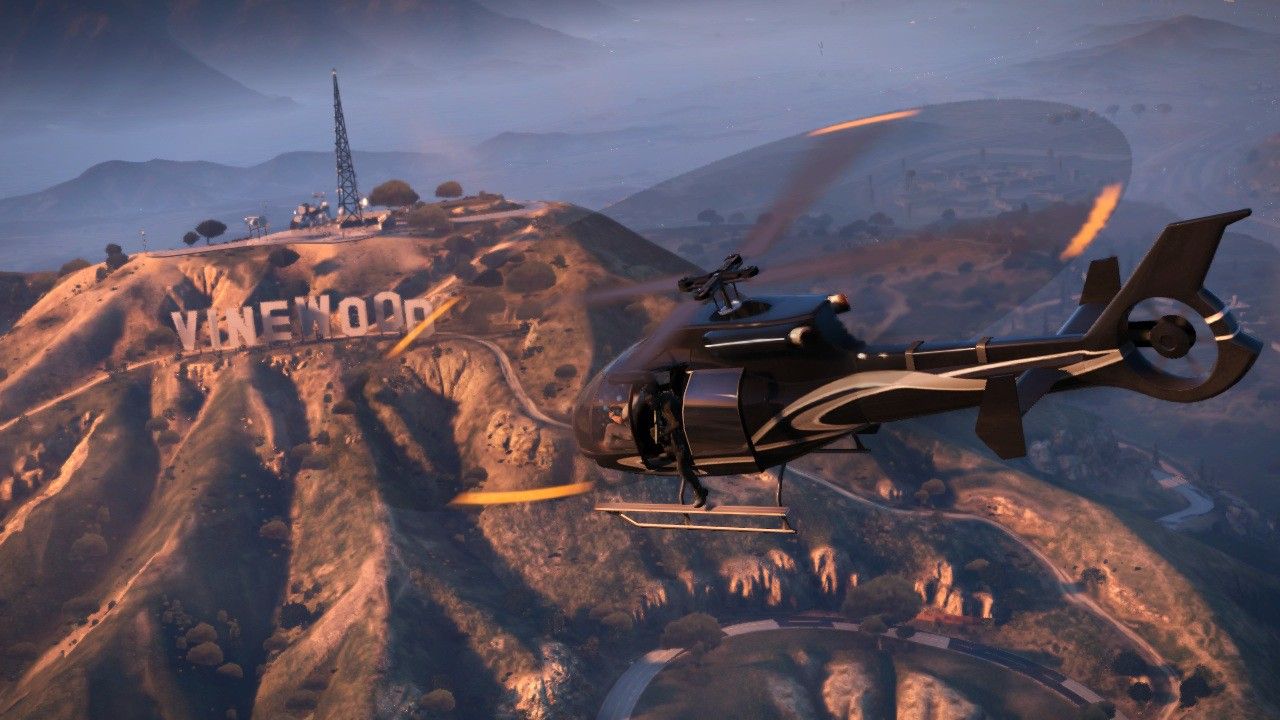 Cash is extremely important in GTA Online if you want to have a chance in the open world and be useful in missions. Making money is a key aspect of the game, and it certainly feels like a grind at times. Design issues crop up when you spend 10 minutes on a mission and get awarded a mere $1k for your efforts. Some missions refuse to give you any experience or cash if you fail them, even after multiple kills and attempts to complete the objective. With low income potential, the game certainly provides tons of ways to lose money. If you get killed while carrying cash, you may lose it forever, so trips to the ATM are a must to make deposits. If you die, get busted, or want your car insured against theft or damages, be prepared for the bills. There's passive mode, which restricts other players from killing you in free roam, and of course you have to pay for that too. Players can buy apartments to host social gatherings and garages for their custom vehicles, but with the cheapest costing $80k and $20k respectively, you'll be working for cash for a while to afford them.
The whole idea of cash being king seems detrimental to the GTA experience, where players just want to get in and start wrecking havoc, not play catch up to players with better weapons and cars. Similarly, a "good sport" system aims to reward players who act politely online. In a GTA game, of all things. But even that idea is underdeveloped, as you'll barely get a warning for killing others but certainly take their hard earned cash. On the other hand, blowing up a custom car labels you a bad sport and actually bans you from playing with anyone other than other bad sports for two days. Here was the scenario: messing around with a crew during a mission, not even in open roam, a player blew up his friend's custom car by accident. He was promptly booted, and unable to play with us for 48 real hours. No option to forgive, or even disable the system during missions or for crew members. .
So there are design issues with online play, as developers have seemingly punched above their height. But the worst part are the technical issues. GTA Online didn't even launch alongside GTA V, instead arriving as a patch some two weeks later. And to this day, 10 of them after it launched, there are still big problems. Not just being unable to connect to the game servers at all, launch any jobs, or connect to friends without lag. Loading times taking forever or just being stuck. But worse – character deletions, disappearing of bank funds, and causing problems with your single player save files. Some of these issues have been improving over the past week, but GTA Online is still in a rather sorry state for something so hugely ambitious, and pales in comparison to the polished single player experience.
Like its predecessors, Grand Theft Auto V remains one of the best water cooler games out there. It's the type of open world sandbox where almost anything is possible, and it sets itself apart from the likes of Just Cause and Saints Row by focusing on realism while also being darkly humorous at the same time. The attention to detail is impeccable, three main protagonists is an innovation, and the writing and acting is great all around. However GTA Online is a bit of a mess, technical visuals are subpar, and the story mode fails to take full advantage of its original gameplay ideas. But with even with these problems, Grand Theft Auto V continues to carry the legacy of the franchise with a proud spring in its step.
Our ratings for
Grand Theft Auto V
on Xbox 360 out of 100 (
Ratings FAQ
)
Comments