NHL 14 Review
Annual hockey title returns to solid form just as the generation prepares to wrap up
Like clockwork, the NHL series from EA Sports has arrived in stores this week, just as the real NHL teams are kicking off their training camps. NHL 14 brings over 6 years of upgrades and iterations on the current game engine after jumping into the current console generation. As such, the game is overflowing with modes and features all accumulating over the years. It lacks any major revamps, instead opting to refine and improve on existing mechanics, a trend that has coincided with the even-numbered releases in the series for quite some time. With that said, it's probably the best version of the game in recent years.
Following the typical progress of a sports franchise, NHL 14 includes almost all of the gameplay modes introduced during this generation. This meant that the navigation menu has been a growing mess over the years, but this year's iteration finally compresses things into simpler, easier to navigate submenu system that's both concise and logical to follow. There does seem to be an issue with speed though, as some menus take a moment to load and subsequently require additional 2-3 seconds before user input is detected. Not that the series was ever known for quick user GUI, but things seem to be moving downhill.
Regarding the gameplay modes: there are lots of them. Offline, the recent inductees Legends mode and NHL Moments Live are back, mostly unchanged, in addition to the usual myriad of jump-in options like Season, Battle for the Cup, and the rest. One brand new mode is NHL 94 Anniversary, where players can try to relive the past glory of the series by playing NHL 14 under a different set of rules and slightly altered presentation. However, classic arcade sounds and blue ice with faster gameplay speed doesn't hide the fact you're still playing a modern title with all of its animations and physics. It's a nice nod like the Winter Classic, but doesn't amount to much more than that. And to make things worse, has offline multiplayer only.
The Be a Pro mode, where players create their skater and follow through their careers, has been rebranded as Live the Life. Besides the name change, a new social simulation system has been added on top of the usual proceedings. The game attempts to focus on a player's interactions off the ice, essentially resulting in an interview system, often seen in soccer management games. You'll be asked questions on various subjects, everything from your thoughts on the team, their performance, your performance, to how you feel about certain events such as injuries or trades. You'll also be sometimes asked by your teammates to hit the town, or even asked what to do in a certain situation. Each question presents four answers, attached to different likeability meters.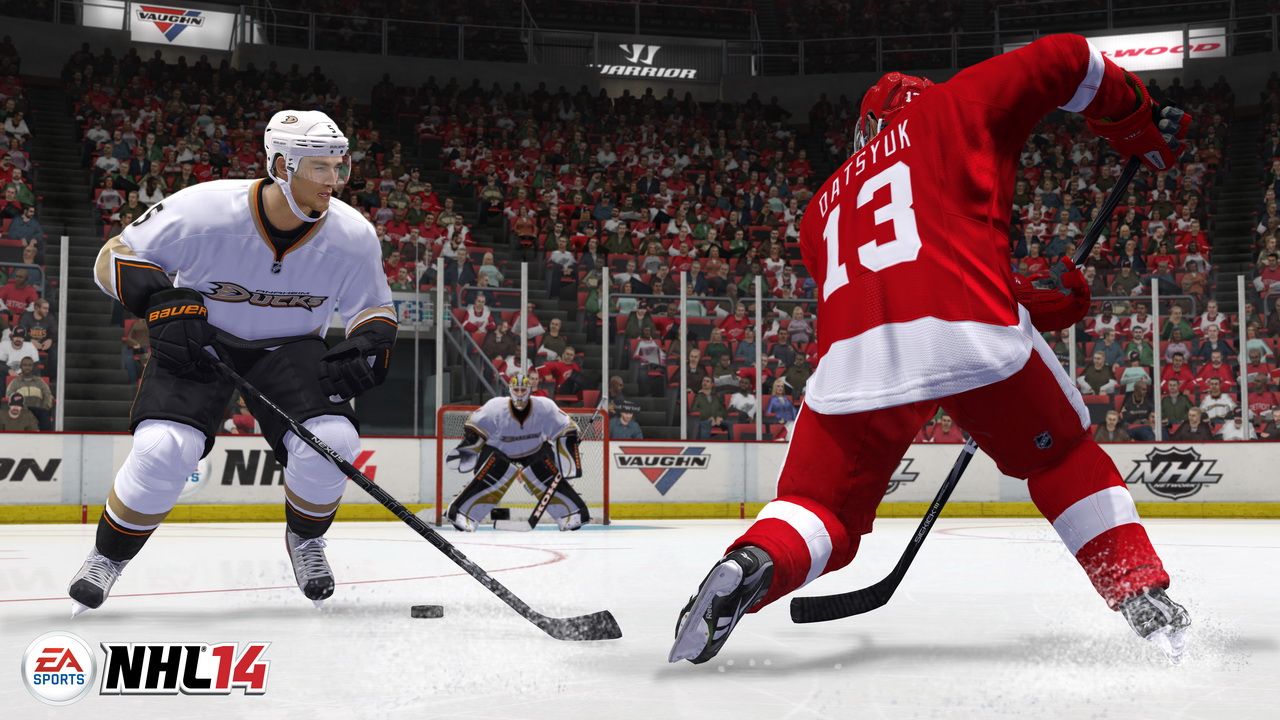 These likeability meters range from -100 to +100 and will have an impact on your game depending on the rating. The four meters are fan, teammate, management, and family likeability. You're probably realizing at this point where things are heading. Answering the interview questions and making choices for off-ice events either improve or reduce one or more of these meters. The questions and situations are decently varied but do eventually begin to repeat themselves. Consequently, your likeability ratings affects certain aspects of your career.
Being liked by the team means you'll be invited out more often and have a bigger chance of earning the Captaincy badge, whereas being disliked means less events and even being ignored when you call for passes in-game. Management likeability helps you stay in the league, or being disliked could land you on the trade block. If fans like you, endorsements will be easier to earn and cheers will ring out when you start your shift; boos can be heard should you have a low rating.
Finally, the Family likeability meter will have a direct effect on your on-ice attributes. The actual performance on the ice can also impact these ratings, so if you do well but act as a jerk during interviews, everyone may still put up with you. The whole system is engaging enough and works well to expand the overall experience of the newly renamed mode; players who want to be more immersed in their career will surely appreciate this addition. Others, more concerned with the other gameplay and player career aspects, may ignore this as a mere distraction and not the revamp that Be a Pro needed.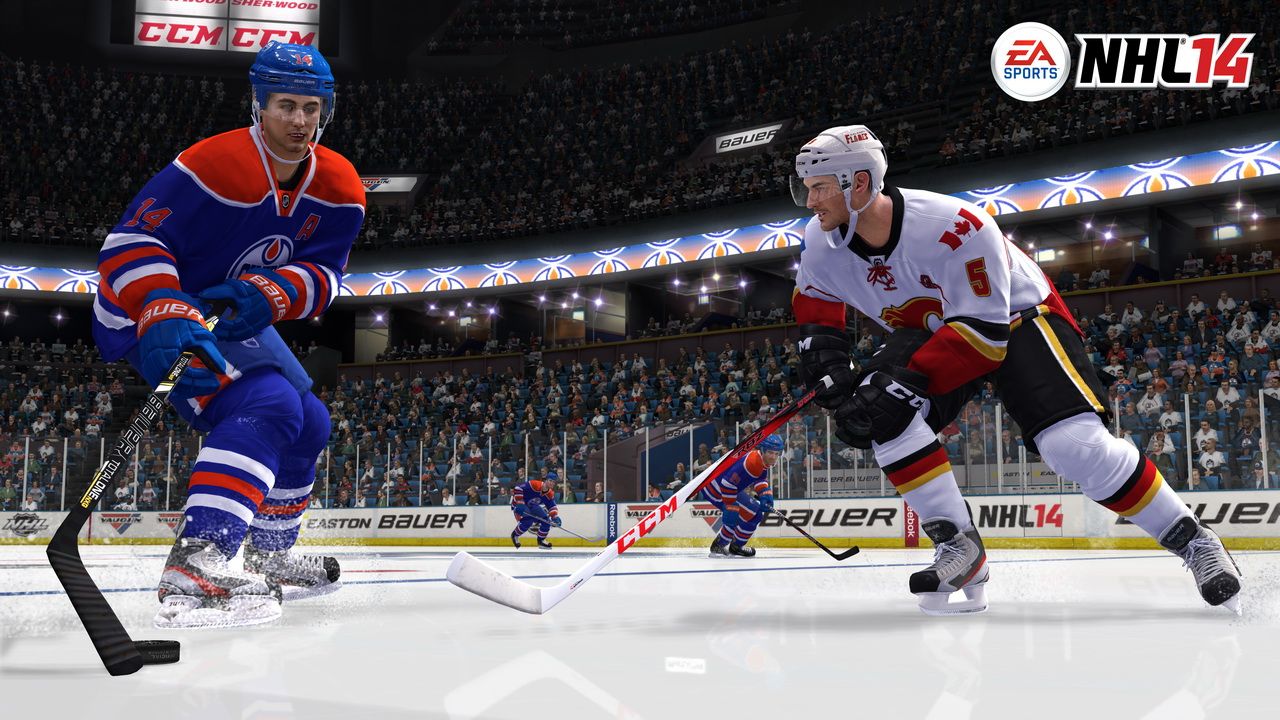 The other major offline mode, Be a GM, has received minor updates mostly focused on the back-end simulation. A new player progression system ranks your skaters based on their estimated talent, and how likely they are to reach it – something that existed in years prior but now with more detail. Multiple improvements to AI GM's make for more realistic interactions, included an expanded trading screen where players are now easily identified based on your and the other team's wants. For the lazy, the CPU can sign free agents and re-sign players for your team during the off-season.
Where NHL 14 really begins to stand out is with its' on-ice performance. Fans who were disappointed with NHL 13's major feature of True Performance Skating will find that it has been much improved this time around. In its second year, the skating engine feels more refined and polished, closely considering the attributes of players to dictate their maneuverability on the ice. It makes for a smoother, more enjoyable experience and adds better flow to the game. New control options allow players to hit with the left stick or to perform one-touch dekes with the use of a single button. These additions make the game more accessible for those who want to utilize them.
The game's other major focus is toughness, which is underlined by a new collision system and fighting engine. The latter has been a bit of a running joke in the previous years, but is now a worthwhile event on the ice. There are various conditions under which players instigate fights, such as team rivalry, late hits or injuring a star player. With simple controls and added presentation elements, you can punch and wrestle your opponent to the ice to gain energy for your team. An only oversight is a lack of a power meter, thus both players can simply throw punches until one of them wins. Also, due to this being one of the game's selling points, the fights happen a bit too often to be realistic, and players engage in confrontations after almost every stoppage of play.
Comments
blog comments powered by Disqus