Splinter Cell: Blacklist Review
Resurrects the stealth franchise, so you can forget the sins of Conviction
Splinter Cell: Blacklist is a great stealth game with careful level design, varied gadgets and proficient multiplayer. It follows directly from Splinter Cell: Conviction, but puts more weight towards traditional stealth gameplay. Elements from Conviction are merged successfully with aspects from earlier games in the series. The variety of gadgets brings choice to each encounter although most enemies can be avoided. Players again assume the role of Sam Fisher, and lead a covert team against terrorists that plan to bring the USA to its knees.
America is under threat from a terrorist organisation known as the Engineers. The Engineers demand that America withdraw troops from across the globe immediately. If their request is not heeded, they will unleash catastrophic attacks on American civilians and infrastructure. This cryptic list of inevitable attacks is designated the Blacklist, and it functions as the backbone for the narrative. Since America does not negotiate with terrorists, their first action is to set up a secret task-force that can prevent Blacklist attacks. Sam Fisher, Anna Grímsdóttir (Grim) and several other key personnel form a counter-terrorism unit known as Fourth Echelon.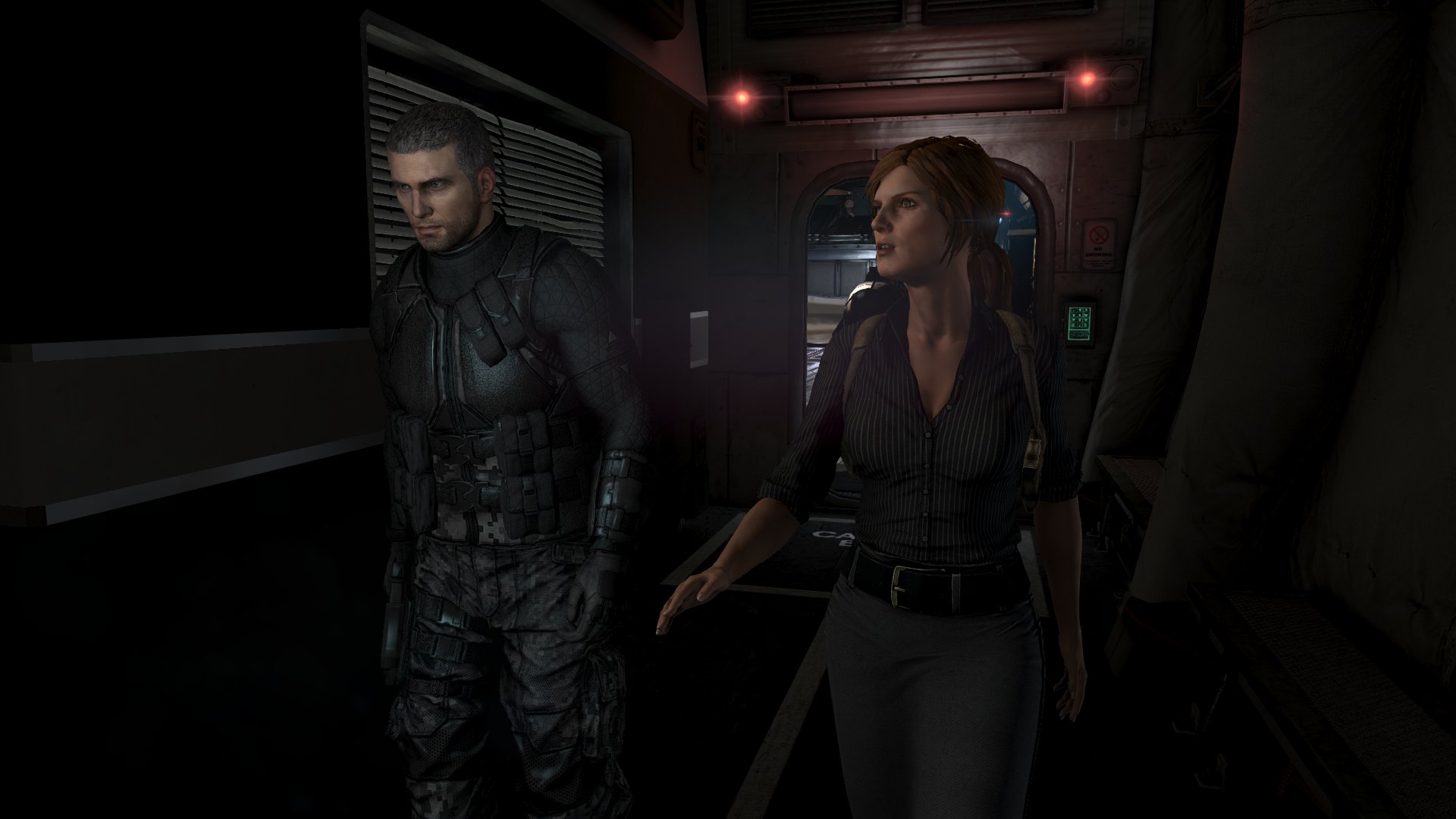 Sam and Grim are back working together, but there are trust issues
Sam Fisher leads Fourth Echelon (4E) from a retrofitted cargo plane. This cargo plane, codenamed Paladin, is a staging area between missions. Just like in the Normandy from Mass Effect, you can roam the fuselage and engage in brief conversation with characters. There is minimal superfluous dialogue and it is unlikely you will forge a strong personal attachment with any of the characters. Sam Fisher's new voice actor keeps his emotions level and by the end he will have you convinced he was Sam all along. Sam's daughter, Sarah, provides the necessary emotional link to the American homeland as they endure repercussions from the Blacklist attacks.
Sam uses the Strategic Mission Interface (SMI) to launch campaign missions. The SMI gives an overview of the globe and shows story and optional missions. Like the galaxy map from Mass Effect, you can choose your next objective and view briefings before going into the field. Intel is presented smoothly on the SMI during cut scenes. Story missions bring the Blacklist attacks closer, but side missions do not hasten their onset. Side missions are worth pursuing because of their open level design and monetary compensation. The narrative is cohesive and the SMI is the window to all things Blacklist related. This freeform approach to mission selection is refreshing and empowers players to create their own variety.
The sequel's objective during missions is to preserve traditional stealth gameplay. The emphasis on stealth begins with gadget selection. Many gadgets from Splinter Cell: Chaos Theory return, and this includes non-lethal options for the morally inclined. Shock mines, gas grenades, flashbangs and non lethal take-downs fell guards so you can drag their bodies to concealed locations. Sticky cameras will let you watch patrols or send enemies into a deep sleep. The tri-rotor, a remote-controlled miniature helicopter, functions as surveillance device and can mark problematic enemies. Marking enemies is as useful as it was in Conviction, letting you track threats through walls and avoid unnecessary confrontations. Mark and Execute can perform finishing moves on up to three enemies, and it is well balanced on realistic difficulty. Stealth is clearly an important aspect of this sequel and preparing for missions adds investment towards a play style.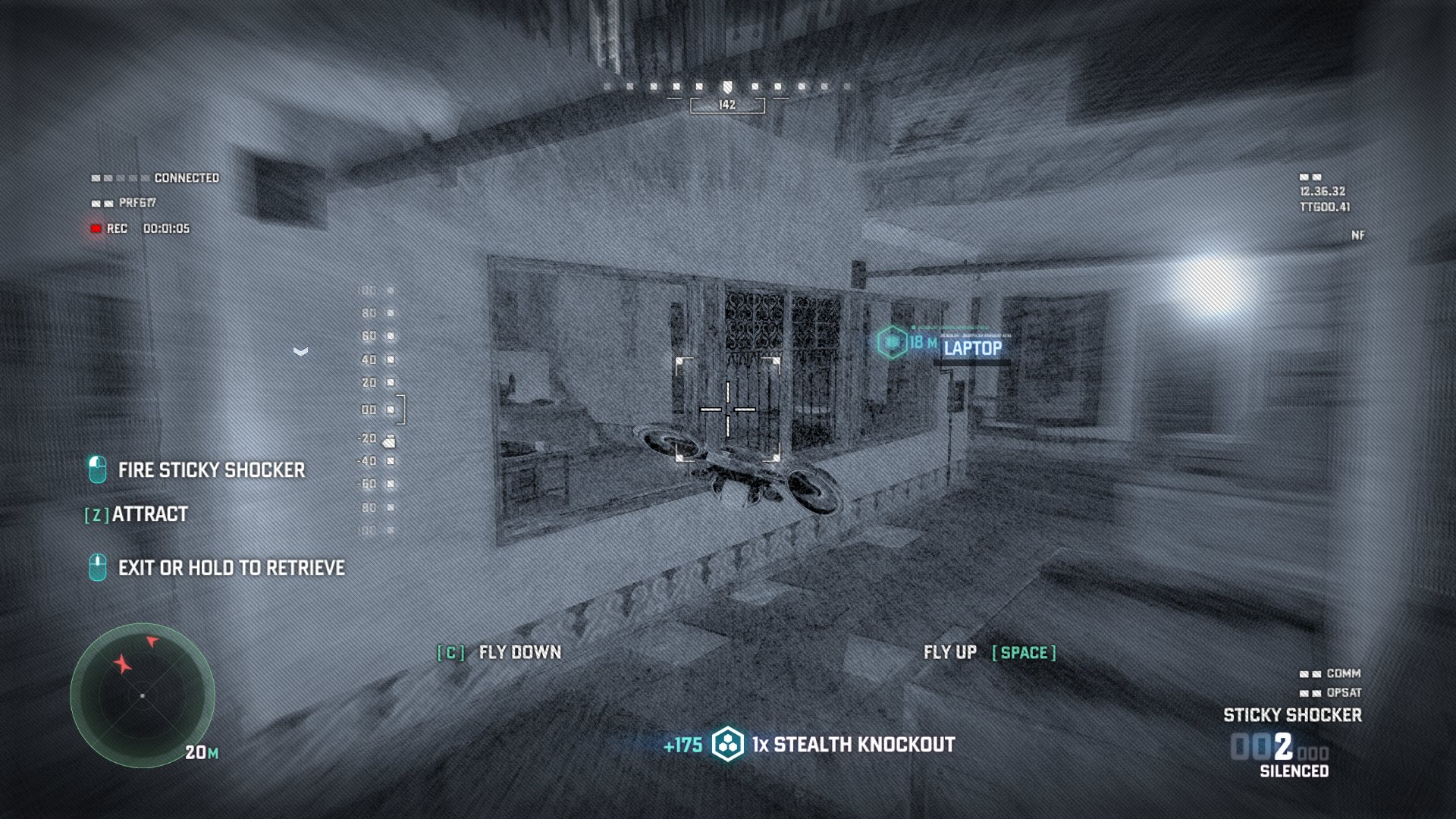 The Tri-rotor is an excellent surveillance device
Points are awarded during missions, and the most points are reserved for ghosts. These points translate into money that can be spent on gadgets, weapons or suit customisation. Non-lethal attacks provide more points than lethal, and some missions end if you are detected or kill guards. Other missions bring reinforcements that make it difficult to finish the level efficiently. It should only take you a handful of missions to obtain the necessary gadgets for your play style. Suit upgrades are expensive, but can let you carry more gadgets or increase your armor rating. There are enough customisations options to provide the necessary money sink. You will want to maximize your point return and thus keep it as covert as possible.
Level design has improved over its predecessor with natural platforming and cover design that helps you stay hidden. The initial stages keep shadows to a minimum, partly because of their daytime setting, and bring players into the game with cover and platforming. Movement between cover is slick as you slide between walls or vehicles. When in cover, you can coax enemy guards to your location by calling them over. This baiting technique seems like child's play, until the enemy patrols overlap. Platforming creates a multitude of paths through levels and is not used as padding between the action. You can climb railings, hang on pipes or mantle through windows as the AI continues their patrols. The implementation is so natural that by game's end you will not need the visible world prompts. The combination of cover and platforming is an excellent component of the level design.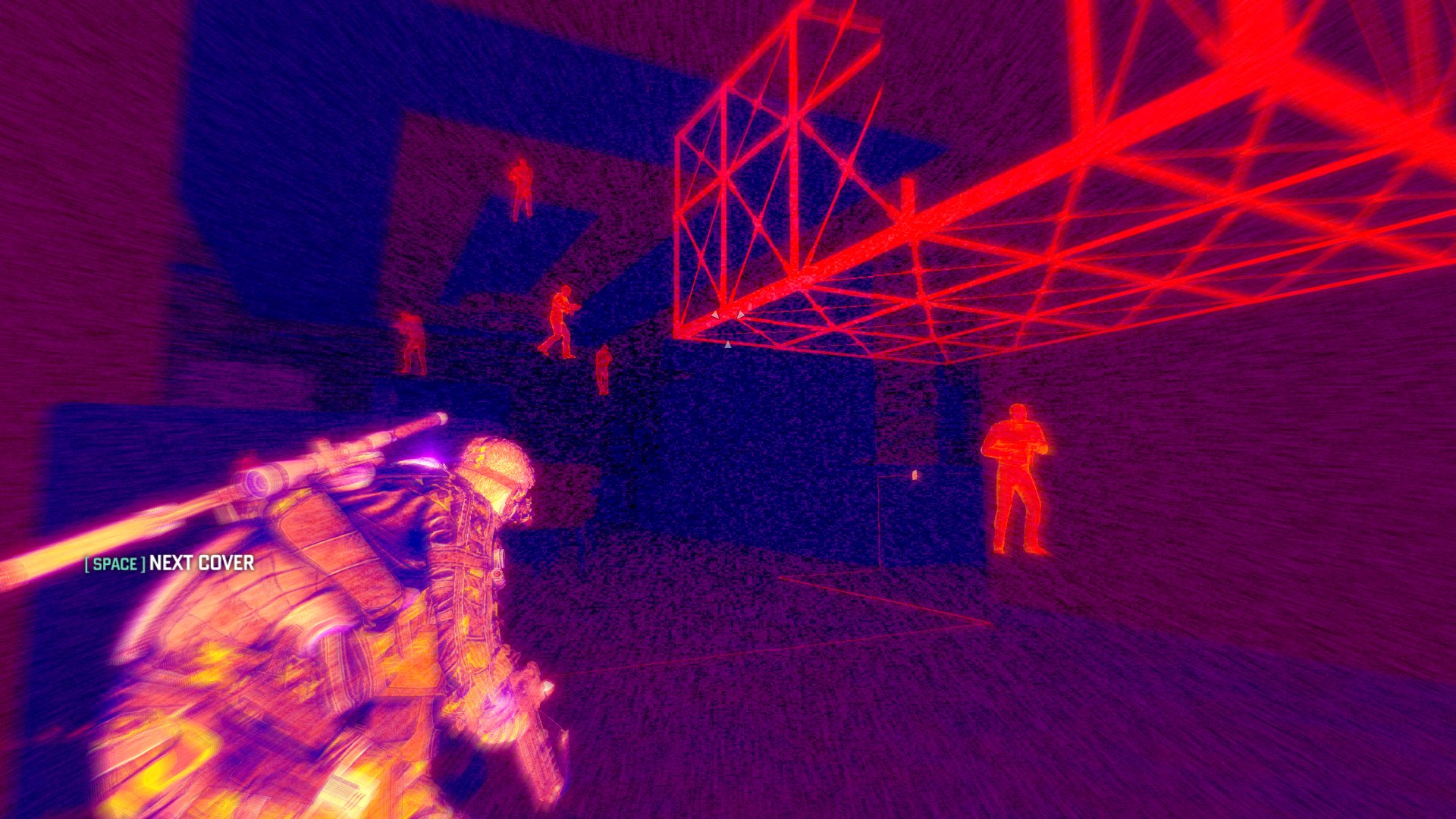 Upgraded Sonar goggles: useful and rose-colored
The best levels bring shadows into play. Sam Fisher is not invisible in the darkness like he was in Chaos Theory. Shadows allow you for flank enemies and hide between patrols. Much thought has been given to shadow placement and how they are positioned relative to enemy patrols. Your suit will illuminate when shrouded in darkness, letting you know that enemies will have trouble seeing you. Remaining stationary will hide you more efficiently, so it's important to know which way enemies are facing before emerging from of darkness. Most light sources can be shot or disabled with a pistol or EMP grenade. Guards are rarely upset if you shoot lights near them, but you need to be careful when creating more darkness.
Comments