Disney Planes Review
Flying in the stormy skies
Games released alongside major movie pictures have become a mainstay in today's marketing scheme of a major franchise. By now we've seen some terrible and some great examples of how the interactive medium can both suffer and benefit from such tie-ins. The latest such arrangement is Disney's Planes, a Wii U title that has been released alongside the kids animated film of the same name. It's a title clearly aimed at kids, but even so the big shortcomings in design and boring repetition make it a poor value.
Planes is a game that's probably best attempted after you have seen the feature film, and in fact that's probably the biggest reason you should be buying it anyway. As a standalone product, there's not much worth noting here– but if you've at least seen the movie and know the characters, the experience is a bit more enjoyable. The game's main story mode is a collection of missions, starring various characters from the film, about 10 of them in all. It takes aim at exploring some additional story bits for each hero and how their lives carry on after the events seen in the motion picture. However, even for a kids' tale, the narrative is bland and very basic; certainly far from Pixar's standards.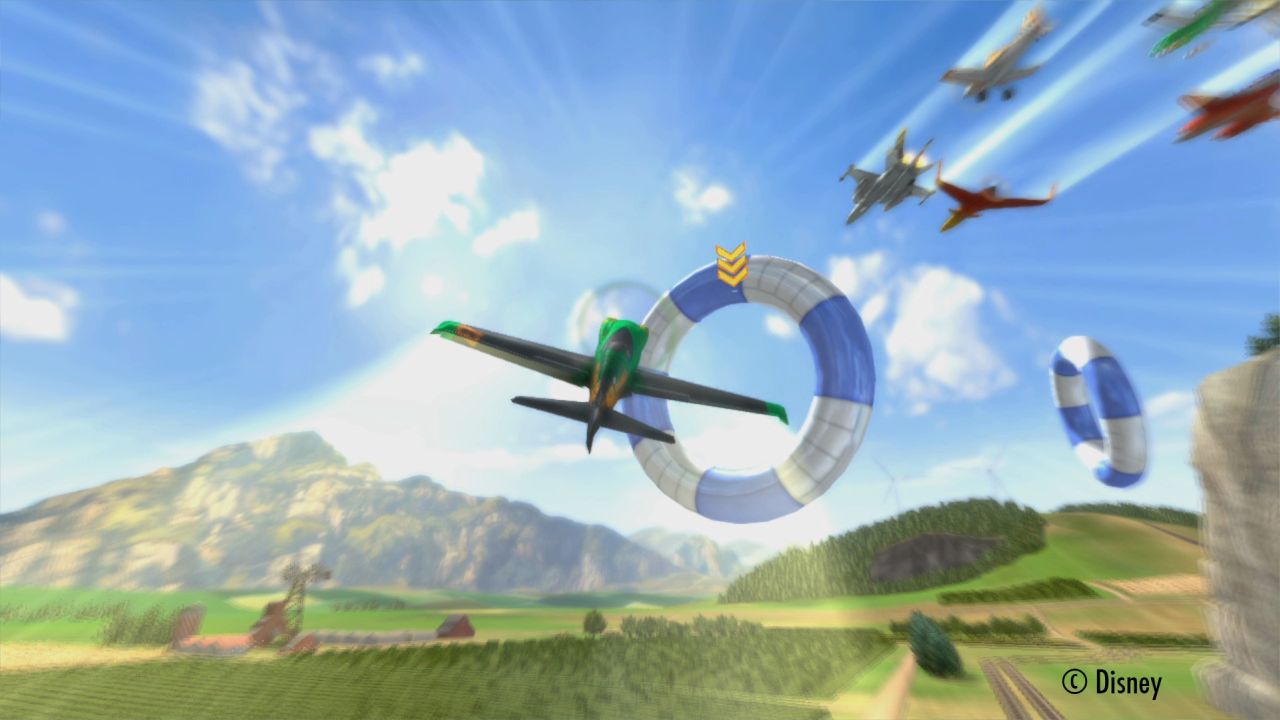 The campaign's series of missions vary from races to collecting items or flying through path markers. The levels are all fairly short, so much so that the whole experience can be easily finished in under 4 hours, even by a kid who just follows along the extensive tutorial. As you play, you'll quickly realize that mission design is not only basic, but it tends to repeat with an alarming frequency. The same mechanics get used for different purposes – but they are still the same mechanics. Planting crops on a field with one character and then collecting flowers with a different character in a different setting is still the same activity, just with a new coat of paint. For the game's subject matter – a movie about airplanes, one would have hoped there to be more variety and imagination used in gameplay design.
After the story mode is done with, you can also dabble in three other areas. Free flight mode offers just that, for those who want to soar worry-free and/or those of significantly young age. Air rallies are checkpoint races, and the final mode sees the player fly around popping balloons. As one might expect, all of these modes make a previous appearance in the campaign, and are simply made standalone here for players who wanted more of that particular activity.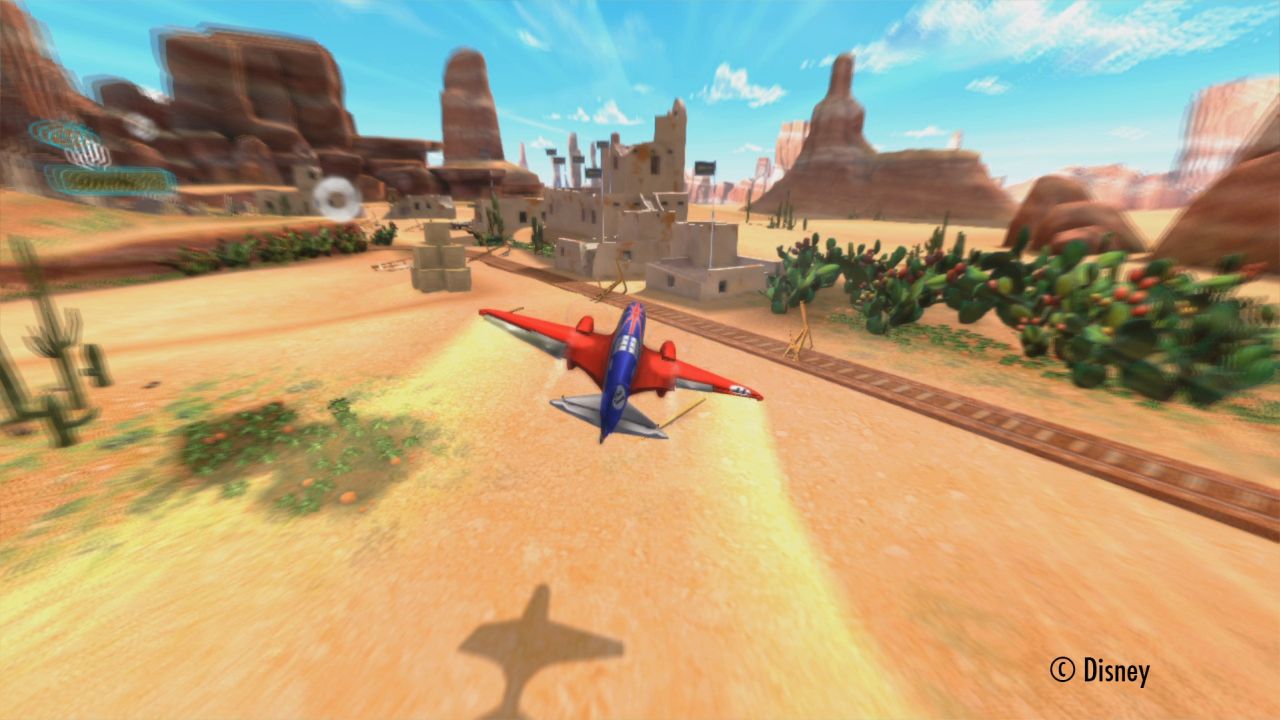 It's taken this long to talk about the control scheme in a flight game, which basically means that it's rather simple and not exactly noteworthy. Players can use the Gamepad or a Wii remote/Nunchuck combination both of which work roughly the same. Controlling the planes is easy, and though you have an option to perform boosts, barrel rolls or reverse, these abilities are seldom needed. There's not much sense of speed, given how slow you are flying (even with boost), and crashing seems impossible – you'll just bounce off objects. So once again, the game is extremely accessible to young players, but at the same time lacks any kind of challenge or excitement.
For those wanting to share the experience, the game supports two users in cooperative play with drop in/out ability. The Wii U version is notably best for multiplayer because it supports that console's off-screen functionality. Thus both players can enjoy a full view of the action – one on TV and one on gamepad – without resorting to split screen. The game can get fairly entertaining when playing with someone else, and is probably the best way to get more enjoyment out of the journey.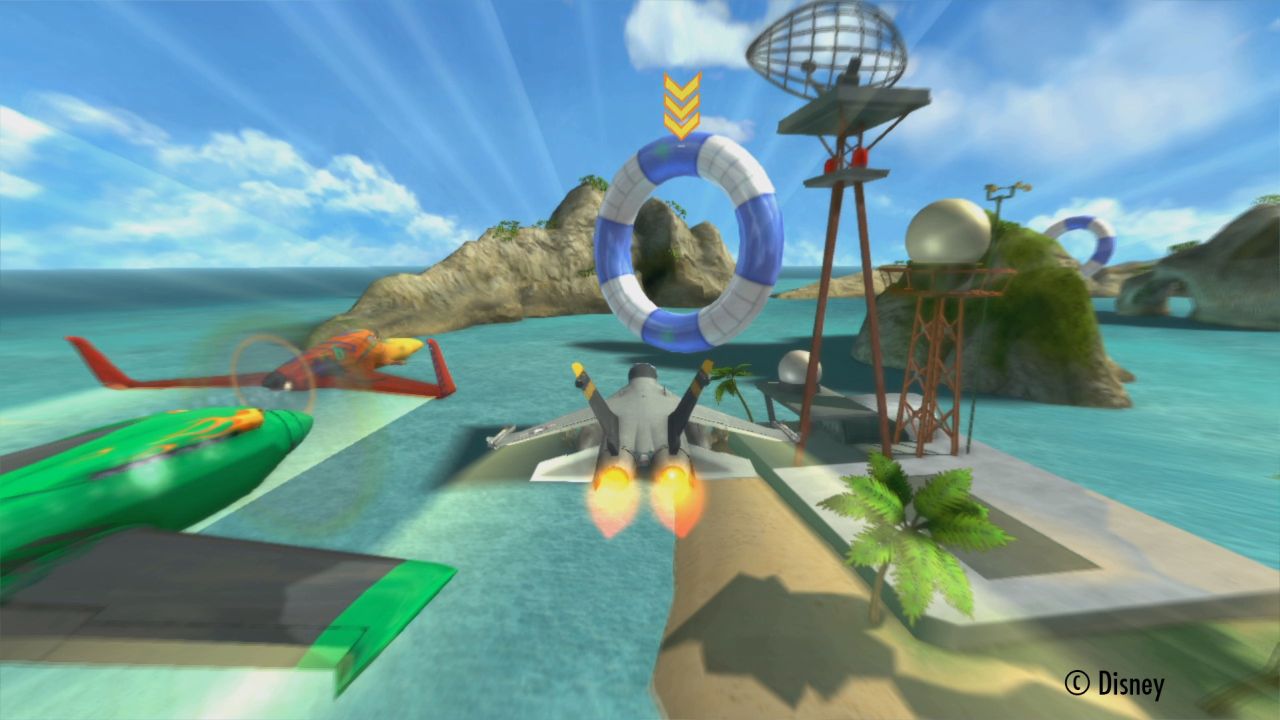 Visuals in Disney Planes are a bit on the rough side, something unexpected from a Disney title, but perhaps explained by being a Nintendo platform exclusive and developed by a third party (Behaviour Interactive). The textures are bland and low resolution, and look similar to the last-gen Wii version of the game. At least the audio is serviceable and it is nice to hear the same voice actors from the feature film reprise their roles for the game.
While highly accessible, Disney Planes for Wii U falls short in many aspects and everyone but the youngest of players will find something to be annoyed or unsatisfied about. It's a short romp that's plagued by shallow and repetitive objectives, subpar visuals and non-involving story. Only the multiplayer manages to shine a light through the cloudy skies of this experience, but can't save it from the incoming storm of mediocrity.
Our ratings for
Disney Planes
on Wii U out of 100 (
Ratings FAQ
)
Comments