Skylanders: Swap Force Preview
We get a first look at the upcoming title in the hugely popular series
The Skylanders franchise has really blown up over the past few years. It wasn't long ago that you could have asked me what or who Skylanders were, and I would have had no answer. But after Skylanders: Spyro's Adventure brought in an insane amount of money through toy sales for Activision, a new massively popular series was born. 2012 saw the follow up release of Skylanders: Giants, and in 2013 the series is coming back with Skylanders: Swap Force. Last week we had a chance to get a first look and hands-on with the game.
For those unfamiliar, the gameplay for Swap Force will be based on the two previous titles. Players use a portal to bring real life action figures into the game. The key selling point for Swap Force is the fact that the toys that will release alongside the game will actually consist of a top half and bottom half. This will allow players to customize their figures and create new combinations of characters at will, while the abilities of each body part will carry over and combine. The production team members who were at the preview event highlighted that this mechanic will allow for up to 256 possible combinations, from the 16 new toys that will be available with Swap Force. To keep things reasonable to kids (and their parents' wallets) the game will support all figures from the previous titles.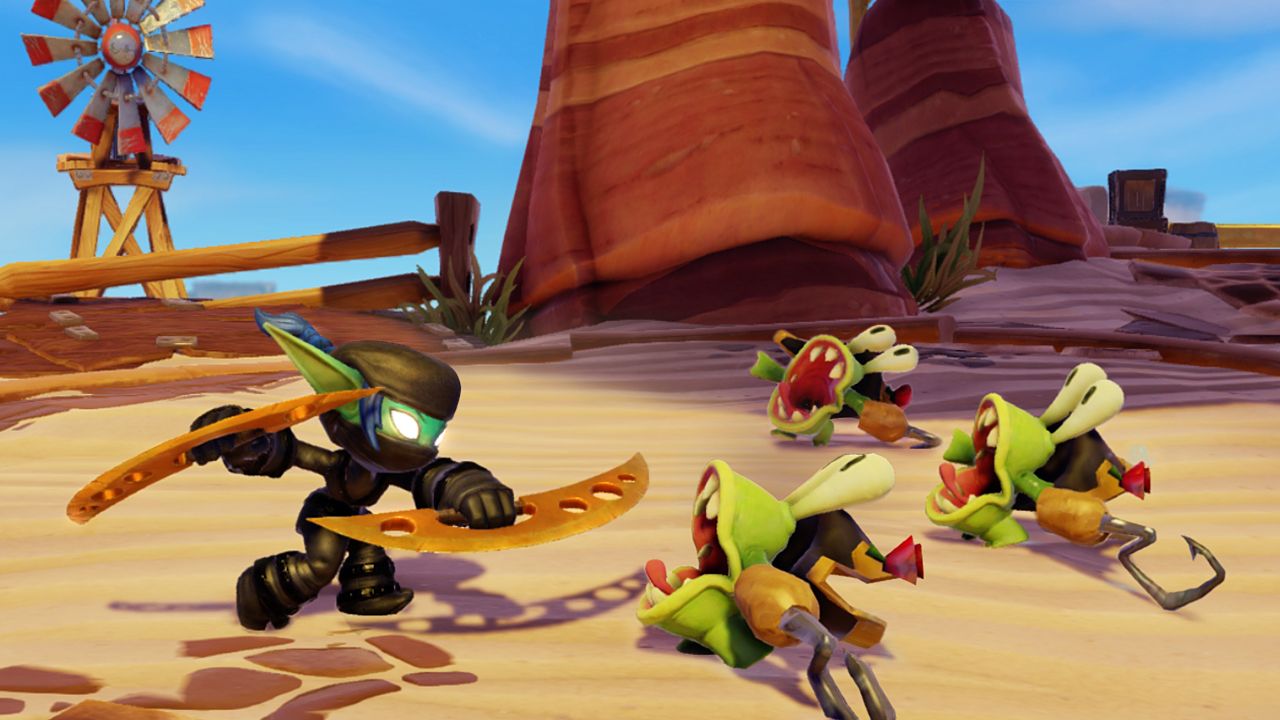 We saw a live demo for Swap Force, which was running on PlayStation 4, across multiple levels and characters. Using a Bounce character called Rattle Shake, we used our agility and fast-firing weapons to defeat the enemies in the 3D environment and progress forward. The game played in very much the same third-person platformer/adventure style as the previous titles. However, thanks to next-generation visuals, the environments stood out as colourful and detailed. Everything from the animations to character designs showcased the passion to make this an enjoyable and bright world for kids to get immersed in.
As mentioned earlier, each half of your character dictates what abilities can be used – but to add to that, each half of a toy actually stores this information individually, and has its own skill unlock tree. So the more you play with any half of a hero, the more abilities get permanently unlocked. Also, to make upgrading your heroes less of a hassle, the developers placed upgrade pods in the game world, so players can increase their powers mid-level and not have to wait until the end.
Later on we switched to Boom Jet, an air Skylander that used his speed and bomb attacks to dispatch foes. Upon arriving at a Jump Zone, we needed a hero with a jump ability but wanted to keep the raw firepower of the Boom Jet, so we swapped in the bottom half of a snake to the top half of Boom Jet, and ended up with a new hero. It was noted that all of the heroes will behave and animate differently based on the body combination – and we could see that in the game. Our new hero moved and weaved like a snake because of its new lower body, but was still able to deliver massive damage thanks to its top half. Combining two halves of a hero will use a name from both characters it was created with, and the developers jokingly stated that it was a lot of fun for the legal department to clear every name combination.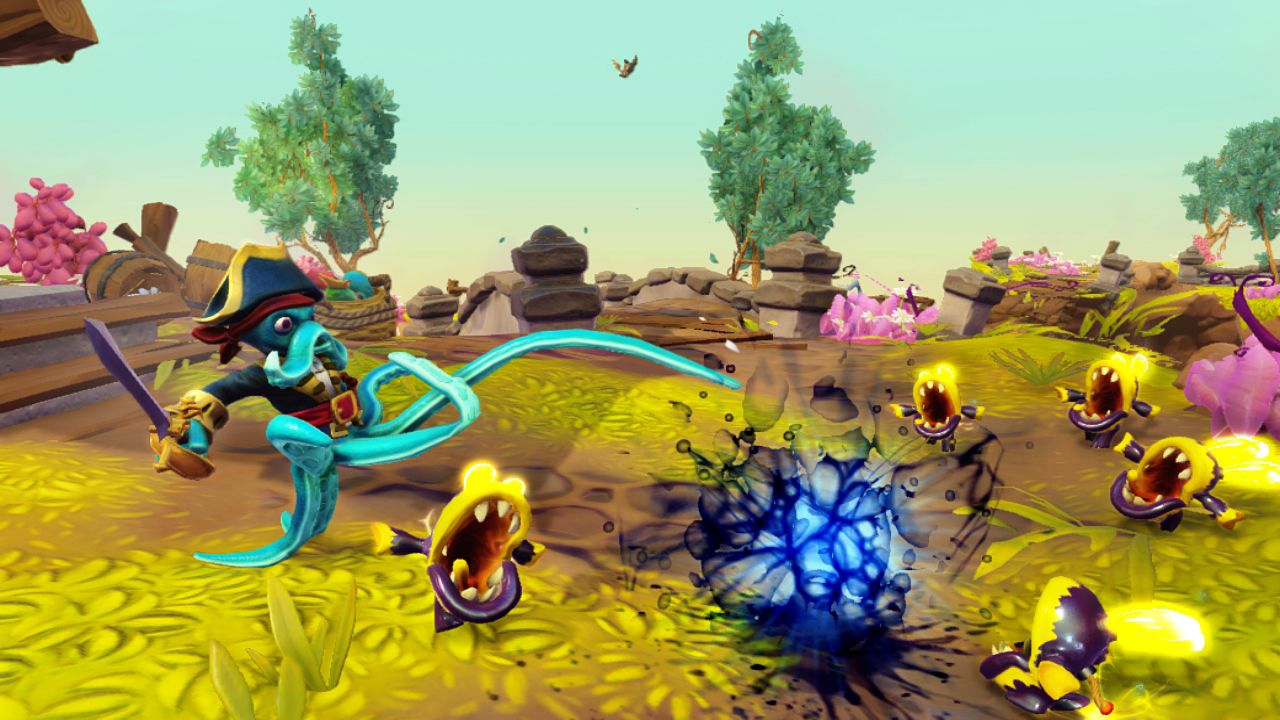 Upon activating that Zone, we entered a minigame which required us to jump high and between floating islands. Completing this challenge would only be possible with our new lower body, thus the game ensures players are only able to start a minigame when they have the right powers. After completing this challenge, we returned to the main game world and proceeded onwards, this time as Zoo Lou.
To make the traversal of the environment more entertaining, the game utilizes some high jumps or on-rails sequences to diversify the experience. So to get to the next area, we watched our life elemental hero ride a rainbow while dodging oncoming spiked balls and floating ships. Because why not? After arriving in a new area we proceeded to encounter more Zones, which included self-explanatory minigames from racing to jumping and spinning.
The challenge system has been expanded, however. Instead of just earning stars after completing a challenge, this also now unlocks a so-called Portal Master version of the minigame, which players can then go back and complete again for different rewards as well as increased difficulty. Completing everything adds to your Portal Master store, a more comprehensive way to gauge your overall game progress. The increased rank will also allow you to customize your portal space with rare treasures, and even more hats.
We also got to see a couple of cooperative challenges, most involving puzzles, where players can have a friend join them. These puzzles were relatively simple, and can be completed if playing alone just by taking turns at controlling each side of the puzzle. And if these hundreds of activities aren't enough, the game world itself offers things to collect and treasure to discover.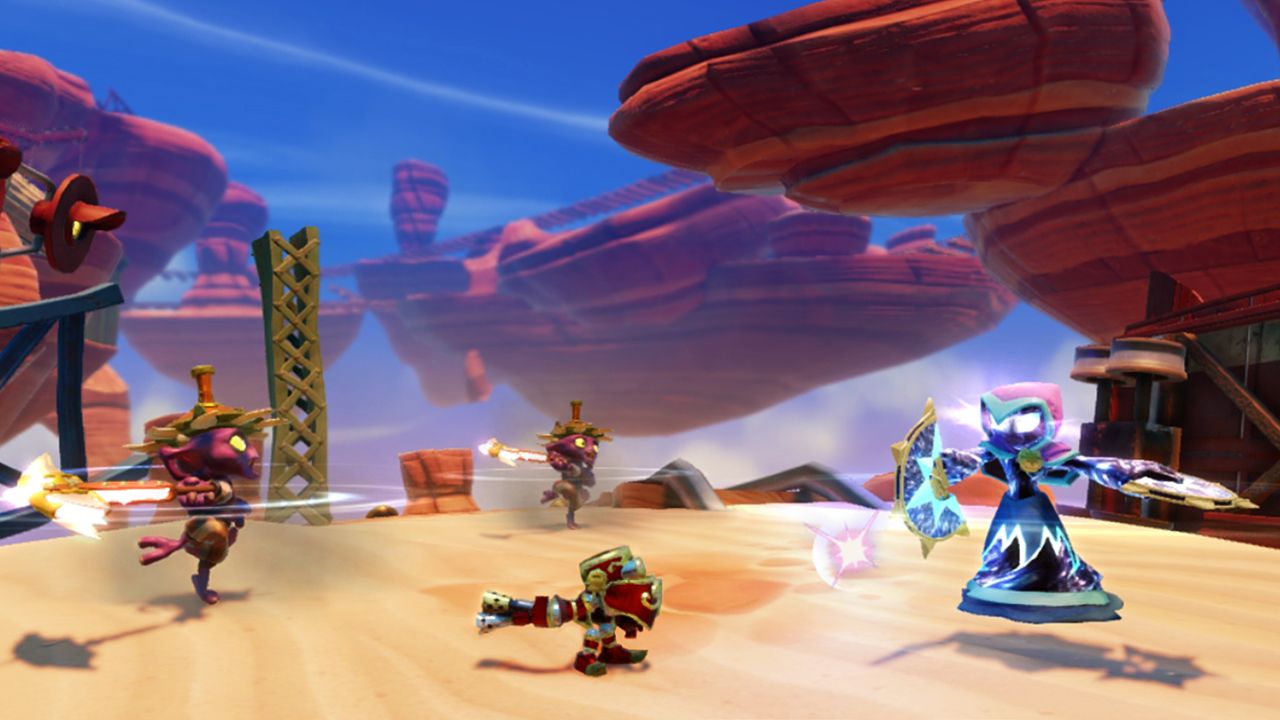 Aside from the fact the game already looks good in HD, all of the characters are fully voiced. Top talent like Patrick Warburton, Richard Steven Horvitz, and more are involved. And not just the main story crew, but every piece of dialog in the game, from side quests to idle chatter. This is, of course, to ensure that kids can fully enjoy the experience and perhaps not struggle with reading so much text. What's more impressive is that this full voiceover will also exist in international versions of the game.
Skylanders: Swap Force will feature a few difficulty levels to ensure that kids can have fun, but parents can also give it a go. The unlockable Nightmare difficulty mode is said to be on-par with the difficulty that even seasoned gamers will be challenged by. While the 6 to 12 year old demographic remains key, Vicarious Visions says that the stories of parents playing the game after the kids have gone to bed really motivates them.
Look for Skylanders: Swap Force to release for Nintendo 3DS, PlayStation 3, Wii U, Wii, and Xbox 360 on October 13, 2013. Versions for Xbox One and PlayStation 4 will also be available after those consoles launch.
Comments
blog comments powered by Disqus