Game & Wario Review
A collection of minigames that has some appeal, but lacks innovation
The Wii U is undoubtedly an innovative piece of technology that attempts to bridge the widening gap between traditional videogame consoles and touch-based phone and tablet games. While not as ground-breaking a concept as motion-controlled gaming, Nintendo's newest console contains all the components necessary to create unique videogame experiences while also catering to hardcore fans left unfulfilled by the Wii's emphasis on casual gaming.
The big question, however, is whether or not there are any developers who can figure out how to take advantage of the Wii U's unique touch-screen controller. As of this writing, there have been few imaginative attempts at demonstrating the full potential of the gamepad beyond the mild convenience of using it as an on-screen map and inventory shortcut. With third party developers jumping ship on the slow-selling system, it's up to Nintendo to prove the innovative features of their new console.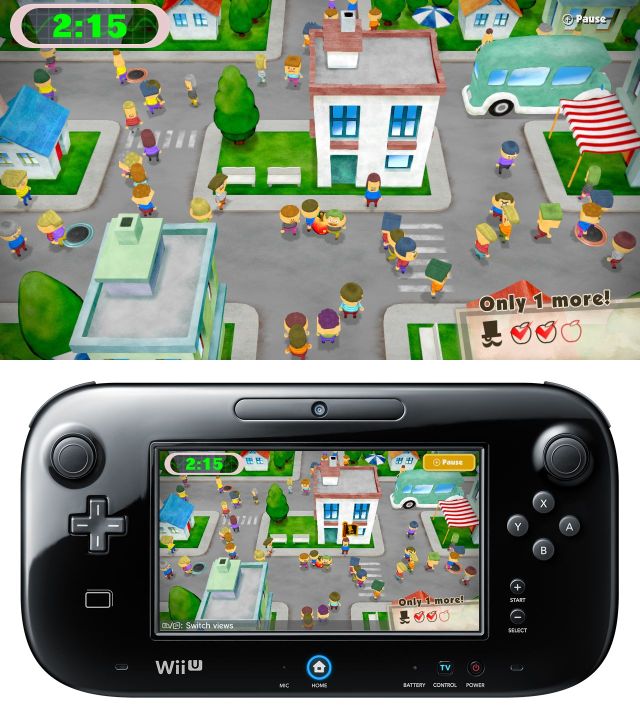 As far as franchises go, there are few at Nintendo that have proven to be as innovative and creative as the Warioware series. Originally exclusive to handhelds, these series of micro mini-games starring Mario's occasionally evil doppelganger (presumably, as the Mario fiction isn't quite clear on that) featured wacky, often trippy micro games that tested quick thinking and faster reflexes in order to unlock further games and collectibles. The series' quirkiness and old-school twitch gaming remained a cult favorite among gamers, and has always taken full advantage of every hardware they were released on.
With Wario and friends making a visit to the Wii U, one would imagine that they would succeed in bringing out the hidden potential of the system where others have failed. Before any claims can be made, however, it should first be noted that this is not your typical Warioware release, but a new type of spin-off entirely. Called Game & Wario, the Wii U title refers to the classic Game & Watch games that predated Nintendo's first 8-bit console (though younger fans nowadays would recognize the monotone mascot best from his inclusion in the Super Smash Bros games). As much as this implies a wide variety of mini-games, the fact is that Game & Wario only contain about a dozen games total, each of varying length and quality.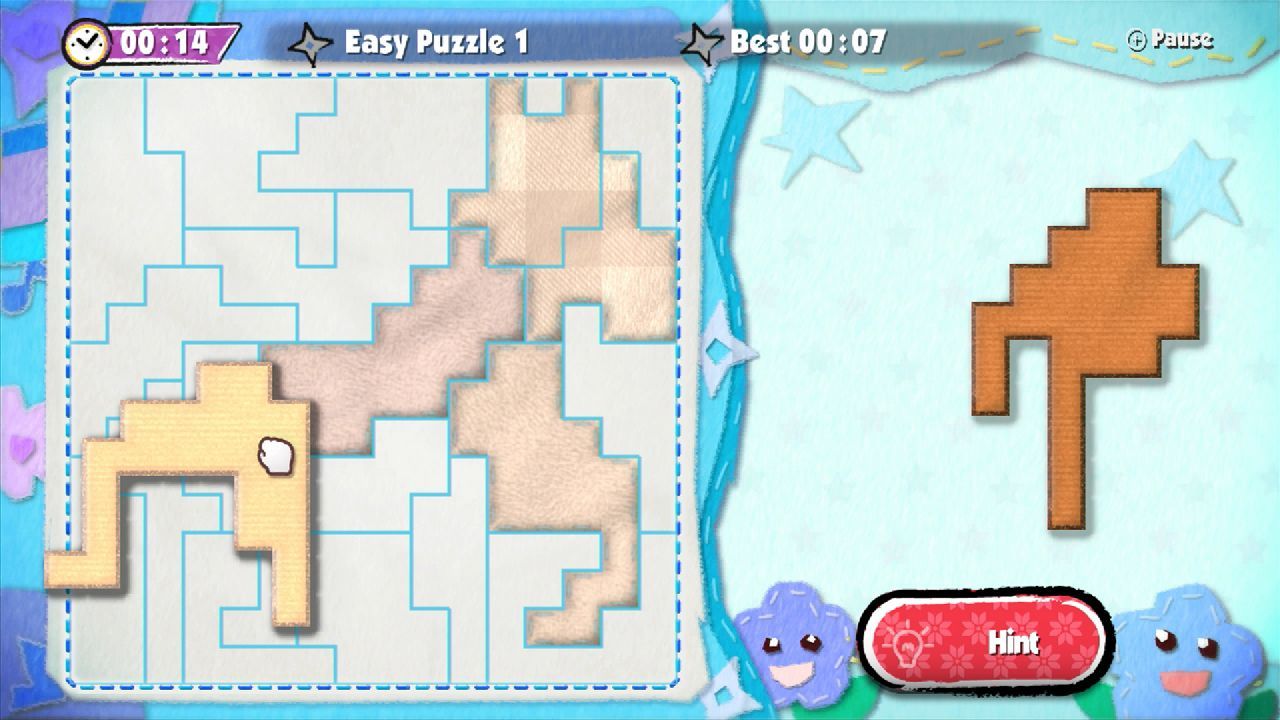 The game begins with Wario chilling at the pigsty he calls home while watching a television ad for the latest craze in the videogame market: a system that lets players utilize two screens to control the action (wink, wink). Inspired by the latest technology and his insatiable thirst for greed, Wario decides to develop a videogame that will make him filthy(er) rich. A surprisingly honest day's work considering his past attempts to rob people blind.
Beyond that introduction, none of the other games included in Game & Wario share any sort of narrative cohesiveness. Each one features a brief-yet-cute intro with each of the other Warioware characters as they go about their everyday wacky lives; Mona has taken up a new profession as an investigative photographer, ninja sisters Kat and Ana have honed their sword skills to make cute paper-crafted decorations, disco stud Jimmy T has hit the ski slopes, and so on. Despite their status as B-list Nintendo characters, the Warioware crew is represented faithfully thanks to the game's aesthetically catchy not-quite-anime, not-quite-cartoon look. The visual style is consistently cute and colorful, while the title cards for each mini-game also feature various parody art-styles that result in a wonderfully unique aesthetic.
If only the games themselves were as creative as the art style. The bad news is that this assortment of quick-play mini-games is a mixed bag overall. For Wario's game, we have the self-explanatory "Arrow", where Wii U players hold the gamepad vertically and drag their fingers across the screen to let loose flying arrows against a horde of evil Wario robots making their way toward the TV screen. If they get too close, you'll have to tap the gamepad to get the little bugger bots out of your controller. The arrow-loosing mechanic works as intended, but the game hardly proves exciting enough to stick with in the long run; in fact, four stages is all you get, a precursor to the short-lasting appeal of many of these games.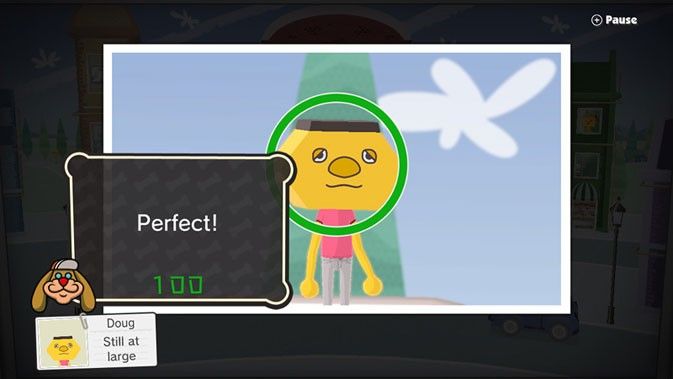 Shutter is Mona's photography-based game, where players must move the gamepad around to align the touch screen with their NPC targets in order to snap the candid pics. The game scores you based on the quality of photos taken, but the concept is far more cumbersome than it should be thanks to the uncomfortably floaty controls. Another game suffering from an unpolished control scheme is Kung Fu, which requires players to keep the gamepad directly below their heads as they tilt the controller around to time Cricket's jumps across narrow ledges in a top/down camera view. Aside from the uncomfortable angle the game forces players to take, it is also plagued by screen glare that will be apparent in any room with medium lighting.
Ski is a lengthier experience than Arrow and controls much better than Shutter, but is also lacking in excitement beyond slightly tilting the controller left or right. Ashley's game (called..."Ashley") actually makes up the best use of tilt controls in this package, and actually showcases the potential of 2D shoot-em-ups on the Wii U; using the gamepad to steer the fan favorite witch up and down a scrolling 2D plane while engaging in light bullet-hell encounters works surprisingly well and is one of the more fun games overall. Unfortunately, it's also the shortest by far, at just three stages with light high score rankings.
In fact, there's barely any reason to work toward getting a high score in any of these games unless you have enough friends or family available to compete against. Once more Nintendo ignores the modern Internet age (though not entirely, as you'll soon find out below). On the other hand, there are tokens to collect for performing various feats (including simply booting the game up every day). These tokens can be used to redeem a random assortment of collectibles ranging from character cards, movies, mini-game hints, and even a few micro-minigames that are pointless but surprisingly interesting distractions.
Comments