NCAA Football 14 Review
Small improvements make it worth checking out for annual purchasers, but others should wait for next gen
There's something unique about college football, something special about it. The NCAA FBS is a quirky league, filled with traditions and rivalries that date back decades (a century for some). It's the only sport where you lose one game and your championship hopes are slim, you lose twice and you're playing for next year. At the same time, it is one of the few sports where more than one team can end their season with a postseason win. Once upon a time it would have been fair to argue that college football was the little brother to the NFL in terms of revenue and popularity. However, today college football feels like its own entity, linked to the professional game only through the exchange of players and coaches. You head to the southeast of the United States and college football far outweighs the professional game in terms of importance. Fans from Tuscaloosa, Gainesville, State College, Boise, and Madison make up some of the most passionate fan bases in all of athletics and have made college football a staple of the autumn Saturday afternoon.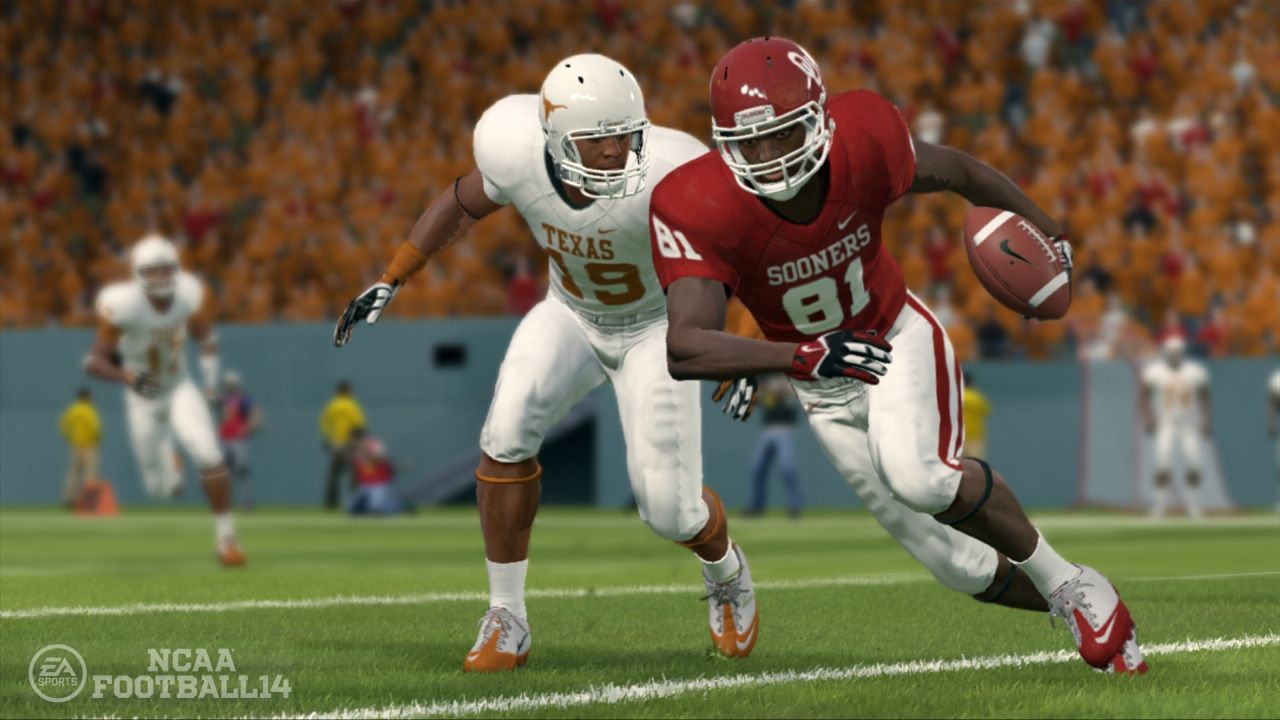 The NCAA franchise has tried to capture the magic of college football since Bill Walsh College Football was released in 1994. Much like the sport of college football itself, for years the series has struggled to get out from under the shadow of its NFL counterpart, Madden. While the franchise has had some success standing out in the last few years, NCAA Football 14 does little to build on that success. Instead, the game retreads much of the same ground covered in the 2013 edition, making it a hard sell for fans of the yearly college football series.
NCAA Football 14's biggest change is its use of the latest Infinity Engine that was introduced in Madden 13. In many ways, the engine is a great addition, allowing players to make sharp cuts and execute complicated footwork that has long been left to player imagination. While these changes aren't quite so evident in the passing game, it makes all the difference when running the ball. Pulling off juke/spin combinations feels rewarding and looks phenomenal. The game finally is able to demonstrate the difference between Adrian Peterson and Barry Sanders. Some runners are tough to bring down, staying up right and fending off attempted tackles with a strong stiff-arm, some will put a juke move on a defensive back that leaves them standing like a statue. The open field is where the new NCAA Football 14 really shines.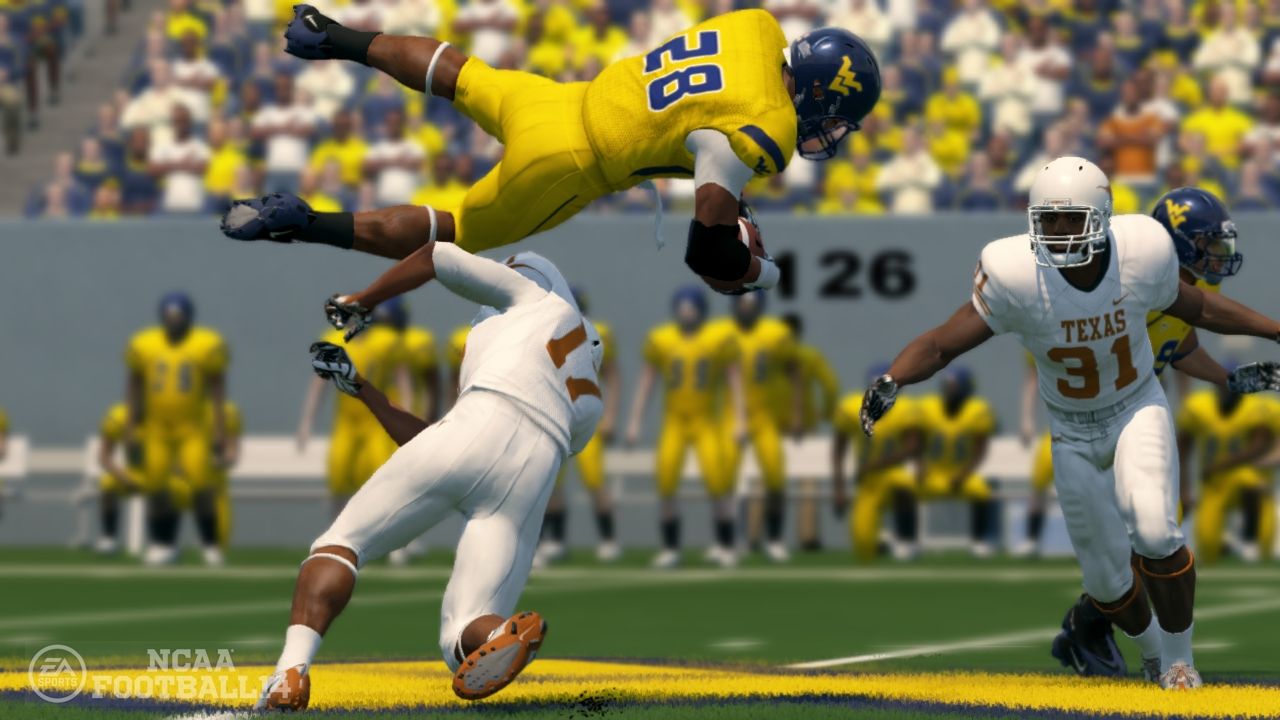 The one drawback to the new engine is on defense. The old animations are rigid and dated compared to the new look, and I found that the new engine demands more precision and shows some flawed mechanics/AI on the defensive end. When chasing down a ball carrier, the old graphics engine seemed to be more forgiving, whereas in this year's game I found myself constantly barreling past ball carriers. It is an adjustment that takes some time, and toward the end of my 40 hours reviewing the game I started to feel like I was getting the hang of it. This learning curve shows how the Infinity Engine is a two way street and odds are that you will be left frustrated more than once by missed tackles.
The rest of the game feels relatively untouched in terms of gameplay. The passing game feels very similar to last year's entry, with the long ball often intercepted and the intermediate passing very difficult to defend. However, much like last year's game, the passing mechanics lead to head scratching numbers where incompletions feel like a rarity. Often times passing plays end in completion, interception, or being thrown away. My Road to Glory quarterback finished most games over 70% completion percentage his freshman year, a shocking statistic.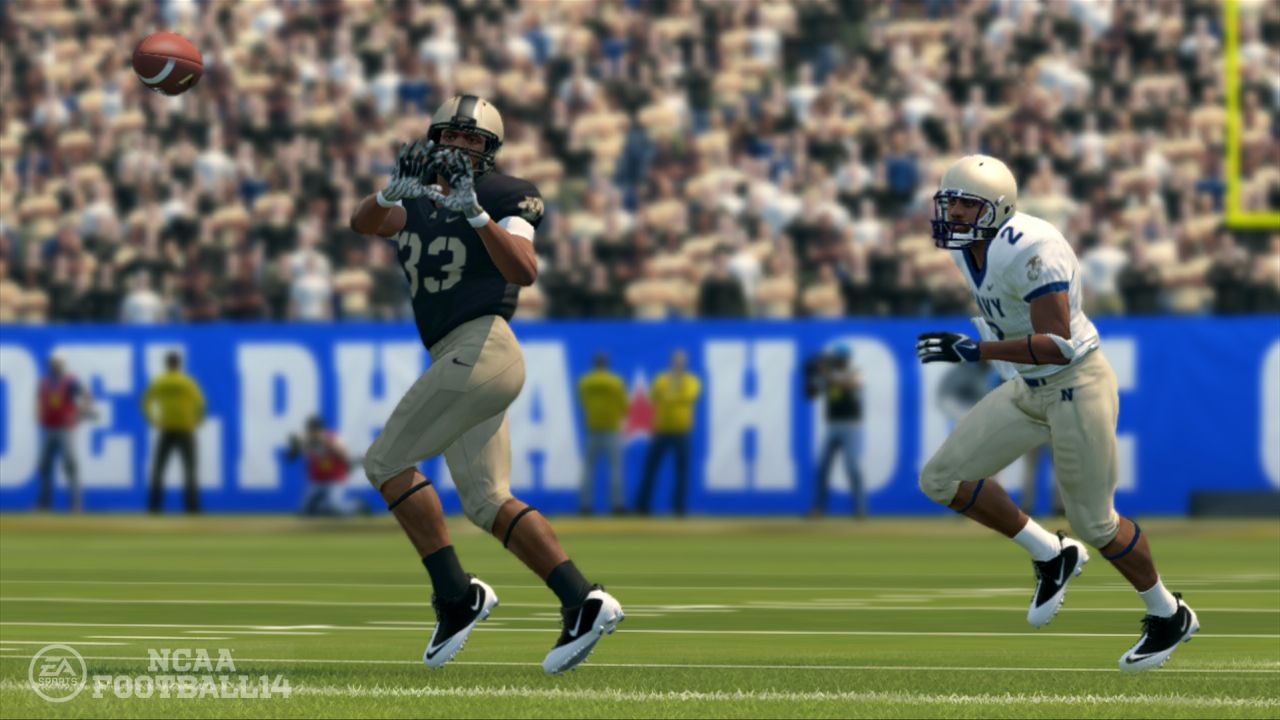 The presentation animations are still the same. There's some nice touches added in between plays - even if they break continuity with what you're seeing on the field - the thought is nice. What is annoying is that NCAA Football has struggled with presentation for years now, the intros are lame, the commentary is uninspired, and they try every year to fix it with little things here and there. One year mascots were added to the cutscenes, last year studio breaks added a more televised flavor. The attempted changes are nice, but an overhaul is desperately needed. College stadiums are madhouses, students start tailgating early in the morning and their section boasts specific chants and cheers. Unfortunately, every aspect of the presentation feels like an apology from EA Tiburon, as if they are aware of the sub-par animations and recycled graphics, but didn't have time to really fix them. Instead, little things have been altered again, like a TV style promo replacing the run out of the locker room. Herbstreit and Nessler's commentary has a couple new lines as well, but again it is far from the needed face lift.
These little tweaks carry into the season modes NCAA Football. The Dynasty recruiting method has been altered, allowing players to choose how to distribute 5,000 recruiting points, as opposed to choosing the method of contact and discussed topics with recruits. It is a nice attempt to try and whittle away the mind-numbing recruiting process, but applying 5,000 points ten at a time is still a bore. Dynasty mode also has a new Coaching Skill Tree, infusing an RPG element. The skill tree is a nice touch and provides a natural progression for players, meaning that win or lose you will still get a boost in experience. The rest of franchise mode is the same as last year, which is mostly for the better. Aside from the lengthy recruiting process Dynasty mode has always been good fun.
Comments