MotoGP 13 Review
Return to the track with this new racing title that focuses on bikes
Even within the very popular genre of racing, there are niches. One such dedicated sub-genre is simulation, and that's where MotoGP 13 finds itself. The appeal of racing in the motorcycle Grand Prix is limited even further, but these fans are passionate about their bikes and their sport. Not since MotoGP 09/10 has there been a notable video game release to satisfy the bike racing enthusiasts, and MotoGP 13 hopes to fill that void. Developer Milestone returns to the franchise, after leaving it back in 2008, and brings with it a solid and challenging experience that fans will definitely appreciate.
Being an officially licensed title, MotoGP 13 features all the tracks, riders and teams from the 2013 MotoGP, Moto 2 and Moto 3 world championships. Everything from liveries, bikes, team names, sponsors and even rider pictures are authentic, so anyone familiar with the sport will undoubtedly enjoy the realism presented in the game. The game features a few standard single player game modes, such as Grand Prix, World Championship, instant race, and career mode. The aforementioned three modes are fairly straight forward, letting you quickly setup some rules and hit the track.
The career mode allows you to create a rider and begin your journey to the top of the MotoGP world. You've got a private trailer that acts as your menu (ala Dirt 2), from where you can check up on season standings, view email, see the cover of a monthly magazine or further customize your appearance. You start off as a so-called wildcard racer for any teams that will take you on, earning reputation and fans as you compete through the season. Notice, it doesn't say win races – that's because MotoGP 13 is definitely a challenging game, for reason's we'll touch on later. This is the sort of racing experience where placing 15th is usually what's expected when you're starting out, and coming in 10th earns you congratulations. Of course as the seasons go on, you join better teams and your expectations rise, so it's not long before you're expected to win races with the fast bikes you have been provided.
Your career takes place across a number of seasons and disciplines, which can last around 18 races per season if not more. The competition is organized realistically based on the actual championship, so you must place well and earn points to have something to show at the end of the season. Participating in races earns you fans and XP, which unlocks new rider customization items and other bonuses. Your manager will give you a placing goal, as well as a specific rider to beat for bonus XP. Before heading to the track, the difficulty can be tweaked fairly extensively to create the type of challenge you want – from driving assists to physics and AI.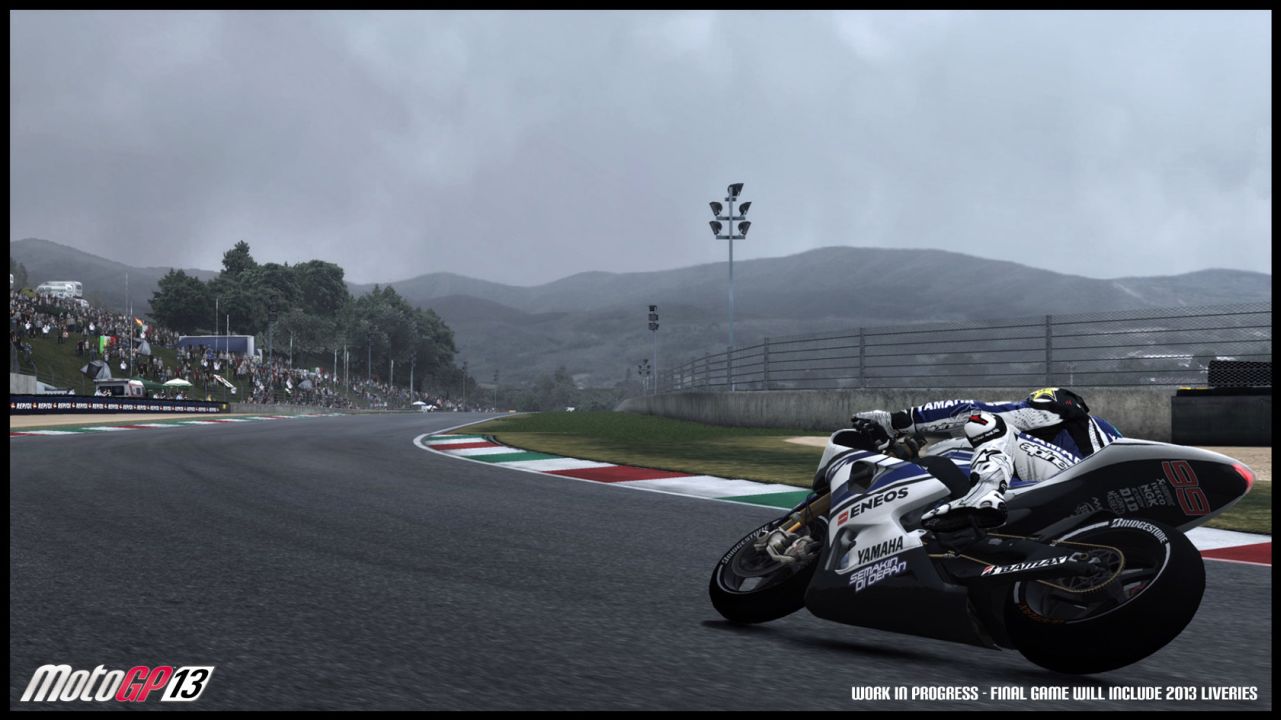 Being that this is a simulator in the full sense of the word, MotoGP 13 is not an easy game. Those who want a challenge will love the experience, while others may want to start on lower difficulties in order to learn the ropes. Unlike cars, when you hit the track you instantly realize this will be a harrowing and tense affair, as the controls dictate almost 10 different ways to control your bike and its rider. From the way you hold your body, to how you corner and shift in the seat, everything comes into play in how the race plays out. On lower difficulties, players will need to adjust their driving style and realize how to control gas/brakes and corner, as it's much different from driving cars. Even so, AI is quite unforgiving and will give it their all even on Easy. If you choose to turn up the challenge – up the AI, turn on more realistic physics and damage, and turn off driving assists - good luck. This is a difficult experience, but one that feels very rewarding once you finally get the hang of the controls and simulation. You'll notice your own skills improving with every race and inch closer to the podium with every corner.
You'll be racing on tracks collected from around the world from every level of the championship, and though I lack familiarity with the real world settings, the tracks presented in the game all look and race realistic enough. Before each race you're able to tweak a number of mechanical features of your bike – the list is extensive, but each customization is fairly basic; a slider on a +3/-3 scale. Tracks feature a variety of day/night and weather settings, a variety that is still surprisingly rare in other racing games, and active weather that changes as the race goes on. A variety of cam options are available, even in-helmet. And should you still struggle in a race, there is a popular time rewind feature that can be used to undo your mistake. As a side note, game sometimes lacks the sense of speed that should be felt when traveling 200km/h on a bike, so you might miscalculate the cornering at times.
Those wishing to take the game online can do so in either GP or Championship modes. They work much the same as you'd expect organizes races to play out, and perhaps the only glaring omission is an instant race that lets you jump in as soon as possible. It exists in single player, but not for online play. There was some notable lag when playing online – whether that's because the servers aren't up to the task, or because most of the players are likely enthusiasts from Europe – which can be frustrating in a technical game such as this. MotoGP 13 also features a rare option of split screen local play, for those who want it.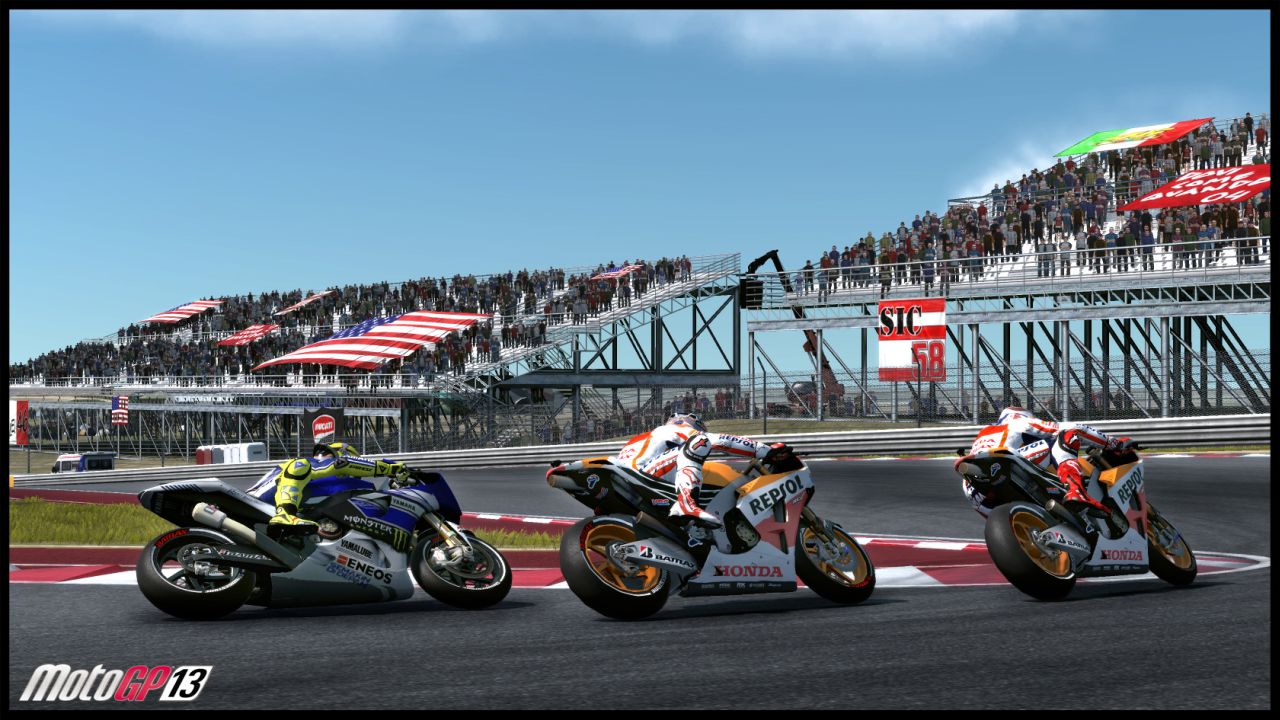 While the game is also available on consoles, there's no question that the PC version looks and feels the best. The textures of the tracks and bikes are sharp, with no blurring and some AA to smooth out any edges. It's not perfect, as many textures look flat and lifeless, as do the crowds, and it lacks in sheer technical prowess of modern AAA racing games. But this is a title with niche appeal that isn't trying to draw in a casual racing audience with its pretty sights, so that can be somewhat forgiven. Animations of the riders are basic, and presentation is a bit underwhelming when you finally start winning races. The music soundtrack is enjoyable but somewhat limited; audio design is basic and most of the bikes sound the same, producing a grating noise when more than a few are close together. Perhaps that's what the real thing sounds like, or I don't have an ear to distinguish between bike engines like I can with cars.
It's been a few years since a proper MotoGP title, and this year's edition delivers in that regard. MotoGP 13 is a full featured simulation that fans of the sport will both appreciate and enjoy, with no technical issues, a completely realistic selection of tracks, bikes and teams, and a solid physics engine to hold the actual racing together. Presentation could have used a bit of work, but launching at a below-standard retail price should help the game sell a few copies to curious passers by. MotoGP fans that want a hardcore simulation, this is the game to get.
Comments
blog comments powered by Disqus