Rush Bros Review
A competitive techno-themed cyberpunk racing platformer with a flare for visual style
It's been a real treat to see the way that classic video game genres, originally limited by hardware capabilities, have evolved and stayed relevant as time goes by. The platform racer is a great example, stripping platforming of most combat aspects in favor of raw speed and maneuverability. These had a heyday back when Sonic the Hedgehog single-handedly carried the original sales of the Sega Genesis, and still have modern classics showing up in the form of Super Meat Boy and Fancy Pants. This month gave us the release of an exciting new entry in the field: Rush Bros.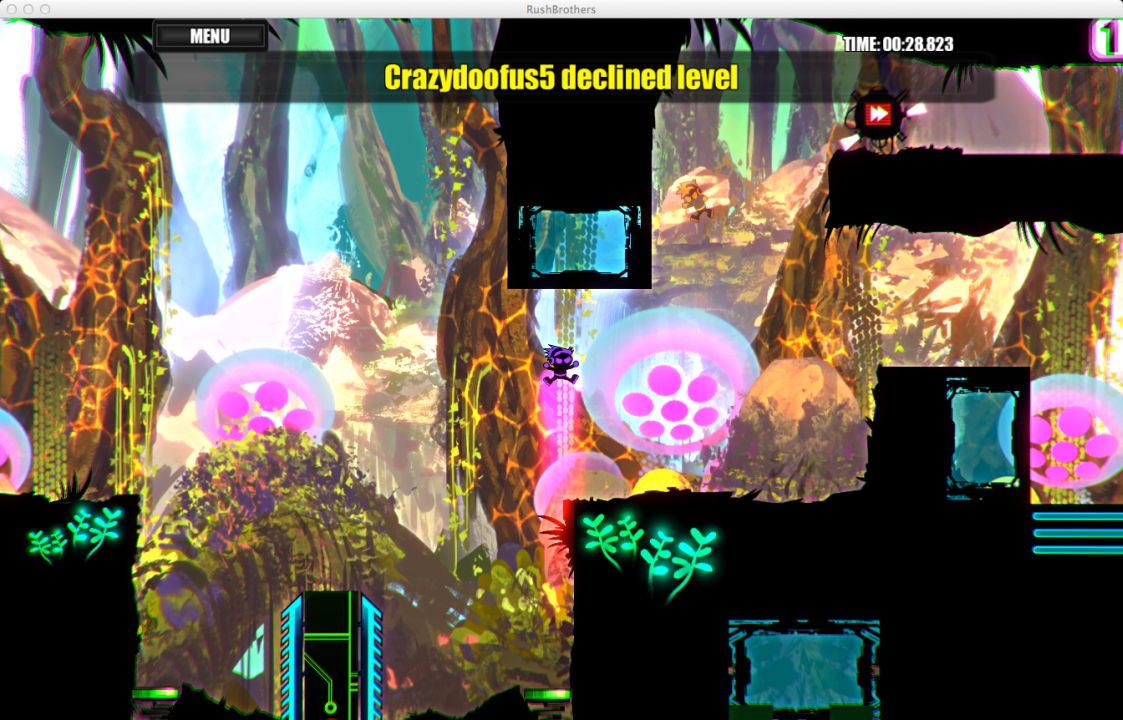 The strength of the title is definitely in its lovely ultra-neon punk-style visuals
So, what is Rush Bros? It's a two-player competitive racing platformer. Players either team up with a Steam friend or accept a random challenger from the internet, and the two go head-to-head in a mad scramble to be the first to complete the platforming obstacle course. A fleshed-out suite of platformer mechanics keep the jumping entertaining: sliding and wall jumping come standard, and power-ups along the way can grant you double jump or superspeed for a while. These power-ups also add to the competitive aspect of the game: you'll be racing with your opponent to see who can nab the power-ups first, and since most of them are just a few jumps 'off the beaten path', you'll have to judge whether it's worth the extra time to get that helper. On top of these, the game also throws a few offensive power-ups into the mix: picking up the right box may flip your opponent's controls, black out their background, or even invert their screen. These negative effects only last a few seconds, but it's long enough to make sure he or she misses that key jump. That said, although these power-ups are fun, they end up adding surprisingly little to the gameplay, and it feels as though there aren't enough to make them a focus of the game.
Rush Bros is fun to play both as a beginner and as a more practiced veteran: if both players are beginners, it's hilarious to simultaneously get stuck on a tricky jump, or to watch your opponent get clobbered by the same booby trap that you just barely managed to avoid. If there's much of a skill difference between the players (especially if one player knows the level already when the other doesn't), then it's not nearly as fun: the pro quickly leaves the n00b behind, and the experience isn't entertaining for anybody. One nit-pick about the game is its lack of player-to-player chat or interaction: the game is tailored for Steam, and so relies on Steam chat between friends, but there's no way to talk to or even taunt your randomly selected online opponents. This robs the game of a big chunk of potential fun: half the glory of online play is, after all, the ability to either give tips or mercilessly rip your anonymous enemy player.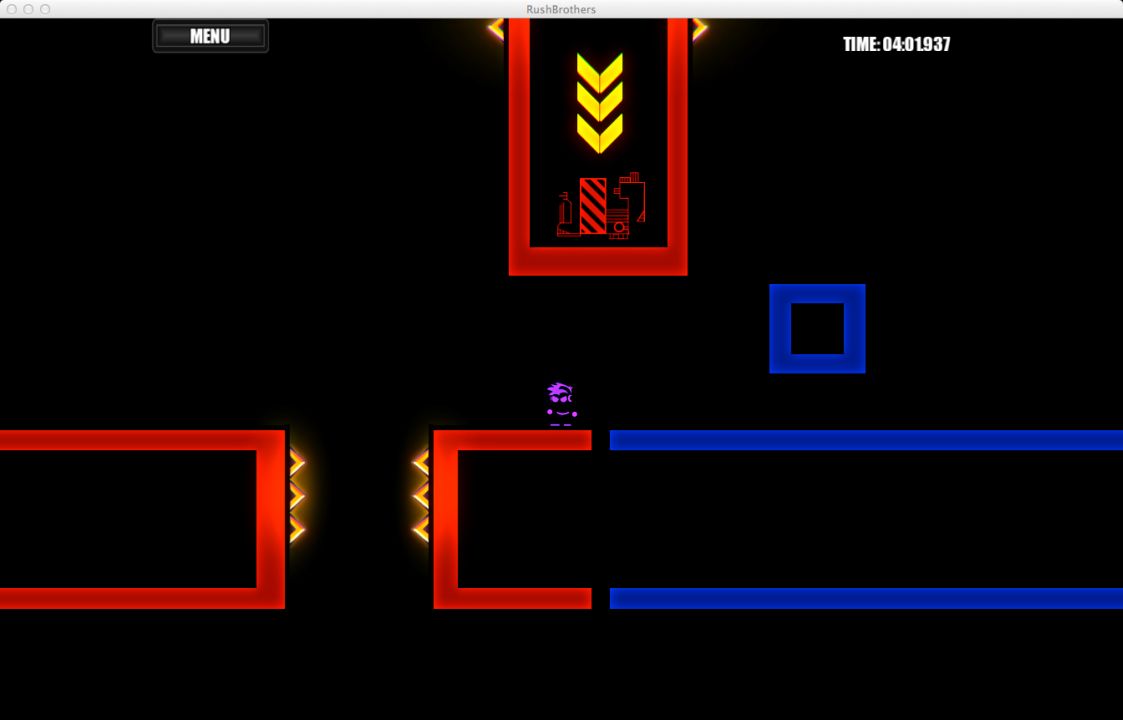 It's nice to keep things simple sometimes
Even if the gameplay isn't particularly spectacular, Rush Bros makes up for this deficiency somewhat in the visuals and music. The levels are given an edgy cyberpunk style, with bright neon lighting shining out from silhouetted foregrounds. Backgrounds have been given extra special attention, and mesh nicely with the visual obstacles that you need to overcome. What's more, with over forty levels to work through, the visual styles change dramatically between different levels. This is where the effort has really been put into the game: with such a wide variety of levels to choose from, it becomes tempting to search through each one to find your favorites.
Of course this has a downside: there will inevitably be some levels that you just hate, and there's nothing worse than trying out a new level with your friend only to find out that it's one of the 'dumb ones'. Another complaint to be made in the game is that some of the levels, rather than being simple left-to-right obstacle courses, are somewhat mazelike and can leave the player feeling lost (where am I supposed to go now?). Especially in a game that focuses on speed and smooth movement, this feeling is deadly, and a simple game map or arrow would have been invaluable in these cases.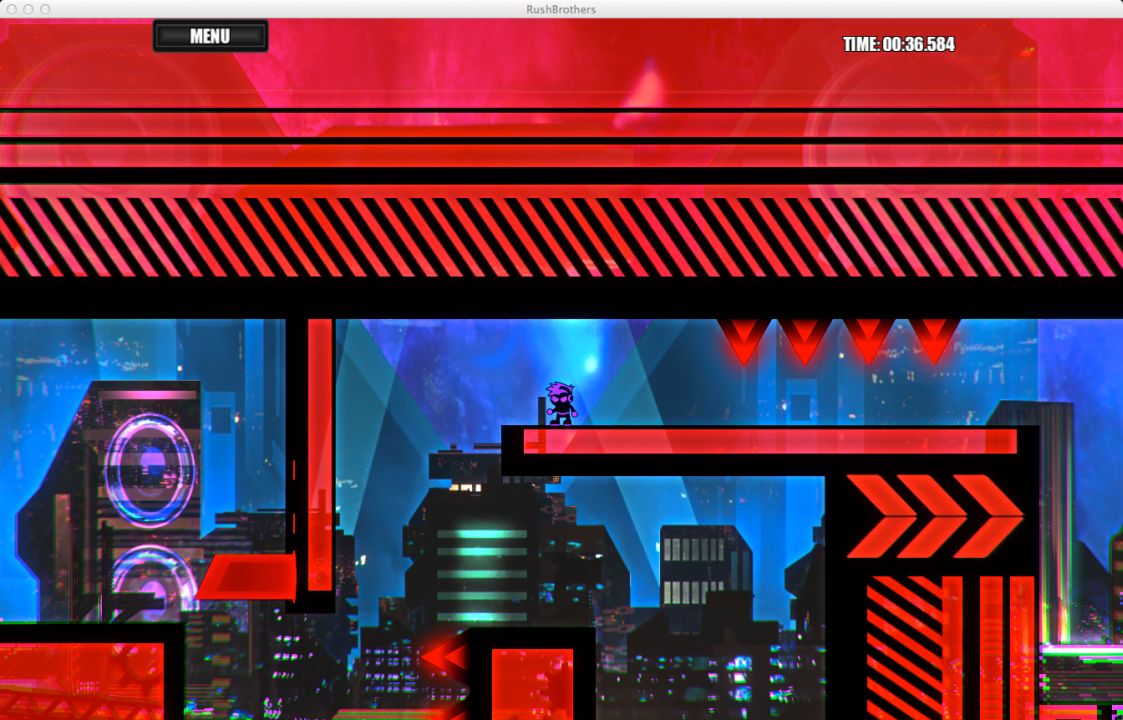 I'm sure those spikes overhead are well-attached
Matching the visuals is the excellent techno soundtrack that comes with the game. These techno tracks are collected together from several different indie techno groups, including The Black Parrot and, The Ambolt, and Xilent. It's a nicely invigorating set of upbeat tracks that help push you along in your race, but if techno isn't your thing, the game also wisely lets you put together playlists from your own personal music collection to use instead.
One trait about the game that may divide players is its self-aware simplicity. The game is casual all the way, with no unlocks, no campaign mode, and no sense of progression. All the levels are available to you right from the get-go, with no need to play in any particular order (although the first few levels do introduce important mechanics). I personally found this to be liberating: this is a game that wants you to give you all the toys at once. This is even reflected in the achievements for the game; nearly every single achievement is time-based, with each level having a gold standard to beat. This is essentially the only single-player pull of the game: if you want to, you can practice a level until you can slide past the saw blades and hop over the acid pits with slickly polished ease.
Rush Bros is like the sword-swallower at the circus: it really doesn't have all the much substance to offer, but if you're into that sort of thing, it may be worth the time to go see it. For ten dollars, you will get the chance to call up your Steam friends and have fun racing each other for an hour or two. The game might become a favorite, but there's not enough substance in it to expect you continually come back for more. Still, it's a fun experience while it lasts.
Our ratings for
Rush Bros
on PC out of 100 (
Ratings FAQ
)
Comments
blog comments powered by Disqus