Call of Juarez: Gunslinger Review
Regenerates the Old West with combo kills, empowering upgrades and tense duels.
Call of Juarez: Gunslinger rejuvenates a western-themed shooter franchise with streams of arcade combat. Gunslinger centres on the exploits of a bounty hunter, Silas Greaves, who is seeking vengeance for the murder of his brothers. Silas narrates the story under a gruff, predictable guise as players experience skirmishes against legends of the Old West. The action can be hectic, with interludes of glorious slow-motion, and the shooting never strays from focus. Players are rewarded for killing enemies in succession. These rewards translate into skills that improve the action. Skills that empower the player be daring against bandits trying to pepper them with lead.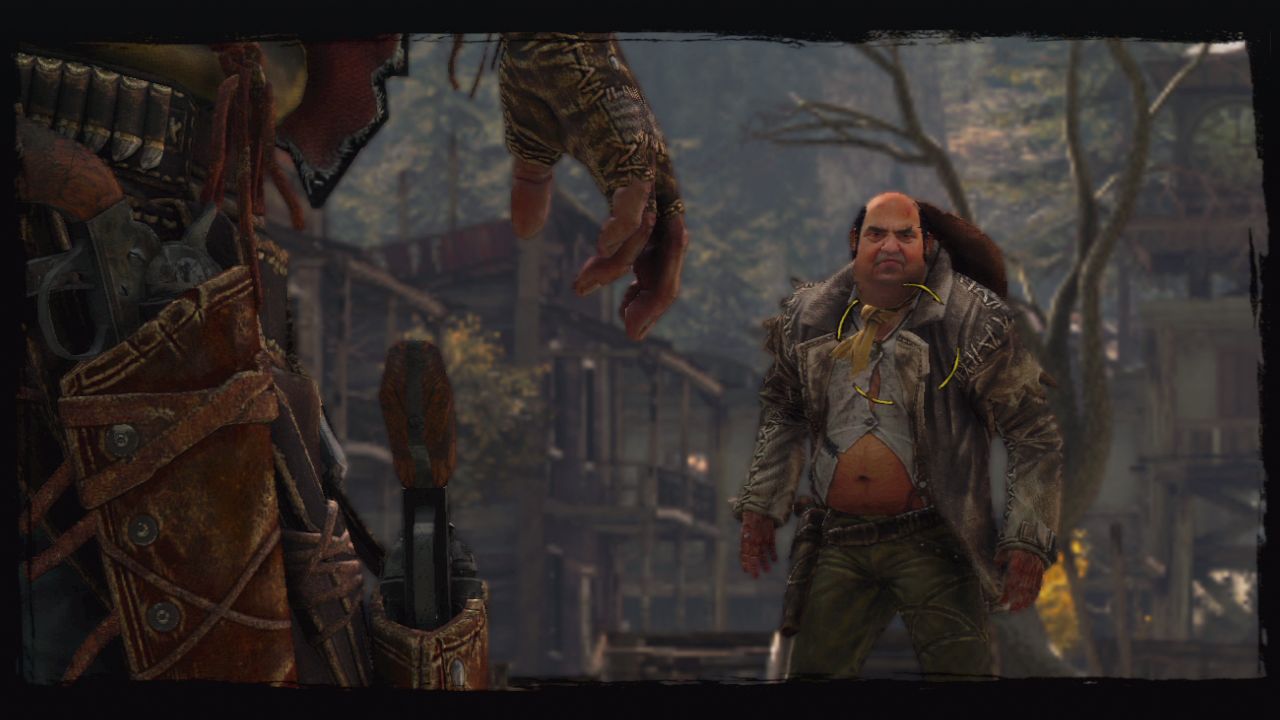 In the Old West, it was customary to expose one's belly during tense duels
Silas narrates his adventures to saloon patrons that hang on his every word. Clever devices emerge when the dialogue is not merely describing the action. Patrons may interpret the story differently; visualizing Apaches that attack the player until Silas sets them straight. The player may be thrust on a rooftop as one enthusiastic character begins his inaccurate version of events. Interjections are not always successful, typically disruptive in heavy action, but the narration brings the world to life. An entire building will rise from the swamp, beckoning the player toward it. Players will see ladders form and caves open before their eyes. These visual infusions present the world as the collective imagination of those listening to the story. Infrequent story surprises, forged from the conversational narrative, are healthy twists on the conventional formula.
Silas speaks of separate encounters involving legends of the Old West. Each encounter brings you to a new setting. You experience great level diversity without the irrelevant detail needed to link it all together. Chrome Engine 5 renders western towns and lush forests with precision. The world has a painterly quality, producing contrast without a loss in depth. Individual stories, and their atmospheric settings, would be ideal for a western movie. You explore a gold mine, sawmill, swamp and dilapidated steamboat. You even get the chance to eliminate outlaws during a train robbery. These discrete slices of story can feel disconnected, but they suit an arcade spin on the franchise. Unique environments differentiate each chapter and minimize repetition.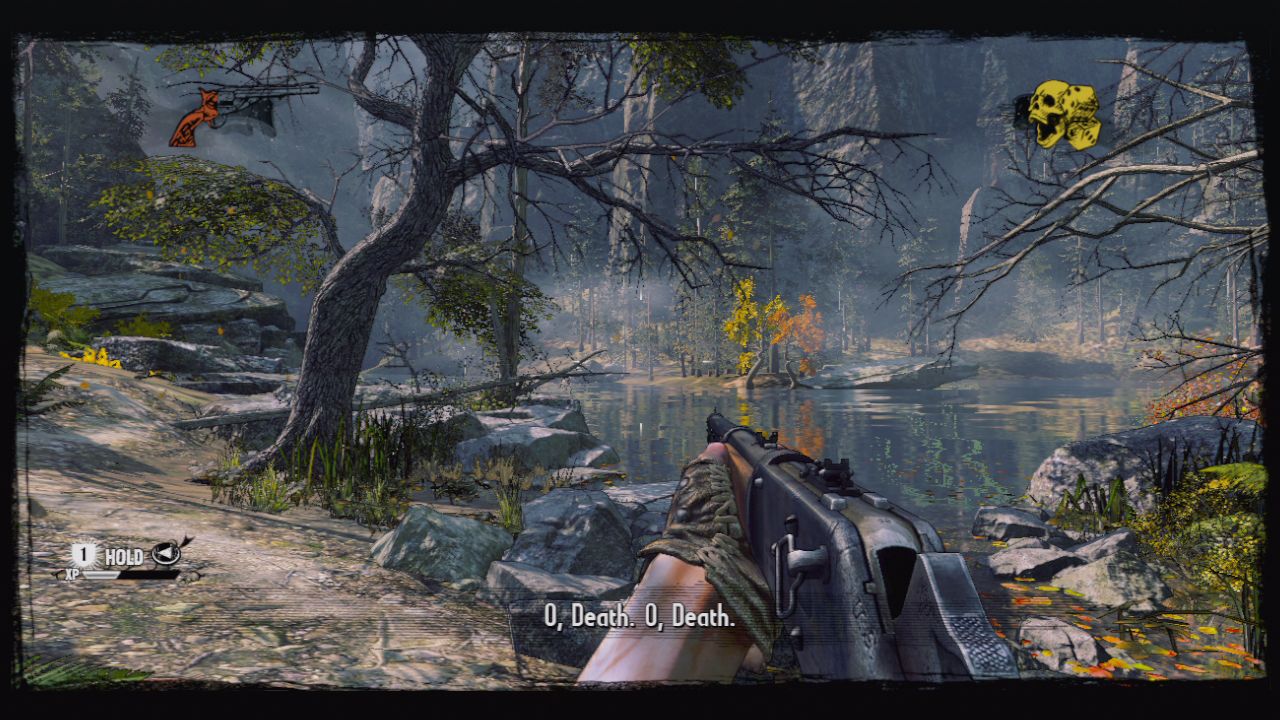 An inspiring view! Silas Greaves will now sing "O, Death. O, Death."
Linear corridors of action replace the exploration and stealth aspects from the first two games in the series. Levels are direct with only a few alternate routes leading to the same destination. Straying from the path might get you stuck behind rocks, killed by water or forced back on course. There are secrets to find, but most are not far from the narrow rails. These secrets tell of the people who inspired the legends, a nice touch for those with a fondness for the Old West. Horse riding and rope slinging do not feature in Gunslinger, but the game does not suffer because of it. This is a pure shooter where targets are immediate and dual six-shooters hold you in good stead for the entirety. The shooting mechanics are also better than the first two games in the series.
Gunslinger's action is about chaining kills, slow-motion and dodging bullets. You earn Concentration for each kill, and can use it to slow the world and highlight enemies. Killing in rapid succession produces combos that give you more points to unlock skills faster. Despite the ability to chain kills, it was uncommon to link together more than six throughout the campaign. Looking for secrets and ammo requires time that wipes away any combo you may have accrued. Story moments increase the action, giving you lengthy slow-motion or bandits that dive in front of Gatling gun fire. A train level towards the end has you breaching through consecutive doors unleashing a storm of bullets on the slowed foes within. When the game hits these high points, most notably during the second half, it demands attention.
Combat excels during the campaign's latter half because you will have unlocked some great skills. Longer Concentration binds the combat and you gain extra slow-motion for each headshot. Button mashing reloads weapons faster and dynamite causes widespread carnage. You can even escape death by dodging bullets and retaliating upon your would-be killer. Skill benefits might seem like minor improvements, but they tip the combat balance and promote fearlessness in the face of overwhelming odds. These upgrades make New Game Plus mode even more appealing. You can replay the initial levels and see how well the combat flows, regardless of difficulty.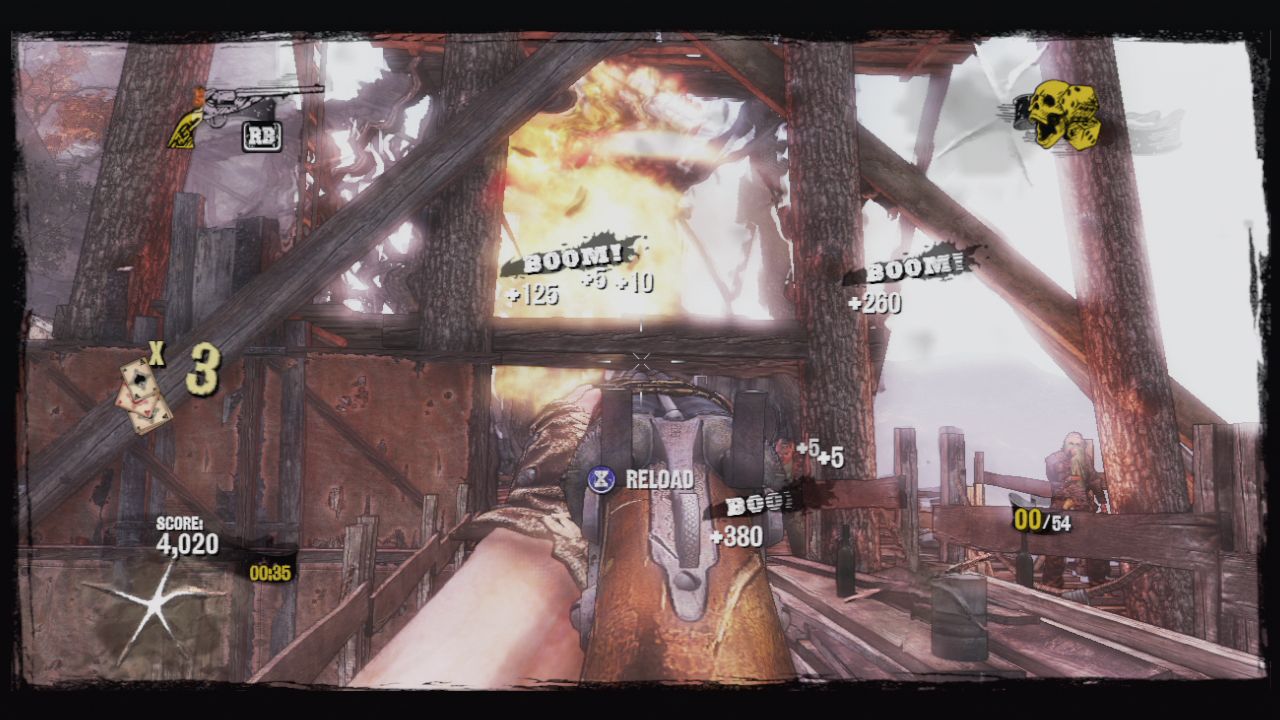 Double barrelled shotgun. "BOOM" indeed
Once you complete each story chapter, there is either a gun duel or boss battle to overcome. Gun duels are a test of reflexes and patience. Your hand hovers above the holster as you maintain eagle-like focus over your target. Pulling the trigger at just the right moment will fell your enemy with one bullet. On harder difficulties, you need to be quick (or the dead) and focusing becomes a test of mental endurance. A separate Duel mode lets you experience all the story standoffs, and some extras, with just five lives. The mechanics are simple, but the brevity and gratification keeps duels from being a tired device. In fact, duels are underused and occasionally replaced with something far more sinister.
Comments
blog comments powered by Disqus