Fuse Review
A merely competent shooter that lacks personality
Some people don't know how to cook. They can follow a recipe, sure, but they don't know how to improvise, how to make it their own. I, admittedly, am one of those people. I can chop up some ham, a little green pepper, and make an omelet, or pepper steak with pre-mixed seasonings, but I have not the slightest idea how to spice up a dry rub on ribs or how to make a from-scratch tomato sauce. Certain people are able to simply taste their creations and say, "Oh, this needs oregano", or maneuver the coals on their grill to make sure their chicken is cooking at different temperature than their burgers. The rest of us religiously follow the directions listed on the back of the Kraft Mac 'n Cheese box.
That's how Fuse feels, like an over-processed, powdered cheese-and-water, out of the box Kraft dinner. In the end it all comes together well enough that it avoids being a bad game, but so rigorously tries to follow formula it avoids being a good one as well. The game has decent shooting mechanics and some snappy dialogue, but also suffers from a forced multiplayer focus and lack of creativity. What's funny is that while Fuse is a brand new IP, it actually feels like it's already a sequel to something. This feeling likely stems from the fact that the only thing actually new about Fuse is its name, everything else seems derivative of other tried-and-true shooting mechanics already explored ad nauseum.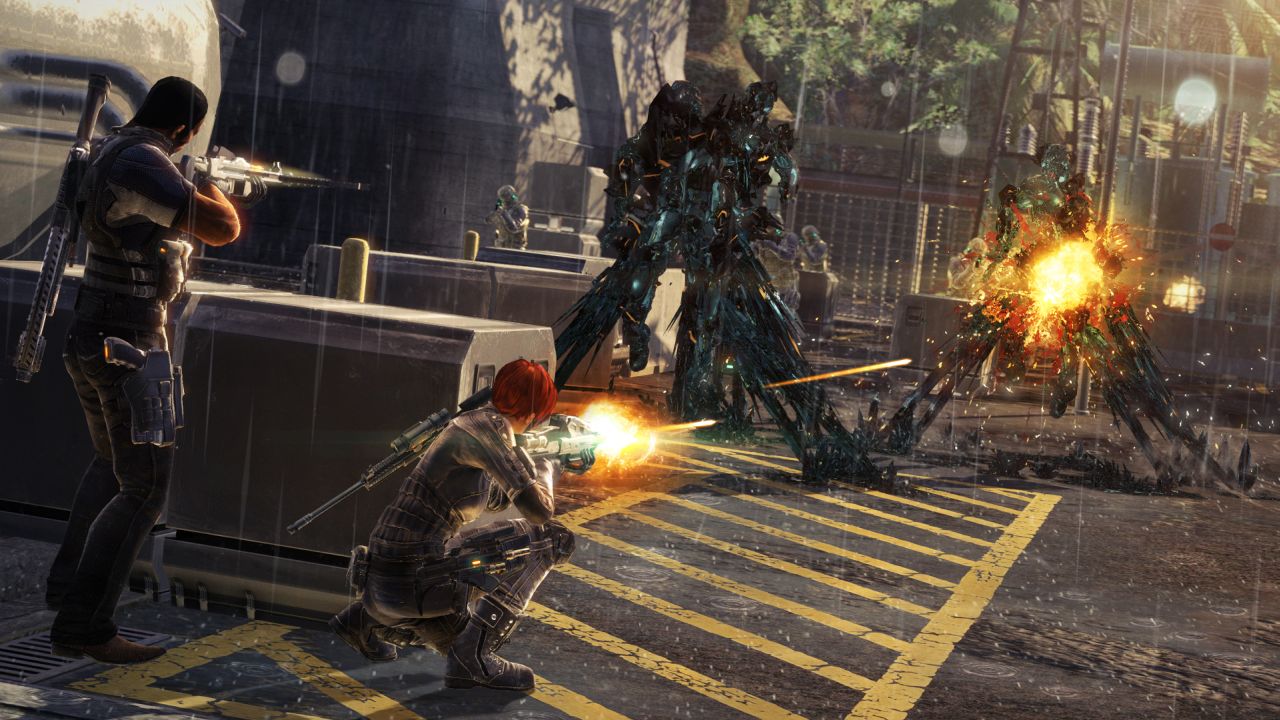 Fuse is centered around Team Overstrike 9, a foursome that have names but are more easily remembered as British Girl, Steroid Guy, Red-Head, and Other Guy. There are spots here and there where the game briefly divides the squad up into neat little teams of two, but for the most part you will always have your entire team around you. This allows you to play with up to three of your friends at any time with seamless drop-in/drop-out co-op. If you are playing by yourself, you can switch between characters in a fairly simple fashion, allowing yourself the benefits of each. One way Insomniac has clearly distinguished these characters is by their Xenotech weapon, made from the alien substance Fuse - which is never actually explained - with each weapon having special abilities, ranging from creating black holes to giant shields. These abilities continue to show off Insomniac's predilection for quirky firearms. Each of these Xenotech guns also have secondary features which help inform the player of the character's role in combat, similar to the class functions of Borderlands. As you play the game you may find one specific type you like, or jump between all four as desired. I personally dug Naya (British Girl) who could shoot black holes with her Warp Gun and go invisible, allowing herself to go behind enemy lines.
Narratively, Fuse is a hot mess. While investigating the base of a corporation called Hyperion, Team Overstrike 9 find that the substance Fuse is being used to create weapons. The team tracks these criminal dealings all over the world to find out who is behind the plot to release these weapons into the Black Market. Including our four protagonists, there are about ten characters in Fuse, and I can actually tell you facts about half of them. Time and time again I would get to an end boss - who would talk like he was out of a 1970's Bond movie - and have no idea why I was fighting them or how they related to the plot. For the most part, Insomniac seem to be aware how dispensable their characters are but every now and then they will try to get you emotionally invested to no avail. Even when the plot is understandable - it's predictable, failing to ever change pace or tone.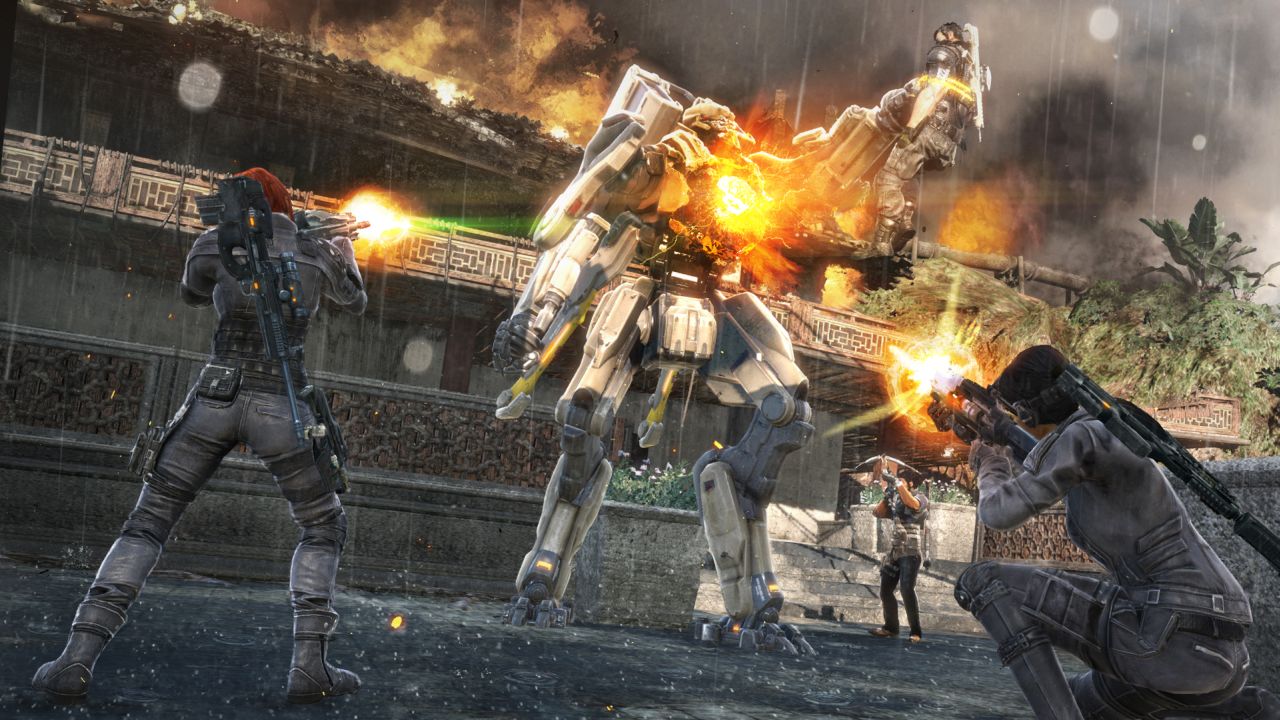 While Fuse can be a single player experience, Insomniac makes it a punishing and frustrating time due to your teammates painfully stupid AI. The four characters are designed to work together to get the full benefits out of their abilities, combining their weapons for impressive combos; however times where you can work with the AI are limited at best. When your life is depleted, your character goes down ala Gears of War, crawling on the ground until someone can resurrect you. This proves especially problematic for the AI, as they will not often come to your aid until it is too late, or get themselves killed in places difficult for you to get to. Having to rescue your downed AI teammates before they bleed out is easily the most frustrating part of the game.
A lot of these issues can be alleviated if you play with a friend. Fuse really hits its stride when you have other people coordinating strategies and tactically moving around the map to hit the enemies' weaknesses; if you have people working to craft a team that compliments each other Fuse can really become a good time. All of the abilities used in Fuse relate to a central skill tree that is leveled up through a well integrated XP system that's clear and easy to use. As your character levels up, new upgrades on the skill tree can be unlocked. There are some incentives to working together hidden in the skill trees, also collecting Fuse credits littered throughout levels can purchase Team Perks. The underlying message is clear: Insomniac really wants you to convince a friend (or three) to play with you.
Comments
blog comments powered by Disqus