Don't Starve Review
Survival and exploration take on a charmingly Gothic feel
It's a pity that Tim Burton hasn't been involved in video games: both his visual style and his storytelling abilities would be welcome additions to our industry. Thankfully, niche approaches to style can find a welcome home in today's indie market, and the folks down at Klei entertainment have turned that particular style onto the video game scene in their new 2-D open world survival title Don't Starve. It's a refreshing and unique entry into the genre, one that puts extra emphasis on the 'surviving', and that's sure to give players a welcome challenge.
The game keeps Klei's classic 'paper-cut-out' visual style, even while allowing for camera angle changes (no small feat), and the player takes the role of a lost adventurer wandering the countryside. Your standard WASD keys move your character around, and a single mouse-click on any of the items in the world will perform a standard action based on what you have in your hand, whether that's picking berries, chopping trees, or setting bushes on fire. That last one is particularly recommended.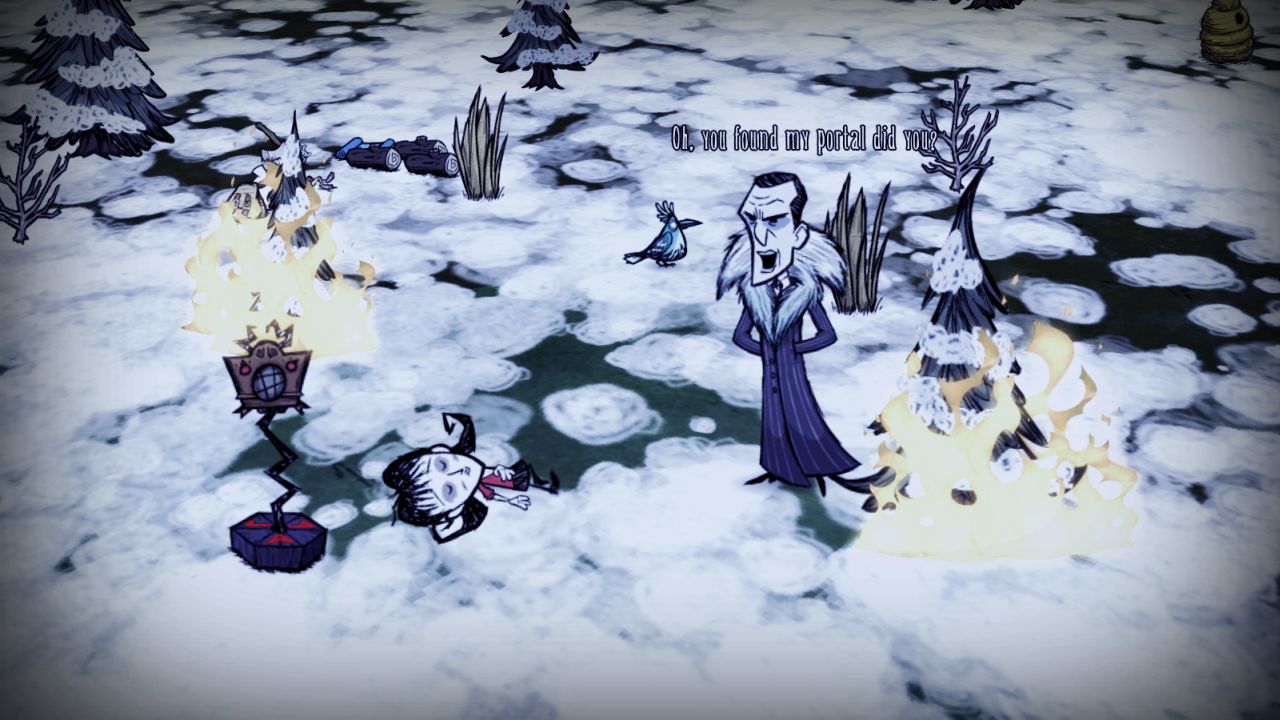 It's a nasty world out there
The goal in Don't Starve is simple and straightforward (hint: read the title). The player takes control of a forlorn, classically British-looking protagonist, and although there is only one default starter character, other playable characters with potentially useful abilities unlock as the game progresses. When you start in the world, you've got only your bare hands to work with. There's no tree-punching, thank goodness, but you'll need to start off by hunting down some flint and sticks so you can fashion yourself an axe. Your first priorities are simply to acquire fire (which you must have to survive a night) and food (which, as it turns out, delays starvation). As luck would have it, it's not enough to simply peg down a steady source of calories; if you're not careful, you can also be killed in the conventional manner, in other words, by being ravenously eaten, poisoned, or pecked to death by some of Mother Nature's wonders. There are also some native inhabitants, better armed and armored than you, who are probably best avoided. As if that weren't enough, there's one more danger that feels just a tad artificial: your character starts to go insane without having new things to think about (aka, crafting new items or gathering pleasant items). This provides an impetus to keep you gathering harder-to-find materials, and although this seems like a bit of a poor man's way of encouraging you to explore and 'techify', the crafting is fun enough that it stands on its own two feet. Generally you'll be quite happy to spend time gathering special items just because you want to, say, build yourself a suit of armor, or a new kind of animal trap. There are even cute hats to make that have the added bonus of keeping your sanity up.
If all of this sounds like an open-world creativity journey, think again. Don't Starve does give you several nice options for survival. For example, your food sources can come from scavenging, farming, hunting, or even cultivating your own bees. However, in the harsh climates that you'll be fighting through, your options are usually so limited that you'll need to focus all your efforts on whatever strategy is most likely to let you live another day. It's not a game of fun and frolicking: you've got to fix your problems now, before they grow to big and doom you by your own stupidity.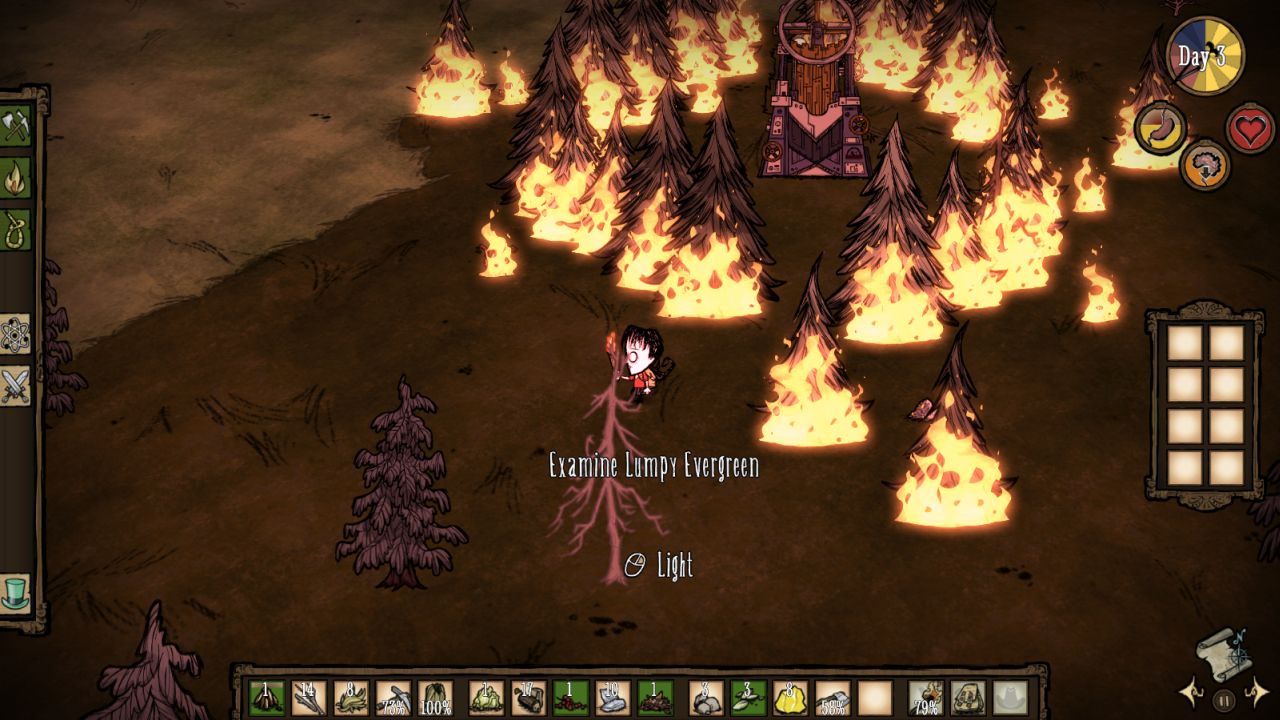 Gosh. I hope Smokey the Bear isn't watching.
That's all well and good for the basic 'survive-and-thrive' aspect of Don't Starve, but there's also a form of campaign in the guise of the Adventure Mode. Here, the player is placed into specially created worlds with particularly difficult settings: it might be extra cold, or extra dark, or the food might be extra hard to come by. Surviving in each world long enough to collect pieces of a McGuffin allow the player to progress to the next challenge, slowly uncovering a thin story as the adventure continues. It's not a strong enough narrative to be an independent draw for most players, but gives a nice added challenge to the standard gameplay.
Comments