Don't Starve Review
Survival and exploration take on a charmingly Gothic feel
From its title to its music, Don't Starve does an excellent job of perfectly nailing a unique tone: it's always a little dark, a little humorous, and a little self-conscious. The soundtrack is mostly made to mimic small-ensemble Victorian era motifs, the sort of thing that you would expect to hear in a haunted mansion movie. That said, it feels like there's not enough of this high quality music to go around. The light-hearted morbidity of the game is even reflected in what characters you can play with: it'd be so easy to simply make the player a terribly frightened little girl or boy, crying for his or her mommy. Instead, the characters in the game gleefully watch trees burn and take pleasure in slaughtering whatever cute furry animals they can find. It's a kill-or-be-killed world, and your character loves every minute of it. But the best part about the game is that the environment itself practically has a character. Nature isn't just a harsh environment: it's out to get you. Chop up too many trees, or wring the necks of too many fluffy bunnies, and you might find yourself facing some particularly vengeful avatars of the outdoors.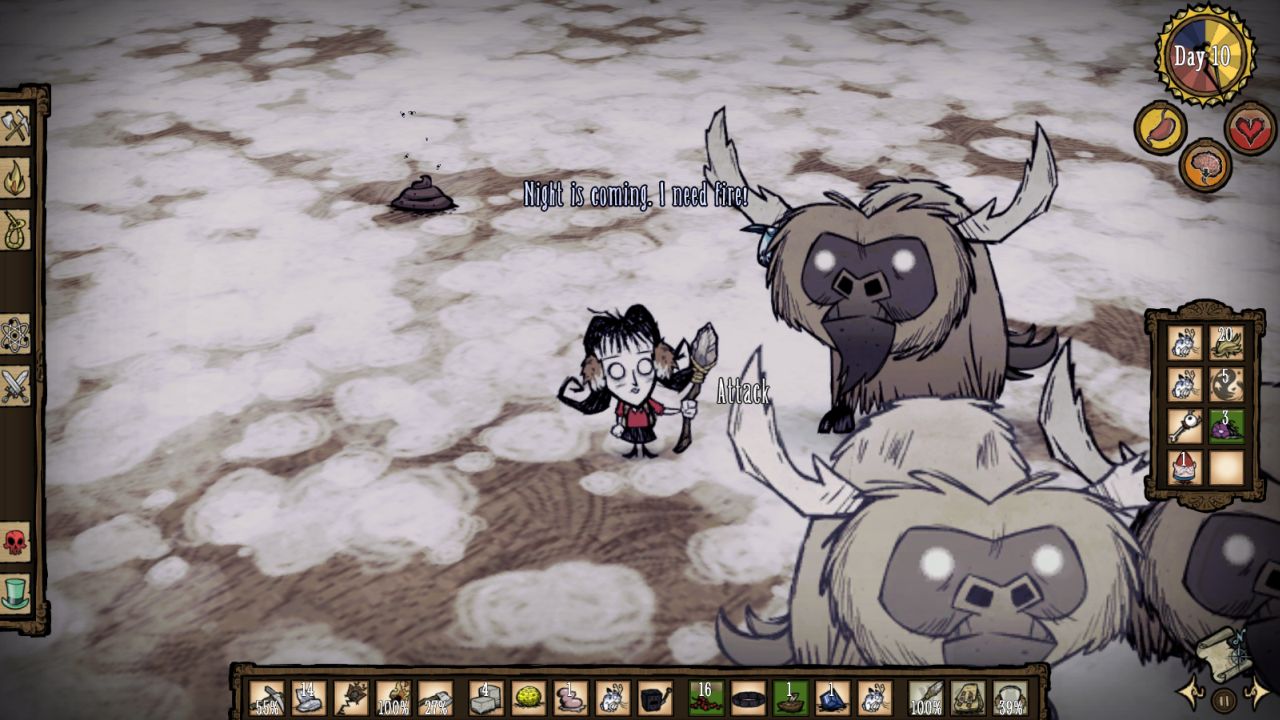 Caveman tactics. If it worked for them...
The worldbuilding in Don't Starve is a special treat, and is quite possibly the most enjoyable aspect of the game. The scenery and enemies are given a dark, edgy sketch style that looks a bit like a flannelgraph or felt puppet show. Birds and critters all have their distinctive hoots and whistles, and even the trees quiver when they grow new leaves (which, appropriately, happens in a sudden 'pop'). Genre-wise, Don't Starve sits nicely in that sweet spot of gothic aesthetics, partway between simple turn-of-the-century technology and homespun magic.
Comparisons between Don't Starve and Minecraft are inevitable, but unfair. Don't Starve isn't nearly as open-ended: it's more focused on the challenge of survival, and there's very little call for customization at all in the game. All recipes are technically given to you in advance, although you may need to traverse a tech tree in order to gain access to them. The crafting in Don't Starve is also more focused on utility - generally speaking you'll be so busy trying desperately to build the weapons or shelter that you require, you won't ever find yourself making something just for the fun of it. Instead of offering limitless exploration, Don't Starve offers a particular feeling; that of being in a creepy, kooky horror story.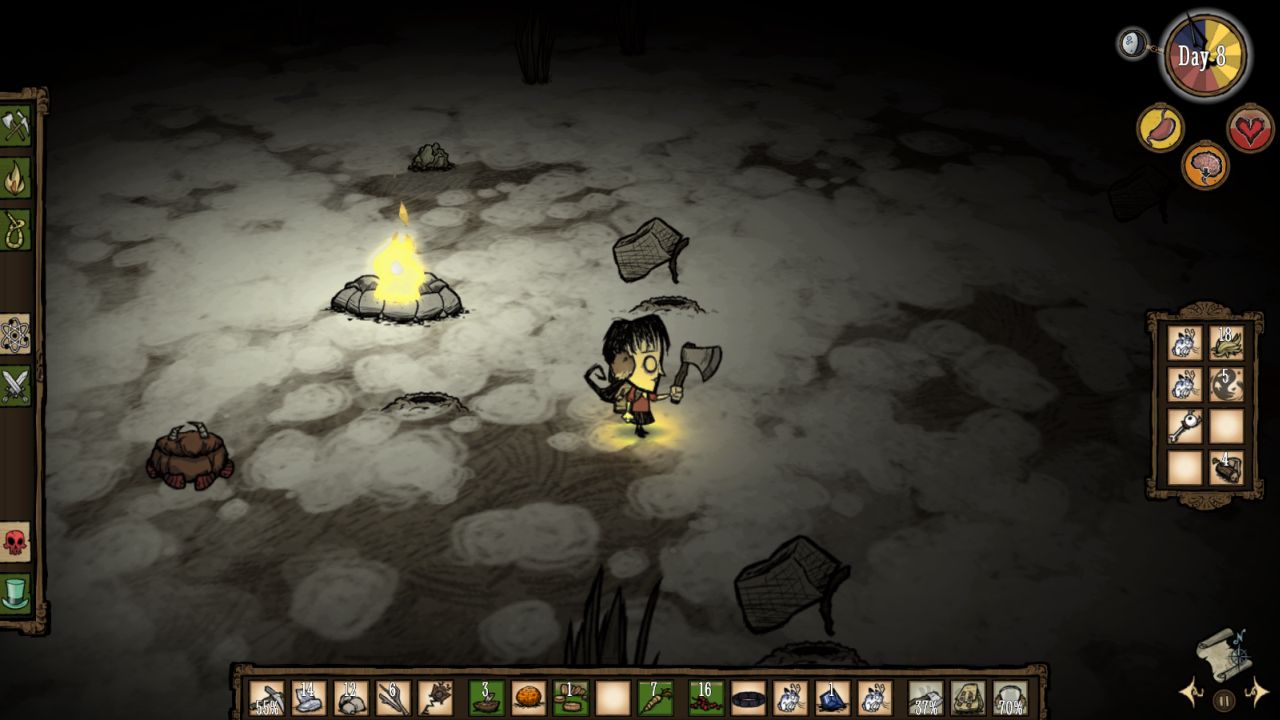 In this darkness, I'm likely to be eaten by a grue.
With only a few biomes and enemy types currently implemented, the game as it is only carries a decent amount of material, and replay value is sadly limited. The sticking point here is that, like Minecraft, Don't Starve promises continual updates (and cleverly posts the date of the next game addition on its main menu). This makes the purchase of Don't Starve something of a gamble: maybe it will fill up to the brim with new content, maybe it won't, and only time will tell.
More so than in other genres of games, world building in survival games is important, because the world is your enemy. Just like every good heroic RPG needs a delicious villain to focus your conflict against, a good survival game needs to give the environment itself a personality. While most outdoor survival games do this by making the environment be something like an inviting, friendly host, Don't Starve goes in the opposite direction by making the Mother Nature seem more like that weird cat lady who lives in the boarded-up house. It's not so much an invitation to explore and enjoy yourself as it is a long list of dangers to avoid. Don't pick fights with the locals. Don't stay in one place for too long. Don't ignore that growl you hear in the night. Oh, and just in case you forget... try not to starve.
Our ratings for
Don't Starve
on PC out of 100 (
Ratings FAQ
)
Comments
blog comments powered by Disqus