BattleBlock Theater Review
Platforming performance receives standing ovation
Fans of Alien Hominid and Castle Crashers rejoice. The Behemoth have returned and they've struck gaming gold again. After nailing 2D scrolling shooters and beat em' ups they've turned their hands to old-school platforming. And it's fantastic.
The bright and crisp cell-shaded 2D art style is striking, compelling throughout, and consistent with the studio's previous games. Many of the characters have something of a cutout feel to them, hell, some of them are literally being bounced around on sticks like puppet placards, but it all works so well.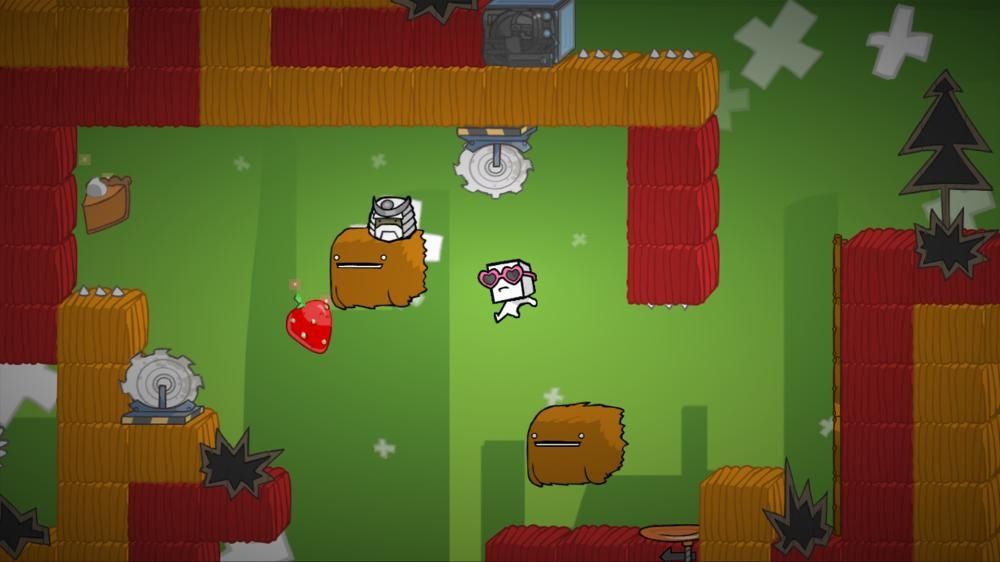 This is in large part to the bonkers story. Mr Hatty Hattington and his friends on his 'Friend-ship' are shipwrecked on an island run by crazy creepy cat types. The naughty kitties brainwash Hatty, and for reasons known to absolutely nobody, the rest of the crew have to perform on stage in feats of daring platforming against kitty minions and perilous traps.
The narrator of the story is clearly off his cake and fills in the gaps between chapters with further amusing gibberish. Even during the stages, he can't help but natter away. "I can't believe you died there of all places," and "Do it right, don't die," are just some of the quips that accompany the silliness and his enthusiastic song when you discover a secret level will stay in your head long after you leave the house. The weirdness of it all is so brilliantly unlike anything else out there it will make you sad going back to reality afterwards.
With such a strong start to the game before even taking your first jump, there was every chance it may have been setting us up for a fall, but by the end of the first stage, I knew that this was something special. Even more so considering we've been craving a decent 2D platformer for ages.
The platforming controls are crucially responsive and not once did they lead to an unfair death. Double jumps are available and you can even do them after falling through a disintegrating platform from standing or when walking off a ledge, with the latter being handy to pick up a few tricky collectables.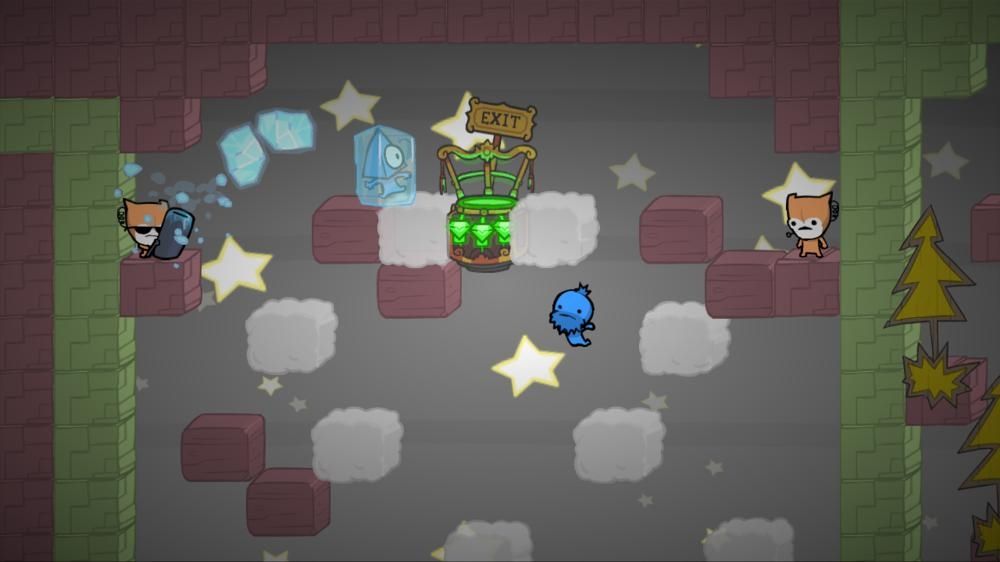 You'll encounter various blocks that may help or hinder your progress. Sinister-looking lava blocks are usually to be avoided in platformers, but here they act as springs. Hop on, burn your backside to a cinder and zoom upwards to higher areas. There are some on walls too to bounce you sideways along with climbable rails and boats to navigate the insta-death water. Timed lasers, spikes, turrets and many more things need to be avoided too. Living enemies mostly take the form of cats. Cats with guns. Cats with sunglasses.
This brings us to one of Battleblock's weaker elements, the combat. Directional punches and a sliding move is all that you begin with. Early enemies only punch and they'll have to knock you into a hazard to actually kill you. The controls for combat are unresponsive though. There's no point trying to flee enemies, as most of them are quite agile and will follow you, and mess up one of your jumps.
It's not long before you unlock weapons, which do make things better, but even these are slow to deploy. Frisbee bombs, boomerangs, grenades, fireballs, ice guns and more are available to buy. After the fantastic melee scrapping of Castle Crashers, it's a surprise to see the devs drop the ball here. We can understand them wanting combat to feel tougher as it's not the focus of the game, but it shouldn't feel like a chore every time we get into a fight. Is it a deal-breaker? Absolutely not, combat plays a relatively small part compared to the platforming. To be fair, it was equally amusing and annoying being battered by two pieces of toast and struggled to escape before manning up and pushing them onto a lava brick to burn them into that great big bin in the sky for burnt toast.
Comments
blog comments powered by Disqus