The Walking Dead: Survival Instinct Review
Some decent ideas falter under poor execution in this latest franchise spinoff
As it is extremely forgiving of almost any battle screw-up, Survival Instinct fails to deliver the feelings of agony and despair that the Walking Dead franchise is so well known for. Even though there are numerous firearms and weapons to be collected, including Daryl's famous crossbow, very few of them feel satisfying to use. Additionally, the game's quest system seems to follow a single pattern. Even though there many characters to meet during the game, and the idea of equipping them and sending them do certain tasks is rather clever, its execution is poor to say the least.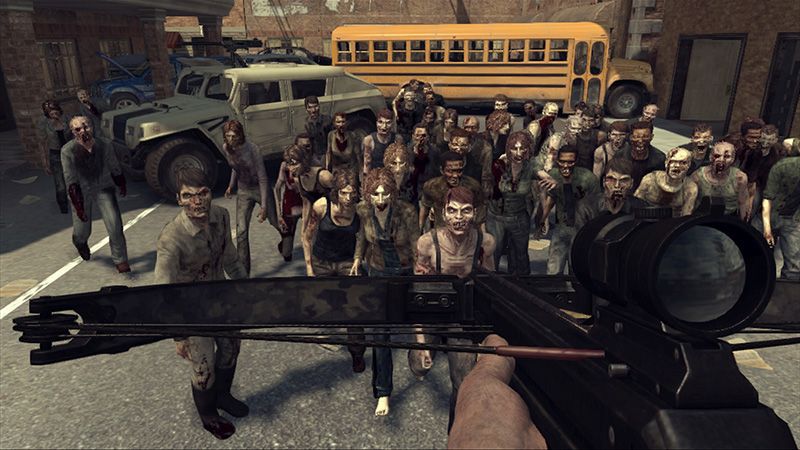 Moreover, when Daryl has to travel by car to a different area, we are given the option of using the highway, a back road, or a regular road to get there. This supposedly affects how many stops you will have to make, or how many supplies you are going to stumble upon, but in the end there is not much difference between the three options. The game's scavenging system, forcing you to collect fuel, ammo and supplies from several locations, is not bad as an idea; in fact it could have made the title more interesting and challenging. Unfortunately once again the idea is not very well executed. While supplies are not scarce, you get very limited storing space. Daryl can only carry a handful of items so you'll be finding yourself worrying about running out of ammo not because there isn't enough of it, but because you can only carry a limited amount. The hunting knife, which serves as Daryl's main weapon cannot be unequipped, even when more efficient weapons are unlocked.
When it comes to the atmosphere, Survival Instinct is plain mediocre to say the least. The game locations are large enough but the graphics seem rather dated and lacking in any sort of detail. Most of the places we get to visit look more or less the same, making the title feel rather dull. Unfortunately the same can be said about the characters we meet. Besides Daryl and Merle, you come by several different people who either need rescuing or have something to offer if you feel like performing an optional quest for them. The game also gives the player the false sense of choice by allowing you to equip the secondary characters, send them on missions to retrieve supplies, or chose to leave them behind to face certain death. Of course as these characters are not the least bit developed, you never come to care about them enough. Furthermore, whatever the player chooses to do, it has little to no impact to the game's main story.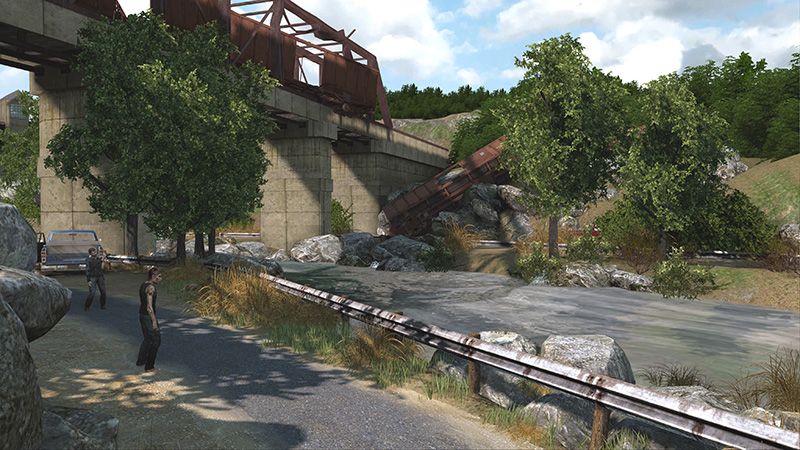 Even though Survival Instinct's battle system does not suffer from any major glitches or bugs, it feels rather rushed and uninspired. Although the Walking Dead universe is not ideal for a zombie slasher title, the game would have been forgiven for taking that route, if only the battle didn't feel so unsatisfying. Evidently the name of a super-popular franchise and the inclusion of two very talented actors are not enough to make a game enjoyable. Survival Instinct had many good ideas but sadly all of them fall short. There is very little plot to get the game going, and putting it simple, even though it's not in any way broken, the title is not very entertaining or rewarding. It would be hard to recommend Survival Instinct even to big fans of the series, as it does not add much to the overall canon. If you are a fan of Daryl (or Merle for that matter), or if you are curious to find out how the two brothers begun their journey, then give the title a try when its price drops significantly.
Our ratings for
Walking Dead: Survival Instinct
on PC out of 100 (
Ratings FAQ
)
Comments
blog comments powered by Disqus