BioShock Infinite Review
Infinite is not as cohesive as its predecessors, but it presents a complex narrative and proficient combat
BioShock Infinite is an unfulfilling action game with a layered story, brilliant art design and adequate shooting mechanics. It is the third game in an exceptional series known for atmosphere and narrative. Infinite dares to move the franchise away from the iconic underwater city of Rapture. It trades the waterlogged vistas for a mysterious city nestled deep within the clouds. The suspended city of Columbia is home to mechanical juggernauts, firebombing zeppelins and racist characters. Elizabeth, the most important character in Columbia, follows the player and helps them during combat. She becomes the major focal point of a confusing story and an overwhelming ending.
You take the role of Booker DeWitt, a failed gambler and war veteran, during the early years of the 20th century. The game begins on a rowboat heading for a lighthouse. This lighthouse is a conduit to the aerial city of Columbia. Booker must explore the city and find Elizabeth. She is the key to paying off his debts. Booker knows not of Columbia, but his reaction to its high flying absurdity is rather stilted. Players may enjoy his dull personality, as opposed to the silent protagonists of the first two games. You will learn new things about Booker from his own dialogue and understanding your character is one mystery in the astonishing city of Columbia.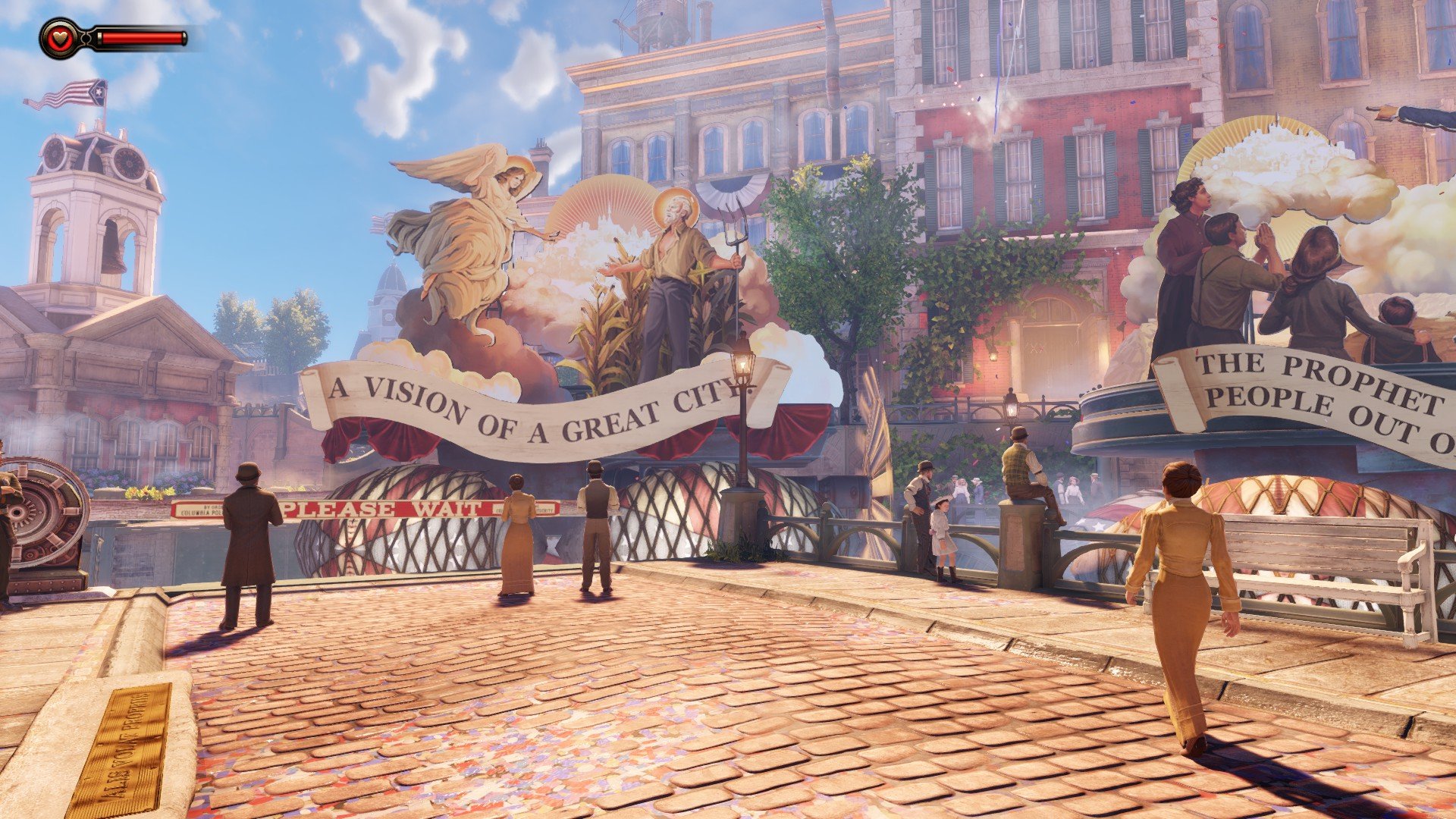 The introduction to Columbia is nothing short of spectacular
Columbia is a floating city that ventured into the sky to become its own nation. It is similar to Rapture thanks to social isolation and worldly quirks. Columbia's Prophet, Comstock, has led his people to a glorious age of bigotry rivalled only by their technical achievements. Buildings hover on clouds as the sunlight sears into detailed facades. They drift on the air like they were bobbing on an invisible ocean. Huge monuments litter the sky and sun shafts penetrate through structures. Sky-lines are Columbia's rail system that link floating structures and provide avenues for supply. There is a very consistent art style that ties together the different regions of Columbia.
The carefully paced introduction provides an excellent avenue for tutorials and absorption. When you arrive, civilians are enjoying festivities and are oblivious to your mission. This gives the player plenty of time to explore before engaging in any combat. You move between various sideshows and win prizes by firing weapons you'll be using later. You'll see demonstrations of supernatural Vigors, Infinite's version of Plasmids, which play a key role in combat. You can even get up close and personal with security forces while learning about the Prophet through video Kinetoscopes. As you leisurely stroll around the city, you will appreciate the mammoth achievement in world design.
Elizabeth's introduction is every bit as intriguing as your exposure to Columbia. She lives in a tower that represents hope to the people of Columbia. Taking her from this tower is not looked at kindly by the Prophet and his devotees. You'll need to shoot your way through hundreds of enemies to get her out of Columbia. Elizabeth stays by your side for most of the game and points out the location of supplies. Locked doors and coded messages are no challenge for her book smarts. If you stop to look at objects, she'll pause and pay attention or wander around naturally. She brings locations to life by voicing details you may have missed otherwise. Elizabeth is a helpful companion with more smarts than the average non playable character.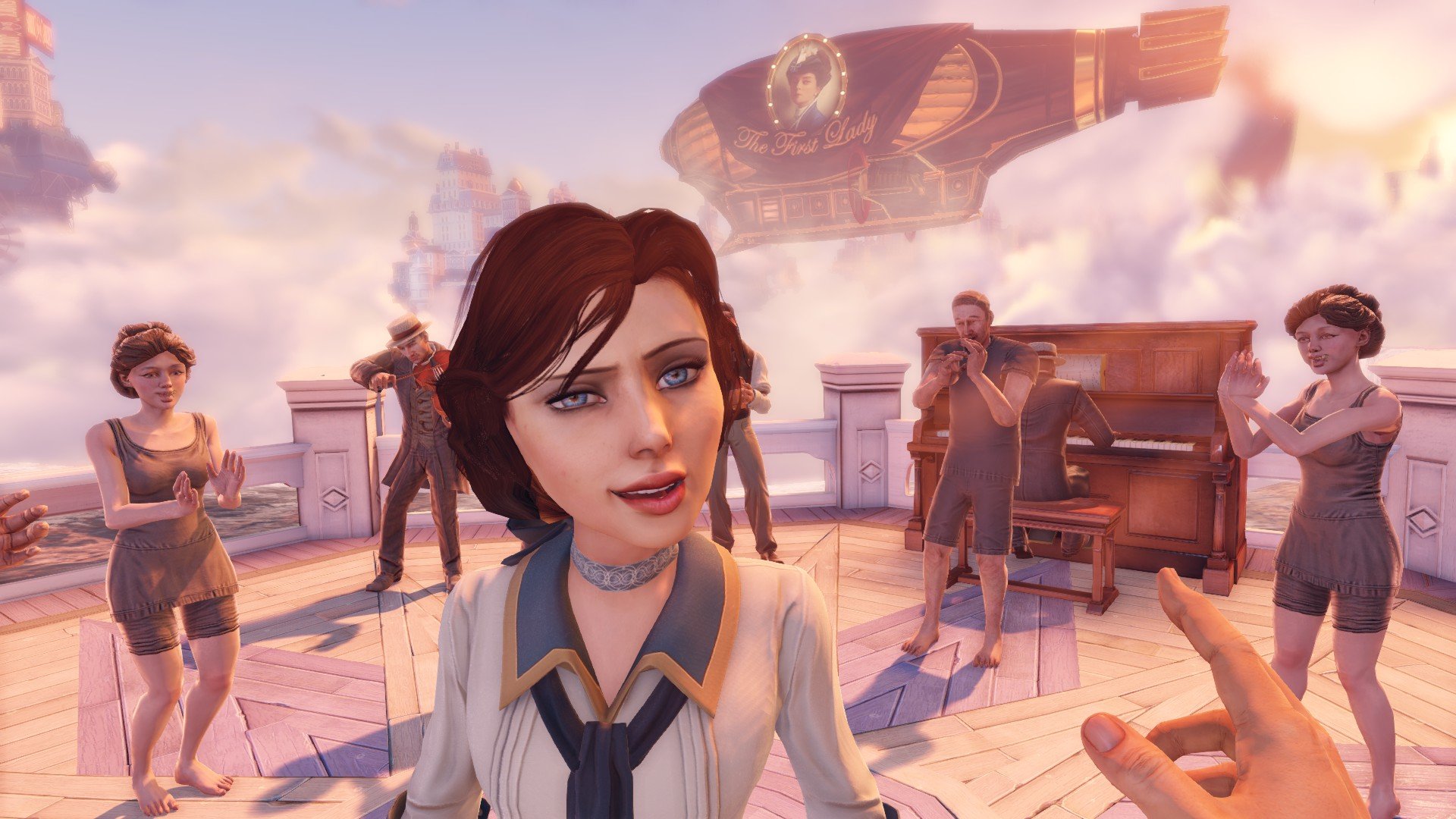 Meet Elizabeth, the greatest coin gatherer the troposphere has ever known
While Elizabeth's AI is good, she occasionally behaves like a machine. Being handed coins is great, but there is no urgent need for money during combat. If you manage to get a good distance away from Elizabeth, she'll just teleport right next to you. She picks locks like a robot and takes longer when dialogue is mixed in. Elizabeth rarely interacts with Booker on a humorous or intelligent level. One section has the pair performing a soothing song in a bar immediately after Booker murders the entire patronage. Some of Elizabeth's actions and mechanics do no favours for her character.
Comments
blog comments powered by Disqus