Bit Trip Runner 2 Review
Looking for a hardcore rhythm platformer experience in quirky, new wrapping? Here it is.
Gaijan Games is back with the latest game in the Bit Trip series with Runner 2: Future Legend of Rhythm Alien, a complicated name for a wacky game. While entries in the Bit Trip series have been entirely different from one another, Gaijan Games has always focused on creating a challenging and fairly unforgiving arcade experience across all of its titles. Runner 2 is no different.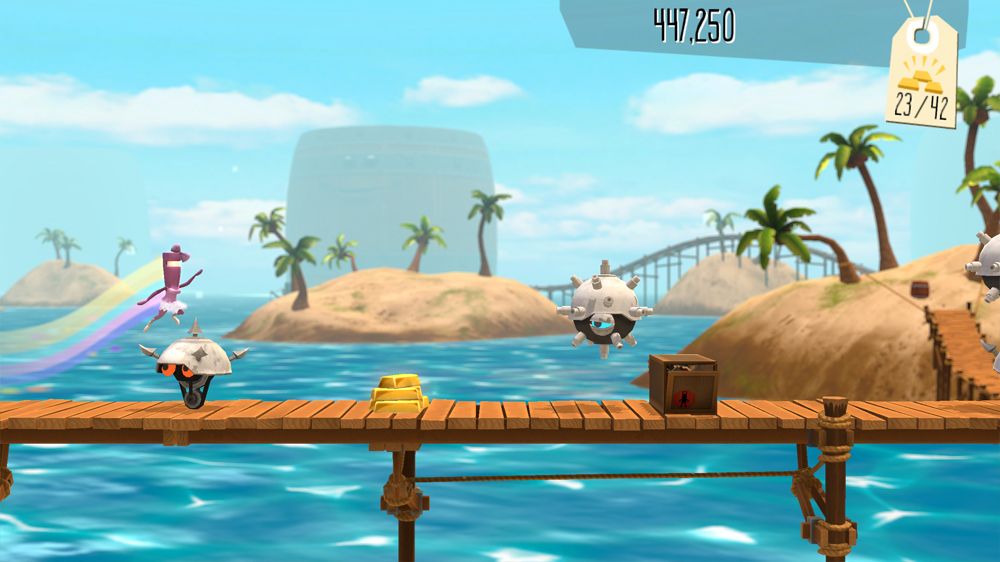 Runner 2, like Bit Trip Runner before it, is essentially an endless runner. While somewhat similar games like Temple Run have dominated the mobile space for a few years now, the Runner games are more akin to a classic arcade game than anything remotely casual in nature.
Like all good arcade games, the gameplay is simple at its core. Run to the end of the level without hitting any obstacles while grabbing as much of the gold and hidden pick-ups throughout the level as possible. The player does not directly control the character's running, which happens automatically, only the character's actions like jumping and sliding. Every action, jump and pick up in the level is timed to line up with the game's wonderfully atmospheric electronic music that allows Runner 2 to almost be played like a rhythm game, rather than a standard platformer.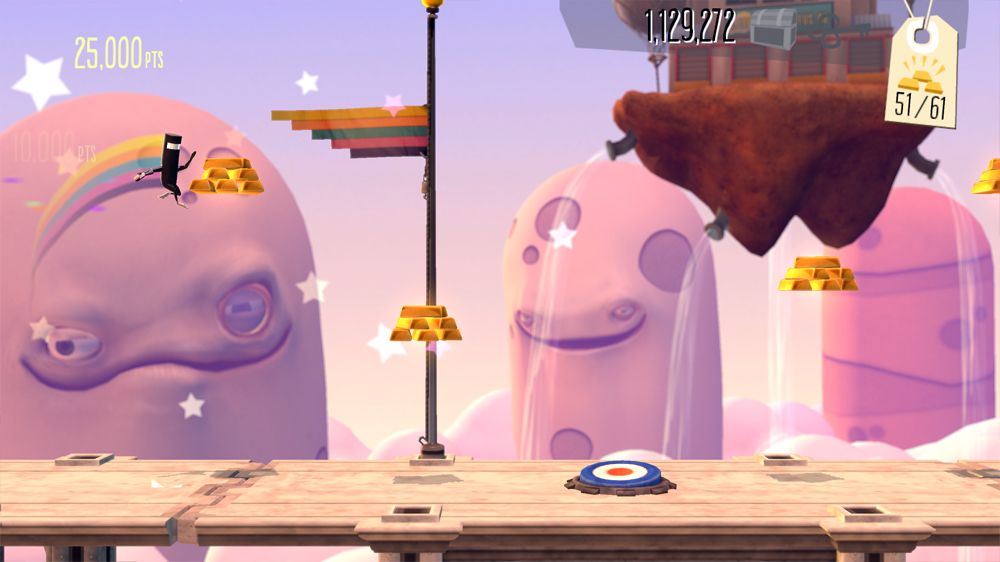 While the game starts with the player simply running and jumping, more and more mechanics began to be introduced, raising the difficulty of later levels considerably. After a few hours of play, I found myself running, jumping, sliding, blocking, kicking, slide-jumping, using jump platforms and more. It is in these more complicated and more difficult stages that the game really gets fun. Every level feels like a sizeable accomplishment, especially when you are able to collect every collectable on a single run. Even more difficult and rewarding (if you are the right type of person) is going for a truly high score. Some of the mechanics introduced after the first world make getting that perfect run (from a score standpoint) even more difficult. Not only do you need to dodge every obstacle and nab every pick up, you need to be spot on with all of the game's timing and execute especially precise button presses in order to really get a massive score.
The most obvious change in Runner 2 when compared to the original is the absolutely massive graphics overhaul Gaijan has given the game. In what I believe is a first for the developer, they have let their 8 and 16-bit style go to the wayside and have chosen to replace it with a much more visually striking full 3D style that makes use of a number of unique objects and characters throughout the game's background and foregrounds while fitting the general atmosphere of the game and music perfectly. It is exciting to think of what other games Gaijin will making in the future with this kind of style and more advanced graphics. It really helps the game stand out from the crowd of other indie platformers out there, something of which there are many.
Comments