Frozen Hearth Review
Your men are willing to die for an ideal. But wouldn't it be nice if they could fight back as well?
Imagine, if you will, that you play chess. Imagine that you get some modicome of happiness over a well strategized game. Now imagine that your best friend tells you that you should play his buddy Albert, because Albert is 'a pretty challenging player'. You decide to give it a go. After all, challenge is what makes the game fun, right? Even if you get creamed by Albert, maybe you'll learn something in the process, right? Well, one weekend you finally meet up with Albert and suggest playing a game. Albert happily agrees - and then whisks out a tiny coaster-sized chessboard to play on. He then explains that all the pieces are made out of carefully crafted bubbles. Furthermore, in this variation of chess, you are only allowed to move the pieces using tweezers. Just to add a challenge, your tweezers may only be held between your toes of your foot. And it can't be your dominant foot, either: only your non-dominant foot will do. Think of the challenge! Think of how intriguing and difficult it would be to play Albert! Think of the hours you could spend on just a single game! Do you have that image firmly ingrained in your head? Congratulations, you are now ready to play Frozen Hearth.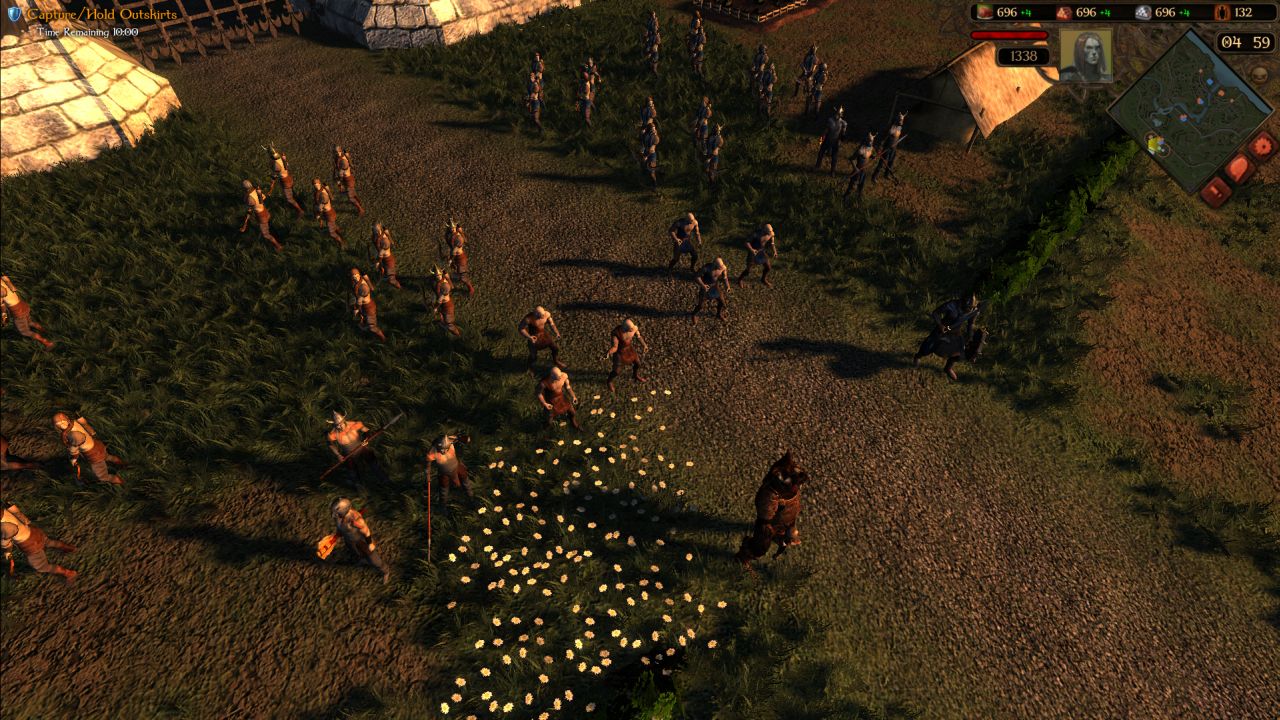 I suppose it's my duty to say something nice about the game first. Gameplay in Frozen Hearth is wisely kept to straightforward RTS basics. Your army is centralized around one very strong spellcaster hero, chosen from a set of three possible characters. While gathering experience from combat, your hero gains level points that may be spent on-the-fly on upgraded stats and more spell possibilities. In both the campaign and multiplayer, resource gathering is based on capture-points, which has become a solid standard among modern RTS games. All of this seems simple enough so far. Frozen Hearth's marketing online makes a great deal of its "co-op" campaign, but the levels here aren't actually cooperative: they merely have enough room for two players on the same field.
The one spark of originality in the game comes from the fact that in multiplayer matches, your entire base is simplified down to a single building, from which all of your units are trained, and all of your upgrades are available. This central town hall is divided into six pie pieces around a central hub, and as you progress through the tech trees of your faction, each pie piece can be devoted to a particular tech building, such as a Chapel or a Foundry, to allow for unit upgrades and more diverse unit combinations. Spellcasters have a dizzying array of possible spells to use: auras, area damage, healing, and so forth. Each spell can be further researched as your hero levels up, but for the most part there are so many spells with such a combination of possibilities that they tend to feel watered down after a little while. Your typical aura might give +15% movement speed, firing rate, and hp, or maybe +20% healing and dodge chance, for example, but this means that there aren't really any game-defining abilities that are a pleasure to use or focus your hero around. This style of ability might just be your thing: after all, Warcraft III had a very similar system on its release, and some people particularly liked it.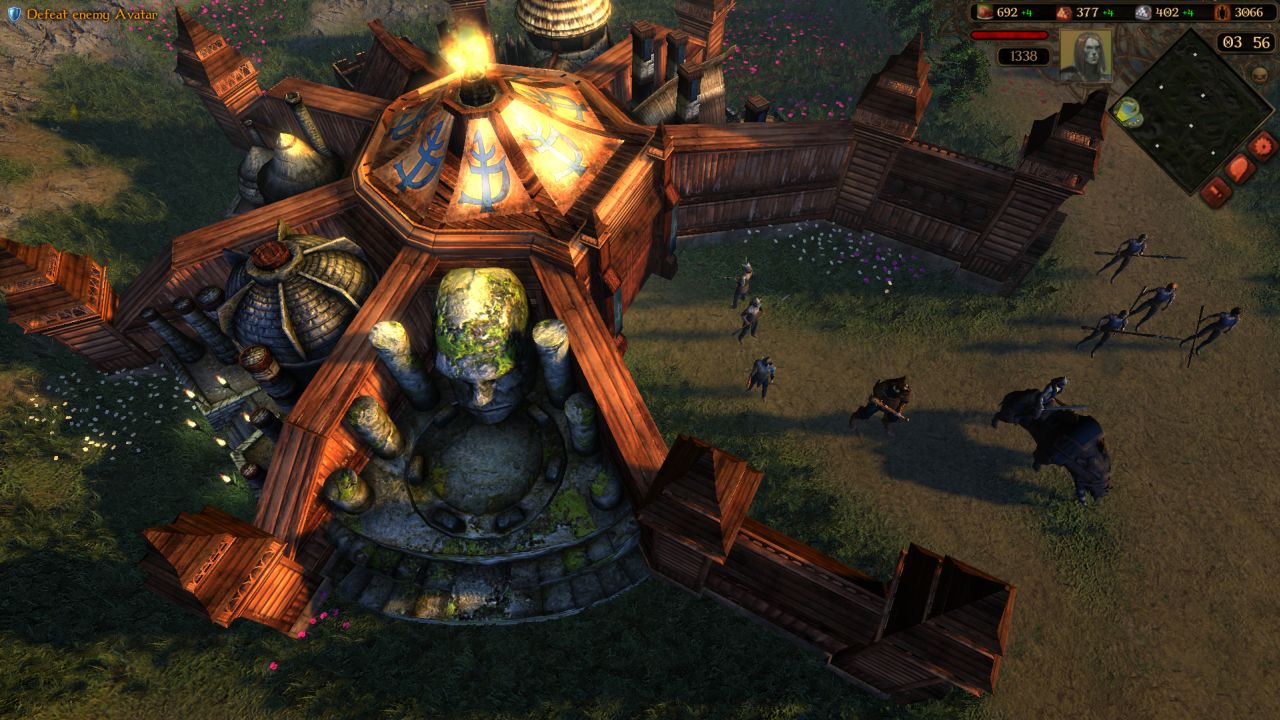 Another moderately painless aspect of Frozen Hearth is the world building. The setting is a semi-fantastic Nordic environment, with your units having a delicious array of accents and face paints to give character. The game also makes a bit of an attempt to include ice as a gameplay element; where your vicious demon foes spawn and fight, the ground becomes frosty and cracked, and the edges of your screen become white-speckled as well. Sadly, this is just about the greatest stretch of fictional creativity that the game can muster: there's simply not much effort put into giving the fantasy world of Amorra a sense of individuality. Even the demonic monsters who you are fighting seem very cobbled together, without any particular style or theme, and then splashed with red stripes (because, you know, red is the scary color, right?). There is essentially no story or character development to speak of: instructions are given to you from a nameless "advisor", but otherwise there's little effort to give either the fantasy world or the level situations any depth.
Comments
blog comments powered by Disqus