Game of the Year Awards 2012
New Game Network staff make their annual selections for the best video games of the year!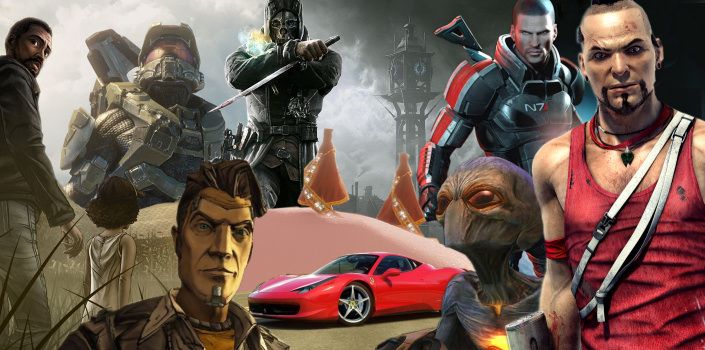 Perhaps 2012 could be remembered as a year of change.
The gaming industry has endured much in the past 12 months, and that's not even counting all the games that were released. Drama began when fans were upset with the ending of Mass Effect 3 (a fact our review agrees with), prompting many weeks of debate and a small free DLC to add extra cinematics to the RPG. It was a huge year for Kickstarter, now becoming the leading platform for any and all aspiring game developers to present their craft and hope for public's approval and funding. This trend could mean big changes in the future when it comes to games publishing. Valve wasn't far behind, introducing their Greenlight service that allows users to vote for games they want on Steam.
While rumours about next generation of consoles from Sony and Microsoft swirl, the future already began for some. Start of the year saw the launch of PlayStation Vita, arguably the most powerful handheld gaming platform out there, and yet the consumer response was lukewarm at best. Similarly, the next generation home console from Nintendo, the Wii U, launched with a subdued atmosphere and sales compared to its phenomenally popular predecessor. Time will tell if these new consoles will live on or fade away as new consoles enter the market.
The future of free to play gaming also took a big step forward. While the business model proved increasingly popular for some titles, publishers were still hesitant – with the launch of Star Wars The Old Republic and The Secret World both carrying paid subscription models. But fans have spoken, and neither game was able to make it through the year without offering a free to play alternative. On the other hand, Guild Wars 2 launched without a subscription fee and proved to be wildly successful, at least at the outset. The shut down of City of Heroes, however, proved that even going free to play doesn't guarantee success.
Similarly, the market awaits the developments of cloud gaming platforms. This year we saw OnLive suddenly declare bankruptcy and be bought by an investment company, while Sony purchased competitive firm Gaikai, with many expecting it to be a crucial part of Sony's digital offerings on future platforms. A few game studios got in too deep, with 38 Studios being closed and assets auctioned off, and THQ struggling to stay afloat and in declaring bankruptcy as well.
Or perhaps, 2012 is but a stepping stone to something greater. With a heavy games line up in early 2013, some would argue that next generation is just around the corner – and who knows, by this time next year we could be looking at an Xbox 720 or PlayStation 4.
But until then, let's reflect on the year that was. Turn the page, as we recognize the best of the best in our Game of the Year Awards for 2012.
Comments