Game of the Year Awards 2012
New Game Network staff make their annual selections for the best video games of the year!

---
---
Best PC Game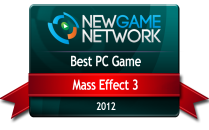 Mass Effect 3
"When it comes down to it, despite some weaknesses, fans of the first two games will probably get a lot out of Mass Effect 3. There is a good amount of content here and optimization is very good; the average play through of the campaign will take 20-30 hours, and the multiplayer adds a bit more bulk to the package. Despite an underwhelming ending, Mass Effect 3 is a strong final chapter in this remarkable science fiction trilogy." - Tim Reid
Honorable Mentions:
Hotline Miami, The Walking Dead, Guild Wars 2, Counter-Strike: Global Offensive
Best PlayStation 3 Game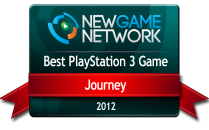 Journey
"Journey is, at its heart, every great videogame adventure ever created distilled to a pure and simplistic form. A world of intrigue and subtle suggestion rather than heavy handed scripting, and a story of ambiguity and personal interpretation as opposed to a well-defined narrative. It knows that wonderment is rarely found in the obvious and brash, but in the mysterious monuments of a past civilisation. Dig under its surface and you have an experience that says something rather profound about videogame adventures." - Matthew Sawrey
Honorable Mentions:
Starhawk, PlayStation All-Stars, MLB 12: The Show, Assassin's Creed 3
Best Xbox 360 Game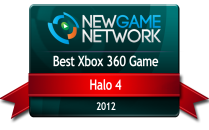 Halo 4
"Halo 4 is a new chapter in one of the most popular gaming franchises ever, and certainly one that has so far defined Microsoft's Xbox console. Even with a new developer 343 Industries, Halo fans can rest easy – this is much of the same classic gameplay that you've come to expect. With the ever-expansive multiplayer mode in full force and some Spartan Ops included for cooperative action on the side, the game offers great value. Add to all this some stellar presentation, and you've got yourself one solid sequel. It's not the second coming of Chief as some might have hoped for, but it's Halo in all its former glory, a formula unshaken by the years and a development team change." - Alex V
Honorable Mentions:
Trials Evolution, Minecraft, Forza Horizon, Dance Central 3
Best Wii U Game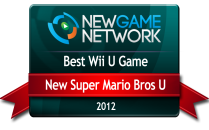 New Super Mario Bros U
"Even after thirty years of Mario titles spanning every platform from arcade machines to the Nintendo 3DS and branching into half a dozen genres, it would be difficult to claim that the franchise is getting old. New Super Mario Bros U is constructed around a formula that may prove to be truly timeless, but it also exploits enough fresh ideas to feel like a new experience even to seasoned players. The game is a meticulously balanced blend of old concepts not seen in decades and new features that integrate the motion controls native to the Wii U, all rolled into a beautifully designed classic style." - Eileen Murphy
Honorable Mentions:
Best New IP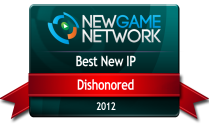 Dishonored
"Not since Bioshock's Rapture has there been such a compelling and detailed original setting for a video game. Dishonored doesn't cram choice down your throat, but the decisions you make will have an impact later on in the game. Whether you like creeping in the shadows, running across the rooftops or decapitating guards, Dishonored is a game that demands your attention. It breathes life into the stealth genre while offering loads of gameplay alternatives in one of the best original video game settings in years." - Tim Reid
Honorable Mentions:
Sleeping Dogs, The Walking Dead, Journey, Chivalry: Medieval Warfare
Most Improved Sequel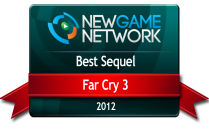 Far Cry 3
"With tons to do, solid gameplay mechanics and only a few annoyances, Far Cry 3 brings the series back on top form. Overall, the game's plot is well structured, and the story feels more personal and relatable than Far Cry 1's monsters or Far Cry 2's politics. After a mediocre second outing, Far Cry 3 returns with a vengeance. Offering great open world gameplay and no huge problems to deter from the experience, this is one trip to paradise you don't want to miss." - Alex V
Honorable Mentions:
Darksiders 2, Borderlands 2, Halo 4, Trials Evolution
Most Surprisingly Good Game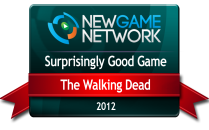 The Walking Dead: Season 1
"Naturally when a game based on the Walking Dead franchise was announced many kept their hopes low, especially since it was going to be an episodic point-and-click adventure. On the other hand, the studio responsible for the title's development was Telltale Games, and if there is one thing that these guys have shown us is that they know how to create great games while fully respecting their source material. Fortunately, from the very first episode, the game proved more than worthy of Telltale's reputation." - Annie H
Honorable Mentions:
Sleeping Dogs, Mark of the Ninja, Forza Horizon, Tokyo Jungle
Best Downloadable Game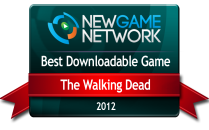 The Walking Dead: Season 1
"The game, without being flawless, manages to appeal to people who do not usually play adventure games or are not fans of the franchise. The writing is excellent and the character reactions are convincing. Players will certainly second guess their own choices and eventually come to care about Lee and Clementine." - Annie H
Honorable Mentions:
Journey, Mark of the Ninja, Chivalry: Medieval Warfare, Fez
Best DLC / Expansion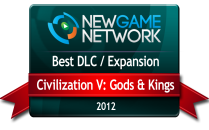 Civilization V: Gods & Kings
"Gods & Kings includes 27 new units, 13 new buildings, nine new wonders, a few new eras, and nine new playable civilizations. A new religion mechanic featuring a faith resource allows players to found their own religion which they can grow into a world-spanning fully customized religion. Diplomacy has been reworked to include espionage, foreign embassies, and new types of city-states (religious and mercantile). City-states also feature a new quest system and strategic importance. Additionally, the combat system has been re-worked to include smarter AI, an expanded early modern era, and enhanced naval combat featuring Great Admiral and melee naval units."
Honorable Mentions:
Leviathan - Mass Effect 3, Dawnguard - Skyrim, Fall of the Samurai - Shogun 2, Aftermath - Battlefield 3
Best Game No-one Played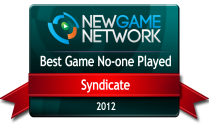 Syndicate
"Syndicate draws inspiration from many shooters but struggles to define itself in such a saturated genre. The best part of Syndicate is the co-op, offering unique content that encourages team play. It may consume more hours than the single player portion depending on the shrinking online population. Syndicate doesn't break the shooter mould but it provides a satisfactory experience that may charm a select few." - Ben T
Honorable Mentions:
Botanicula, Natural Selection 2, Spec Ops: The Line, Binary Domain
Most Disappointing Game

"The main story arc finishes without the punch of its prequels. Major events happen within the game engine, producing less than desirable results. It also tends to have a flippant attitude in regards to major and returning characters. The carefully placed loose ends lack the intrigue they are usually accompanied with. When the last foe falls, the game asks if you want to quit to the menu and you are treated with an ordinary cinematic and the longest of all credits. Despite the healthy nostalgia during the later acts, it lacks the same demonic impact its predecessors generated." - Ben T
Dishonorable Mentions:
Unfinished Swan, Assassin's Creed 3, Kingdoms of Amalur: Reckoning, DiRT Showdown
Worst Sequel
"With Resident Evil 4 being an incredible high-point, it could be considered the series is on a downward spiral as it moves further away from its survival-horror roots, and into the third-person action genre - Resident Evil 6 is more action-heavy than ever. Fans of the series will probably be able to overlook many of the game's faults, as long as they accept the heavy focus on adrenaline-fueled gameplay. Otherwise, there are many action games out there that are quite simply better than Resident Evil 6." - Tom Cooper
Dishonorable Mentions:
Hitman Absolution, Epic Mickey 2: The Power of Two, 007 Legends, NFS Most Wanted
Comments