Pid Review
The Wrong Kind of Dream
Pid has its charms, and it has its challenges. The two, however, never really manage to work in concert. This is not Dark Souls, where crushing difficulty helps to underscore themes of isolation and despair. Nor is it Flower, where zen visuals and a subdued soundtrack compliment a meditative, relaxed ludic experience. Rather, the difficulty of Pid's gameplay is a perpetual drain on one's ability to appreciate the game's unique artistic flourishes, and its leisurely, dreamlike stylings never instill any urgency or drive with which to overcome the game's challenges. Both the mechanical and thematic sensibilities of Pid have their share of independent successes, but each holds the other back from achieving any sort of transcendent state.
Note: A patch has been released for the PC version of the game which purportedly addresses issues with the game's difficulty. This patch has not yet been announced for the PS3 version.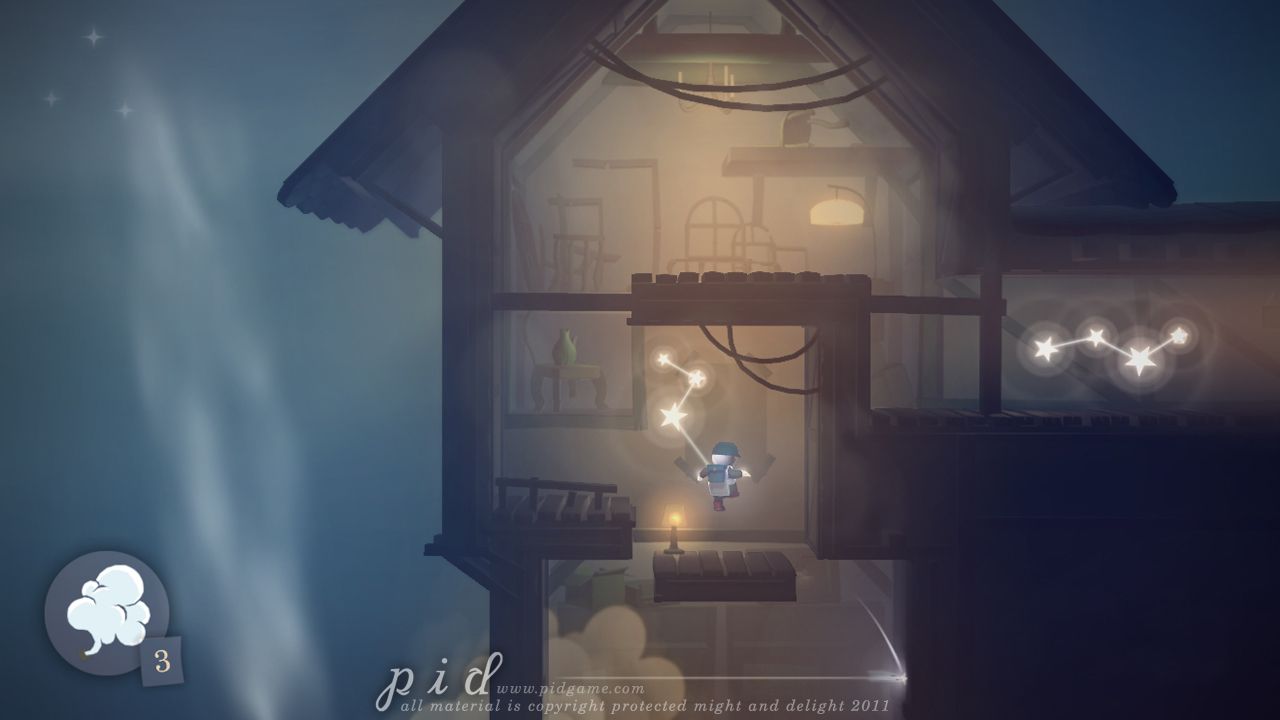 Everything begins promisingly enough. A simple storyboard describes how the hero, the inauspiciously-named Kurt, falls asleep on an intergalactic school bus. Kurt wakes on an alien planet, and the game begins. The goal, at least at the onset, is to find a way home. It's a fairly minimalist start as things go, one that harkens back to the likes of Closure, Braid, and Limbo. Like those titles, Pid makes a strong first impression with it's simple, bold visual style. Kurt's newfound world is seen through a hazy soft focus, a vaseline-smeared aesthetic that gives everything a sleepy, dreamlike patina. Early on, that aesthetic carries over into the gameplay readily enough. Kurt moves with a lethargic gait: his running speed is leisurely, his jump floaty. He's quickly imparted with a pair of throwable orbs which, when cast onto a surface, emit a sort of reverse-tractor beam that propels him forwards. Using these tools to navigate Pid's early obstacles takes on a pleasant sort of zen, as you leap over enemies and levitate via beams with a languid grace. The beams are the game's most innovative touch, and so it goes about rigging puzzles and situations in which to employ them.
The results are a mixed bag. Most puzzles are simple enough to be solved at a glance or two, which makes for a leisurely run through the early proceedings. Coupled with the game's dreamy aesthetics and sleepy, smooth jazz soundtrack, it all makes for a rather enjoyable, laid-back experience. But it quickly becomes clear that there are only so many possible scenarios with which to employ the beam, and consequently, Pid's bag of tricks empties out long before game's end. You find yourself recognizing situations at a glance - "Oh, here's the one where I have to throw the beams here, and there." By way of replacement, the game asks for greater feats of precision from the player. It introduces smaller platforms, throws more (and more difficult) enemies in the path, and asks the player to perform the same tasks under duress.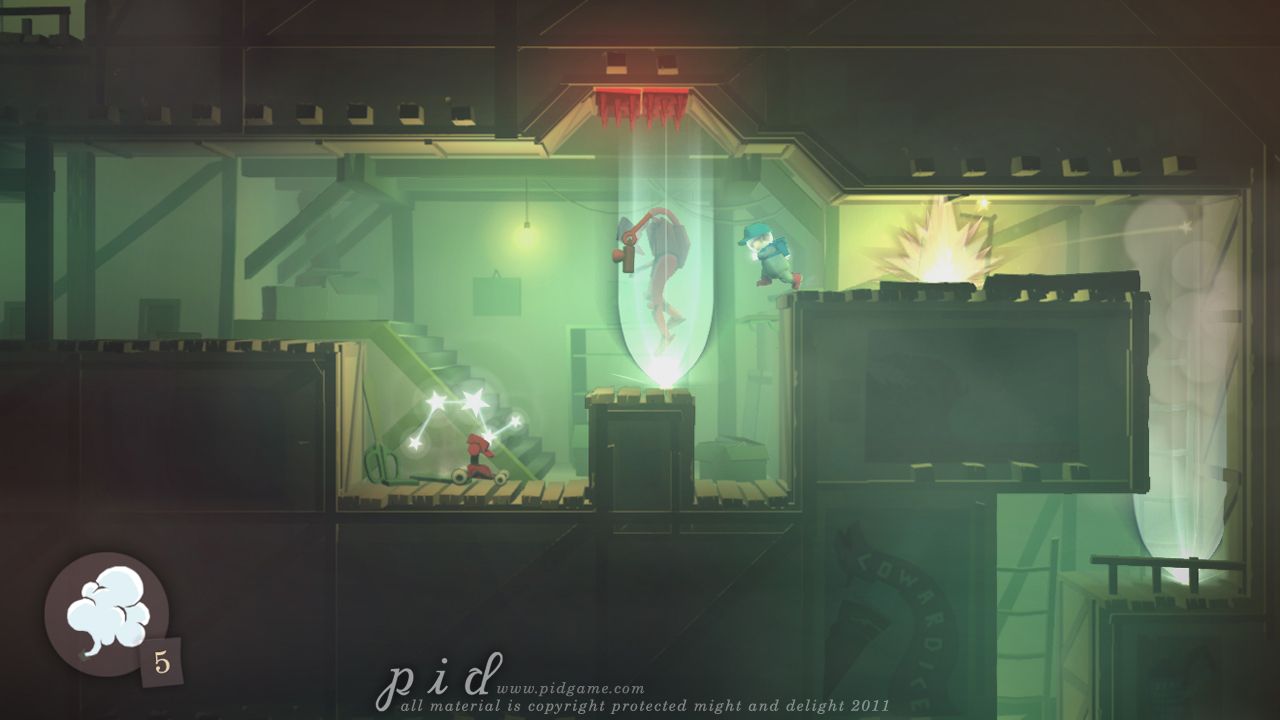 It's then when things begin to break down. Kurt's quickly outpaced by the hazards that rise up against him: many enemies are faster or more agile than his stunted legs can manage. His slow pace and floaty jumps exacerbate the difficulty of evading enemies or defeating bosses, making Pid's challenge seem artificial, and tremendously infuriating. Curiously, Pid is a one-hit-kill game, a design choice that seems completely at odds with the nature of the game's other elements. It's a feature that's at its worst during the games handful of multi-stage boss fights, wherein death at any point sends you back to the start. Sure, there's a protective vest that'll allow Kurt to absorb the ill-effects of a single mistake, but the game provides no invincibility period thereafter. Fall into a strip of spikes, for example, and you'll be just dead with the vest as without. The game's platforming thusly ends up becoming incredibly stringent, requiring precision that the floaty controls are ill-suited for. The issue is laid bare when you scale to the top of one of Pid's tall verticals, only to botch the landing on a tiny platform and plummet all the way back to the base.
Comments
blog comments powered by Disqus