New Super Mario Bros U Review
Nintendo's classic platformer returns for another fun-filled side-scrolling adventure
To help bring the classic Mario style into the modern era, New Super Mario Bros U contains a few new game mechanics to better utilize the Wii U's motion controls. The entire story mode can be played with either a Wii Remote or the new GamePad controller. In certain areas, the player will have to control moving platforms by tilting the controller and control Mario using the D-pad and buttons simultaneously. This takes a bit of practice, but is certainly a worthwhile addition to the game's time-honored formula. As promised in the initial demo of the Wii U at E3 2011, the GamePad can load and play the whole game (in single player mode) without need of the TV screen, which makes it a convenient pick-up-and-play title for those who don't like to be tied to their living room flatscreen (as long as they also don't get too far away from it) .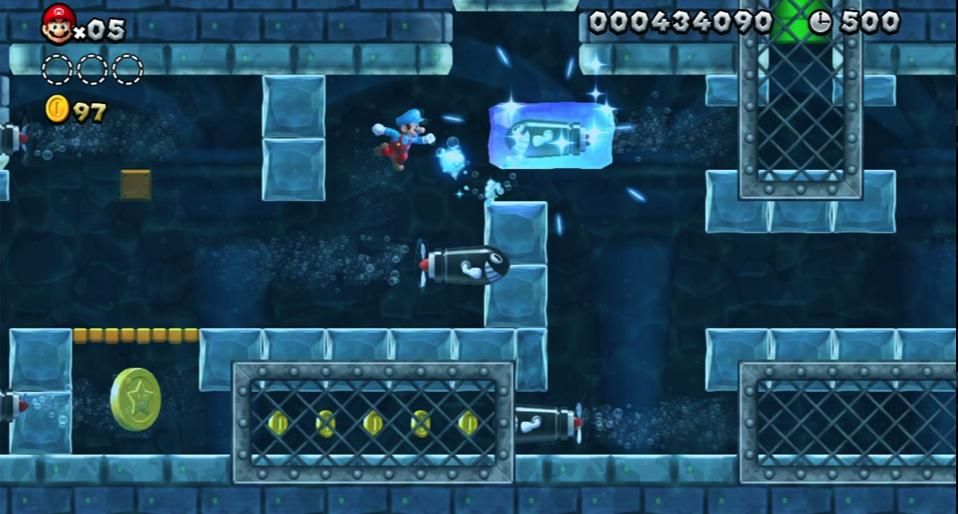 In addition to the main story, there are three additional freestyle gametypes that players can enjoy. Challenge mode, as the name would suggest, is an expansive assortment of special levels that must be completed within very specific guidelines. Examples include limiting the number of coins that can be collected, running through the whole map using triple jumps, or gliding all the way to the finish without touching the ground (in flying squirrel form, of course). Coin Battle is a strictly multiplayer mode in which up to five players compete individually or on teams to collect the most coins. This mode includes every level from the story, plus a few exclusives. It also allows a player using the GamePad to customize coin locations on a course for those using Wii Remotes to collect. In Boost Rush, the player collects coins to accelerate the pace of the level. Though slightly dull compared to the others, Boost Rush can be a fun challenge for those who enjoy courses where they have to keep moving or die. All three of these gametypes can be played as Mario, Luigi, Yellow or Blue Toads, or a Mii character.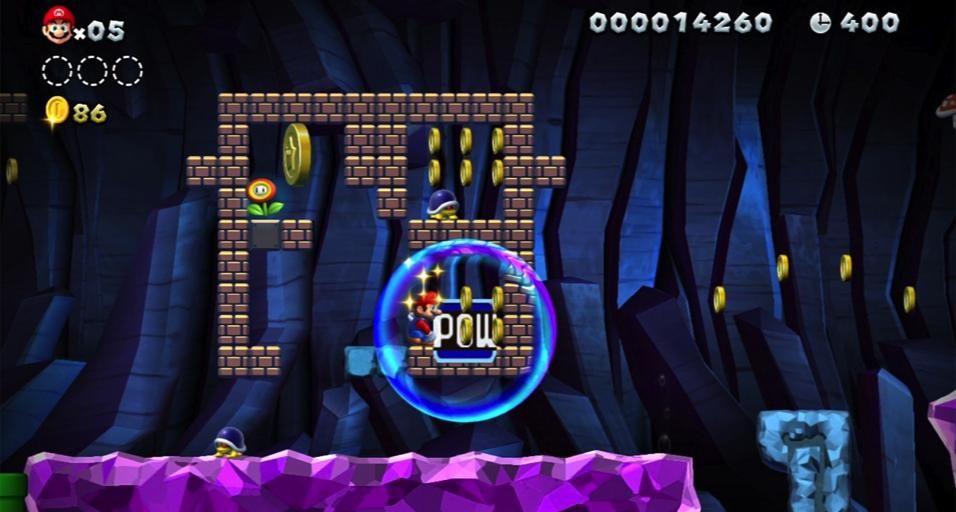 Despite the hurdles inherent in developing a launch title for brand new hardware, New Super Mario Bros U gives the impression of a project that received a lot of polish before being shipped out. The new and old gameplay mechanics are integrated very smoothly to provide an experience that feels fresh even after a thirty year run for the franchise. The Wii U's graphical capabilities, motion controls, and Miiverse integration offer a reinvigorated gaming experience with a strong community, without needing to stray too far from a tried and true formula.
Our ratings for
New Super Mario Bros U
on Wii U out of 100 (
Ratings FAQ
)
Comments