PlayStation All-Stars: Battle Royale Review
A solid fight offering for some beloved Sony franchises
PlayStation All-Stars Battle Royale is a fighting video game developed by SuperBot Entertainment as their debut title. Up to four players can battle it out in an arena setting, in a sub-genre that has been made popular by the Nintendo's Super Smash Bros. series. A decently sized roster of combatants duke it out in some game-themed arenas, attempting to bring the most popular PlayStation brands to life. While the gameplay is solid and makes a few design choices that could be controversial, other aspects of the game appear lacking at times. Still, if you're looking for a multiplayer brawler that doesn't have anything to do with Nintendo, PS All-Stars is a good bet.
As with any crossover fighting game, the selection of fighters often becomes a crucial factor for some gamers. With an All-Stars title, players will be expecting the most memorable personas from the publisher's long standing gaming history to make an appearance – but that's not totally the case. Modern characters like Sackboy from LittleBigPlanet, Nathan Drake from Uncharted, and Cole from InFamous are obvious inclusions. Appearances from classic characters vary, with Kratos from God of War, Sly Cooper, and Sweet Tooth from Twisted Metal filling out the ranks.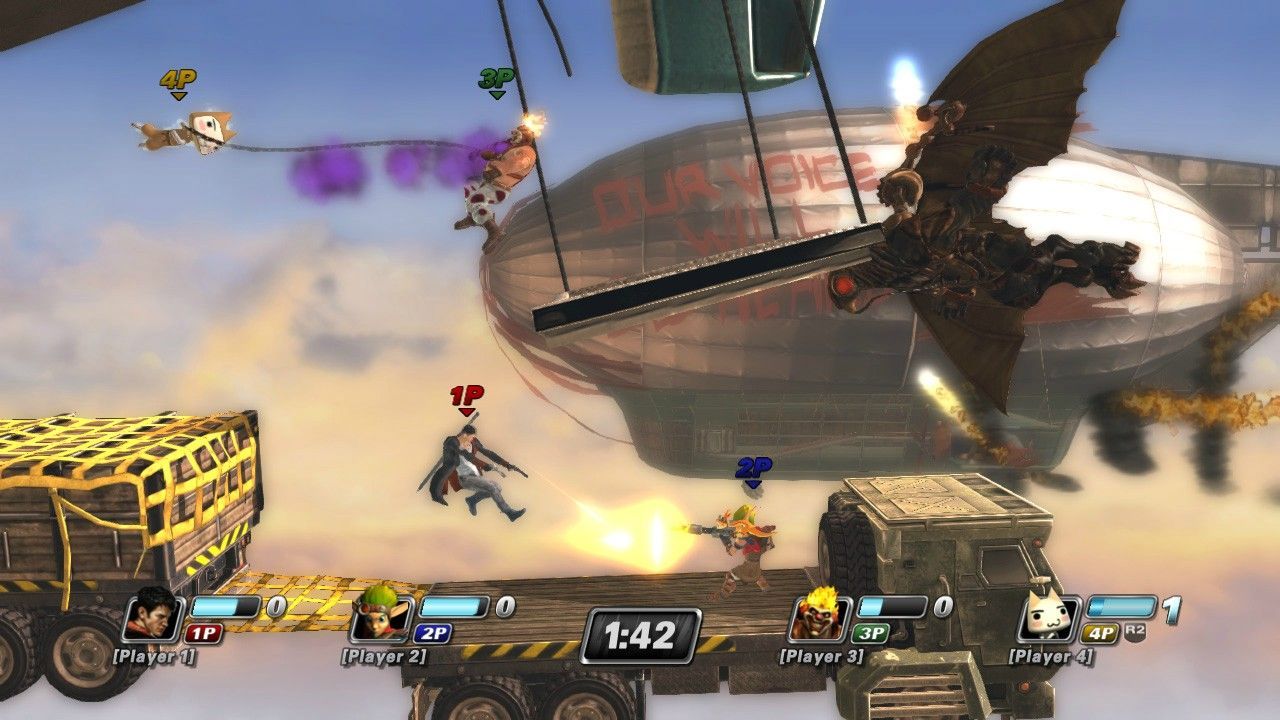 Sony has always had strong third-party support, so it makes sense that a few external characters make an appearance, though some of these selections are questionable. You've got Raiden from Metal Gear Solid, Big Daddy from BioShock, and Dante from Devil May Cry to play with. This sounds fine in theory, but the issue is that these characters don't exactly scream PlayStation, and more of cross-promotional material for their respective upcoming games. Raiden's and Dante's character designs are from their upcoming games, and there is a BioShock Infinite-themed arena – so you've got to wonder what the selection criteria was.
But let's get down to business. PS All-Stars is a four player arena brawler, where the goal is to eliminate the most opponents within a time limit or be first to score a certain number of kills. You've got the usual combo and blocking system, so any seasoned genre experts should be able to pick up and play without any issues. There are a number of systems in place to differentiate this title from others, however, and the appreciation for these mechanics may be the determining factor of your enjoyment of the gameplay.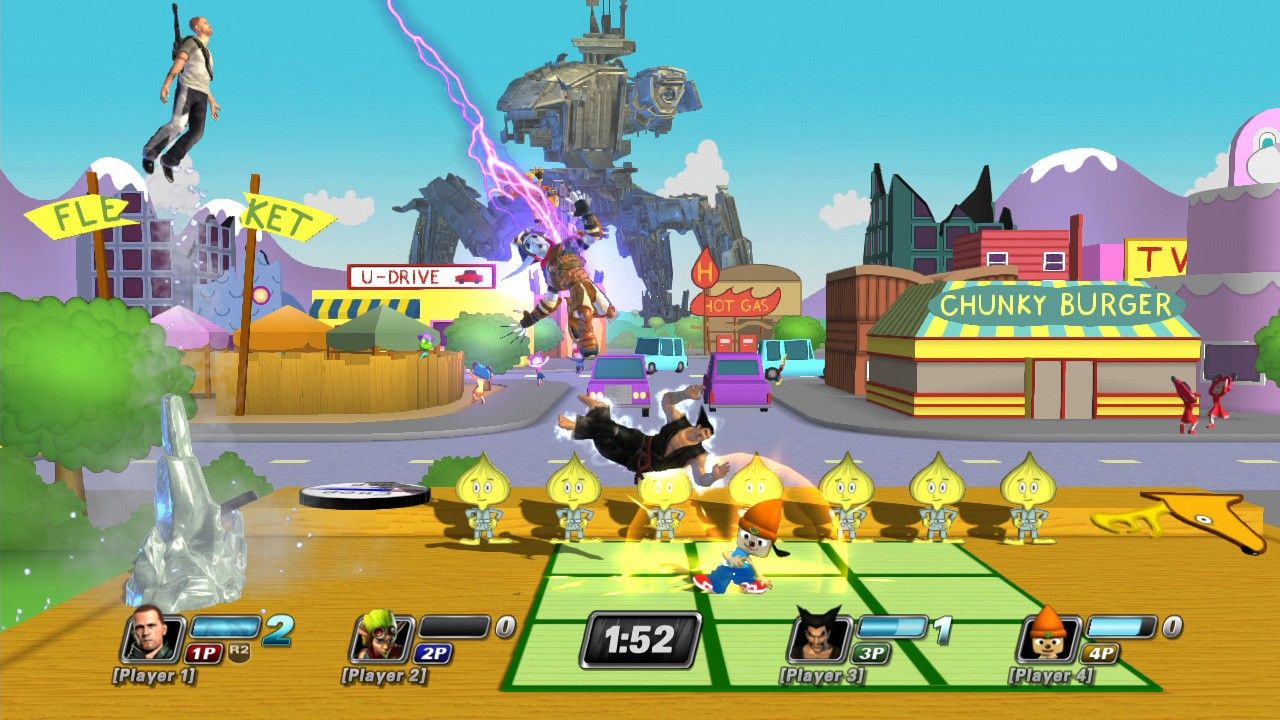 First and foremost, there is no health bar to worry about. It's a much different approach – instead, the only way to eliminate your opponents is to build up an AP meter by landing hits. This unlocks your Super attacks, of which there are three levels. So the longer you save up the AP, the sooner you will reach the third level of Supers. Unleashing these attacks is the only way to defeat enemies and score points. Level one super attacks are usually limited range and power, level twos are better, and level threes are completely devastating and can eliminate all players on screen, sometimes without user input. Dying doesn't remove any AP, so you can continue the battle and unleash your attacks when you are ready.
While the roster may be questionable, once you get into the game you'll forget all about it. All of the characters present are so accurately and creatively recreated that it seems they were picked right out of their original titles and thrown into the arena. This isn't the case of a few characters and their re-skinned versions – all on the roster of PS All-Stars have unique abilities, moves, and attacks. Everyone plays completely different, and not just marginally like most other fighting games. You've got Nathan Drake firing AKs, Radec with a sniper rifle, Cole has a special movement option to slide around the level, and Kratos using his signature blades, plus tons more that are unique to the characters. Level one and two Supers can often be blocked or dodged, but level three means instant kills with or sometimes without player input. Everyone's Super attacks are crafted with style – for example you could be calling down hurricanes as Cole or submerge the whole stage underwater as Big Daddy. Due to this, balance is an issue and some characters are indeed overpowered, but thanks to the game's fast paced nature and non-loss of AP at death, you can always keep up.
Comments
blog comments powered by Disqus