Call of Duty: Black Ops 2 Review
While not free of issues, a gripping campaign and reasonably smooth multiplayer mark a return to form for this lucrative shooter franchise
While the multiplayer is well designed and a lot of fun, there is one serious issue that might be a deal breaker for PC gamers. Treyarch's previous games stuck to dedicated servers and a server browser, but Black Ops 2 adopts matchmaking similar to what was used in the last two Modern Warfare games. The matchmaking does put you into Treyarch-run dedicated servers, but the option to manually pick the lowest ping server to play on is sorely missed. While I was generally placed quickly in games, they were usually in servers that were not optimal, and I experienced some noticeable lag, made worse by the lag-compensation technology that tries to even the playing field for those with slower internet connections. In League Play and the co-operative zombie mode inferior peer2peer matchmaking is used, meaning host-migration screens will pull you out of the action and the host has a distinct advantage over the other players, which rather defeats the purpose of competitive league play. The spawns in multiplayer are also somewhat problematic at times; I spawned on several occasions right in front of or behind enemies, and often saw enemies spawning right on top of me. While most of the small issues with Black Ops 2's otherwise competent multiplayer can be dealt with in patches, the return of matchmaking is not welcome.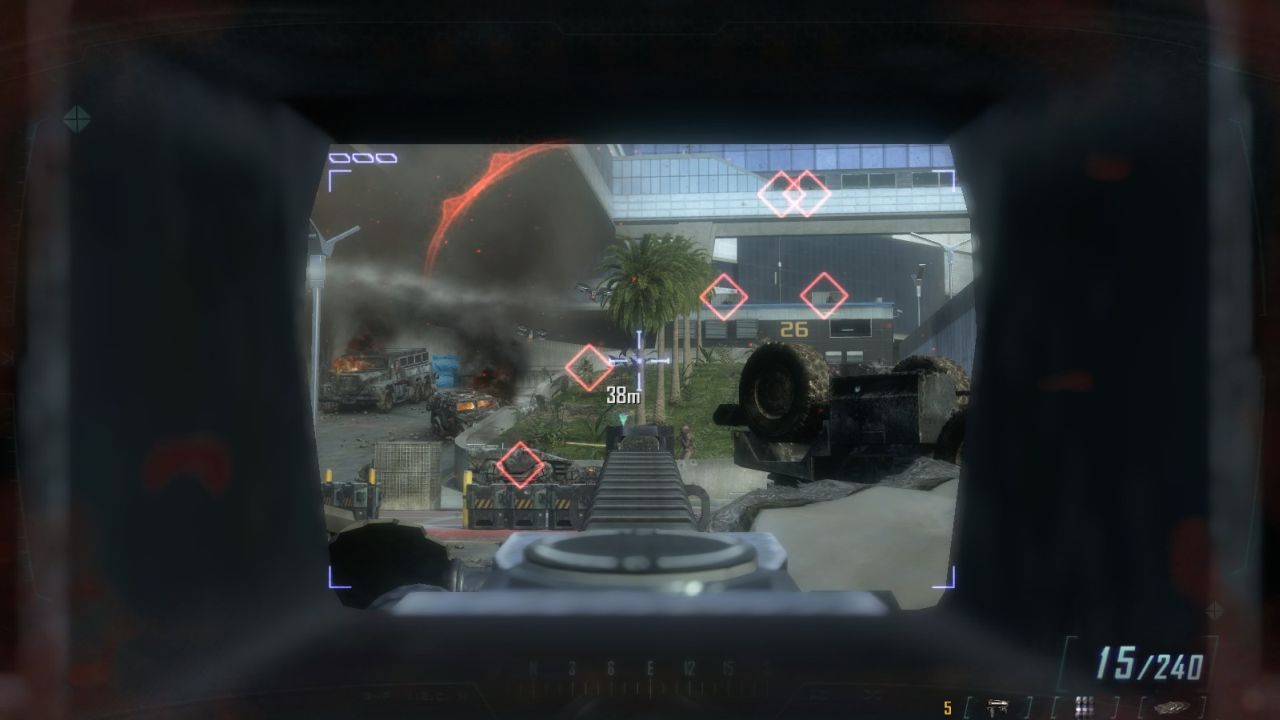 Treyarch protects against multiplayer hacks by making them unlockable attachments
If you become frustrated with fighting human opponents online, you can team up against waves of the undead in the returning Nazi Zombie mode. The basic survival mode returns and is a passable distraction for a short period of time, but it seems most of the work has gone into crafting the new Tranzit mode. Tranzit sees you and three others hopping on a bus that moves between the different survival maps, completing some basic objectives like turning on the power and finding and building upgrades for the bus. While good on paper, Tranzit mode is obtuse and rather dull, not explaining itself in the least and providing no real benefits over the normal survival mode. The different regions you travel to are all rather dull and the zombies take a good deal of damage before they go down, making them very unsatisfying to kill. While there is some fleeting fun to be had with survival mode, the zombie modes feel out of place in Black Ops 2 and fails to provide a co-op experience on par with Spec Ops in the Modern Warfare games.
While the Call of Duty series has been using the same engine for a very long time, it has seen some appreciable upgrades this time around. The game looks sharper overall, with much better shadows and crisper textures. Direct X 11 is now supported, although its impact was not readily noticeable in game. Facial animations are particularly impressive; people actually look like people in Black Ops 2, and the terrific voice acting further supports this notion. As mentioned earlier the sound design has been improved over previous games, although it is still weak compared to genre leaders. The musical score is another high point, with Trent Reznor's main theme setting the tone for the game, and excellent electronic tracks playing in the background of the futuristic missions. Black Ops 1 suffered from some pretty severe frame rate issues at launch, but the sequel runs very smoothly save a small amount of stuttering in a few indoor areas. The option to cap frame rates is welcome, as is a field of view slider even though it only goes up to 80.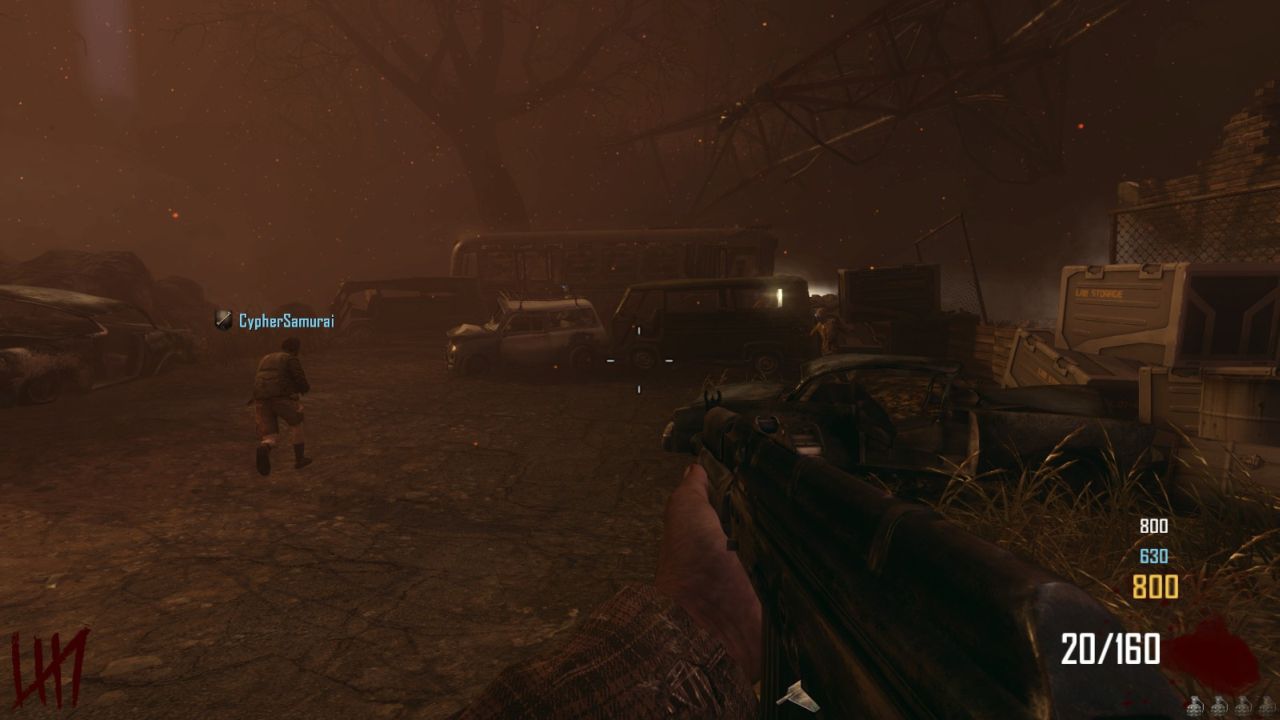 The creepy Tranzit bus should always be approached with caution
The Call of Duty series desperately needs to change in order to remain relevant beyond a sales level, and Black Ops 2 marks a step in the right direction. While the campaign is the only area that has seen any significant developments, the multiplayer is well made and highly enjoyable despite the matchmaking system and associated occasional laggy game. While Black Ops 2 isn't the revolution the series ultimately needs, it is a step in the right direction that fans of the series should lap up and those who have taken a break it might want to check out.
Our ratings for
Call of Duty: Black Ops 2
on PC out of 100 (
Ratings FAQ
)
Comments
blog comments powered by Disqus