Wonderbook: Book of Spells Review
Add a little magic to your living room
Wonderbook: Book of Spells is one of those off-beat titles that comes around once in a while. It's an augmented reality, peripheral-heavy game and that already puts it in a somewhat awkward spot, but the final result is respectable. If you've got kids who like Harry Potter or just magic in general, Book of Spells provides solid value and likely more than a handful of fun evenings.
Essentially, to play Book of Spells you'll need the game disc, a special book peripheral which ships with the game, as well as a PS Eye and Motion Controller. In other words, if you lack a PlayStation Move setup, prepare to spend a bit more money to either get it separately or as an alternative bundle for Book of Spells. Having said that, the basic package that includes the Wonderbook peripheral is priced on the same level as any other PS Move game. Once everything is in place, the setup is fairly easy – starting up the game after the motion controllers have been calibrated, and keeping the book in camera's view. The book itself doesn't have much to look at, so you can focus on the screen.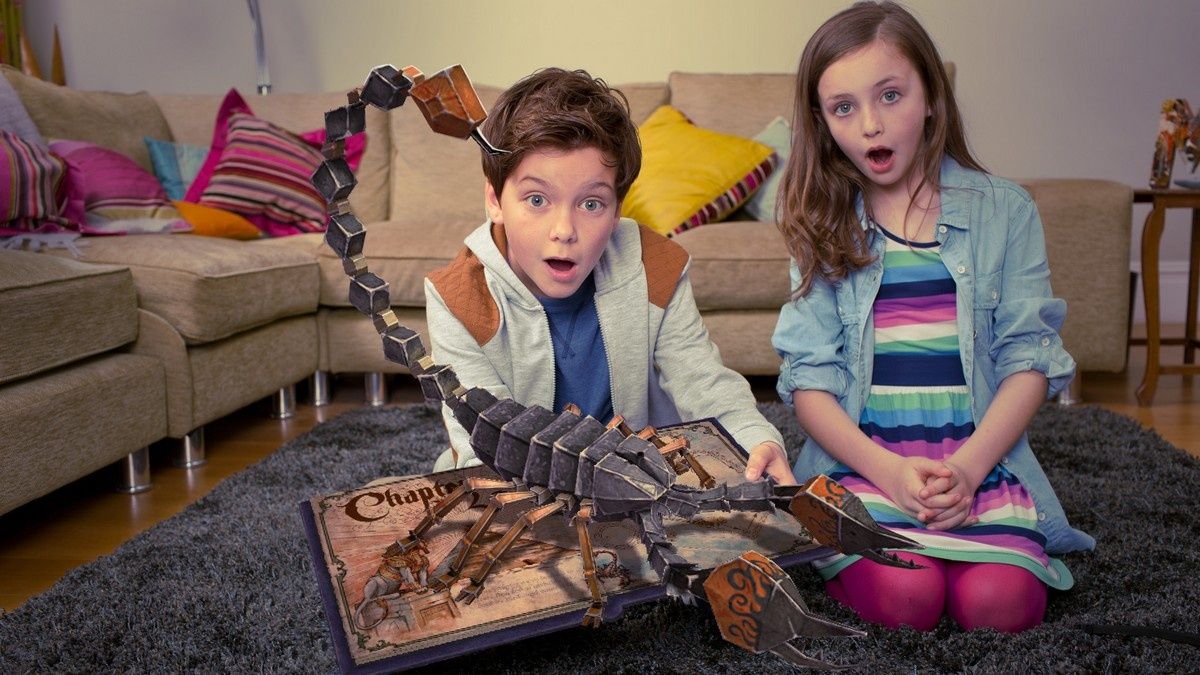 In the game, players enter the world of J.K. Rowling and all the Harry Potter-themed wizardry and magic that goes along with it. With the camera pointing at the player and a book in front of them, the room is transformed and you'll find yourself surrounded by a virtual world right on the screen. Players will see themselves in a sort of portal to Hogwarts, that motion controller you're holding becomes a wand, and a wizard's journey begins.
During the course of the campaign, you'll learn to how to cast about 20 spells from the world of Harry Potter, complete with accurate back stories and spells that have often been seen in the films. It's a completely authentic experience that Rowling quite clearly personally approved. Players start out with basic levitation and fire ball spells, moving up to complex arts needed to battle other wizards. There are only about 10 pages in the physical book itself, so to complete the five chapters of the story will require multiple read-throughs of the book, per say.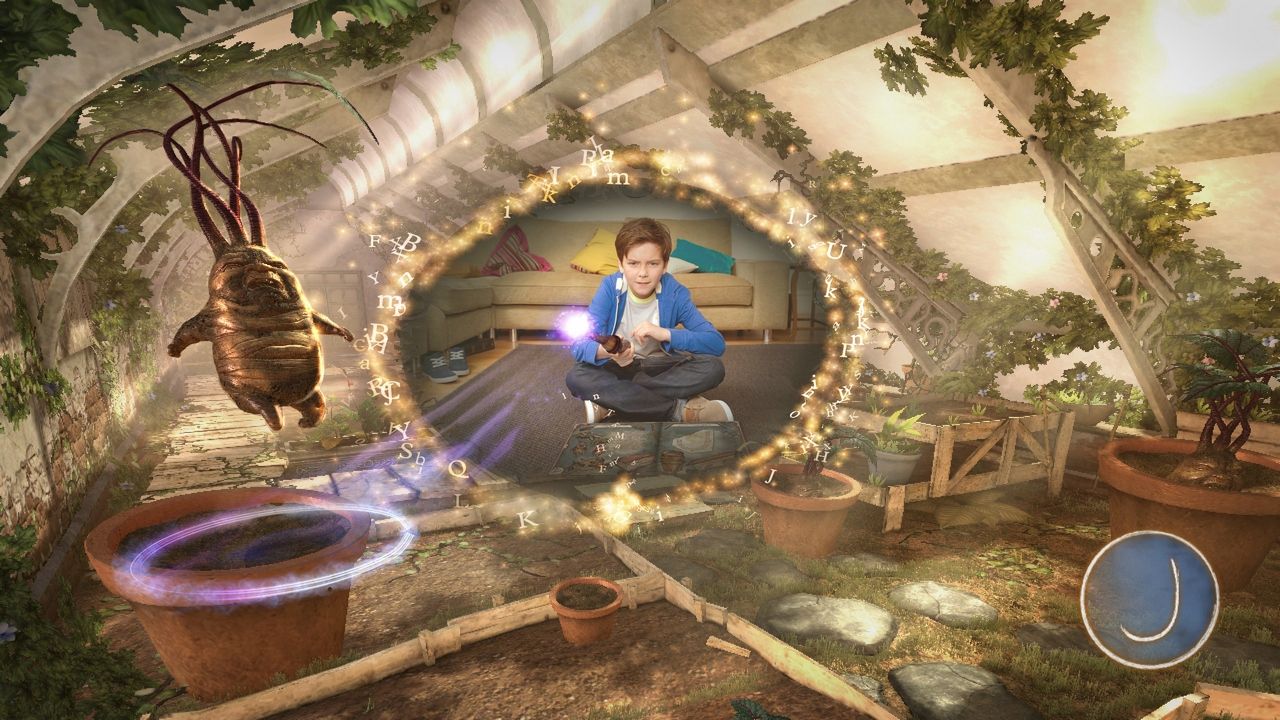 Most of the gameplay consists of playing through story chapters, and learning new spells as you go along. You cast spells by waving the controller in a certain pattern on the screen, and using these newly learned abilities to complete minigames that immediately follow. It's not exactly difficult, even for young players who this game is aimed at. The only challenge comes during the final section of the chapters, where your memory is tested and you need to use all previously learned wand movements to resolve a puzzle or win a fight. Don't fret though, if you happen to forget the game will quickly remind you what needs to be cast and how.
Completing each level nets points to the House you chose to represent, so there is some replay value if you aim to beat some high scores. Sadly, you'll be competing against yourself, since the game lacks any multiplayer components. It's not a huge omission, but surely this is a missed opportunity to get kids to play together somehow, or at least taking turns.
Though a self-declared interactive book, this particular title leans more heavily on the interaction than any actual reading. Most of the text in the game is helpfully narrated (though that can be turned off if you want to force your kids to read). And while the writing is solid and mostly on-par with the Harry Potter novels, there is not much of it. It's also quite high-level and uses extensive vocabulary, so the very same kids who enjoy motion controls and living in the virtual world may have trouble understanding some of the text. And worst of all, the story isn't very satisfying and certainly not up to standards that fans of Harry Potter may expect. It's often funny and witty, and certainly entertaining for the target audience, but the overall plot and particularly the ending will leave much more to be desired.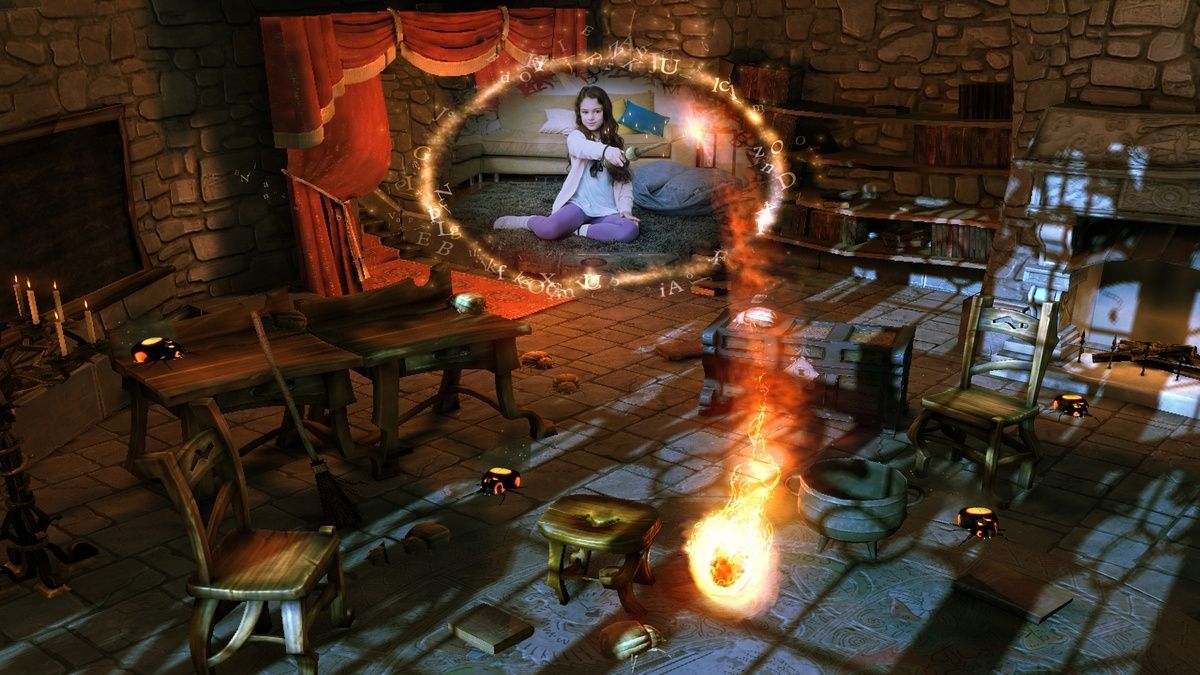 Besides some inherent motion tracking glitches of PlayStation Move, the game performs well. A virtual world created around the player's livingroom is both detailed and mostly believable. There's not much that happens in the most static environments, but they are still nice to look at and be immersed in, for kids in particular. Narration of the text is done masterfully well, even if some kids may not understand all that is being said.
Wonderbook: Book of Spells is an intriguing title that aims to continue Sony's legacy of brining virtual reality experience to homes. It's a trend that the company continues to pursue – including earlier efforts such as EyePet – but Wonderbook doesn't really have any breathtaking features to make it a go-to title for the technology. What it is though, is a fun and light hearted experience that carries with it the sheer coolness factor for kids who love magic.
Our ratings for
Wonderbook: Book of Spells
on PlayStation 3 out of 100 (
Ratings FAQ
)
Comments
blog comments powered by Disqus