Tiny and Big Review
Desert rocks and quirky talks mixed with physics-based puzzling and platforming goodness
There's a special type of creativity that most people stumble upon during their teenage years, and sadly leave behind as they try to grow up. It's that excited love of spontaneous storytelling and improvisation that shows up on crude notebook drawing epics and silly hand-puppet skits. It's the feeling you have when you not only laugh at how silly your dog looks wearing a cape, but you start taking pictures and wind up late at night with a home-made comic book about your superdog. In short, it's right between that giddy anything-goes attitude of childhood, and the ability to develop it into something bigger.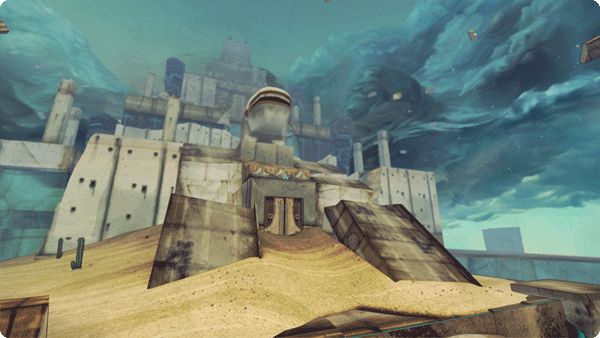 Tiny & Big is made firmly in this unique creative space. You play an odd, misshapen munchkin named Tiny who is hunting desperately across the desert in an attempt to regain his grandfather's stolen underpants. These precious drawers of destiny apparently have a mystical power, of which the main character is completely unaware (he only wants his heirloom-laundry restored to its rightful owner!). Assisting him on his hunt is his trusty sentient radio (who spouts good advice and good music to ease the journey), and his trusty sentient taxi (who crashes at the beginning of the game and is promptly abandoned). It's funny, spunky, and childlike without being childish.
Perfectly accentuating the odd storyline is the environment of the game, which takes place in what looks for all the world like a southern Arizona desert. There's a little bit of salty sand and dust, but mostly there are great giant slabs of smooth granite and sandstone. Sometimes these are natural pillars, sometimes they're carved columns and bridge sections, but the world of Tiny & Big is a world of slabs of rock. Tiny traverses through dark canyons, abandoned ruins, and immense crumbling temples that take a delightful inspiration from Native American artwork and architecture. Maybe it's just a pet project of mine, but the Native American aesthetic in general feels like a rich and underused visual theme for video games, so it's nice to see it put to such good use, and I specifically say 'put to use' because this rocky, blocky desert is the perfect place for Tiny & Big's main gameplay focus: environment manipulation.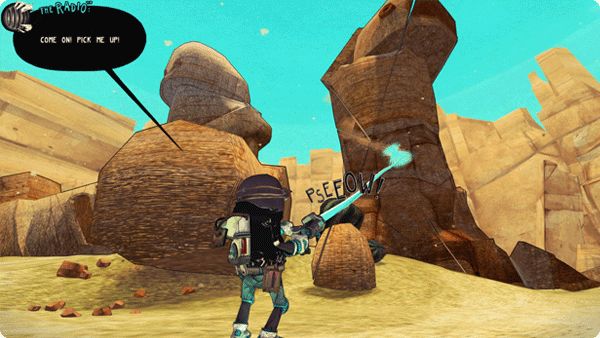 Your character has three tools at his disposal. You can skewer a block with a grappling line to let you pull it in a direction. You can also shoot a rocket into a block to push it instead. If the tool selection stopped here, Tiny & Big would be a painfully boring game, but the final tool is what makes the game: a laser that cleanly slices through rocks. This allows you to cut boulders up into smaller pieces, tip over giant pillars, or crack up sections of bridges. If you need to get over an un-cuttable wall, you can slice up an appropriate slab of rock and push it over to make steps, or cut up a longer slab and pull it over to make a ramp. Since the laser only cuts in one clean, straight line, you need to be careful in your selection of where to cut, and since you can't put pieces back together, you need to be conservative with your cuts.
Comments