58
Reviewed on PlayStation 3
Epic Mickey 2: The Power of Two Preview
We get some final hands on time before the game hits stores next week
At the end of the Fantasia stage, we happened upon a room that had a giant machine which transported paint to a set of doors. The player had a choice to either move the pipes and funnels to make the contraption function properly, or they could take the more destructive route using thinner. This, while receiving protests from an NPC, did not seem to sway any invisible or intangible "good or bad" metre, which was a nice touch. We took the thinner route and by combining Mickey's thinner ability and Oswald's electrical ability and opened a new portal for us to take. To complete the puzzle, you have Oswald's help, and can turn on the split-scren co-op mode that a 2nd player can jump in and out of seamlessly. This makes for quick and fun cooperative play without any messing about.
This portal whisked us to a D.E.C level. These D.E.C stages are 2D side-scrolling environments with the ability to travel further into the background and foreground to complete puzzles like rolling boulders into locations or knocking down targets. These levels were short and sweet, and a nice change to the pace of gameplay.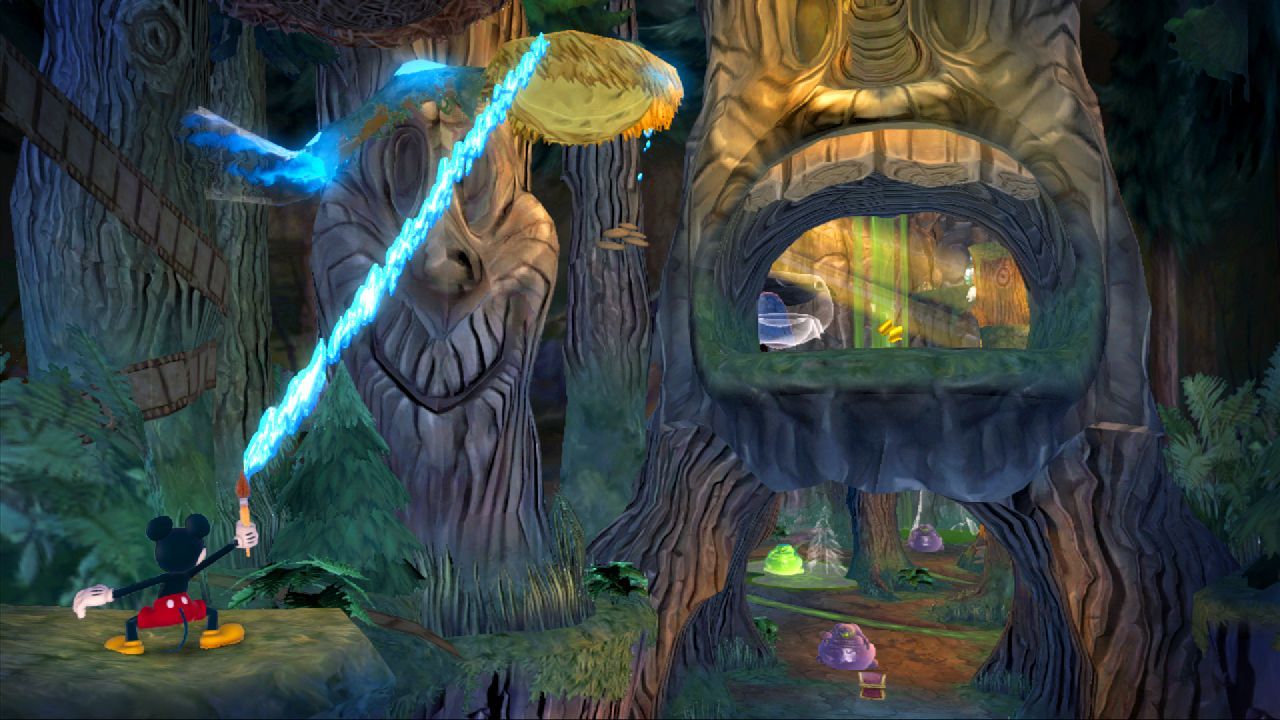 When we passed the D.E.C level, we found ourselves on the lower levels of a chasm where we had to move curtains of lava to make it through to the end of the level. Here we encountered the new automaton enemies which combined the toons with steampunk designs. You have the choice to either destroy these enemies with your thinner technique or recruit/friend them, to have an ally. And when you have conquered the maze, you find yourself at the end of the level and are able to view the alternate "paint" path you could've taken.
With the more the obvious changes behind us, there are also a number of smaller tweaks such as the costume customization and pins that held nothing but a collective value in the last game now altering abilities. The costumes can also affect where you start on the map thus altering the challenges and routes taken to the finish. Costumes and other collectables can be located in game, or they can be bought with the Mickey dollars. This means that if you miss a few things, they are not lost forever. And Spector claimed that it would take a player two to three playthroughs to travel all of the unknown roads.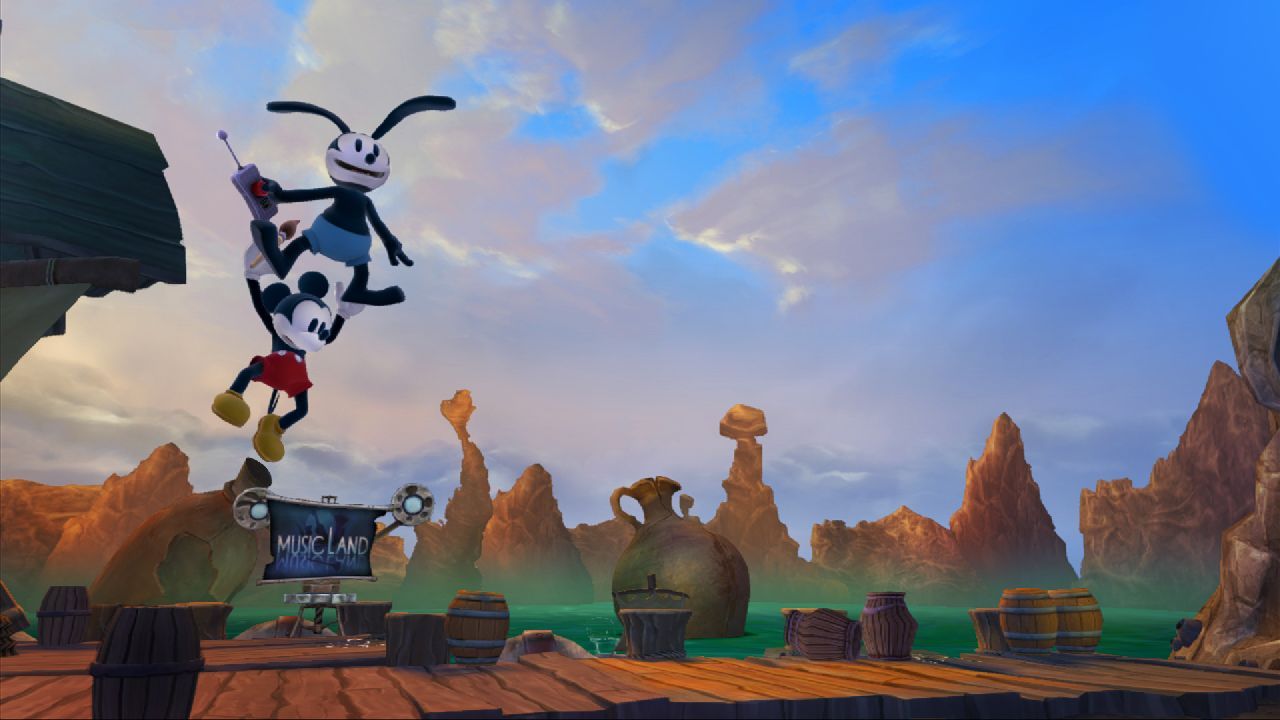 One more little objective that was hinted at during our walkthrough was the opportunity to take scenic snapshots at various locales, harking back to actual Disneyland where we have specific snapshot points. This, while not confirmed, was plain for us to see.
Epic Mickey 2 is a very easy platformer to pick up and play, which for the broad age range it's targeted at, was great to experience. Anyone familiar with the genre will be able to slink into familiar mechanics and guided simple gameplay. For fans of the last game and newcomers alike, Epic Mickey 2 seems like a fun-filled ride.
Comments
blog comments powered by Disqus