PlayStation All-Stars: Battle Royale Preview
Sony attempts to enter the realm of the four player brawlers, and we get some hands on time with the game
PlayStation All-Stars is the upcoming (released November 2012) crossover fighting game from SuperBot, where various PlayStation (or close enough) characters are thrown into a ring to duke it out. I had the chance to gain some 'hands on' experience with the game at Sony's Holiday Preview event in Toronto. The game will be released for PS3 via Blu-ray or download, and is making its way to the Vita. Cross-buy also makes the game more appealing, and as expected, it's a PlayStation exclusive.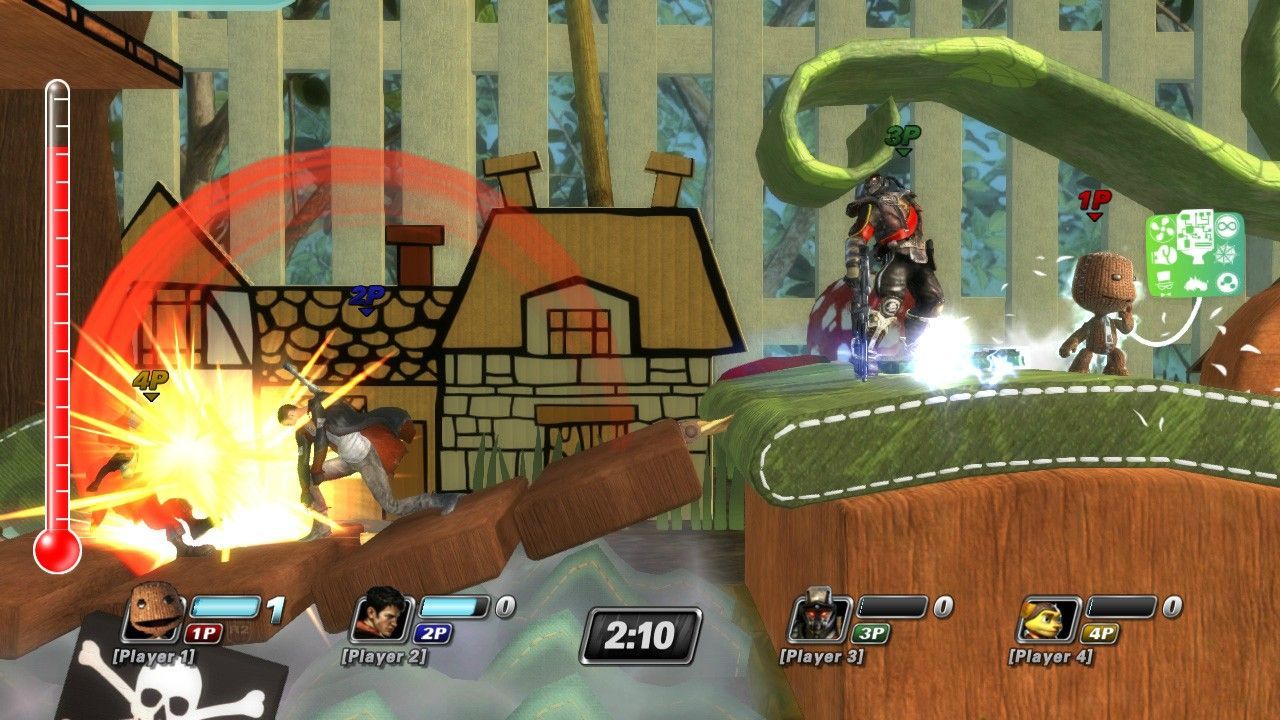 It shouldn't need to be said, but PlayStation All-Stars is Sony's foray into Nintendo's super-successful Smash Bros territory and it's clear the former takes a few nods from the latter. The gameplay is quite similar; you have up to four characters on screen at one time in a 2D perspective. You rush your opponents and unleash basic combos that release AP and build up your super meter. Then, you unleash your super after you've accrued the desired level from 1-3. "1 Supers" are basic one-hit attacks that can be tricky to execute because of limited range and it's difficult to get more than one character caught in the crossfire. As the level of the super increases, so does the severity and range of the attack, and at level 3, there's a good chance you can score multiple kills as the majority are blanket attacks. Sly Cooper's Lv3 for example, turns the camera into a weapon scope where you can fire on your opponents. Heihachi's Lv3 straps the characters on screen to a rocket and jettisons them into space. I don't recall that in his Tekken movelist...
Fighting is frenetic and you can continually knock your opponent off edges and attack them mid-air. The stages alter throughout the game and are a mash-up of familiar games such as the Jak & Daxter stage that gradually morphs into a Hot Shots Golf stage. Other levels showcased were the Hades inspired level from God of War and Dreamscape from Little Big Planet.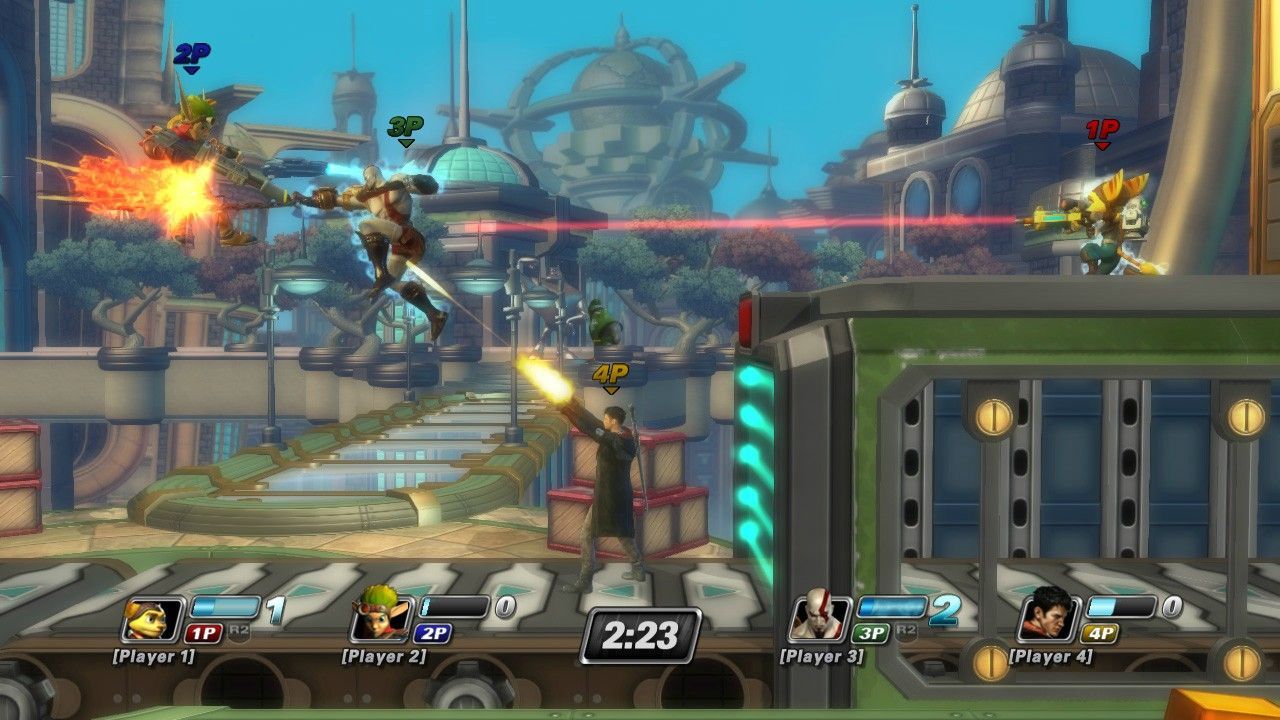 Out of the gate, there are 20 characters for a player to assume control. Some of the roster available for play includes the PlayStation exclusives Nathan Drake, Kratos, and Sly Cooper. Other, non-PlayStation characters include Big Daddy, Dante, and Raiden. Each have their own style of play and you'll find yourself gravitating more to one type of character than another. My biggest issue with the character roster was that I felt a majority of the characters were wedged into the game. I remember when Parapper the Rapper was released, and the last time a new game came out (not re-released) was over 10 years ago. I always thought the game had quite a cult status. Then again, most of the Sony IP's are featured, unless they throw in a car from Gran Turismo as DLC.
The movesets also felt quite limited. However, I come from a Tekken/Dead or Alive background, and am used to having an encyclopedia of moves to memorize. In All-Stars, you could probably survive by mashing the buttons and dodging your opponents. But there are other elements that aid in your victory, such as AP drops, and power-ups from various games like the Razor Claws from Ratchet & Clank and the grenade from Resistance.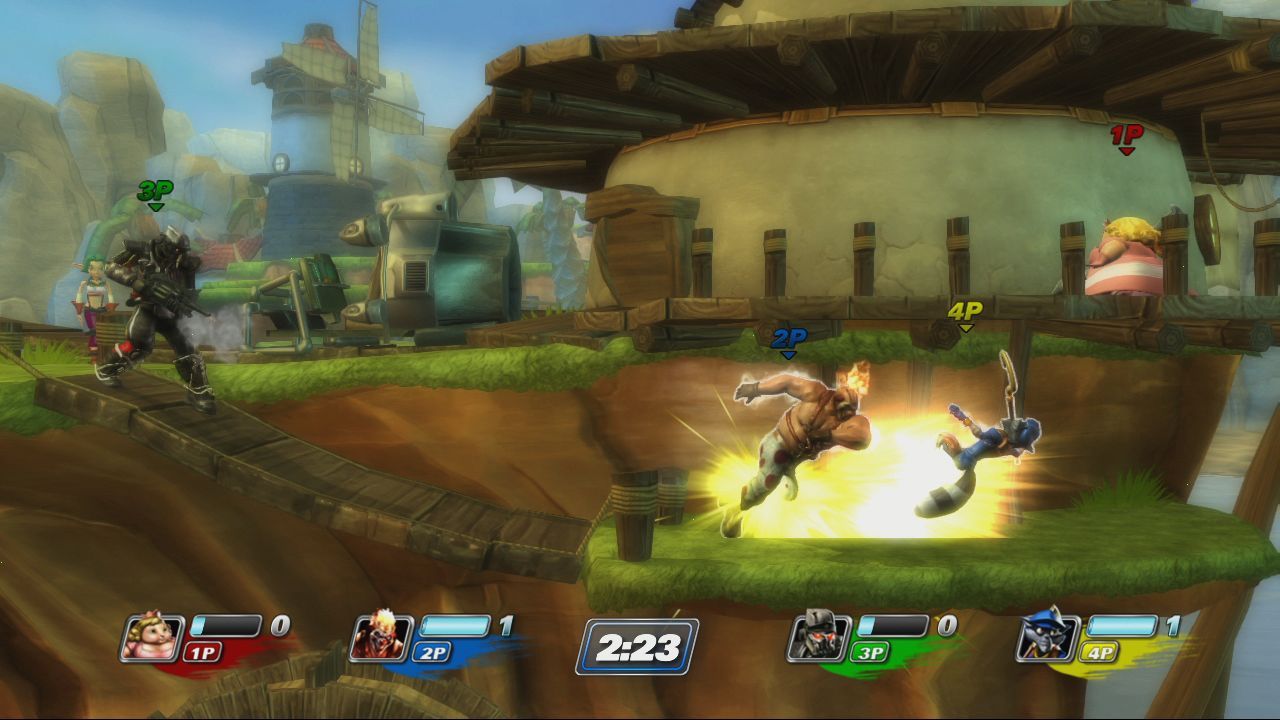 I tried my hand with several characters, but settled on Heihachi from Tekken and Kratos in the end that went with my aggressive play style. Against the CPU, perhaps due to the difficulty level (which is assume was set to easy given the circumstances), the battle was quite easy and time passed quickly. I managed to unleash my super on several occasions, the most effective for me being level 2. I just didn't have the patience to accrue enough AP for level 3. After several battles by myself, several others jumped in so we had a full player game. This battle was a little more hectic, elicited a greater sense of chaos, and cemented in my mind that like SSB, this is a game enjoyed with friends rather than AI. Players just act differently and cause you to think about your moves a little more and utilize the block button and conserve that super for the right moment. Unleashing a Lv1 super and managing to take out 2 players at once was particularly satisfying, as well as cutting players out mid-air with my attacks.
PlayStation All-Stars is a game best suited for friends and those who enjoy a game you can pick up and play, making it a nice party game. I feel that anyone who's hooked on Nintendo's Smash Bros would find it somewhat lacking that certain element the latter possesses. In a limited playthrough, there are only so many assumptions on depth, strategy, and longevity one can make. I think the true test will emerge when you're in a room with others or playing online. At the moment, there is nothing quite like All-Stars on the PS3 and the game looks to have filled that void for hardcore, casual, and party gamers.
Comments