DiRT Showdown Review
Showdown takes the franchise on a new destructive course. Unfortunately it doesn't take long before it crashes straight into a brick wall.
DiRT Showdown crashes its way into a racing series that has enjoyed much success in recent times. DiRT 2, released in 2009, was a fantastic rally game with exceptional visuals. Less than two years later, DiRT 3 introduced events based the free form Gymkhana mode but stuck true to its rally heritage. Codemasters have taken just one year to mix Gymkhana with demolition derby for this new chaotic twist on the franchise. The result is unfortunately less than spectacular. This is certainly not a game for rally fans, nor is it a particularly good arcade racer.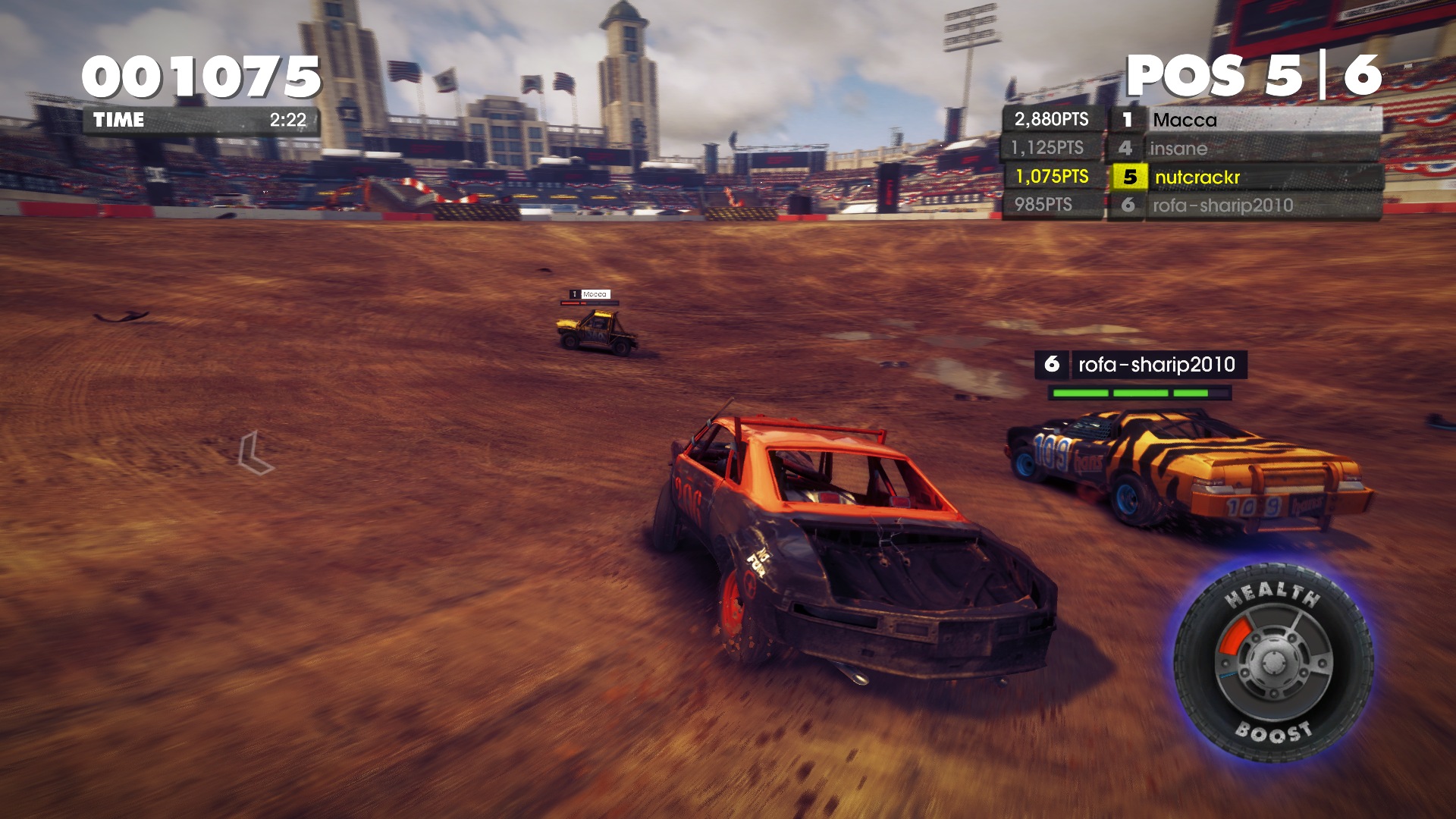 Just close my eyes and drive in circles until this Rampage ends
Showdown bleeds a party atmosphere from the first time you hear the bad race commentary. Christian Stevenson takes up the role as narrator / commentator and thankfully his music selection is great. Unfortunately his racing commentary is rather ordinary. Aside from his irritating use of the pronoun "they", he voices unfunny terms for crashes. His commentary is designed to invoke excitement but exaggerated collisions would have worked better. Apart from some agreeable music, the party atmosphere doesn't really add anything.
You'll notice the changes from the Rally focused predecessors when you start your first event. It begins with trackside attractions like Ferris wheels, Paragliders, hot air balloons and fireworks. Cars are designed with destruction in mind and some even use steel beams as bumpers. There are only two camera views, trailing and hood, so you won't get to enjoy a tense cockpit perspective. The Tachometer has been replaced with car health and boost meters. Boost automatically recharges and gives you a slight speed increase. These changes make for a different feeling arcade racer that struggles with new modes.
Rampage (demolition derby) is a new mode that puts you and seven cars in a small non-descript arena. You must slam into as many vehicles as you can before the time runs out. More damage is done to the sides and rear with bonus points awarded for bringing enemy car health to zero. One problem that arises early is the inconsistency of collision rewards. Should you ram aggressively into another car you may receive no points. Even hitting at odd angles, particularly in heavy traffic, can produce the same non-result. The Rampage mode is shallow, inconsistent and it lacks satisfying smashes.
The Knock Out mode is similar to Rampage with the difference being that it occurs on a small platform. Your goal is to push off vehicles to gain points. Light cars are useless for this mode and, just like in Rampage, you will often receive zero points for knocking out groups that gather obligingly at the edges. The two new crash modes are poor against AI drivers. You will either feel like every car is after you or that several monkeys are now in control of the other vehicles. It's unfortunate that you will be forced to pick between these two modes during the campaign.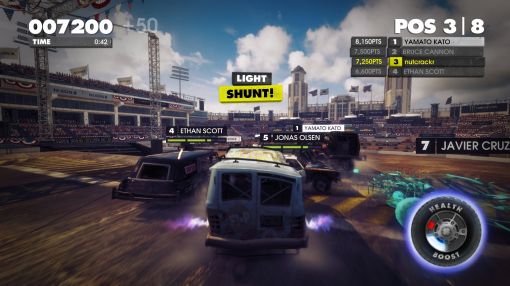 AI drivers love to group up at the edges during the Knock Out mode
There are some enjoyable game modes though, like Race Off and Smash Hunter. Smash Hunter has you following trails of coloured boxes around arenas. It's similar to the Invasion mode from DiRT 3. Occasionally different paths can be taken and hitting the wrong color will prevent completion. Luckily you can rewind the clock, using a flashback, to correct mistakes. Smash hunter is uncomplicated but at least it rewards accurate driving.
Comments
blog comments powered by Disqus