Dragon's Dogma Review
One part Devil May Cry, two parts Skyrim, this action-RPG makes a noble effort, but doesn't quite rise to the task
On a related note, the game's presentation is sorely lacking. While the game is not graphically advanced, the polygon counts are low and the textures of people can often seem greasy or plastic, the low graphical quality is not usually an issue, though expect your immersion to sprout a few split hairs during dialog, when you're forced to stare into the dead eyes of a robotic, stale-faced NPC.
The real issue in the game's presentation, besides a delightfully Jim Henson-esque dragon, is its own straight-faced fantasy nature, never stepping outside the boundaries of its own setting. This would be no problem, were the game more immersive or involving. The problem lies with the fact that Dragon's Dogma wants to be a blood-pumping motorcycle crash of a game, and the brown, dull gray mountains and uniformly gray castles of faux-Western Europe don't cut it. While the excessive bloom of the current generation is annoying, it's at least vibrant, but Dragon's Dogma lacks any polish or eye catching moments to call its own.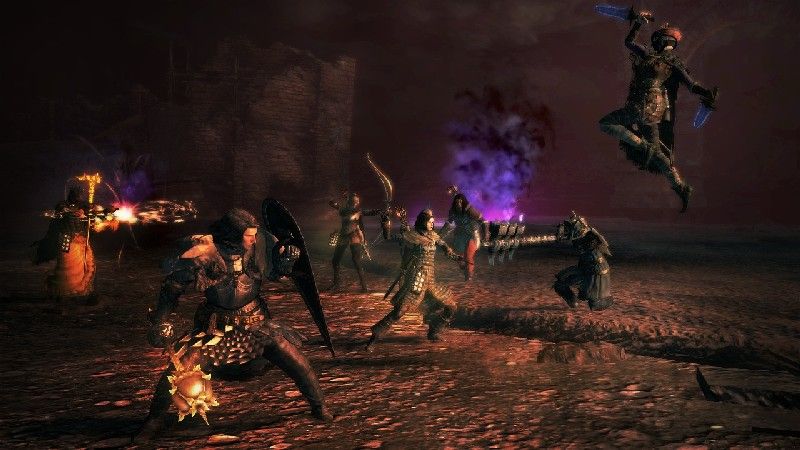 All in all, Dragon's Dogma is a game of good ideas in bad places. The slight-multiplayer aspect is interesting and occasionally brings the ally-system a little closer to home in value, but not enough is done with the idea to liven up the system as anything but a constantly updating list of available helpers. The combat is fun and intense, but Dragon's Dogma doesn't know what to do with it overall. The system works as a puzzle piece, colorful and interesting, but belonging to an altogether different puzzle. Aspects of the game trying to reach rock-metal, insane and intense levels are forced down by sullen and overused fantasy tropes.
Keep your eyes out for a sequel, if it ever wants to fix itself up and become a more conducive and entertaining experience, it would surely be gold amongst copper, but for the time being, Dragon's Dogma is a lackluster experience, not bad enough to throw away, but not good enough to see to its conclusion.

Our ratings for
Dragon's Dogma
on Xbox 360 out of 100 (
Ratings FAQ
)
Comments
blog comments powered by Disqus