Game of Thrones Review
A song of boredom and mediocrity
The brutally dark medieval world of George R.R. Martin's A Song of Ice and Fire novels have all the makings of a brilliant videogame fantasy universe. There's a world as vastly varied and detailed in climactic and cultural diversity as that of Tamriel, and its history is steeped in political warfare with a conservative sprinkling of magic and mythical creatures, much like that of The Witcher. Yet for all that promise Cyanide Studios' handling of the license could hardly have produced a clunkier title, mired by some painfully trite RPG mechanics and technical issues. And yet to their credit they have done a decent job of adapting the mythology, exploring an interesting and previously undetailed point within the history Westeros' timeline, with a story that flows nicely into the novels and keeps true to the tone and style of HBO's televisual adaptation.
Set months before the events of the first book, Cyanide's Game of Thrones simultaneously follows the exploits of two protagonists who embody the 'ice' and 'fire' theme of the series with an interesting juxtaposition in setting and circumstance: Mors Westford is a Nights Watch veteran, bound to the brotherhood in the wintery north to protect the realm from 'wildlings' who dwell beyond a gigantic wall of ice. Whereas Alester Sarwyck is an estranged heir to a noble house in the south who, having spent the past 15 years travelling the exotic sun scorched lands to the east, returns to claim his rightful place as lord of Riverrun in the wake of his father's death.
It is of little surprise that the tale told here is well judged, managing to find the right balance of political machinations and personal drama when you consider that Martin himself supervised its development. What is more of a surprise is that he let the awful voice acting and painfully overwrought writing style pass by, as it lacks his trademark nuanced dark wit and touchingly personal human insights. Still, the overall arc presents some interesting revelations for series fans as the parallel paths of your protagonists become entwined and lead up to one of four different endings, determined by a number of Mass Effect style contextual choices made throughout your journey. Thankfully they amount to more than simple red, blue and green endings, with each carrying a distinct dramatic weight.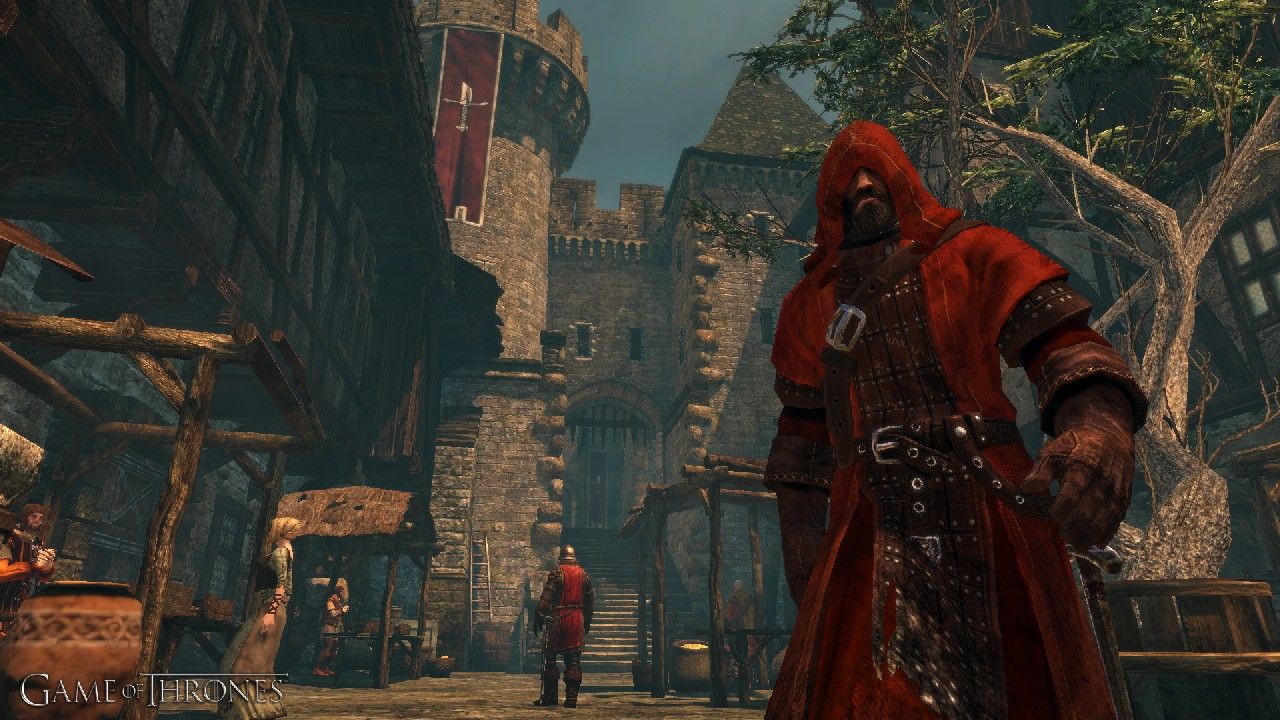 Combat forms the cornerstone of progression through your mostly linear adventure in Westeros and is a real-time, round based affair, much like Star Wars: Knights of the Old Republic, or Dragon Age: Origins. You have access to a time slowing radial menu of skills from which to queue up multiple actions for you and your teammates, each of which takes a certain amount of time to perform depending upon your personal stats. Adding a slightly deeper layer of strategy to this base is the fact that certain actions will earn bonus damage if used in the correct situation, such as when an opponent is knocked down or wearing a specific type of armour.
Comments
blog comments powered by Disqus