Fez Review
Polytron's amalgamation of 2 and 3 dimensions brilliantly combines nostalgia and ingenuity into an experimentation of spatial logic
"Reality is perception, perception is subjective" muses a character in FEZ's opening village. Right from the outset Polytron's idiosyncratic puzzle-platformer debut makes its thematic underpinnings perfectly clear. FEZ is a game about shifting paradigms, specifically, that of the perceived relationship between 2 and 3 dimensional space. But even more so FEZ is a love letter to the history of videogames themselves, looking back with a nostalgic eye for the unfettered simplicity and joyful discovery of those pre-3D designs, and nurturing them into that 3rd dimension more naturally than the 90's ever did. In many ways FEZ feels like a missing link in the evolutionary history of videogames.
You awaken as Gomez, an oval headed sprite who is briskly summoned to the top of his 2D village. One quick encounter with a mysterious fez adorned old man, followed by one with a giant golden cube and Gomez is granted his own magical fez, giving him perception of the 3rd dimension. Some fiddling from Gomez fragments this monolithic cube into pieces, threatening the very fabric of his existence and it is up to you to find the pieces, re-assemble the cube and save the world.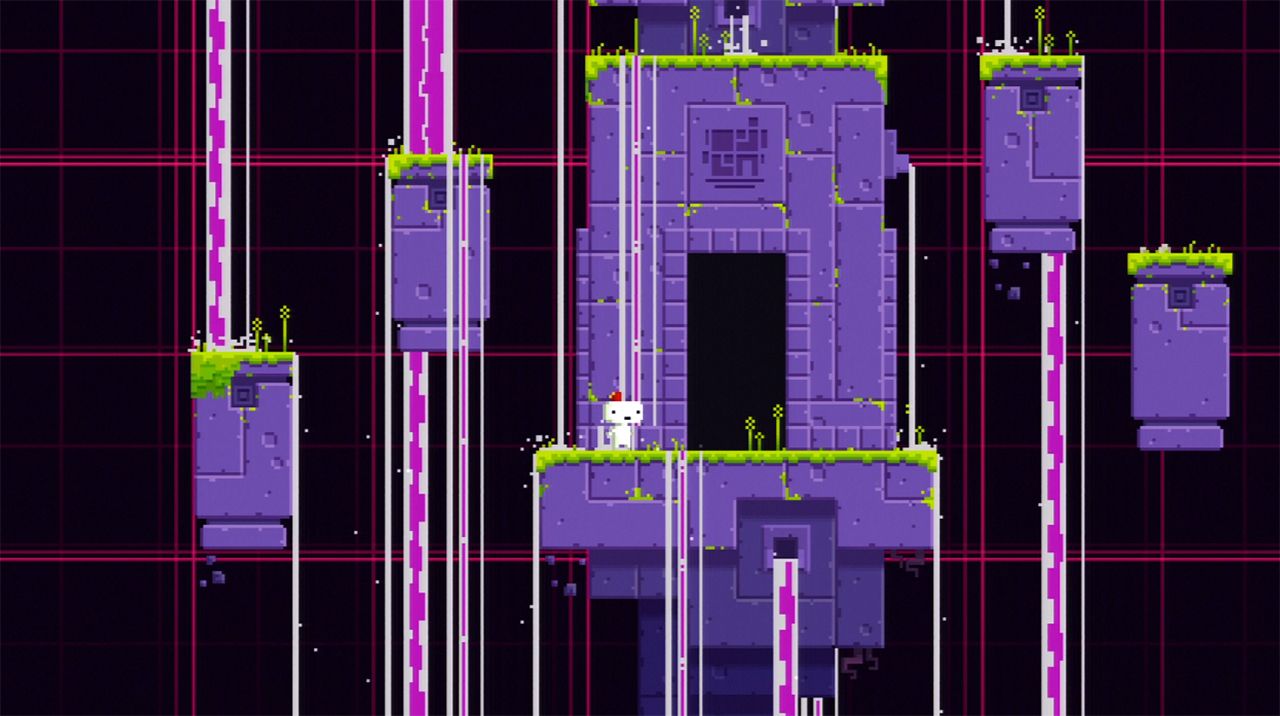 It's a threadbare premise for a blatant collect-a-thon and yet, like the greatest of platformers, FEZ's gameplay is the real motivation to explore its every inch. Polytron have spliced the DNA of an ordinary platformer with a perspective shifting chromosome, genetically engineering an optically illusive puzzle-platformer hybrid. Much like the Escher inspired Echochrome, FEZ is based upon a false logic: Everything within its world has a 3 dimensional relationship, yet your visual orientation is limited to four isometric perspectives on a horizontal plain. Each of these perspectives appears as if 2D due to the cubism of its graphical construction, and with that 3rd dimension imperceptible, the logic of the 2D image takes over.
Describing FEZ's spatial reasoning can easily sound obtuse, like an overly complex Paper Mario or Crush. But what could have quickly expanded into a mind boggling conundrum of control is introduced gradually with such elegant coherence that it soon becomes as much an acceptable part of videogame logic as hopping between platforms. A flick of the triggers smoothly switches between perspectives, revealing hidden ledges, stitching together a staircase out of once unrelated structures or bridging the gap between distant objects.
Comments
blog comments powered by Disqus