Ambiguous Exposition: Mass Effect 3 and Journey
A look at the juxtaposition of the narrative designs found in two recent releases
Yet within this constraint Thatgamecompany are able to exhibit a cinematic sense of control over what emotion any moment in Journey will provoke – going as far as ripping control away from your thumbs at times, to be concentrated on a particularly beautiful angle. This design choice makes a lot of sense when you consider the fact that Jenova Chen and his team begin a development process by deciding on the emotions they want to portray before anyone even suggests a mechanic.
The one area in Journey that Thatgamecompany doesn't take complete control over is the co-operative multiplayer. Its portrayal of companionship may be an extremely limited affair with nothing but your personal symbol and sounds to communicate. Yet the reduction of interaction to such a simplistic form removes so many complicating barriers and boundaries. You may not know the detailed history of your companion as you would of Wrex in Mass Effect, but I found that most everyone I came across was willing to share this Journey with me, evoking the childlike joy of friendship free of preconceptions.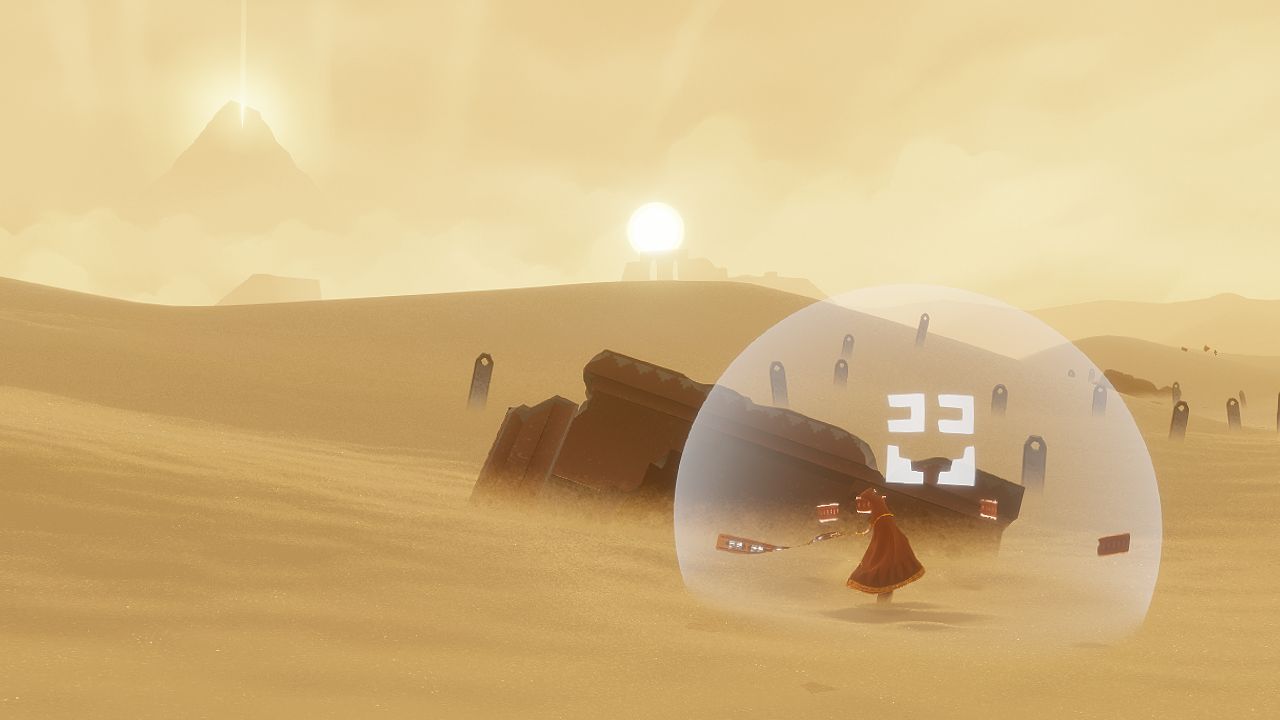 The image of 2 wanderers in a lonely desert is a striking one to be sure, and if a picture can paint a thousand words, then Journey's aesthetic paints a thousand pictures. Drawn with a slightly ethereal and otherworldly presence, Journey is constructed from hazy yet simplistic cell shading that adds to the overall ambiguity of its structure and narrative design. Mass Effect 3 on the other hand is an unflinchingly stark visual depiction of a universe at war. All cold metallic space stations, colorfully incandescent nebula's, and lens flare saturated destroyed cityscapes. Its visuals are as serious as its sombre plot.
Each game's visual depiction serves to aid their method of storytelling, just as the protagonists of each adventure do. Journey's wanderer may be expressionless, but it is essentially a puppet, a cypher like Link or Gordon Freeman through which the player can experience the freezing blizzards of a harsh mountain, or the gleeful joy of sand surfing. Commander Shepard, on the other hand, is very much your own personalized avatar. Make it male, make it female, make it look like you, choose your own backstory, punch the journalist, don't punch the journalist. It truly is up to you.
"This war will affect all of us! The fate of every organic species in the galaxy depends upon us putting aside out differences, pulling together as a team, and fighting the Reapers. Are you with me?"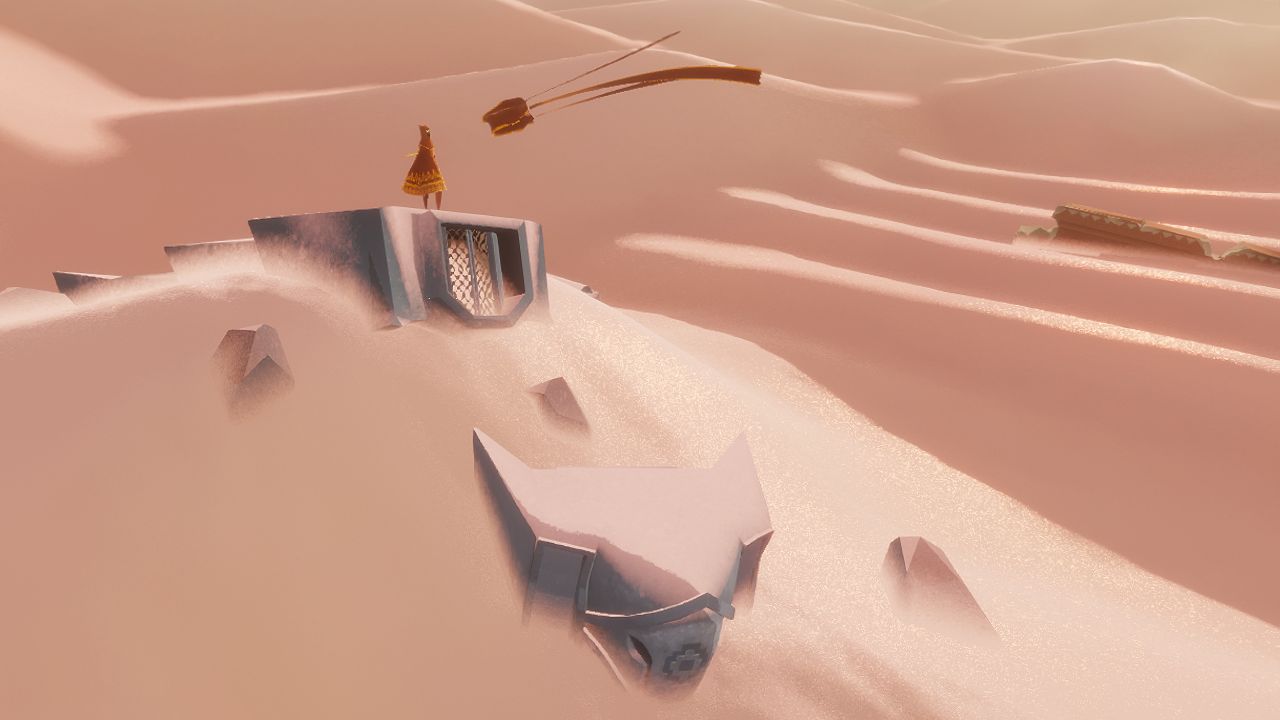 Mass Effect 3 is a Pokedex of detail, explaining every last point of intrigue, yet granting a level of personalization to its narrative that fosters investment. Whereas, like that monolithic slab in the opening scene of "2001: A Space Odyssey," Journey is a grand rigid structure of intrigue that has the power to illicit wonderful and provocative thoughts and ideas in the minds of those willing to dream along with its ambiguity. So where one is suggestive, the other is explanative. Where one starves you of detail and invites you to imagine, the other aims to saturate your curiosity with information and exposition. Where one strives towards personalization, the other presents a pre-designed experience, consistently engineering images that tug on your emotional heartstrings.
I would not be so arrogant as to suggest that one style of storytelling is better than the other. What you are emotionally affected by is a hugely personal and subjective, dependent upon many extrinsic and intrinsic factors. All I know is that one of these games truly moved me and the other simply gave me the freedom to move it, which speaks volumes of the narrative potential within gaming today.
Comments
blog comments powered by Disqus