FIFA Street Review
A unique sports offering that is much more sophisticated than its previous iterations
How to approach FIFA Street depends entirely upon the player. Some may consider this a spinoff of the regular FIFA series, and it is, but there's certainly a case to be made for trying to expand into other variations of football. The series was initially an arcade offering with a cartoon style and many folks didn't find it to be all that entertaining. With this reboot, FIFA Street now offers a completely realistic setting, focusing on real world skills and arenas, helping it become more enjoyable in the process. And while it may not offer the depth or universal appeal of FIFA 12, it's far better than the previous Street games and is bound to find its share of fans.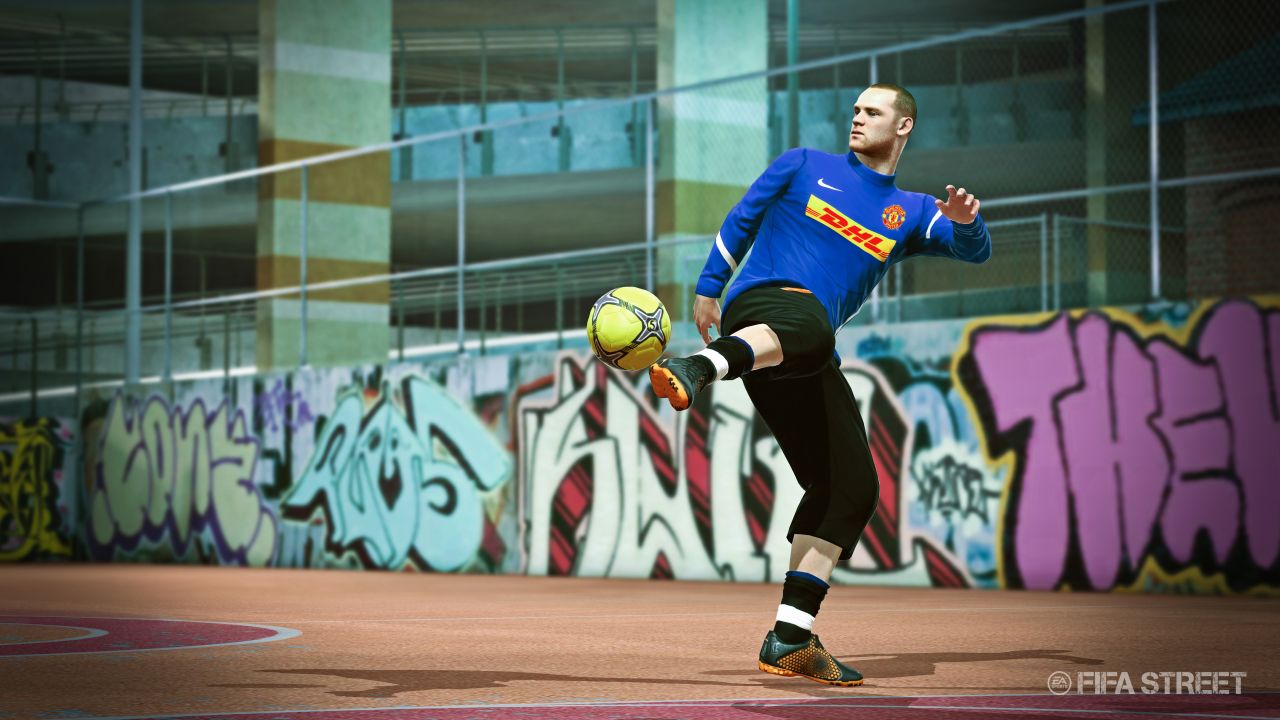 As the title suggests, FIFA Street is all about the street version of football. Lack of rules, small arenas and very few players are the general themes of the sport. What starts off as duels in dark parking lots where points are scored based on your trick skills eventually evolves into full-on indoor football with some rules and goal-based scoring. The game does a nice job of coming full circle through a number of modes, evolving from the basics all the way through to the more formal events.
The gameplay is all about tricks. Offering a new trick-based control scheme compared to conventional controls, FIFA Street is based around dribbling past your opponents rather than outrunning them. Using the right stick, you can pull off a wide number of tricks and moves to fool the other team. Using a shoulder button as a modifier allows you to hold in place and perform even fancier skills. Basic dribbles, overhead flips, twists, and fakes are all part of the expansive arsenal at your disposal. It's an involving system that takes time to learn, but is satisfying to execute. There is a practice mode included to test the tricks, and it loads extremely fast right off the main menu.
For each trick successfully performed that beats an opponent, you're awarded style points. These points are used to level up your created player, letting you upgrade a number of physical skills, as well as unlock new tricks and moves. The rest of your created squad levels up as well with every game, even if they don't play. The system is well balanced; giving you more of a reason to perform tricks beyond just making yourself look awesome.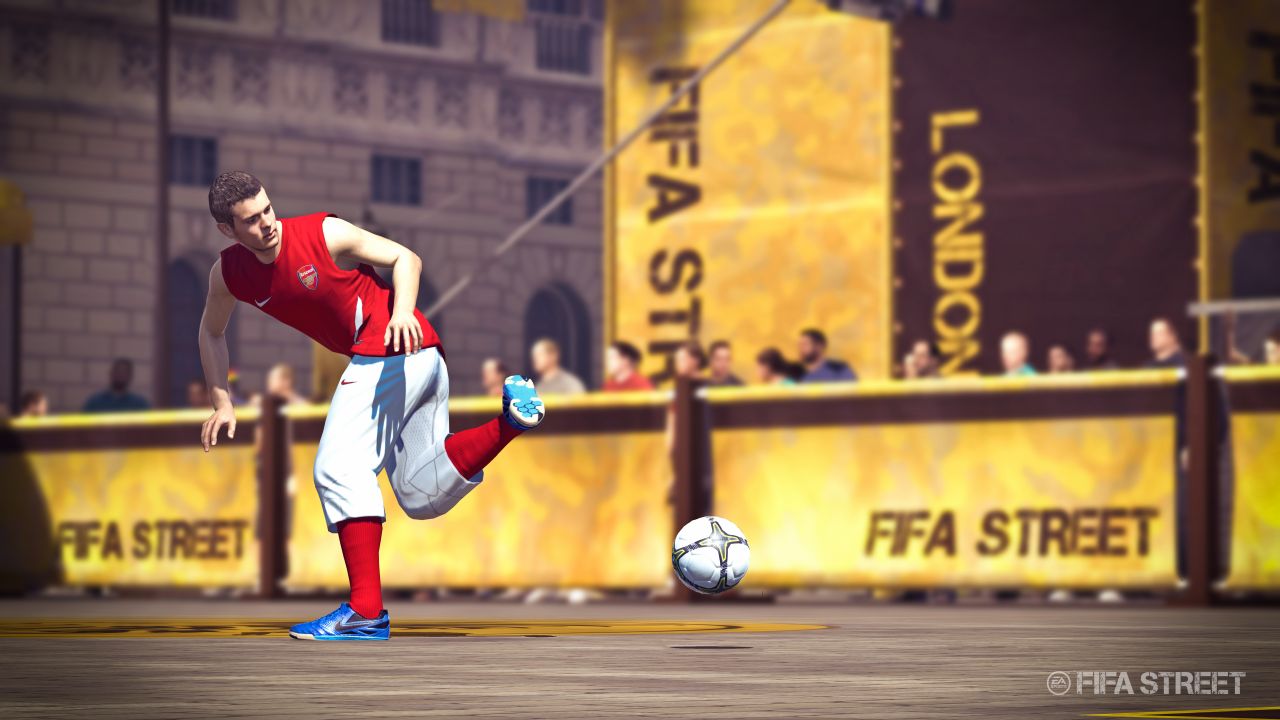 Because this is a much different approach to the game, some of the gameplay elements are also altered. The ball physics and spring speed definitely feel very scaled back, for the sake of smaller playing fields. When you're defending, FIFA Street uses a system that's reminiscent of the manual defending introduced in FIFA 12. Your player will lunge forward, attempting to knock the ball away. After getting used to it, you'll have no problem keeping the opposition in check with well timed tackles.
The entirety of the player interactions when performing tricks are unfortunately animation based. This means when you're defending, there is little hope to get a tackle in if the game has decided you were "beaten", and you can only watch as your player helplessly stands around as he is dribbled past. Even if you keep a small distance away from the attacking player, the game will often decide that you did make a challenge for the ball (even if you didn't), forcing your defender into a stumbling animation and letting the opponent run by. It can be an annoyance and the system is definitely not as dynamic as one would have hoped, but it's possible to get used to.
There are some annoyances that also go unexplained – such as why players with improved shot skill can miss wide-open net by a mile from a perfect and slow pass. Player collisions are more prominent than in FIFA, thus you'll see the awkward player interactions and glitches more often. AI also struggles – it's possible to keep your opponents completely off the score sheet for almost all games on medium difficulty level. This is because they are extremely picky when choosing to take shots – that is, they almost never do. They can dribble past you, have plenty of time in front of goal with just the keeper to beat, yet they won't shoot or keep going forward for whatever reason. Teammate AI can also be weak, with some players actually refusing to take control of the ball even if they are closest to it, requiring manual guidance.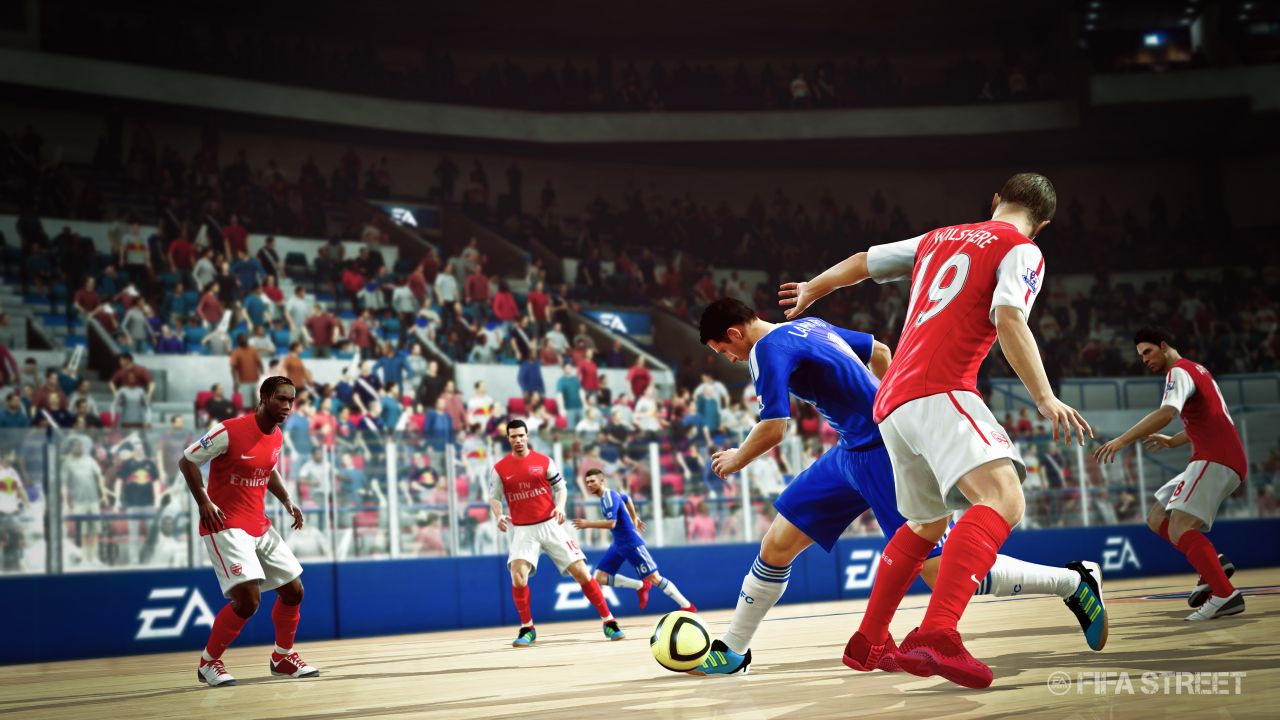 As mentioned, you begin the experience by creating a Pro, which can actually be imported from FIFA 12 (just the visual attributes) and a squad, along with custom teammates and team logo. The game's main offline mode is akin to a career, titled World Tour. You start off playing games and tournaments in a local geographic area of your choice, eventually working your way through the four tiers to the world stage. Each area presents you with increasingly more skilled teams, but as your players level up as well, there's not really any kind of difficulty curve. This is potentially due to the AI problems mentioned above, but the game's rarely challenging even on medium settings. The campaign is decently lengthy, with a significant number of events available to participate in. Once done, each stage can actually be reset and repopulated with a different set of teams, should you want to play through again.
There are a number of gameplay modes and variations, everything from 2 vs 2 street challenges to 6 vs 6 futsal championships. The campaign does well to introduce the player to a very wide variety of these street football rules, each offering a respectably unique challenge. Matches are either based on tricks, which stack and are added to the score when you put the ball into the net, or goals as in regular football. Walls also exist, presenting quicker and non-stop gameplay in small arenas. When you reach futsal, more rules are introduced, such as fouls, free kicks, corners, and no walls, evolving the game more into indoor football than street. Essentially, there is tons of gameplay variety possible, with further customizations when you use quickplay or go online.
FIFA Street's online offerings are comparable to that of the main FIFA series. There's some Football World integration, head to head seasons and cups, as well as custom unranked games. Some of the championships found in the single player career mode can be actually played online, progressing you through the campaign should you win them against real opponents. With offline multiplayer support for either competitive or cooperative play with up to four players, this title great to pick up and play with friends, and is certain to provide a ton more cheering and teasing moments per game than FIFA.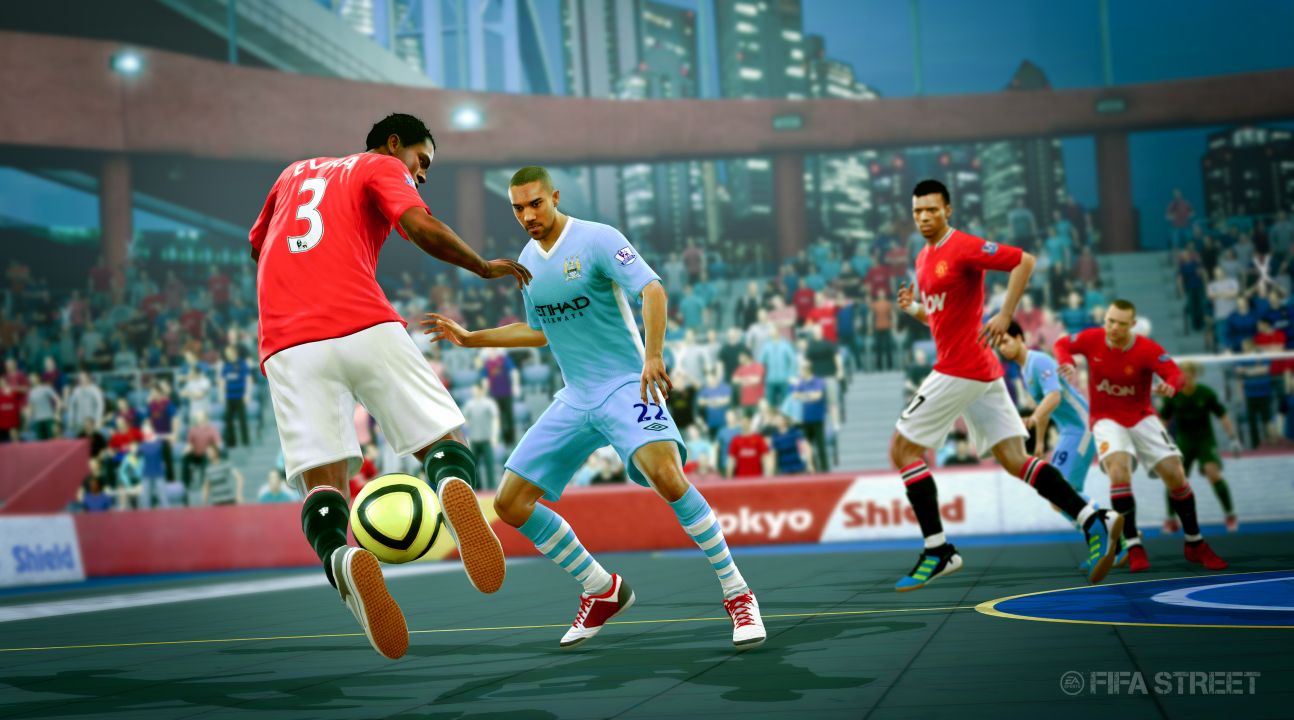 With this new reboot, the engine from the latest FIFA game is used, giving Street a great set of mechanics to work with right off the bat. The title focuses on realistic locations and animations, most of which look rather great. Tightly controlling the ball and making lightning quick moves is a joy to watch, though some physics based player collisions can still look silly. Overall the game looks quite similar to FIFA – down to the cardboard cutout fans in the stands, now much more prominent due to their relative proximity to the playing field. Most of the pre and post-game cutscenes and celebrations are the same and can feel repetitive. The soundtrack is catchy and fitting with the style of the game, plus some DJ-like effects during pauses in play are interesting.
But perhaps the most noteworthy aspect of the game is its atmosphere – this isn't a game where you listen to commentary or crowd chants. Instead, the focus is on hearing the actual players, their reactions, calls for the ball, celebrations and disappointments. EA Sports has done a great job at bringing the game to life with this focus on individual players rather than the grand scheme of FIFA games. And even though, again, many of the lines are often repeated, the atmosphere is none the less impressive and very personable.
It may be tough to say just where exactly FIFA Street fits in. It's not a bad game by any means, and it certainly offers something unique for the sport and the genre. With solid presentation and satisfying gameplay, it's a nice diversion. However, fans who enjoy the global appeal of FIFA may question this spinoff title. Whereas FIFA 12 is all about making dreams come true, FIFA Street is more about the everyday experience of football that many potential players may already have in their real lives. So we end as we started – FIFA Street is a great game for what it attempts to provide, some gameplay hitches notwithstanding. And if you're looking to get tricky, there's no better alternative.
Our ratings for
FIFA Street
on PlayStation 3 out of 100 (
Ratings FAQ
)
Comments
blog comments powered by Disqus