MLB 12: The Show Review
A feature-rich title that offers plenty of depth, at the expense of accessibility
The Show franchise on PlayStation has enjoyed many years of not only fan approval, but also market dominance. The baseball video game genre is oft considered niche, and perhaps rightfully so – while it remains a popular sport in North America, it isn't exactly a mainstream video game offering. With MLB 12: The Show, developers at SCE San Diego have once again put together a solid, feature-filled offering for the dedicated fans of the sport. A new mode, visual excellence, and extensive depth will please any fan that wants to delve deep into the franchise; however those looking for a quick ball game may hit a brick wall instead.
With all the usual play now and Home Run Derby modes, you'll find the series staples Rivals, Road to the Show, and Dynasty. The franchise mode remains deep and complex, and certainly not for the faint of heart or someone unfamiliar with the numerous baseball terms and stats. You're once again free to select a team and through trading and solid performance take them to the championship. MLB 12 has a number of engine improvements, including better roster management for CPU controlled teams, which means superstars actually get to play more often when healthy and smart substitutions are made at the crucial moments. Trade logic was improved as well, so small budget teams will tightly control their spending while big clubs continue to swap millions in deals. It's a notable upgrade over last year that makes for a more realistic roster management experience.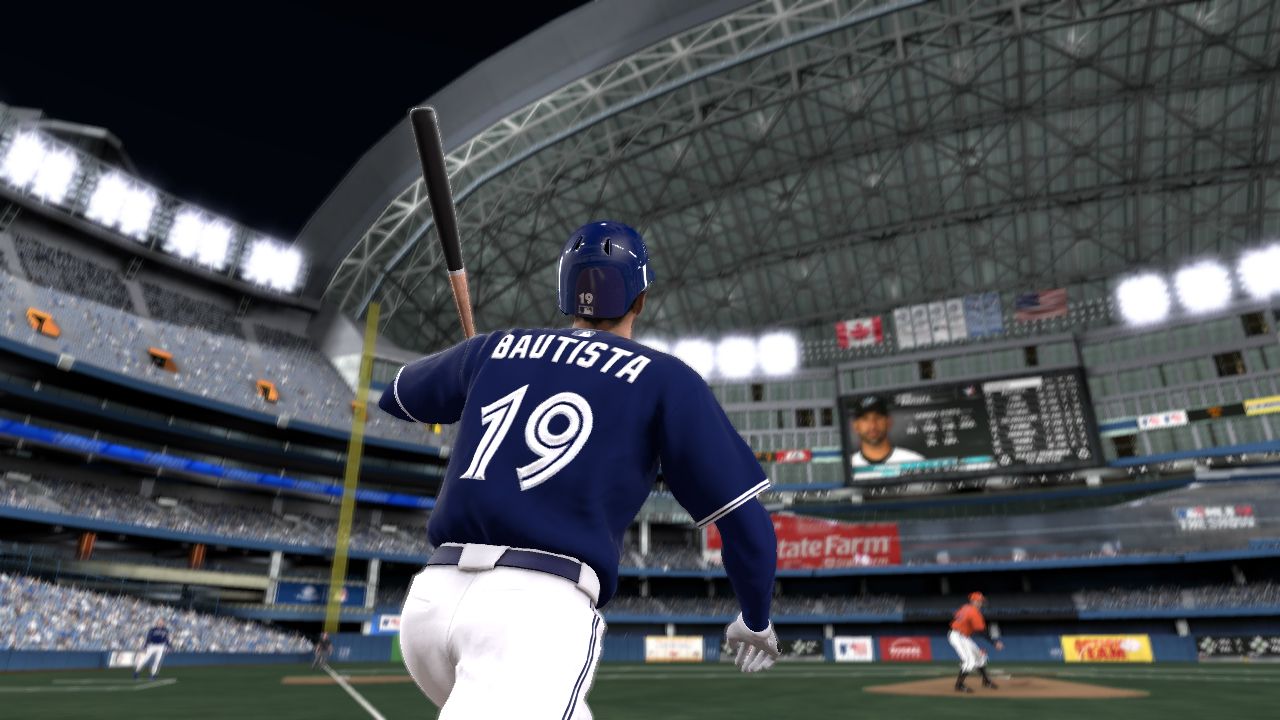 In Road to the Show, players can once again create a virtual version of themselves and begin their dream of playing in the big leagues. This year, players will start off as a Double-A starter, so you actually feel like you are important to the club which drafted you and see significant playtime right away. Some new accessories have been added, along with a training mode where you can play out some specific scenarios and gain stat boosts by completing given objectives within 10 or so attempts provided. It's a nice addition that serves as both an experience bonus and some actual gameplay practice.
A brand new mode in MLB 12 is the Diamond Dynasty. Somewhat similar to how EA NHL's Ultimate Team plays out, you select a starting roster of cards (generated players and some actual MLB stars) and customize your team colors and logo. All of the generated fake players are your long-term crew; they start off with low attributes which can be improved over time with training cards and by playing. The MLB players, meanwhile, are already at their optimum stats and have a limited number of games which they can be used. Once again though, contract cards can be used to extend their usefulness. There is a trading market where users can swap players and cards as well. Seasons are five games long, and can be played online or against the CPU. At the end of each season, your roster and record are evaluated and the team is placed into one of five competitive divisions (again, similar to what EA's FIFA series does for online head to head play).
Comments
blog comments powered by Disqus