MLB 12: The Show Review
A feature-rich title that offers plenty of depth, at the expense of accessibility
The Show franchise on PlayStation has enjoyed many years of not only fan approval, but also market dominance. The baseball video game genre is oft considered niche, and perhaps rightfully so – while it remains a popular sport in North America, it isn't exactly a mainstream video game offering. With MLB 12: The Show, developers at SCE San Diego have once again put together a solid, feature-filled offering for the dedicated fans of the sport. A new mode, visual excellence, and extensive depth will please any fan that wants to delve deep into the franchise; however those looking for a quick ball game may hit a brick wall instead.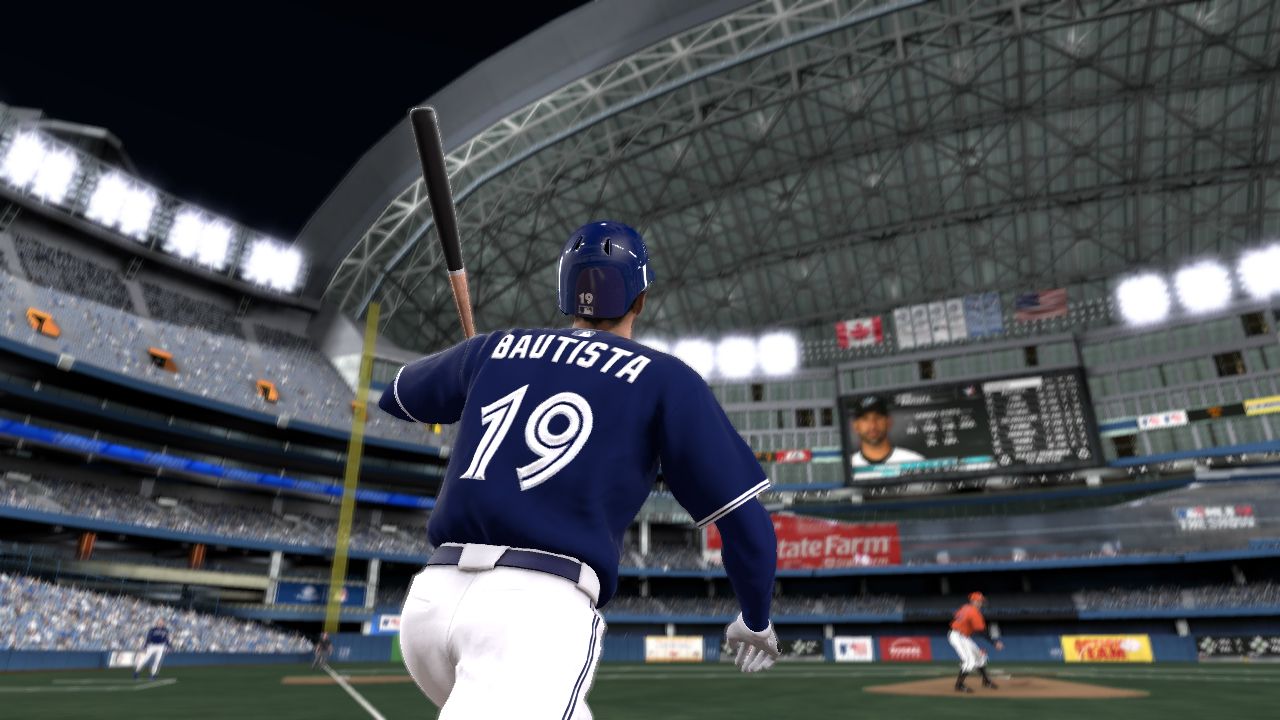 With all the usual play now and Home Run Derby modes, you'll find the series staples Rivals, Road to the Show, and Dynasty. The franchise mode remains deep and complex, and certainly not for the faint of heart or someone unfamiliar with the numerous baseball terms and stats. You're once again free to select a team and through trading and solid performance take them to the championship. MLB 12 has a number of engine improvements, including better roster management for CPU controlled teams, which means superstars actually get to play more often when healthy and smart substitutions are made at the crucial moments. Trade logic was improved as well, so small budget teams will tightly control their spending while big clubs continue to swap millions in deals. It's a notable upgrade over last year that makes for a more realistic roster management experience.
In Road to the Show, players can once again create a virtual version of themselves and begin their dream of playing in the big leagues. This year, players will start off as a Double-A starter, so you actually feel like you are important to the club which drafted you and see significant playtime right away. Some new accessories have been added, along with a training mode where you can play out some specific scenarios and gain stat boosts by completing given objectives within 10 or so attempts provided. It's a nice addition that serves as both an experience bonus and some actual gameplay practice.
A brand new mode in MLB 12 is the Diamond Dynasty. Somewhat similar to how EA NHL's Ultimate Team plays out, you select a starting roster of cards (generated players and some actual MLB stars) and customize your team colors and logo. All of the generated fake players are your long-term crew; they start off with low attributes which can be improved over time with training cards and by playing. The MLB players, meanwhile, are already at their optimum stats and have a limited number of games which they can be used. Once again though, contract cards can be used to extend their usefulness. There is a trading market where users can swap players and cards as well. Seasons are five games long, and can be played online or against the CPU. At the end of each season, your roster and record are evaluated and the team is placed into one of five competitive divisions (again, similar to what EA's FIFA series does for online head to head play).
Diamond Dynasty mode, along with all the others, makes MLB 12 an unquestionably feature-rich game. There's no question that fans of baseball will get their money's worth, however the series continues to struggle in attracting newcomers – and lacking any real assists isn't exactly helping. Most of this year's changes are also under-the-hood, further tilting the balance to those who are already familiar with the series. The franchise modes lack any kind of assistant features, though the game will keep your roster eligible to play, there's not much else offered to help new players manage their players and trades better. It would have been great to see something that can guide new players through the complexity of the game, and perhaps the sport itself.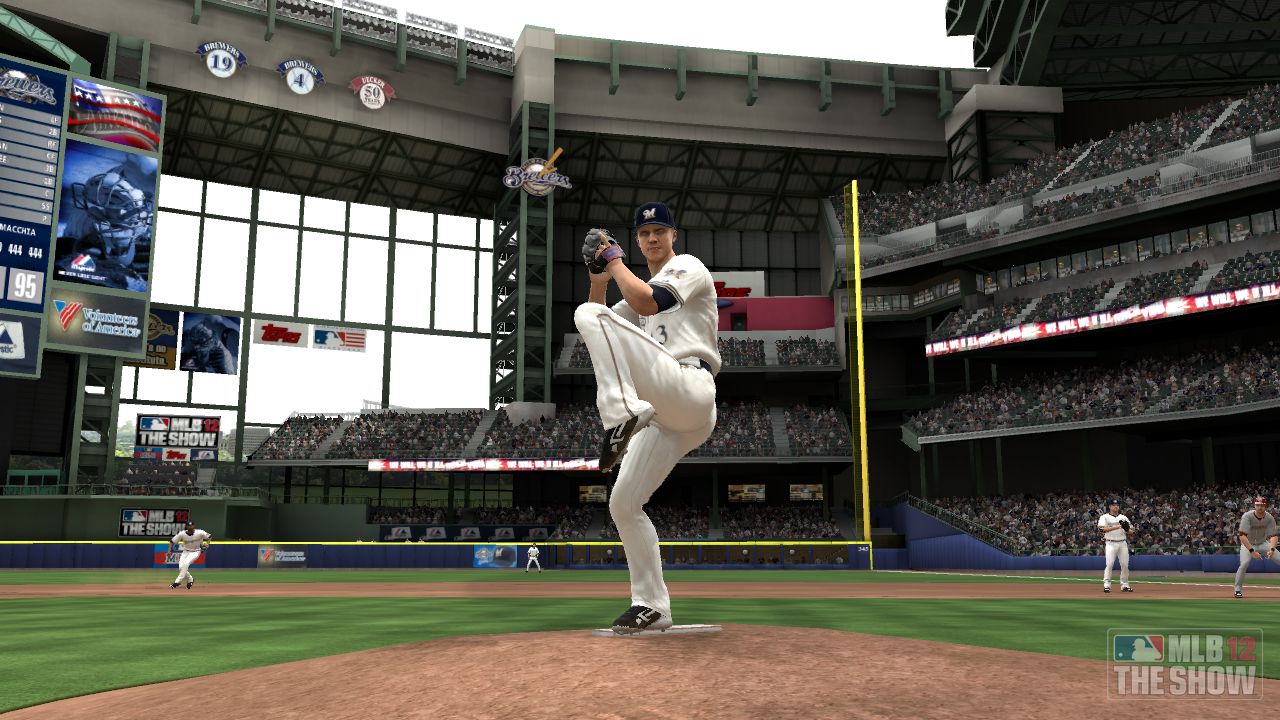 On the field of play, The Show continues to be a leading simulator of baseball. This is a hardcore sim and with the gameplay additions this year, it's clear that the developers are aiming to make this as realistic, and thus as difficult, experience as possible. After last year's introduction of analog pitch and hitting controls (something that MLB series from 2K did before), The Show of 2012 follows up with further fine tuning. A new system called Zone plus analog utilized BOTH sticks when hitting – letting you both aim and swing in a fully manual manner. This kind of control style crosses the line a bit too far into the difficult-because-it's-unnatural zone, but if you're into that sort of thing, The Show will give your thumbs and patience a workout. As mentioned, this remains to be a difficult game, so hitting home runs is a thing of rare beauty and most games end up as low scoring on medium difficulty settings.
A new pitching mode was also introduced, whereas a pulsating meter appears on screen and you must time your throw to when the reticule is smallest – resulting in the most accurate pitch possible. It takes a little time to get used to the system, and it's nothing we haven't seen before from other baseball games, but it's none the less a more interactive way to pitch, for those who desire it. As mentioned, even if you aren't a great pitcher, the AI will have just as much trouble connecting with throws as you do. Thankfully the game includes an extensive series of sliders, letting you fine-tune the difficulty and dynamics to allow for higher scoring affairs, amongst other tweaks.
The overall action has been improved on the field of play as well. You now have the option to interact with the bullpen, dictating how long and how intensely to warm up your next pitcher. Players on the field finally have proper and full collision detection, so contact between players looks better than before. Perhaps most importantly, the ball physics are now more life-like than ever before, with believable trajectories and spin, adding a renewed feel of realism.
If there is one area where MLB 12 struggles, multiplayer would have to be it. Players can still participate in cooperative season, franchise, and rivalry modes, and in fact many of the game's menus promote an online alternative for all the usual gameplay modes. Diamond Dynasty also heavily relies on online play, as are most of the community features, which remain largely unchanged. On the field action is where the game struggles the most, still suffering from lag – a particularly annoying trait for a game that relies heavily on reflexes and precision. Visual glitches also continue to exist, though the game still tracks the play appropriately. Custom online matchmaking based on your favorite settings is a nice addition, but for a franchise so prominent in the genre, fans have likely had enough of technical problems by now, and it's a shame the developers didn't significantly enhance or – as needed – overhauled the netcode.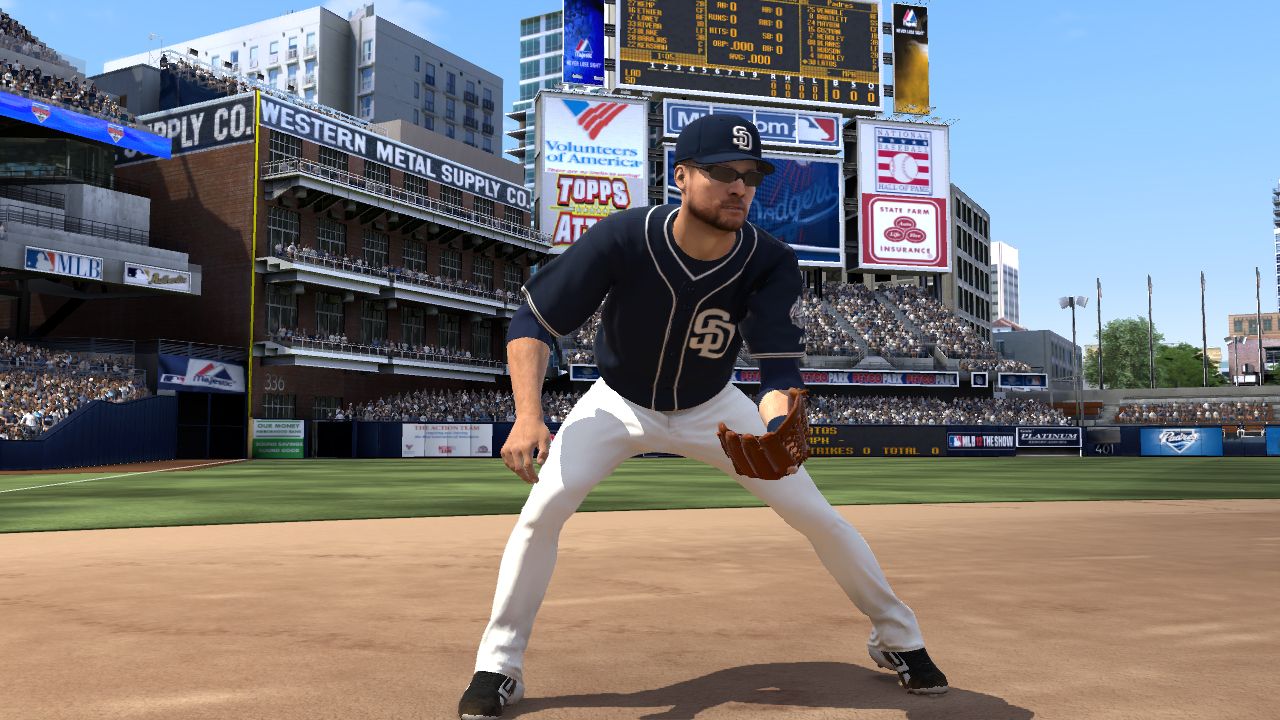 As fans might suspect, MLB 12 once again comes with an optional 5GB install, which remains highly recommended. Loading times improve very noticeably, so unless you're really tight on space, there is no reason not to install. PlayStation Move controls are also fully integrated this year, beyond just the Home Run Derby, though this mechanic was not considered in the scope of this review. On the fancier tech side, the game's data can be shared between the newly released PS Vita and your PS3. The feature works appropriately enough, though you'd need to be quite a huge fan of baseball to own two copies of the game to really take advantage of the tool. Alongside 3D support, Simulview is also implemented to allow two players to use the same full screen.
The Show continues to push the presentation and visual boundaries of PlayStation 3 and sports games in general, and this year is no exception. The textures and players look quite fantastic at most times, and TV-like presentation adds a strong sense of immersion to the experience. Fans behave lively, as they reach for outfield balls (though oddly never once succeeding) and cheering as loud as they can when appropriate. A varied soundtrack and solid commentary complete a well crafted overall package. If not for some repetitive animations and delayed / outdated dialogue, the game could have set a new bar for presentation values.
MLB 12: The Show, then, is a hardcore fan's dream. The amount of gameplay and depth that you get for the money is simply staggering, and you'll be sure to appreciate all of the under the hood changes and improvements that have been made this year. You'd still do well to mostly avoid online play, as much as the developers try to push it on you. If you only have a passing interest in the sport, however, The Show continues to have a rather high barrier of entry in difficulty, complexity, and simple lack of help tools to get new players started. It lacks the accessibility of EA Sports' offerings, but more than makes up for it with depth and understanding of its true fans and baseball audiences. Depending on which group you fall into, this could either be the best $60 you spend all year, or an overly complex experience when you just wanted to play some ball.
Our ratings for
MLB 12: The Show
on PlayStation 3 out of 100 (
Ratings FAQ
)
Comments