SSX Review
A successful reboot for the franchise that ditches local multiplayer in favor of expansive asynchronous options
Following in the newly resurrected footsteps of other arcade-style, over-the-top sports games like NBA Jam and NFL Blitz, EA has resurrected the (mostly) dead SSX franchise that dominated much of last generation's extreme sports field. First debuting at the 2010 SpikeTV Video Game Awards as SSX: Deadly Descents, the game saw a massive overhaul after fan outcry demanded that the franchise's signature exaggerated tricks, extreme jumps, and wild environments not be cut in terms of a grittier "Call of Duty" approach. Thankfully, EA Canada listened (while still managing to keep many aspects of their original vision) and what we get is the best of both worlds, old and new.
While many may be familiar with the controls and mechanics of SSX due to franchise familiarity, it has been seven years since the franchise's last official entry (apparently, 2007's SSX Blur is non-canon, according to developers). The core concept changes depending on the game mode. In Trick It, the idea is simply to get the highest trick score possible. While the game features classic controls mimicking those exact controls of the previous games in the series, SSX also sports two new control schemes (both of which worked much better in my experience). You now use one button to jump and then a combination of other button taps and holds (or motions with the right analog stick) to execute different tricks. Due to the penalty you take when doing duplicate tricks being more important than the tricks themselves in many cases, tricking is more about variety here rather than having memorized the exact button combo for a specific trick. Each character has a special trick that can only be able to use once they have filled their Tricky meter twice from completing tricks, initiating "Super Tricky."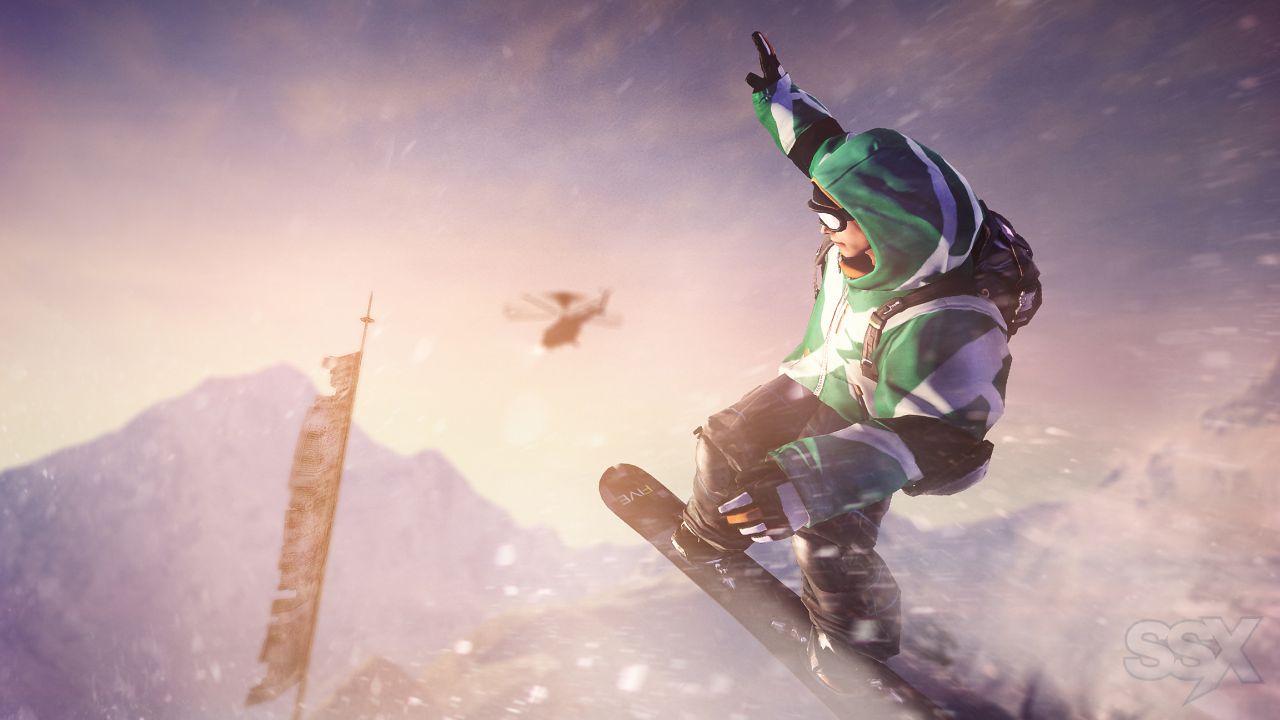 In Race It, the goal is to simply score the fastest time possible or beat the other opponents you are racing against depending on whether you are playing in the game's multiplayer or singleplayer campaign. Here, speed is the primary goal and this is achieved through the delicate balance of completing tricks in order to gain boost (being in Tricky mode grants you unlimited boost) without doing so many tricks and getting so much air that you slow yourself down. It's an interesting balance act but one that can be frustrating due to the design of many levels which seem to be chock full of holes that force you to rewind when fallen into, effectively requiring a restart of the entire race if going for an especially challenging time.
Survive It is all about complete the level of enduring the level as long as possible with subsequent repeats becoming more and more difficult. These levels are intended to be played much more slowly, usually with the use of some of the game's special equipment like solar heating packs, pulse goggles, or armor. Rewinds are limited here to essentially force an end to the runs. This makes for a nice change of pace, but I am doubtful that many people would play the game this way primarily. The avalanche levels, which have you playing from a zoomed-out reverse angle (watching yourself go down the mountain from a helicopter view), are really impressive and very high stakes given the unusual camera angle and snow physics involved in creating the actual avalanche.
Comments
blog comments powered by Disqus