Shoot Many Robots Review
A likeable retro throwback to the classic side scrolling action era
Shoot Many Robots is a downloadable title released this week from Demiurge Studios and published by Ubisoft. This is an odd name for sure, but the developers were just being simple in their approach; and thus the name alone shouldn't turn you off from checking out the game. Because, as a matter of fact, the game is indeed all about shooting robots and it can be quite a good time. Some visual and gameplay quirks only detract a little from this otherwise enjoyable experience.
Right from the start, the game presents no questions about its identity – this is a slightly over-the-top side scrolling shooter, with a focus on throwing as many enemies at you as possible, with a bit of a retro feel thrown in. The plot (or lack thereof), revolves around Walter Tugnut, a hillbilly that lives out of his RV that's stocked with weapons and ammo. That's about it for the story – you play as Walter through 5 environment types, which repeat with each level but offer different paths and enemies. The game employs a unique take on difficulty – the harder difficulties actually present new levels to play (instead of just the same levels with more enemies). This may, however, pose a problem for those less skilled who are unable to progress, thus not able to see the rest of the levels.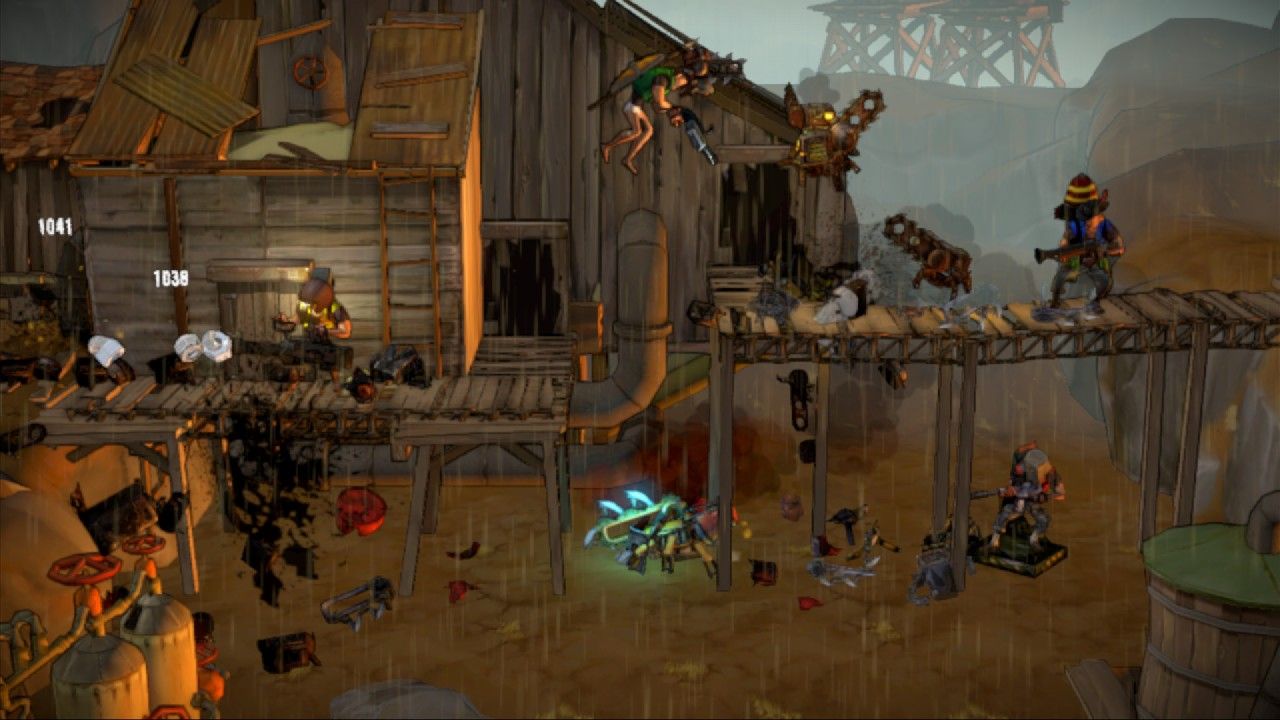 Levels are either linear paths forward with a few horizontal alternate paths, as in classic games in the genre, or are survival-type where you remain in one area and try to hold out for as long as possible. The game gets progressively more challenging – so playing alone is not a viable option if you wish to avoid frustration and have a chance at seeing all that the game has to offer. There are checkpoints spread sparingly, and they do help on certain levels.
The basics of Shoot Many Robots, then, is to shoot robots. Yeah, it's a clever game like that. Players can carry only two weapons at a time, a primary weapon with infinite ammo, and a secondary (heavy) weapon with limited ammo. Blasting through robots is as easy as never letting go of the shooting button at first, but later things become rather complicated and almost Contra-like. The game's goal is to send tons and tons of robots your way, often pausing your progression through the level to present a particularly large amount of bots plus a mini-boss or two to make things interesting.
Comments
blog comments powered by Disqus