Shoot Many Robots Review
A likeable retro throwback to the classic side scrolling action era
While the game can be played solo, it can be quite difficult. Shoot Many Robots, however, is a very multiplayer-focused game. With up to four players online, you can take on the campaign and enemy waves. Things get more interesting as the game throws more enemies in your path, things become generally more chaotic. Some cooperative gameplay mechanics also exist, like reviving downed teammates or combining weapons – for example using a flamethrower to melt enemies that have been frozen by a freeze gun by a teammate. A local player joining coop is also supported.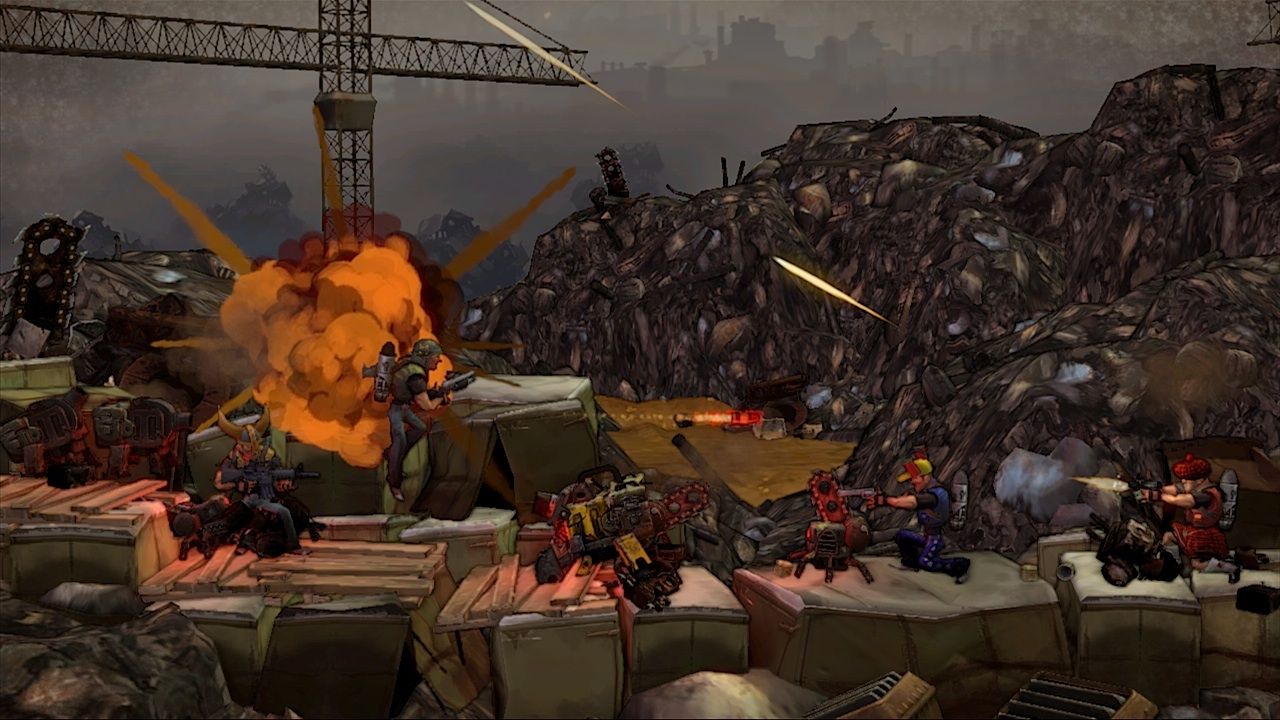 Shoot Many Robots is a title that leans towards retro experiences, and the presentation is no different. Most of the country-style soundtrack is minimalistic and often looped in the background, though it's not that noticeable. The game features a cel-shaded look, akin to Borderlands and Rage. Its characters and animations have a rather cartoony style; though overall it works and looks well enough to cover up the relatively low resolution of textures. Style is evident in the gameplay as well – from weapon names to clothing accessories, bits of humor can be found throughout. Weapons are often described with fictitious stats (+10% patriotism for wielding a shotgun or M4), and clothes can be downright silly – backpack with a baby, space helmet, jetpack, and more. While things do look amusing, it's important to remember that the function of accessories is much more important for a good time than just absurd looks. Wrong combination of weapons and abilities can leave you struggling to get past some levels.
Shoot Many Robots is a title with a simple premise, and does just what it says in the title. It's a quirky throwback to the days of side scrolling action, with some amusing if not particularly original style thrown in for good measure. Tight controls and a wealth of weapons and items to unlock, the game is quite replayable. Throw in four player coop, and you've got yourself quite a good bang for the buck. If you've got an itch for a side scrolling shooter and have some friends ready to join, you can't go wrong with Shoot Many Robots for the asking price.
Our ratings for
Shoot Many Robots
on PlayStation 3 out of 100 (
see how we rate
)
Comments
blog comments powered by Disqus