PlayStation Vita Launch Event
We get some final hands-on time with the handheld from Sony before its release this week
Features and games
Once I had obtained a beer and Vita cookie, I thought I had best check out what the event had to offer. My first port of call was the Dual Analog booth, where the new Uncharted (Naughty Dog) and Marvel vs. Capcom 3 (Capcom) were doing the rounds to showcase the dual analogue capabilities. Trying out MvC3 I relied on the D-Pad purely out of ingrained habits and when changing to the second analogue stick I found myself struggling, the heat of battle perhaps not the best time to test drive a new feature. Still, I played the game proficiently enough to net myself a few photo opportunities from an enthusiastic press photographer, so I obviously did it some justice.
As the queues amassed for others to partake in the game, I shuffled off to the touch screen booth, where I tested out the Vita's augmented reality feature in a game similar to Nintendo's Face Raiders. The main issue with AR in any system is the quality of lighting in the room you're in, and the game suffered from grainy backgrounds due to low lighting levels. Testing out the touch screen with Virtua Tennis (SEGA) I found the game quite fun, using your right hand to determine the type of shot you took, and was a nice quirk.
Taking a tour of the Six Axis booth, I found some users struggling with Gravity Rush (Japan Studio), the game akin to a lucid dream or bad mushroom trip, where you guide a girl with rag-doll physics through a changing environment. It's difficult to estimate how effective these features are in a short sitting, but with every game I believe it has to be easy to pick up and play.
The App station was perhaps one of the most interesting sections, most of what people consider basic amenities being released on launch date such as Netflix, Facebook, FourSquare and Twitter. We also had Sony's own "Near" app, which allows the player to 'check in' to locales and leave gifts for other users to pick up and engage in multiplayer. Users can also access the PS store, group chat, message, and upload photos, creating its own social networking environment.
Checking out the Cross Platform Integration section, I was disappointed after waiting over half an hour for the PS3 to finish its goliath string of updates, which it then did not work, leaving us to only wonder at its hands on capabilities. What they informed us of, was that it works similarly to the PS3, where gamers are able to play a game on their PS3, pause it, and carry it on the Vita. My main issue with this feature is the "why" of it all, as gamers these days engage in it from rooms where cross platform is rarely an issue. This feature will probably receive more use in households with only one central entertainment unit, and I dare say I never once used it with my PSP.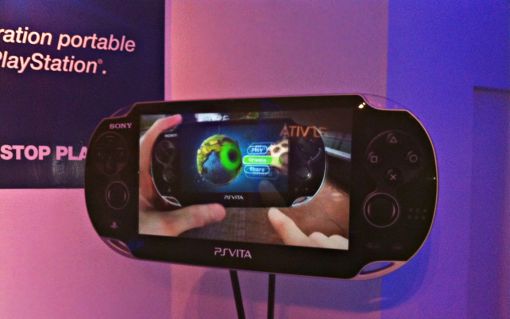 Rear Touch was perhaps one of the more baffling additions, and upon testing out Army Corps of Hell (Enterphere) where I had to thrash the back to perform an augmented ability, it felt slightly redundant, and didn't really enhance my experience rather than muddle it. The other game incorporating the rear touch pad was Super Stardust Delta (Housemarque) where you could tap to create a black hole, amongst other features such as the touch screen and six axis. While this was an interesting element to the game, what made it enjoyable was the gameplay above all and I'm pleased to see it as a launch game for the unit.
The front and back cameras offer a lot of opportunity for snapping photos and toying with basic image manipulation but from what was on offer, I failed to see any game where it truly augmented the games, which was unfortunate. Aside from sticking my head onto a character, I could beat in a game of tennis, or beat-up in a game, it seems more an enhancement gimmick at the moment, rather than a realised implement.
Wi-Fi is simple, not diverging a great deal, from what most of us are already experienced with, and as mentioned, the Near app, works similarly to Nintendo's multiplayer feature. The handheld will be offered in Wi-Fi and 3G/Wi-Fi models.
Comments
blog comments powered by Disqus