Payday: The Heist Review
In a market full of coop shooters, Payday's exciting scenarios and well-balanced gameplay make it a legitimate rival to the best of its genre, rather than a rip-off or cash-in
Weapon options in Payday are more realistic and subdued than in your average shooter. When you first start the game, you'll be limited to only one pistol and one assault rifle. I personally found that this was definitely a case of 'less is more': when you only have two or three weapons, the decision of when to use each weapon becomes vital. The pistol becomes your main weapon, used for basic gunplay and for picking off stragglers. You'll need your assault rifle for defending against rushes or pushing defended locations, as well as a fall-back weapon for unforeseen surprises. I'm usually not a fan of unlock systems that make a game easier to play as more is unlocked, but it works like a charm in Payday because the weapons and upgrades unlock at roughly the same rate as the general learning curve of the game: it would be a waste to let you have the best weapons when you are still learning how to use your pistol.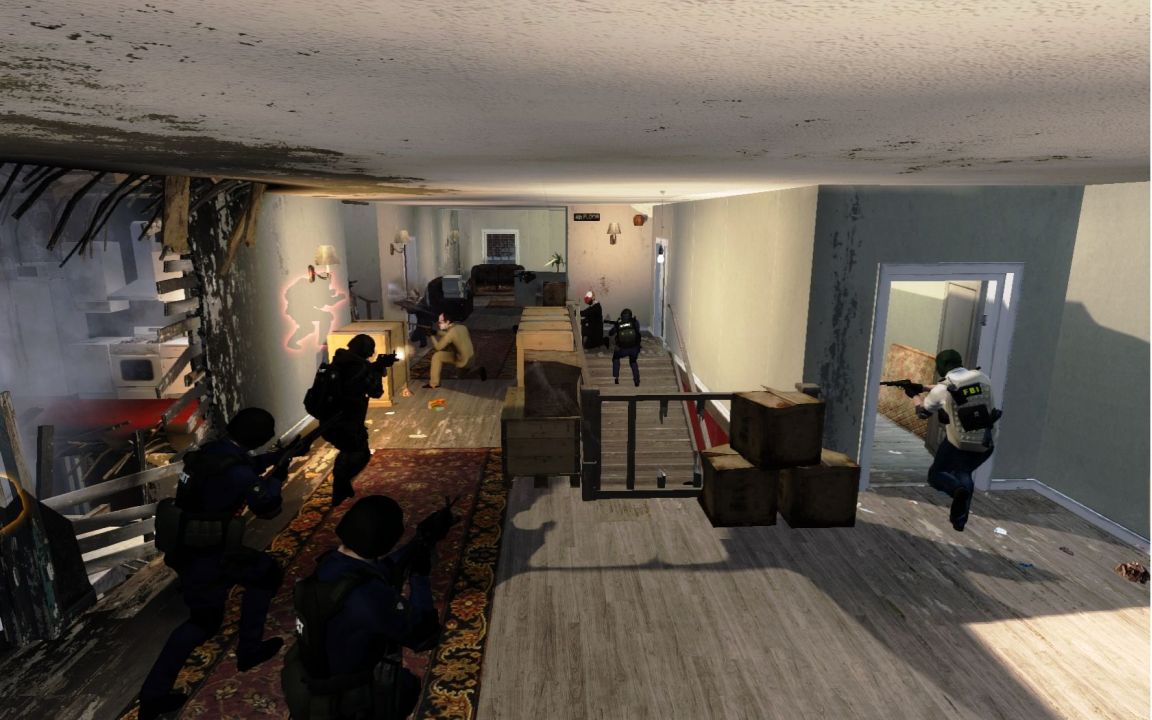 One area that Payday excels at is making the situation of the heist itself be reflected in the challenges of the game. For example, your small clips and long reload times make it worth your while to make your shots count. I can't tell you how often I was ruined as a beginning player simply by trying to ambush a group of policemen when I only had half a clip in my gun. Even with bullet boxes dropped by downed foes to keep you stocked, you can't just spray shots everywhere and hope for the best, or you may find yourself pinned down and out of ammo. The threat of friendly fire is also an issue, as killing innocent civilians will ruin your bargaining power and make possible respawns difficult. On the flip side, tying up civilians with plastic cuffs will increase your bargaining power with the police, but leaving those hostages unattended will result in their being freed behind your back. You carry only a few cuff pairs, so deciding when and where to take hostages is a strategic move in itself. All this intense focus on the situation stops Payday from being a simple shoot-em-up. Opposing police men can be legitimately hard to take down. With no grenades (at first) to flush out squads of SWAT, attacking involves flanks, rushes, and ambushes, each requiring coordination with your teammates.
Speaking of teammates, finding them might be a bit tricky, as the servers have been a little short on players when I've been on. Lobbies can be automatically assigned and filled if you aren't picky about teammates.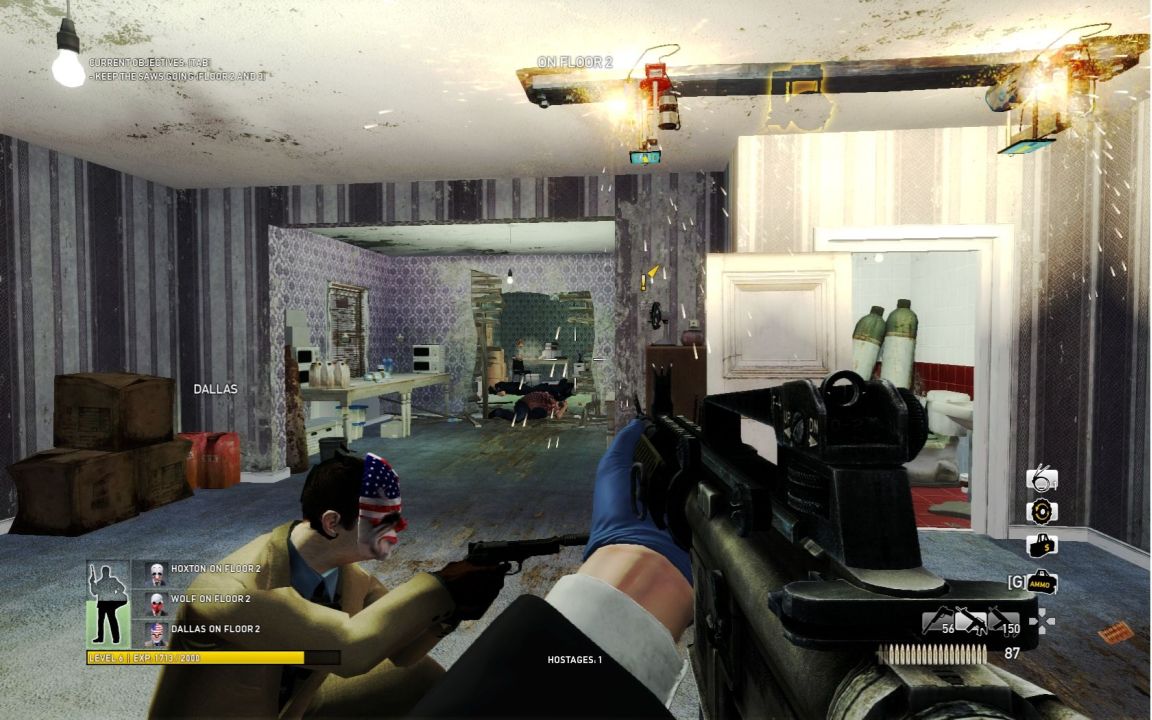 Playing together with online strangers can be a mixed bag, as those players with more weapons and upgrades unlocked might tend to steal the lead position a little more often. For those pioneers who are trying the game out before roping their online friends in, the coop bots do surprisingly well for performing the basic heists. That is to say, they'll always stick close to you and do a good job of gunning down cops during firefights. The one deficiency on this point might be that the heists are so focused on team-based multitasking that having two or three bots in the mix might keep you on easy difficulty settings if you want to get the job done.
The entire gaming industry has seen a shift towards cooperative gaming in the last decade, and Payday successfully rides that wave by having tightly knit gameplay mixed with good situational challenges. Rather than simply being another four person coop added to the stack, Payday is the sort of game that might just pull some people away from today's big industry leaders, and that alone makes it a game worth trying out.
Our ratings for
Payday: The Heist
on PC out of 100 (
Ratings FAQ
)
Comments
blog comments powered by Disqus