TrackMania 2 Canyon Review
A few questionable design choices do little to harm the inherently fun and addicting nature of TrackMania 2
If racing on other people's tracks isn't your cup of tea, you might get a lot of joy out of using the excellent track editor. As with previous games, the editor is very simple to use, but has a lot of below-the-hood options for more advanced users who wish to create more sophisticated tracks. The basic track creating method has you simply selecting blocks from a menu at the bottom of the screen and putting them together. Its super easy to make a simple track, but once you buckle down and try and make a complex track that will rival those which are popular online you will really appreciate the amount of time and care that went into some of the better tracks online. In the editor you have the ability to drop your car on any part of the track you are building and start driving, a feature that really helps when building. Once you learn how to use the editor, you will realize that building tracks is just as fun and addicting as racing on them.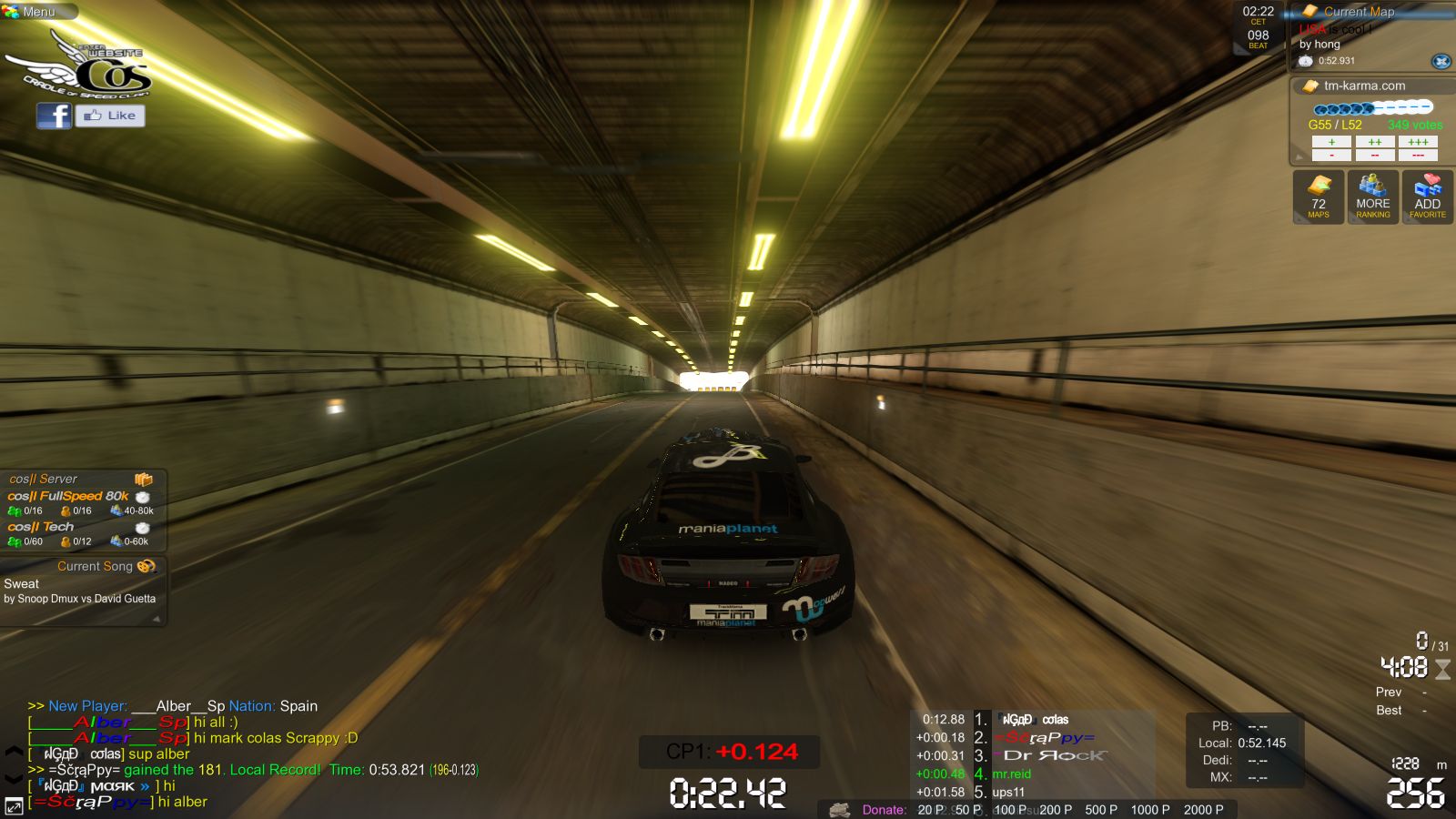 The TrackMania series has always boasted great visuals, and TrackMania 2 continues this trend with fantastic lighting and shadow effects, superb car reflections and the addition of a visual-only damage model. Once you stray off the track, as the game invariably lets you do, you will find a lot of really bad textures, but for the most part TrackMania 2 is a visual treat. If you want to run the game on its highest settings you will need a very beefy machine, but the game scales very well to slower computers. The audio in the game is nothing special, although learning to associate the pitch of the car engine with the speed of the car can be useful when judging corners. The game music is good, but most servers player their own music which is consistently terrible; thankfully a bar at the top of the screen lets you adjust game and music volume on the fly. To save your ears, I would recommend playing your own music in the background when playing TrackMania 2 online.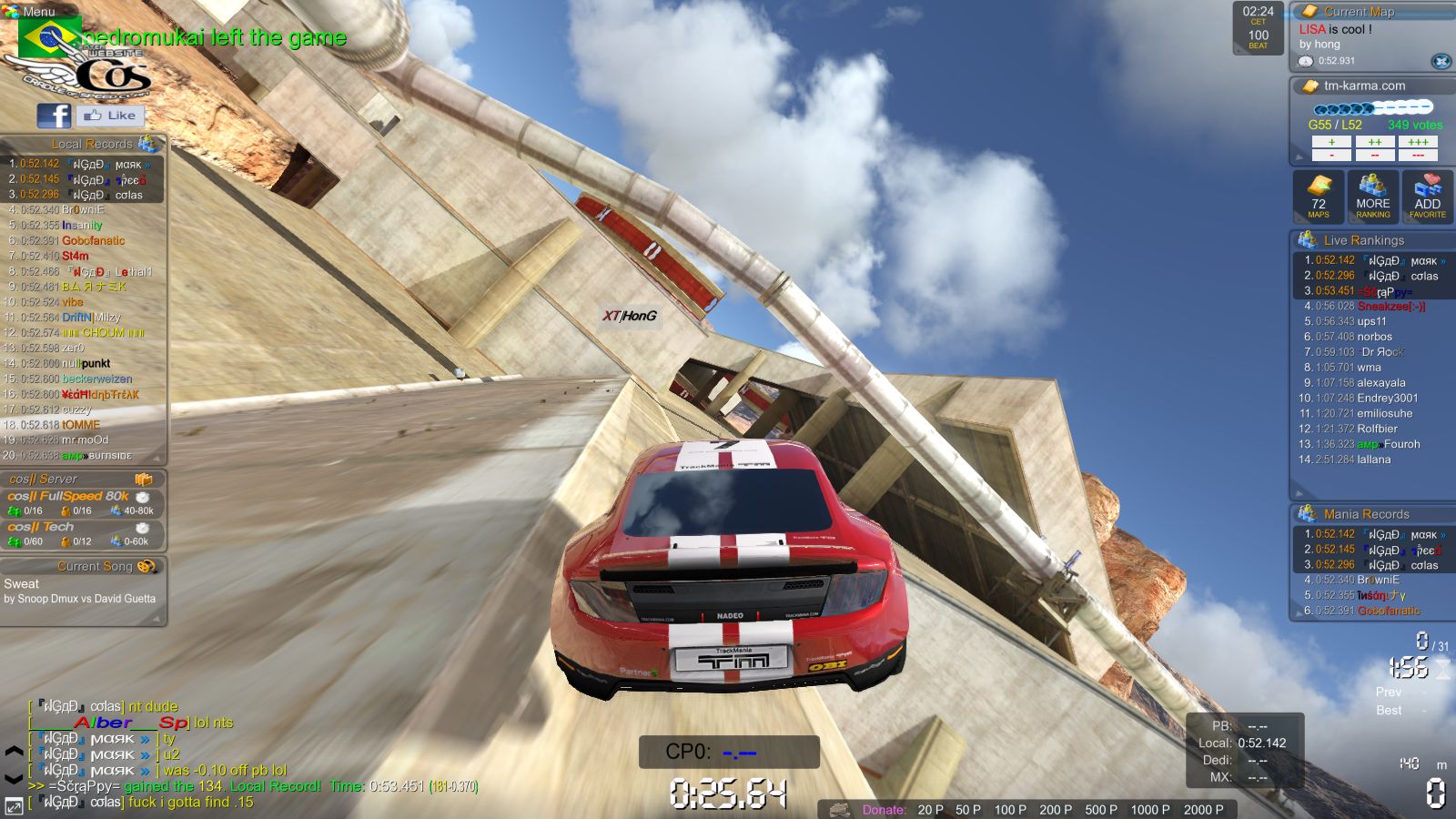 Intruding on the visuals on most multiplayer servers is a very visually intrusive User Interface. One user I encountered online described it as looking like "a calculator threw up on the screen." This is an accurate statement, as a slough of various local, world and live records are displayed, alongside information about the current track, your personal best on the track, and a live stream of chat, information about new players and new records being made are all crammed onto the screen at once. You get used to it quickly, and will even grow to appreciate the comprehensive amount of information available to you at any given time, but at first it can be distracting.
Despite a few quirks, TrackMania 2 is a worthy entry into the series. Solo play is hindered greatly by uninspired tracks and a five minute waiting time in between attempts at official times. Control in loops and wallrides has been greatly reduced, which makes it difficult to carry speed through these obstacles. However, the driving mechanics have otherwise been improved across the board; with improved drifting mechanics being especially fun. If you enjoyed the online component of previous TrackMania games, there is no reason not to get TrackMania 2: Canyon.
Our ratings for
TrackMania 2
on PC out of 100 (
Ratings FAQ
)
Comments
blog comments powered by Disqus