PES 2012 Review
This realism-focused footy title looks good, but stumbles a bit on the pitch
An incredibly annoying problem with Online Tournaments is that you can start a game at any time, but if the match isn't finished when the clock hits the hour mark, the game actually boots you from the match and says that qualification is over. It's obvious that a lot of matches might run into this problem because they begin at quarter to an hour or so, and it is understandable that the match shouldn't count if it runs past the hour, but to kick players out mid-game is simply a terrible design decision. Developers should note to users in-game that their current match won't count towards the tournament because the hour has passed, but let us finish the game for goodness' sake.
Online play is stable in general, and features some nice quirks. Text chat is available, so you can throw taunts or suggestions for your opponents. Pausing the game gives a very safe 90 second window to do whatever is needed, which is a nice change from FIFA's 30 seconds and players don't seem to abuse it. The quick chat option which comes up during replays is also neat, but awkwardly placed right on the game screen, making it hard to see the actual replay. Playing online is relatively free of lag, but there seems to be a real lack of players – matchmaking would often find users from another continent altogether.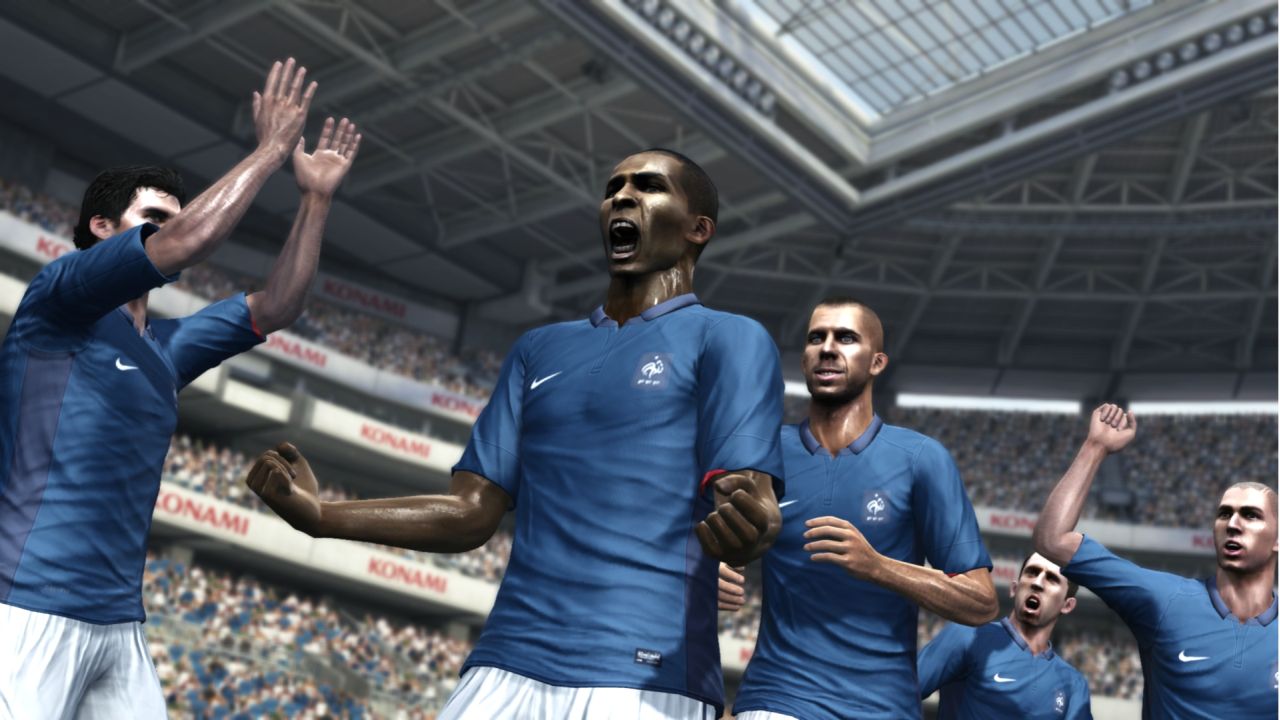 In contrast to FIFA's somewhat cartoonish presentation, PES 2012 attempts to employ full visual realism. From authentic EUFA presentations to very life-like looking player faces and emotions, the developers did a good job on this front. The offline play in Legends and Master League includes many cutscenes that take place outside the field of play, such as press presentations, board room settings, and the locker room. These add a very good touch of atmosphere to the experience – even if they are limited and begin to repeat after a while. On the pitch, the cutscenes are actually minimal, instead the game has an annoying habit of making a replay out of every goal and opportunity, forcing you to endlessly hit the skip button. Commentary during play is fairly basic and actually begins to repeat itself due to limited number of lines. The soundtrack during menus is rather quirky, ranging from hard rock to electronic tunes, and with only a small song selection overall.
There's no doubt that PES 2012 is a step above its predecessor, but it's also clear that the series has some ways to go yet. The single player game modes remain functional, but there's nothing truly groundbreaking or exciting compared to last year's effort. Online modes offer a wealth of options, with decidedly impressive competitive play structure in Master League and Legends, but a lack of online players is a concern. The game's visuals are solid, but an odd and short soundtrack and limited commentary impact the overall presentation somewhat negatively. A lack of licenses has always been a concern for the series, but with many tools available to edit the game to your liking, this shouldn't be a problem for dedicated fans. PES 2012 is an improvement over last year, but these are short strides that aren't enough to make the title anything more than a good alternative – and it's just that, an alternative.
Our ratings for
Pro Evolution Soccer 2012
on Xbox 360 out of 100 (
Ratings FAQ
)
Comments
blog comments powered by Disqus