PES 2012 Review
This realism-focused footy title looks good, but stumbles a bit on the pitch
On the field of play, the starting eleven on both teams also have some issues. Passing works fine, though the players don't have much tendency to intercept even when they are clearly in position to do so. That seems to be a common problem – the passing seems very cold and calculated, as even your own teammates will rarely touch a loose ball unless it was originally passed to them. Animation of the players is easily learned, and thus you'll know exactly when to dribble or turn away from a challenge. One-touch plays are inconsistent at best, as even the skilled players often fail to shoot on the volley or miss completely.
Speaking of controls, they are very sensitive. All players have a power bar which ranges from blue to red color, for both passing and shooting, as well as set pieces. The bar fills with relatively decent speed, however it seems severely overpowered. There is no point to ever get into the yellow or red zone, because those shots/crosses will simply fly way out of the field. It makes you doubt why the power bar wasn't tweaked better, because you will never use it even close to full capacity for any shots, passes or crosses. On a corner set piece, for example, getting it to over half way means it will likely land at the far end of the penalty box, at best. Just tapping the shot button will still make Messi miss a wide open goal by miles on the volley.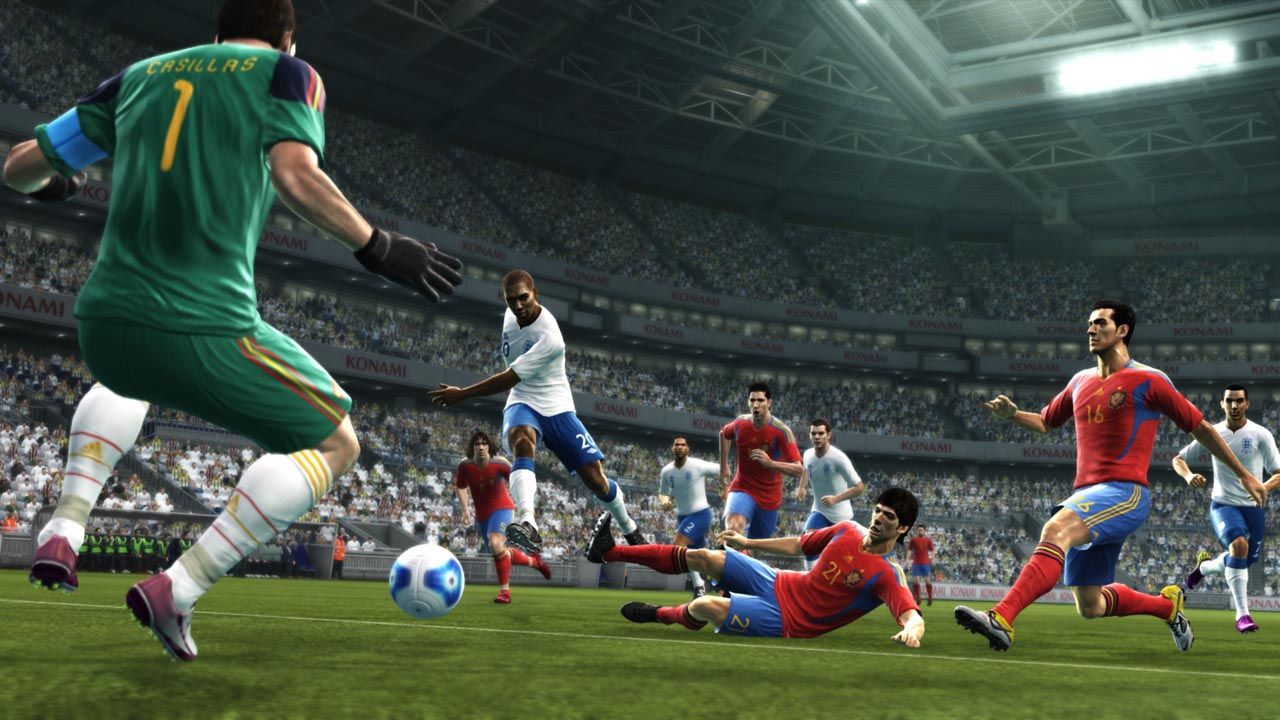 One new aspect that has been added to the on-field play this year is the ability to control another player. Titled Teammate Control, users can control a secondary player which allows you to place your AI for support exactly where you need it. Everything from defending in pairs to making runs can be completed by controlling your AI teammate. Having your teammate run circles around the defense to get into space and receive the pass from your currently controlled player is a great feeling. The system does come with a fairly steep learning curve, but those who perfect it will be at a huge advantage, particularly online.
A wealth of multiplayer modes is included in the game, with everything from simple quick ranked matches to online communities and tournaments. With communities, players are able to start public or private groups where users can interact via a virtual message board, play against each other and versus rival communities. The level of interaction is quite impressive and things are surprisingly well laid out in the menus. Master League online presents you with a chance to play in an organized online league against other players, for the duration of seasons. You have control over your squad, with ability to buy and sell players on the virtual transfer market. The mode is very similar to its offline counterpart, which makes it seem rather impressive to be played online. Legends mode can also be played online, where everyone only controls one player on the pitch. Hourly tournaments also exist, where each season begins on the hour and players must win a certain amount of games to earn enough points to advance to the playoffs.
Comments
blog comments powered by Disqus