PES 2012 Review
This realism-focused footy title looks good, but stumbles a bit on the pitch
Become a Legend allows players to take control of a single athlete, either existing or create their own, and play on the pitch through a career. Your agent will often deliver news and expectations from the coaches and you must do your best to play the role given. Special objectives will once again appear, allowing you to earn new skills and solidify your roster spot. In this mode, as expected, players are only in control of their character and thus cannot influence the rest of the team or coaching staff. You can, though, ask your agent for a transfer and select teams which interest you in hopes of securing a transfer. A big announce with Legend actually occurs on the pitch – if you are substituted or aren't playing until the second half, the most you can do is speed up the match. Even with a double-speed, it's simply boring to watch the AI play against one another, and it would have been nice to be able to simulate the match when you're not playing.
The game also features yet another mode, Club Boss. But you won't find it in the main menu – the mode must actually be unlocked with the artificial game points. This point system, which is easily missable and completely arbitrary, unlocks various bonuses in the game such as extra appears options for your Legend, new stadium colors, and match balls. Oddly enough, also locked away behind points are the new Club Boss mode, the ability to use a real team in Master League, and more crucial gameplay elements. It makes little sense to actually restrict players from accessing all areas of the game without first earning meaningless points, and it actually caused much frustration and Google searching before we realized how to play Master League with a real team. Similarly, Club Boss mode is new to the game, but is locked away – it must have been that the developers were not very comfortable with it. And perhaps rightly so – it's little more than a glorified sim engine, where very few decisions can be made and no games played.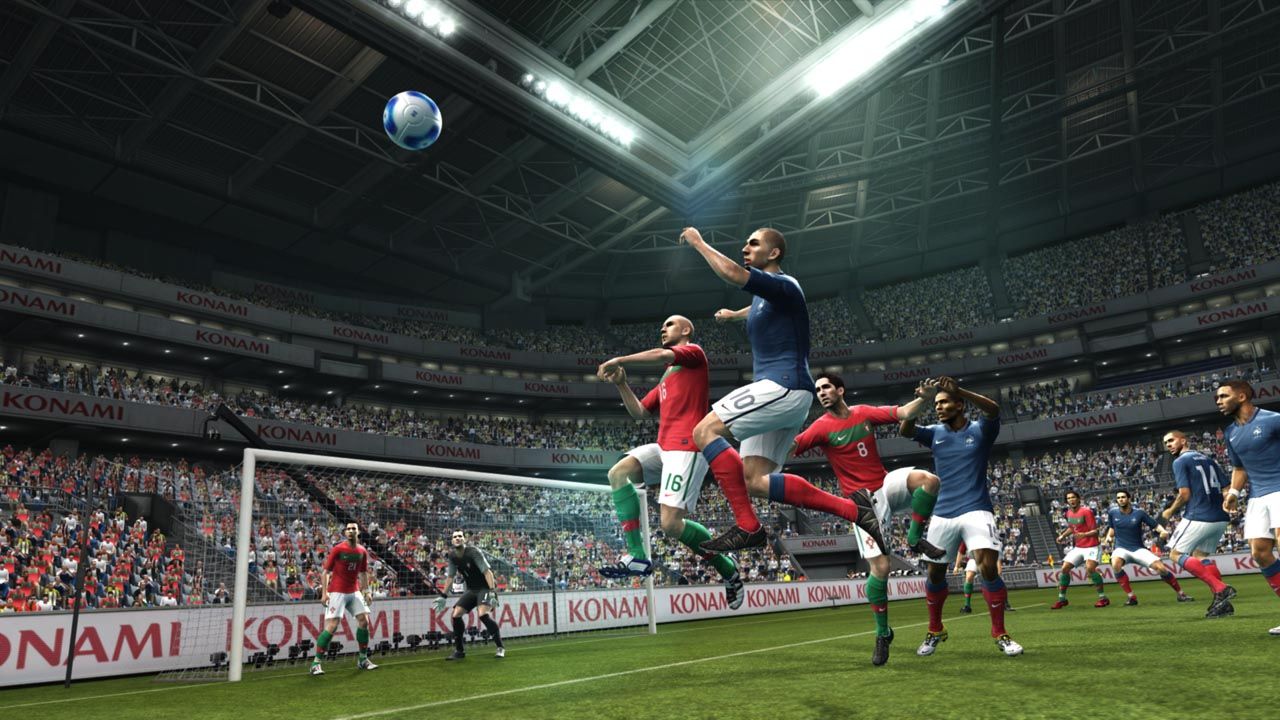 PES 2012 plays solid football at its core, but many annoyances and shortcomings often spring up during the gameplay. From the kick off, the players move about the pitch with confidence, and controlling the ball is mostly solid. However, beyond the basics, there are many small but notable issues which degrade the overall experience to just about average. To start, most players feel very similar – particularly in size, strength and speed. Sure, Ronaldo and Messi are great at ball control and their shooting is precise compared to a low-level player. Having said that, it's nearly impossible to outrun any of the defenders in the game even if you have a head start – they will most always catch up. This is a problem that existed in PES 2011 and seemingly hasn't been addressed. When challenging for the ball, the outcome is often random and irrelevant to the players' physical attributes. And even in general, sprinting feels rather slow, and using an advanced technique only knocks the ball way too far ahead. Given that the defenders catch up to said loose ball almost at the same time as you do – your skill and speed makes little difference.
Goaltenders' reactions are often underpowered, letting in many easy shots, and some of them due to bad decision making. For example, a defender safely clears the ball with a header away from the penalty area – but behind him, the goalkeeper is diving anyway, though the ball has no possible way to end up in his grasp. The follow-up shot, of course, finds the goalie out of the net for an easy score. There are many goals which go in very awkwardly, whether it's from poor AI or bad ball physics. Out in the field, almost all manual tackles result in fouls, often even if the ball was won fairly. There seems to be some notable problems with the refs in general – attackers often get called for fouls for barely touching the defender while trying to make some room on the attack. Penalties are called when, in replay, the defender clearly wins the ball. On the other hand, you can completely destroy players with a sliding tackle after they've passed the ball, and nothing ever gets called. The advantage rule is never used, because fouls are often called right at the sight of a tackle.
Comments
blog comments powered by Disqus